This foray into Providence came about, well… providentially. Our daughter had tickets to a show, and though she's a quite capable driver, the thought of her trekking all the way to Rhode Island accompanied by another young friend was a wee bit unnerving. We decided to chauffeur the girls to the concert and while away the time by dining at one of the many restaurants in Federal Hill. A much better plan indeed. I put out the call to my foodie friends, as I'm want to do, for suggestions. The feed back I got was that you really can't go wrong anywhere here, but we did get a few names to choose from. We were visiting on a Sunday which is when a lot of fine dining establishments are closed. Luckily, one of the recommended boîtes was open for business.
Zooma Trattoria is an Italian restaurant that features homemade pastas. When we arrived, there was a young man making fettucini in a little show kitchen.  I neglected to take a picture on the way in. When were done, the pasta show was over. Dang it.
The interior was an eclectic mix of styles. It had a decidedly 90s feel to the front complete with hot pink chairs and funky chandeliers. The back dining room had a more sophisticated, formal look. We got a table by the front window, which was great for people watching. There were signs of wear and tear, however, including masking tape holding a bit of the window together. Bad show.
We started the evening with a Cucumber Gin Martini as per usual. I want to like other cocktails, but I just can't go in for fruity concoctions.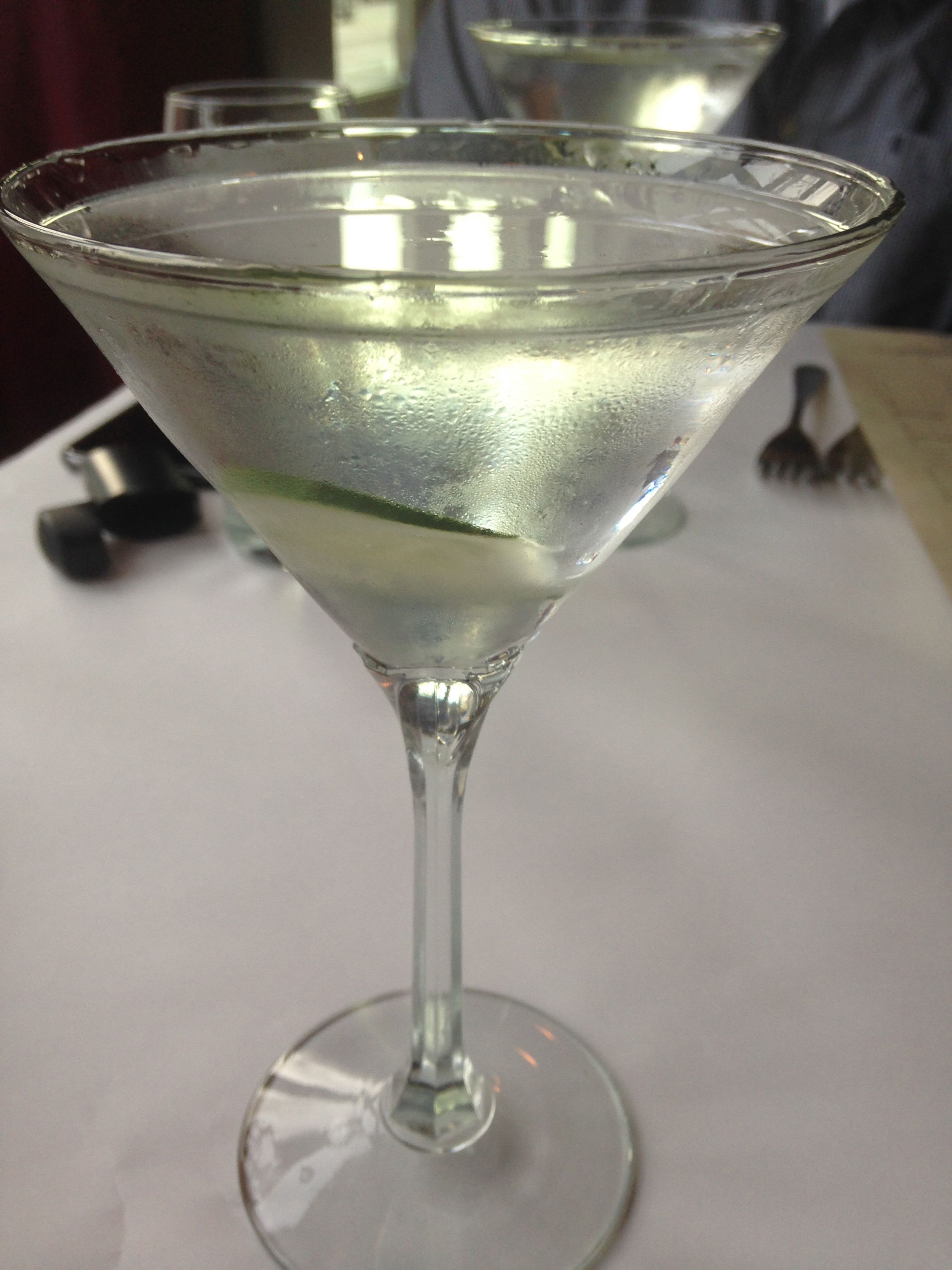 Our server, Danielle brought us over some crusty bread and olive oil. She introduced herself and said it was "nice to meet us ".  I thought this was a very sweet detail. Strangely, the bread was served with a tiny salt shaker. I know salted butters are trendy, but usually it's fancy sea salts, not plain ole' iodized.
We decided to start with the carpaccio, but alas, they were out. I never mind one bit when a kitchen is out of a certain menu item. It gives me hope that thier offerings are fresh and not dug out of a freezer.  We regrouped and ordered the Mussels.  I was so famished I neglected to take a photo. The description was as follows: Cozze all a stagione: local mussels, white wine, garlic, onion, chilies & seasonal herbs. They were served with grilled bread and were quite tasty. Not the best, not the worst. Next was the pasta course. I asked our sweet Danielle to help me decide and we went for these:
These tortellini were absolute perfection. The pasta was infused with red wine. It wasn't just a food coloring gimmick. You could definitely taste the vino here. The goat cheese filling was light and creamy. It must have been whipped up with some mascarpone to get that dreamy texture. And that orange brown butter reduction was perfectly balanced between citrus and savory. A winner all around.
For the main course we went with a traditional Veal Marsala.
Tender veal, perfectly seasoned with crispy potatoes, and a deeply flavored marsala sauce with mushrooms. You could certainly tell that this was made from a bone stock and not some salty packet. Here's what I love; there was no superfluous garnish here, just a nicely plated dish. I really don't go in for restaurants throwing on an orchid or kale or sprinkling parsley around the edges. I just want what's intended to make the dish taste amazing. Well done!
We still had some time before the girls were done so we decide to square up and take a walk around Federal Hill and try and find a perfect café to have a cappucinno and dessert. We heard some music emanating from this lounge so we headed over. As we got closer it turned out it was the boom, boom of a DJ. The crowd looked a wee bit too young for us.
Next, I was drawn in by the neon of the Old Canteen Restaurant. I could see through the windows that they had fancy waiters in white tuxedos. Ooh, I gotta check this out.
As we entered the foyer, we could see that there wasn't a bar or lounge just a dining room. The space was enveloped in a 1967 time capsule. A sea of pink, florals and Venice murals. A little too old for us. We kept walking and found ourselves in the delightful area of Little Italy. Oh, to be here in the height of summer!
We spied a lounge that looked like a good prospect!
I think so. This is Constanino's. From what I can tell looking back at their website, we experienced just a small portion of the operation. There's a full service dining room, and outdoor space as well as a gorgeous Italian market serving up a plethora of pastas, meats and cheeses for consumption on the patio or to be enjoyed at home. We were at the Vendi Bar, their little lounge on the corner. This was just perfect for us. All I wanted was a cappuccino and something sweet.  We bellied up to the uplight bar and ordered  our coffee and a Grand Marnier.
This place had an eclectic mix of patrons. We chatted with some young fellows who recommended the Tirimisu. We also got a bit of a show from a lady who seemingly had a bit too much Prosecco. There was a lot of hair tossing and leg involved. It was free with admission.
We had never spent any time in Federal Hill before this evening.  The courtyards and outdoor cafés looks to be something worth the trip back down this summer. Look for me on the piazza!