After our initial panic about arriving too late to be checked in, we were so happy just to have a place to land. When we finally rolled into the Castlemaine Inn it was well past 11:00pm. We were so completely exhausted, I didn't give a hoot what the place looked like. In the harsh light of day I was able to assess the situation, and the situation was floral. Very, very floral.  Decorative Waverley wallpaper can look lovely on an accent wall, but this pattern was everywhere!
I thought I was a B&B person, but now I think I'm more partial to "Boutique Hotels", like the Great George or  the Inn at Park Spring where we stayed in Portland a couple years back. Yes, there's a bed and a meal in the morning as prescribed, but these rooms had a clean, hotel-style feel. There were crisp, fresh linens, updated fixtures all housed in a cozy atmosphere with personal service. This old Bed and Breakfast was just plain tired. It succumbed all the stereotypes associated with B&Bs. The accommodations were akin to the spare bedroom in your great- auntie's house. It was clean enough but the old bedspread, thin pillows, and threadbare carpet didn't quite cut it. Thankfully, there wasn't a shared bathroom!
We slept in as long as the too soft mattress would allow and wandered out to the lobby for some coffee. Here's where things turned around a bit. It was an absolutely gorgeous morning so we settled outside for breakfast.
A very friendly young lady let us know that homemade blueberry pancakes were being served up this morning. Yes, please.
We gathered our belongings and set about discovering Bar Harbor. Longtime readers of my rambling musings may recall that Jeff and I have been to Maine dozens of times, but most of our visits are straight up to see the folks and straight back down. So, this is the first time we've been to Bar Harbor or Acadia National Park for that matter. We didn't have a ton of time, or we may have gone on more of a hike, (who am I kidding?) but we were able to take a leisurely stroll along the Shore Path.
We had a bit of a hard time with the GPS. It kept bringing us to a residential street instead of a public parking area. Turns out, the residents allow easement to visitors, although there very well could have been a lot that we never found.
The vistas from this path were breathtaking! Here's just a few of the bazillion pictures I took.
We thought this would be a good opportunity to use the time delay on the camera for a lovely portrait.
Let's get back to that view, shall we?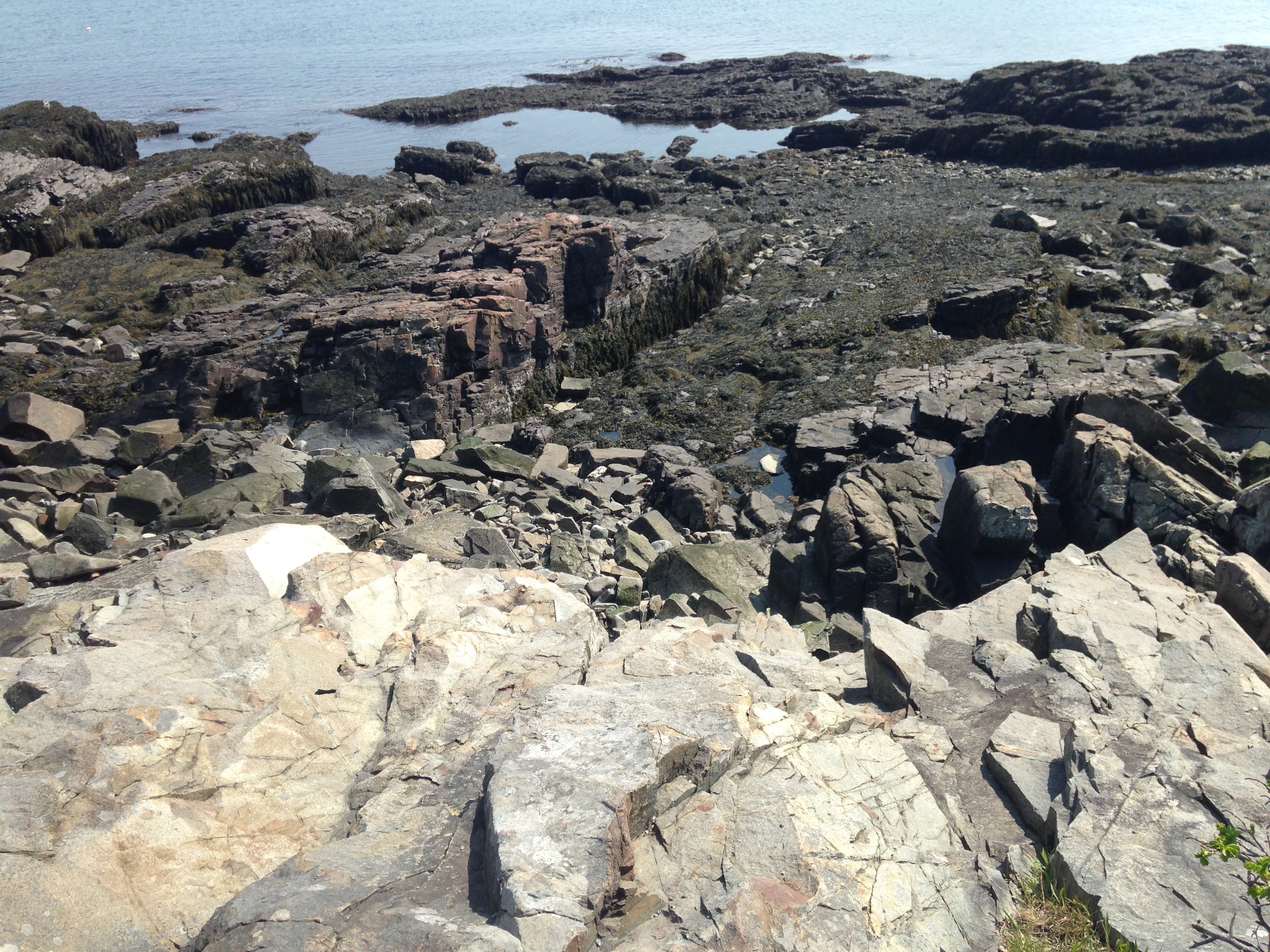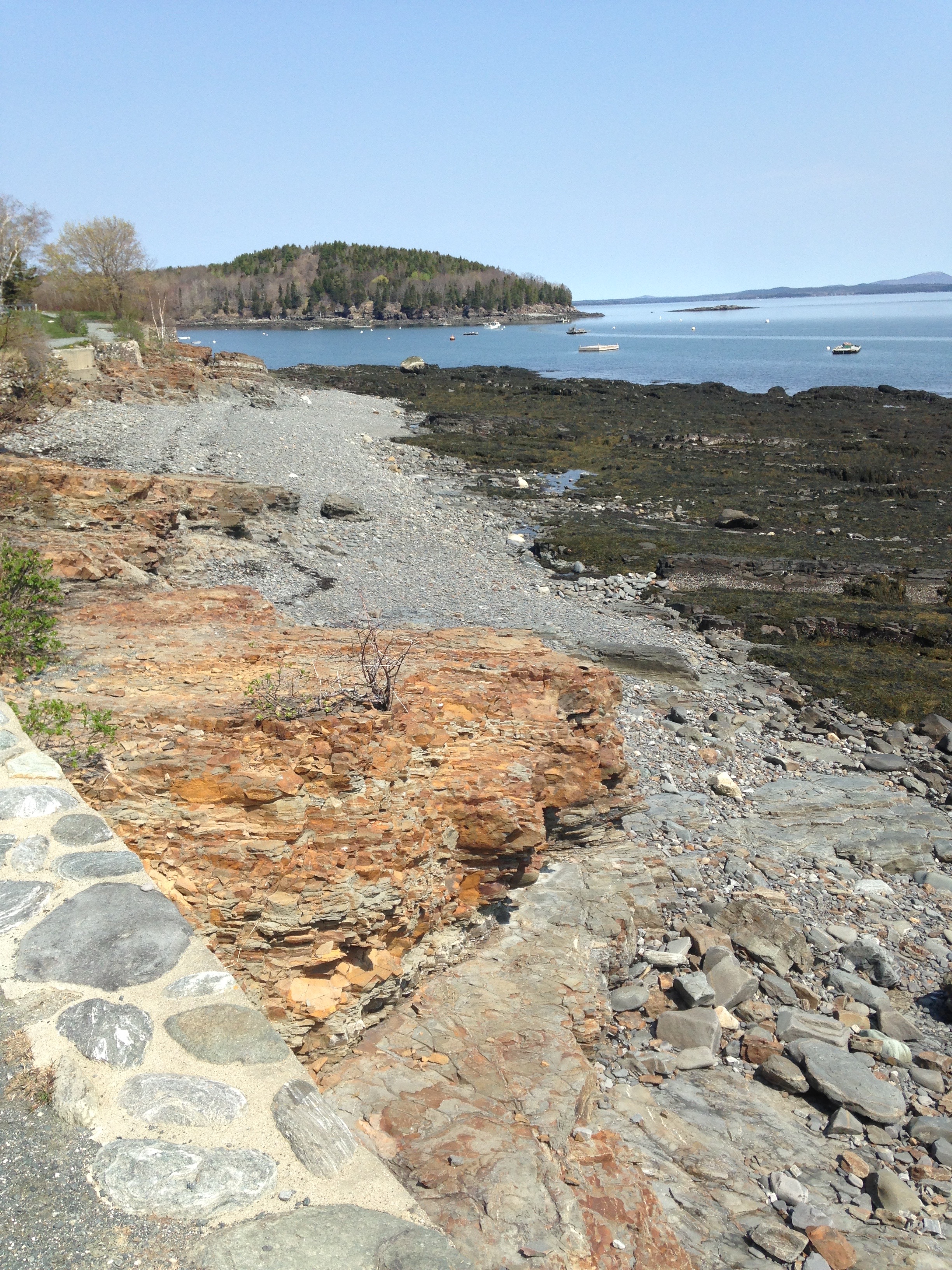 Along with the private homes there are several hotels facing this gorgeous ocean vista.
I had researched where to have our lunch while in Bar Harbor and this was the place! Chairs and tables set up to go…tomorrow.
Time to regroup. Let's put on our thinking caps in this darling park at the top of the hill.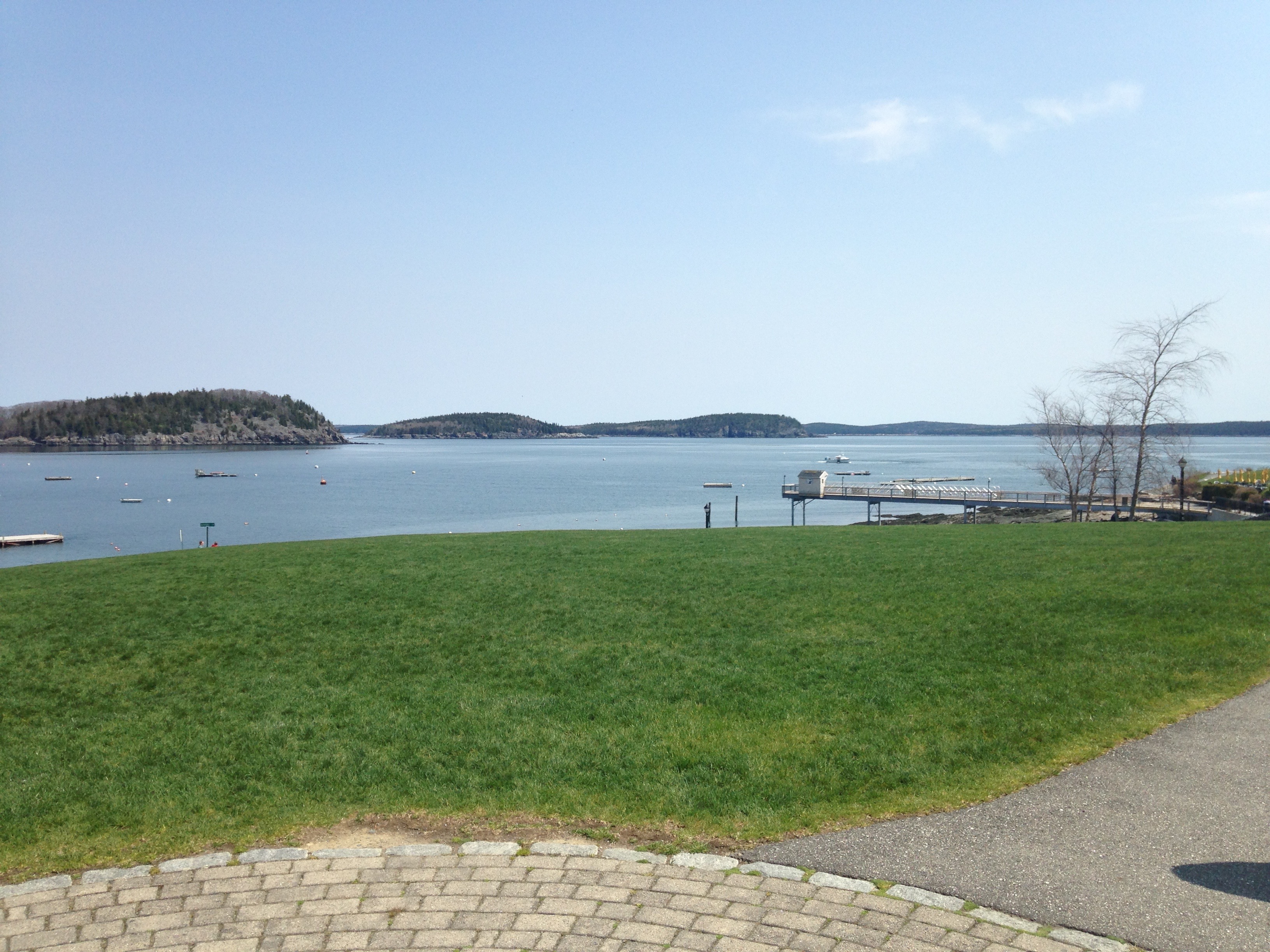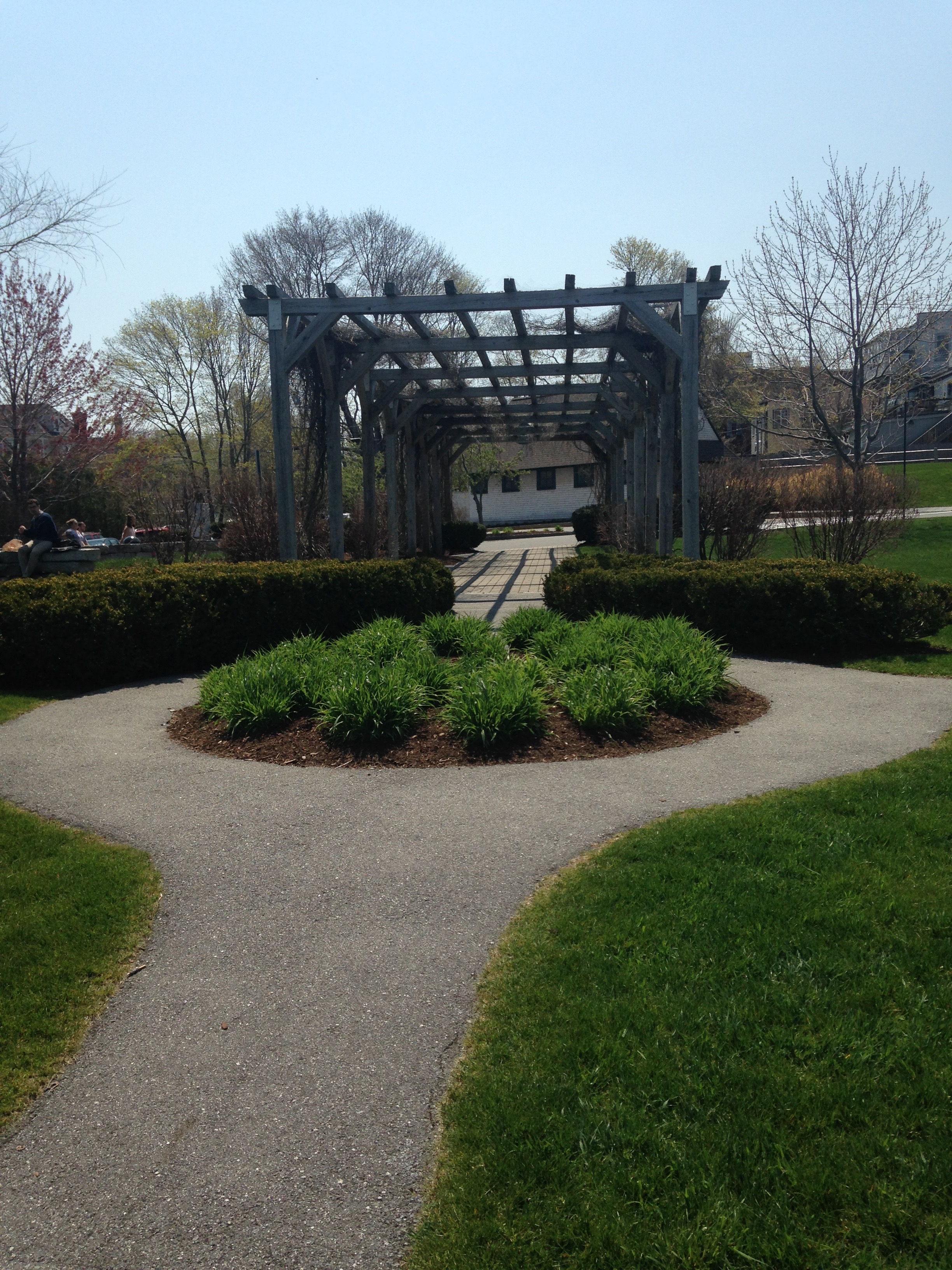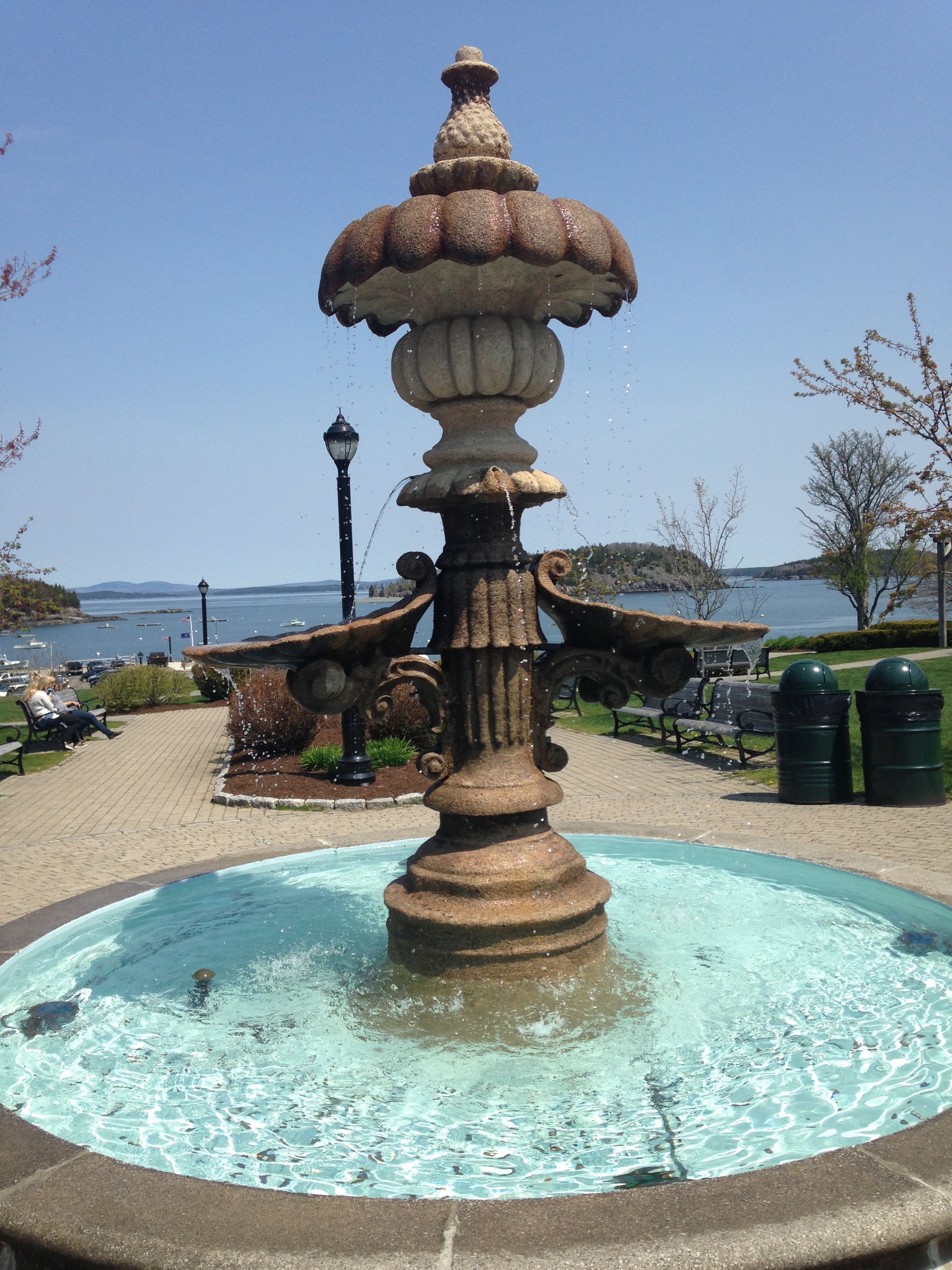 We really weren't that hungry yet anyway, those pancakes were hanging on. We decided to take a walk about and check out the shops.
While there were a lot of shops and pubs open, the whole of downtown was feverishly preparing for the official Memorial Day kick off to summer.
We dipped into a shop that had a sparkling display of stained glass sun catchers.
We were barely through the threshold when we spied the prices of these delicate disks. One of the saucer size sun catchers was over $600!!!
While we were in there, ever so briefly, the owner was working with some customers  so he mustn't have seen me snap these pictures. I'm pretty sure of this, because when I looked up the name of the shop, I found absolutely scathing reviews of the place and the gruff owner. There's no photography allowed in the store and it seems the owner spends most of his day barking at potential customers that this is the case. The reviews are pretty hilarious.  Here's just a sampling:
"I stopped on the sidewalk to take a picture of the shop, which is crammed unbelievably full of sun catchers. The ornery old shop keeper hustled out the door to fuss at me for taking a picture IN PUBLIC. We looked around and spent exactly zero thanks to his attitude. "-Arthur W.

"Very, very rude person that owns this store. I went in and tried to answer a text today while in there and he chased me out of there thinking I was about to take a picture while I had to intentions of it. He must keep the world's secrets in there since he is so paranoid. Honestly no wonder his store is so full of stuff, he must never sell anything due to his rudeness."–Genevieve B.
"Wow! You want a repulsive experience to put a dark shadow on an otherwise brilliant day? Stop into this shop. The anger and hatred seeps from every corner of this shop. Pass by and stay happy. Stephen King: stop by, there's a horror book to be written with this shop as inspiration. May I suggest Little Glass Shoppe of Horrors?"–Steven H.
The place is called Suncatchers, so if you're in the neighborhood, say "Hi!"and snap a few pictures. It should go just fine.
Up Next: We find a place for lunch and roll on into the last gig of the International Tour!!!