There were two things that necessitated our traveling to the City of Brotherly Love. First, and most important, we wanted to partake of the famous Philly Cheesesteak. Second, I decided to try out for The Voice. One of these endeavors was more successful than the other.
We had initially planned to fly, but Jeff's work schedule changed so we decided that driving would give us more flexibility. The road trip was a bit dicey, it down-poured the entire six hour drive, but we still arrived pretty much on schedule. Jeff made the hotel arrangements, so I didn't really know what to expect. It turned out to be pretty swanky!
The Loews is located in the first sky scraper ever built in the city of Philadelphia. According to their website, it was rated  as one of "World's Best" luxury hotels by Travel + Leisure readers.  I'm a bit dubious of that title, but it was quite delightful. The décor had a sleek and modern feel that complimented the art deco architecture of the building.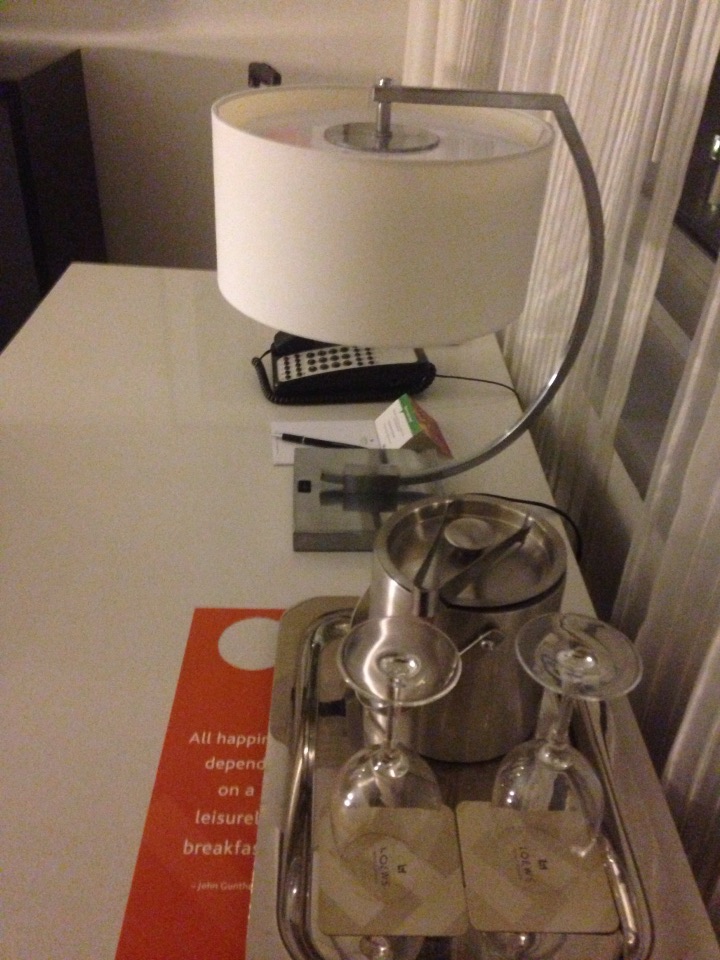 We were trembling with hunger by this point. Luckily, we had the whole city at our disposal. We were within walking distance from the Italian Market, the Reading Terminal Market and Chinatown.
Here's the thing. We were really starving. Despite all the potential culinary choices we had in front of us, we couldn't fool around. Instead of exploring the city, we walked right across the street to the Hard Rock Café. I know, terrible right? It reminded me of  when Michael Scott went to New York City.
Not to be misunderstood, there's nothing wrong with The Hard Rock, it's just not the specialized or regional cuisine that I would have preferred to have enjoyed. However, at this moment in time, it was an oasis! Another huge concern for one of us (I won't name names) was that we HAD to be able to watch the Patriots. We totally lucked out. The place was packed with a 45 minute wait, but we moseyed right on up to the bar.
As of this dateline, Yuengling Lager is not available in our environs of New England. This is changing in the very near future. It's a favorite, perhaps due to my association of it to Disney where we usually avail ourselves. Either way, it's a dang good beer!
The food was fine, filled our gullets just as we needed. We shared a burger I failed to photograph (see, I wasn't kidding. We were famished!) and some tasty Buffalo wings. All just fine indeed.
The place was packed so I wasn't able to take pictures of the dining room without cheesing people off. I did snap a couple pics in the foyer on the way out. I'm questioning the decision to feature the Black Eyed Peas in such a prominent area.
Bellies full, we stopped to pick up an after dinner digestif to have back at the room. Some of us watched the rest of the game. Others watched a cute movie with Barbara Streisand and Seth Rogan on her iPad.
Then next morning we grabbed some coffee and headed over the the convention center to get the lay of the land.
 People were queuing up early, so we hopped in line.
Things moved pretty quickly and before I knew it, it was time to say goodbye to Jeff and go it alone inside.
Anyone can register for an audition pass, though they do limit the number given out at each city. However, it doesn't guarantee a time slot. Queuing up early was a good idea.  I ended up being in one of the first groups getting through to the actual audition rooms.
I won't bury the lead. I didn't get through. I really had no expectations about making it past the first round. Thousands of very talented singers come through each city but only a handful make it even to the second round, let alone onto the show. I have great respect for the way The Voice handles these auditions. Because there are no cameras at this initial stage, there aren't any goofballs in chicken suits trying to get on the TeeVee! The producers and event staff were very helpful and the whole process was super-organized. When you do actually sing, it's in a group of ten other contestants. In most cases, no one in the room moves on so there's no individual rejection. It's all positive. There were some tremendous singers in my group and some that might have been suffering from nerves, but everyone there had potential to be on the show and none got through.
I've never done anything like this before and I am really glad to have had the experience. To be perfectly honest, I would have been totally psyched if I made it past the first audition. I like validation! However, I'm really not certain I would have wanted it to go further. I don't necessarily want to be on TV or wear high heals or be away from my husband and family.  I'm not just saying that 'cause I didn't get on, really. Seriously, I'm not…
With that business behind us, it was time to explore the city. We took a brief walk through Chinatown.
It was a beautiful, albeit cold, evening. We strolled across this charming park on the way to our destination. I tried to find out what it's called to no avail.
Philadelphia is a city so rich with history, it's hard to decide what to take in. Do we see the Liberty Bell? Visit the Constitution Center?
 We happened by the historic Ben Franklin Post Office.
Sure, Philly has all this historic  jabberwocky, but we wanted to have a brush with a different kind of greatness, a trashy F/X television show.
We decided to drop into Mac's Tavern of It's Always Sunny in Philadelphia repute. This is a raunchy, ribald, sometime all-out gross television show that is also high-larious!!!  The setting is a bar in Philly. While the facade is located somewhere in the city, there is no actual bar to visit. Mac's is the tavern owned by the one of actors who is also the creator of the series.
It was pretty much just a bar, as you would expect.  We enjoyed our cold beer and came up with a game plan for the rest of the evening. I visited the facilities before we headed out.  You could really glean the historic nature of the building here. Bathrooms were definitely an afterthought!
I also found this very odd bit a graffiti. It says: "Daddy, I'm having a hard time moving on"
We settled on going back to our hotel and having dinner at the brand new restaurant located on the 33rd floor.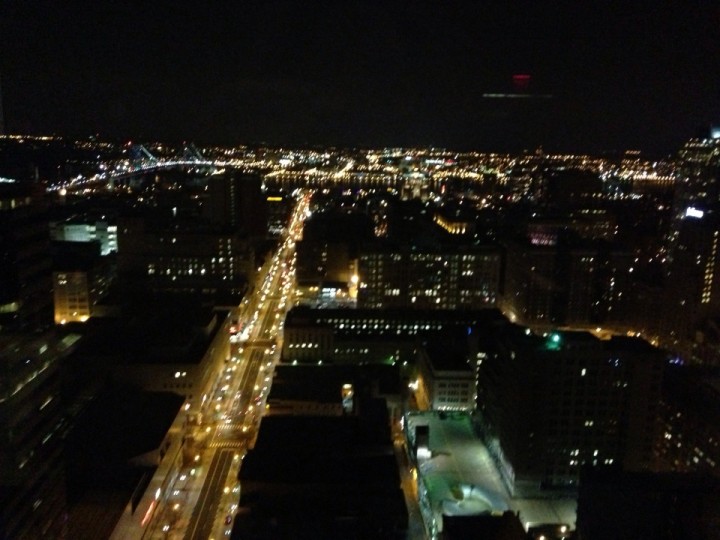 They were promoting this place right at check-in so we considered calling ahead for a reservation. This was unnecessary.
 We saddled up to the bar for a cocktail to start.
The bar was dark and seemed to be unfinished or at least hastily pulled together. Turns out that this was a temporary dining room set up in a function space. The regular in-house restaurant was being refurbished.  Hmmm… I feel like this was a lie by omission. I was expecting an exciting new establishment, but instead what we got was a stop-gap. Oh well.
The menu was small and pricey in my opinion, but everything was tasty and hit the spot.
Dinner was entirely enjoyable and quite relaxing, especially since we were already steps away from our room. Speaking of which…
We planned on hitting the road round about noon the next day but not until we got in a few more essential Philly sights.
No, we didn't actually visit the museum, just the statuary that resides near by.
The Philadelphia City Hall was very near where we stayed. It is absolutely astounding and takes up the entire city center. When we first arrived, we circled around it several times while trying to find our hotel. I wanted to get some pictures then, but I had navigating duties.
Jeff, very kindly circled us back through and I was able to hop out for a few shots.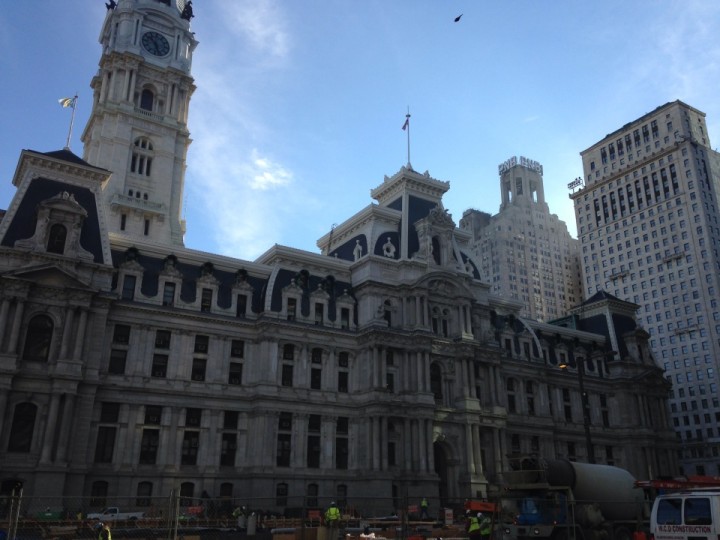 We still hadn't accomplished our other objective for coming to Philly; the cheesesteak! Off to South Philly we go.
Though there are a dozen or more cheese steak joints in town, the two big contenders (blatant Rocky reference) are Pat's and Geno's which are amusingly located steps away from one another!
There's only one thing to do in a situation like this. Try Both, of course!
I had seen enough Diners Drive Ins and Dives to know that there's a certain science to the ordering process. If you mess up, you risk embarrassment at best or not even getting served at worst. Here's the drill:
Do not ask for a Philly Cheesesteak. You're in Philly and they only sell one thing. They only need to know how many, what kind of cheese and whether or not you want onions. The options are generally American, Provolone, and Cheese Whiz. Yes, Cheese Whiz, the neon yellow-orange processed cheese food product that comes in a can.  The question of the onions is answered "wit" or "widdout".  So if you want one cheesesteak with Cheese Whiz and onions you would order thusly: One Whiz Wit.
 I pushed Jeff to the window to handle this.
There were about five guys hanging out here who were seemingly brought in from central casting as Philly guys. It was a riot listening to them debate sports and ribbing each other.
Now For Geno's. This place was certainly flashier in the signage and presentation.
So what's the verdict, which is better? Well, it was a split decision. I liked Geno's best. The Whiz was incorporated better into the meat and it was well seasoned. For Jeff, well seasoned equals too salty, so he preferred Pat's. There's no losers here though. None.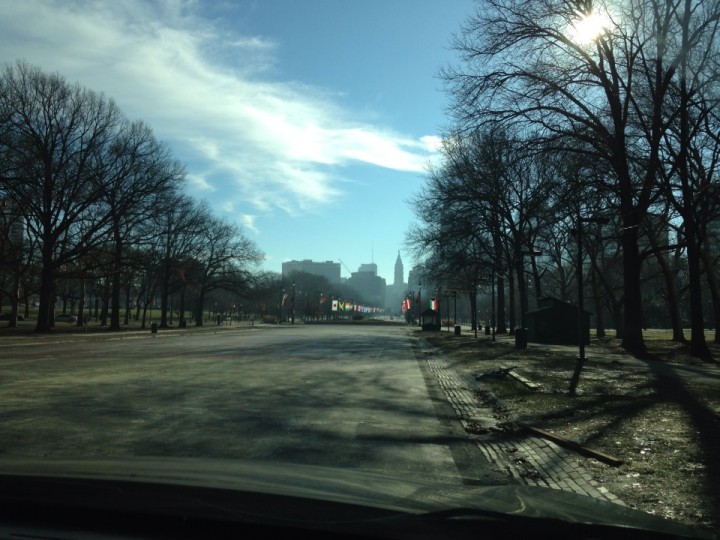 With our missions accomplished, it was now time to head home. I just love road trips and this was no exception. Would I do it all again you may ask? Absolutely I would. It was worth every mile for that One Whiz Wit.