We were about a week overdue in celebrating Jeff's birthday. Our summer music schedule was delightfully full this year. The bulk of our shows were in Boston which meant a lot of travel, traffic and occasional colorful language from Mr. Jones, so I was surprised when he suggested we head into the North End for his birthday dinner. Where parking would be an unknown factor for this jaunt, we decided to make use of the public transit. We are not very MBTA savvy, but luckily our city girl daughter is a train ninja so she talked us through it. Speaking of our girl, we took a quick trip over to the Back Bay for a visit and a little wireless network help from Dad.
With the network back online we headed on to the North End. For those of you who aren't from around these parts, this is the famed area of Boston where one can partake in all sorts of authentic (after navigating around the tourist traps) Italian food and culture. Nearby you'll also find the historic Faneuil Hall Marketplace and just steps from there, The New England Aquarium as well as Rowes Wharf. This is all navigable via pedestrian friendly walkways and dotted with beautiful green spaces and seating areas.
This is no longer the "Gritty Boston" of my youth. This beautiful, tourist friendly space is the result of the infamous "Big Dig" project. The Big Dig was the most expensive highway project in the US, and was plagued by escalating costs, scheduling  delays, leaks, design flaws, charges of poor execution and use of substandard materials, criminal arrests, and even one death. The main objective was to ease traffic on Route 93. My friends, traffic here is just as bad if not worse than before this bloated project! However, this green space coupled with the ability to traverse the city by foot with ease has made such a huge improvement! Twenty billion dollars well spent!
Now, on to the food! We started in the heart of the North End, Hanover Street.
We decided to have a "progressive meal" rather than spend the whole evening in one place. I hadn't done any research ahead of time so we just wandered around until we found someplace interesting. We did a check with Yelp first, of course! There can be some real clunkers, even on Hanover Street, believe me. Long time readers of this blog may recall a pretty humorous visit to a certain eatery a few years back. Do yourself a favor and read the latest reviews HERE. They are high-larious.
Our first stop was Assaggio. The dining room was pretty much empty, but so was every other place we passed. The festivals had just ended so I figured that was the reason. Turns out, it was because we were eating as early as senior citizens. It got quite busy as the night wore on.
Cherubs were a theme…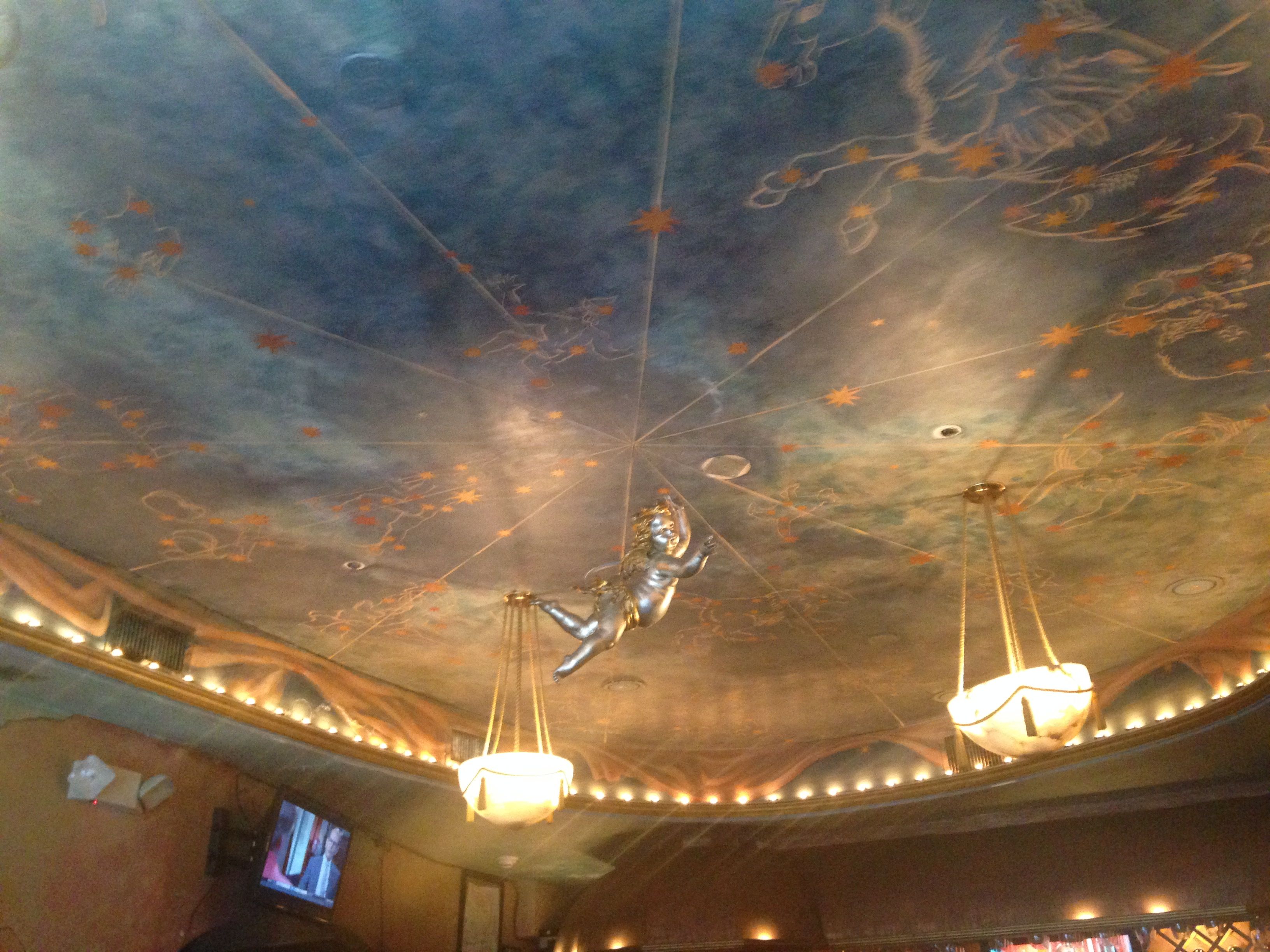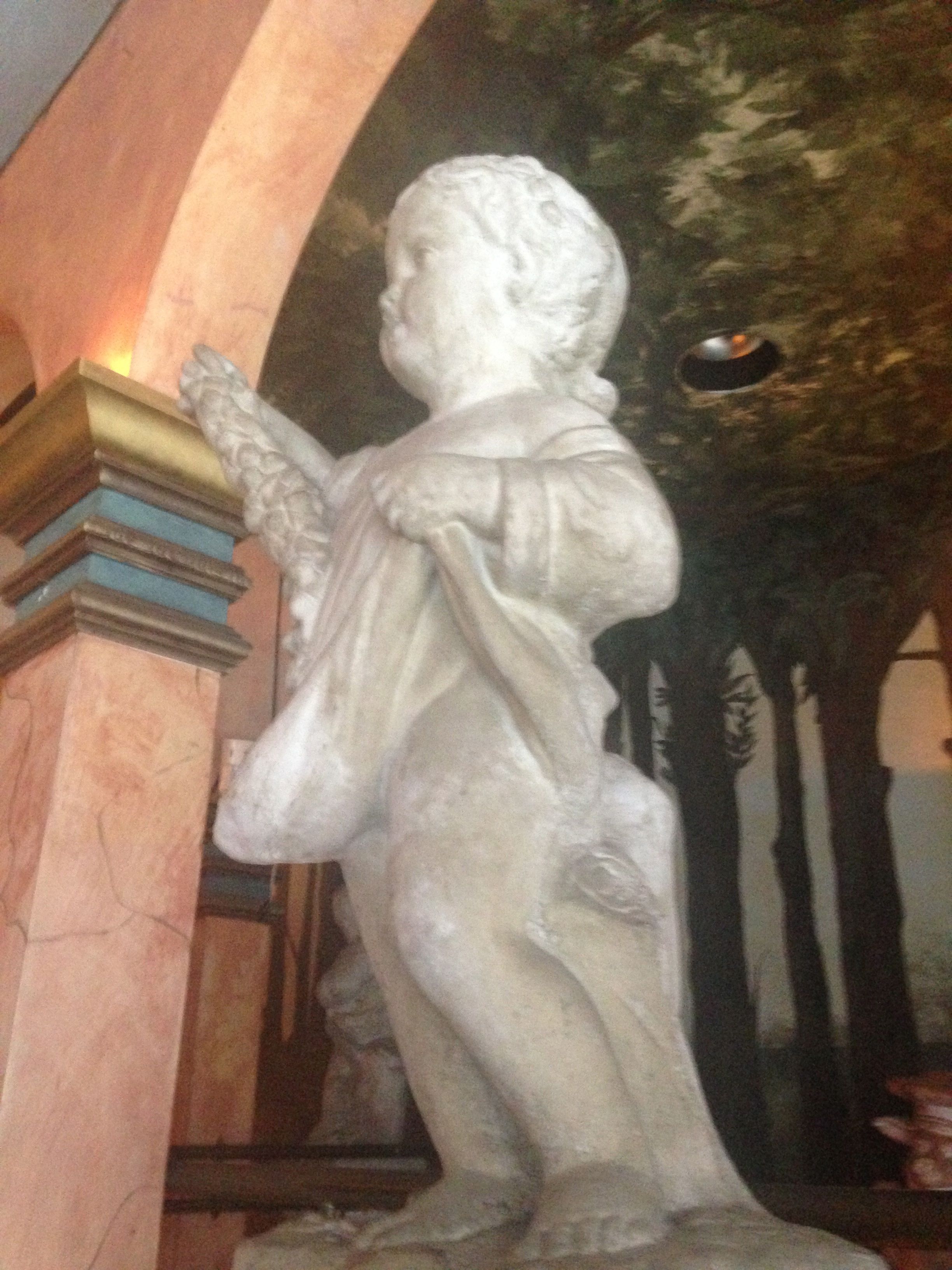 I neglected to mention that it was pretty dang hot on this day, around ninety degrees, so we started out light. We ordered a couple of glasses of chilled Pinot Grigio (not pictured) and a nice cold appetizer.
This was just as advertised. Tasty, but no heavy lifting for the chef.  The next course, however was exceptional. The menu simply lists them as Crab Cakes, no further description.
These two morsels were indeed small, but certainly house made and packed with lump crab and very little filling. Putting the dish over the top was the lobster sauce accompaniment. This bisque-like sauce was luscious! Upon further consumption we discovered plump pieces of claw and tail meat as well. We soon ran out of crab cakes to dip in the sauce so we implemented the bread to finish it off. Heck, I would have dipped my flip flop in the stuff!
With our appetizer course finished we set back out to wander the streets in search of pasta! We enjoyed the sights along the way.
We recognized this place from a previous visit. That time there was a line around the corner and we didn't get in. We hoped it bode well for the quality of the food and took a chance on L'Osteria for our next course.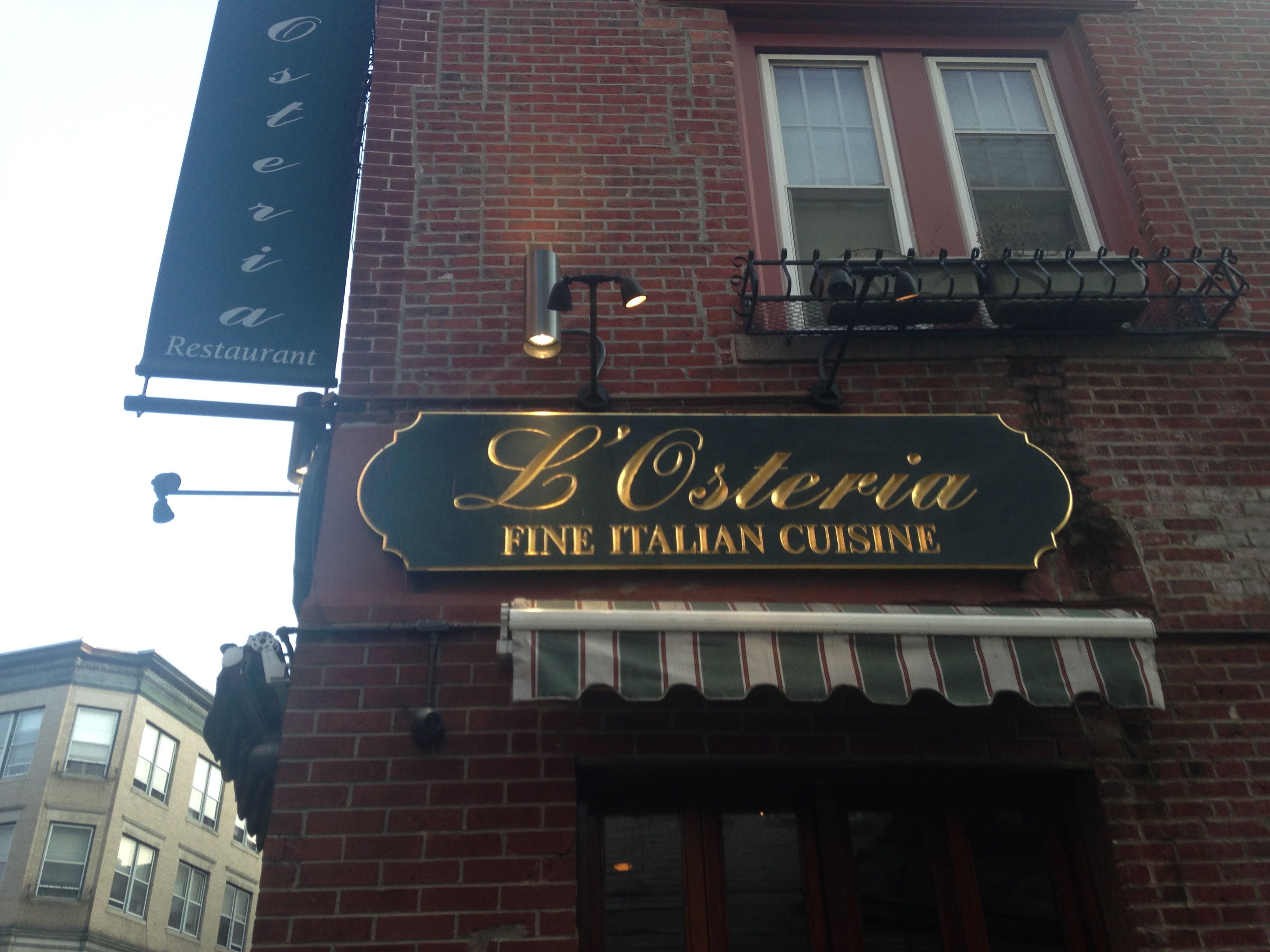 The dining room, again, was empty. I still hadn't gotten the hint that it was simply early. I thought we'd have the whole North End to ourselves all night.
When it comes to pasta, even the best italian restaurants tend to only have a few fresh varieties with the rest being dried. I really wanted some fresh pasta on this visit. I asked the server to help navigate our choices hoping that they indeed made their own and that we wouldn't have to down our wine and move on. Luckily they featured a fresh, hand formed tortellini.
This is exactly what I hoped for!!! Tender pasta rolled out perfectly thin, stuffed with a dreamy ricotta filling and tossed in an impossibly light cream sauce. Madonn' these were good!
We needed a bit of a respite before the meat course. We wandered back to the greenway to sit a people watch.
During our rest, we took to social media to choose our next venue. We got a whole slew of suggestions from our foodie friends, so it was tough to decide. Someone recommended Dolce Vita and to "ask for Franco". We were intrigued…
We arrived just in time  to witness a boisterous chorus of Italian songs led by the afore mentioned Franco himself!
The place was packed, but we there were two seats open at the bar we were able to snag.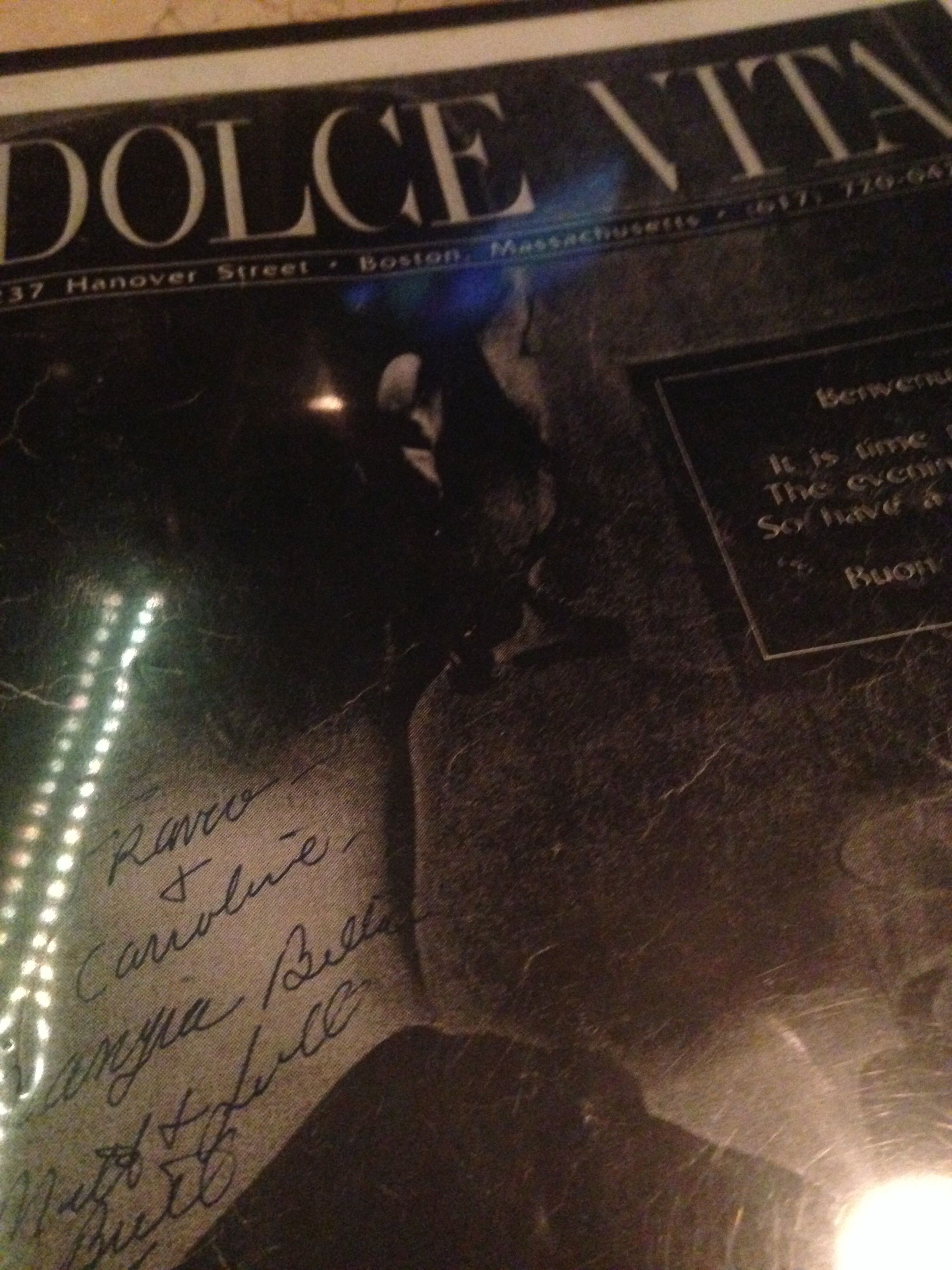 I nosed around a bit whilst waiting for the powder room. Turns out Franco is a bit of a local celebrity. The was a "wall of fame" featuring the man with various stars.
The goal here was to have a really good steak. They had a NY strip on the menu that seemed pretty straight forward. We had the choice of pasta or salad. I decided not to double up on carbs and just have salad.
The steak was a bit of a let down. It had a fair amount of gristle, but that was not the biggest sin. It had absolutely no seasoning whatsoever. There was no salt or pepper on the table, which could have been an oversight, but more likely because the food is supposed to be properly seasoned by the chef. It wasn't.
This stop turned out to be more about theater than dinner. We had a great time without a doubt.
No visit to the North End would be complete without a stop into Mike's Pastry for cannoli.
The offerings go beyond cannoli though I can't even imagine getting anything else.
We had our treats boxed up to-go to be enjoyed back home along with a glass of cheap bourbon, as you do. We took a stroll through the Boston Harbor Hotel before hitting the train.
A perfect way to end the evening. It was so much more fun to bop around town, rather than staying at one place for the whole time.
The city of Boston has come such a long way! It was an absolute pleasure to spend our night off enjoying a place that is usually all about work for us.