After a recuperative overnight at the Chateau Saint John, we were ready to make the next leg of our journey to Prince Edward Island. The vistas became more and more scenic as we moved northward.
When we crossed the border the day before we were confronted with an unanticipated problem, cell service. Jeff had traveled internationally many times, so his work phone was always covered. This time, not so much. His phone was knocked off because it was a personal trip. My phone was still online, however the data charges were wracking up so fast I received a warning that I was above a hundred bucks within thirty minutes after crossing the border. Oh, Canada! We straightened things out before we left Saint John but we still needed to use data sparingly for the remainder of our visit.  Because of this, we had to limit our GPS usage. This was not much of an issue until we decided to hop off the highway for some lunch. Here's the thing; the signs that indicate food or gas off the expressway are a bit subjective in these rural areas. We got pretty turned around and could not only not find food, we couldn't find our way back to the main road.
We fired up my phone's GPS to get ourselves unstuck, but were perplexed by the series of rural, roundabout roads we were directed towards. Honestly, I was getting pretty nervous. There were no signs of civilization anywhere…and then it occurred to us. Because I'm a wimp who doesn't like to drive on the highway, my phone was set to "avoid freeways". D'oh! We had been making our way across Canada via logging roads!!! We can laugh about it now, right?
The last time I ventured over toPrince Edward Island there was only one way to get there and that was the ferry. Now one can boot on over the Confederate Bridge. This is so much faster than the pervious manner of transport but I wasn't super thrilled about driving for eight miles over the deep, dark scary ocean.
We quickly made our way to Charlottetown where we would be staying for two nights. I was torn between several hotels in the area but landed on the Great George. I'm so glad decided to stay here. The location couldn't have been more perfect! We parked in the lot and were able to walk to all our destinations.
The room was more countrified than some of the others I'd seen online, but clean and cheerful none the less.
My diligent research (opening up Tripadvisor and typing "where to eat in Charlottletown") yielded this result:
The Oyster House wasn't open until 5:00, but don't cry for us Argentina, because the pub upstairs was pouring beer and serving Dollar Oysters.
We stayed and chatted with some locals as well as Liam. We still had a bit of time before the dining room downstairs opened so we decided to take a walk where Jeff set about accosting and being accosted by the statuary around town.
Things were pretty quiet around town, due the the fact that it was about a month out from tourist season here. The little ice cream shops and tee-shirt stores were still closed up tight. It made for a pleasant walk though.
The downtown area is comprised of old brick front buildings that surely housed some former factory industries, though tourism had been the major force for the economy as far back and the nineteenth century. Charlottetown claims to be the "Cradle of the Confederacy". Being from the states, I really knew nothing about what this meant. I'll spare you the history lesson but you can learn more HERE.
We decided to make a quick stop before dinner over to the Gahan House. More about this later, but we would be playing a show here the following evening and wanted to check it out ahead of time.
We didn't know it when we approached the Pub about playing here, but this brew pub is a part of the award winning Prince Edward Island Brewing Company.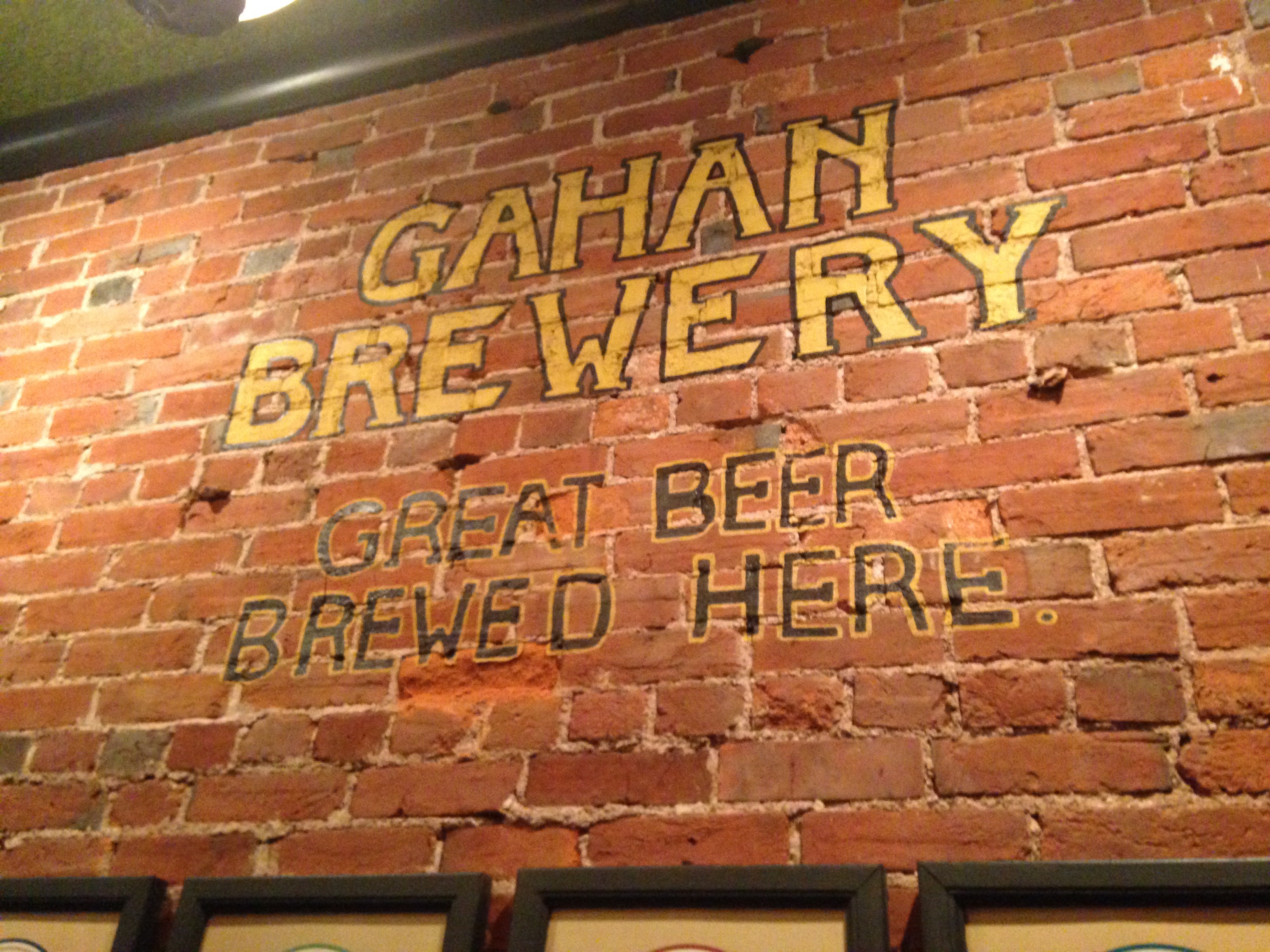 The time was upon us to sup. The look of the Claddagh Oyster House was completely different from the upstairs pub.
I hadn't really scoured the menu at home but, because of the name, I just assumed it would be good ole Irish pub grub. The menu was far more sophisticated. We had no idea what we were in for. I'll tell y'all right now, this was one of the finest meals we've enjoyed in a number of years.
We started with a foi gras tart. This was simply exquisite. Perfectly balanced between the buttery richness of the foi and the smoke of the chicken with just the right amount of acid. One for the books!
Next, another appetizer. There were three of these divine cakes. I forgot about my journalistic responsibilities, I was so excited! These as well were delectable.
Our server helped us to settle on the main course. This was no easy task. The menu  was filled with locally sourced ingredients and intriguing sounding components. We decided on the halibut. Depending on the time of year, this can be a portioned filet, but in the early spring they are serving whole baby halibut. This was one on the most amazingly simple yet luscious dishes I've ever enjoyed. A cloud of yummy sounds is surely still hanging over the building.
The bacon lardons weren't just thrown on the top, the whole fish was basted in this rich smoky fat. It flavored the whole fish.  The accompaniments were fantastic as well; colcannon potatoes. I had heard of these but never had them. So tasty! I've looked up recipes but nothing seems to match the flavors here. The potatoes were bright and almost lemony, perhaps parsnips were mashed along with the kale and carrots?
The squeamish may want to skip the next photo….
Jeff totally floored me and ordered dessert without the slightest consultation. I thought I knew the man. I've only had sticky toffee pudding once before and it was waaaaaaay too sweet. This was not the least bit treacly.
Whew! What a meal. It's a good thing the Claddagh is a good ten hour ride away from us or I'd daily be mainlining colcannon potatoes! We turned in early because we would have a very long day ahead of us.  The Great George must have thought we were looking a bit peaked cause they had fresh chocolate chip cookies waiting for us.
Up next: What we made the journey for…