August was looking to be quite a busy month for Mr. Jones and me. We had just a few unscheduled days in the coming weeks so I decided a quick day trip before all the craziness was in order. I wanted to find  a seaside town that neither of us had visited before. A quick session on the interweb led me to Salem Massachusetts. Now, I don't go in for all that witchy stuff, but the maritime history along with the prospect of enjoying some manner of seafood whilst overlooking the ocean was enough of a draw for me. Armed with a scant bit of research, we headed northeast  for the day!
We set out around 10:30 to avoid the Boston traffic (and because I can't drag myself out of bed before 9:00 unless I'm getting a plane to go to Disney) which landed us in Salem just before noon. Perfect, let's eat!
This spot was well reviewed for it's food as well as the stunning views.
We were thinking long game when we ordered here. We decided to keep it light so we could try more of what Salem had to offer. I had a lobster quesadilla appetizer.
While these were not overflowing with lobster, they were flavorsome and well paired with the sharp a arugula salad.  Jeff went with the fish tacos. When he ordered, the server asked if he wanted them prepared with the "Fish of the Day". He approved of the idea. Just as she was stepping away he asked what that fish was, just out of curiosity. She said, "baby octopus". Oh my. Now, we're up for octopus, squid or what have you, but I can imagine there's plenty of folks who would be quite alarmed when their fish tacos arrived looking like this:
These were quite good. The mango salsa had just the right kick to balance the sweet fruit. There was also a nice bit of cabbage slaw for some crunch. The Octopus itself was nicely seasoned and rather tender, however it was still quite challenging to manage a bite without some struggle. I would recommend that the chef slice those lil' guys up for easier consumption. All in all, a great start to the day.
Fortified, we were ready to traverse this historic city.
Like the Freedom Trail in Boston, Salem has it's own self guided walking tour. However, the path is just a painted line rather than the cute brick paths in the North End.
As previously mentioned, the witch aspect was not of interest to us, however, we did cut through one of the tacky gift shops on the way by. The wares were eclectic.
Our first visit was to the city's oldest cemetery, The Burying Point.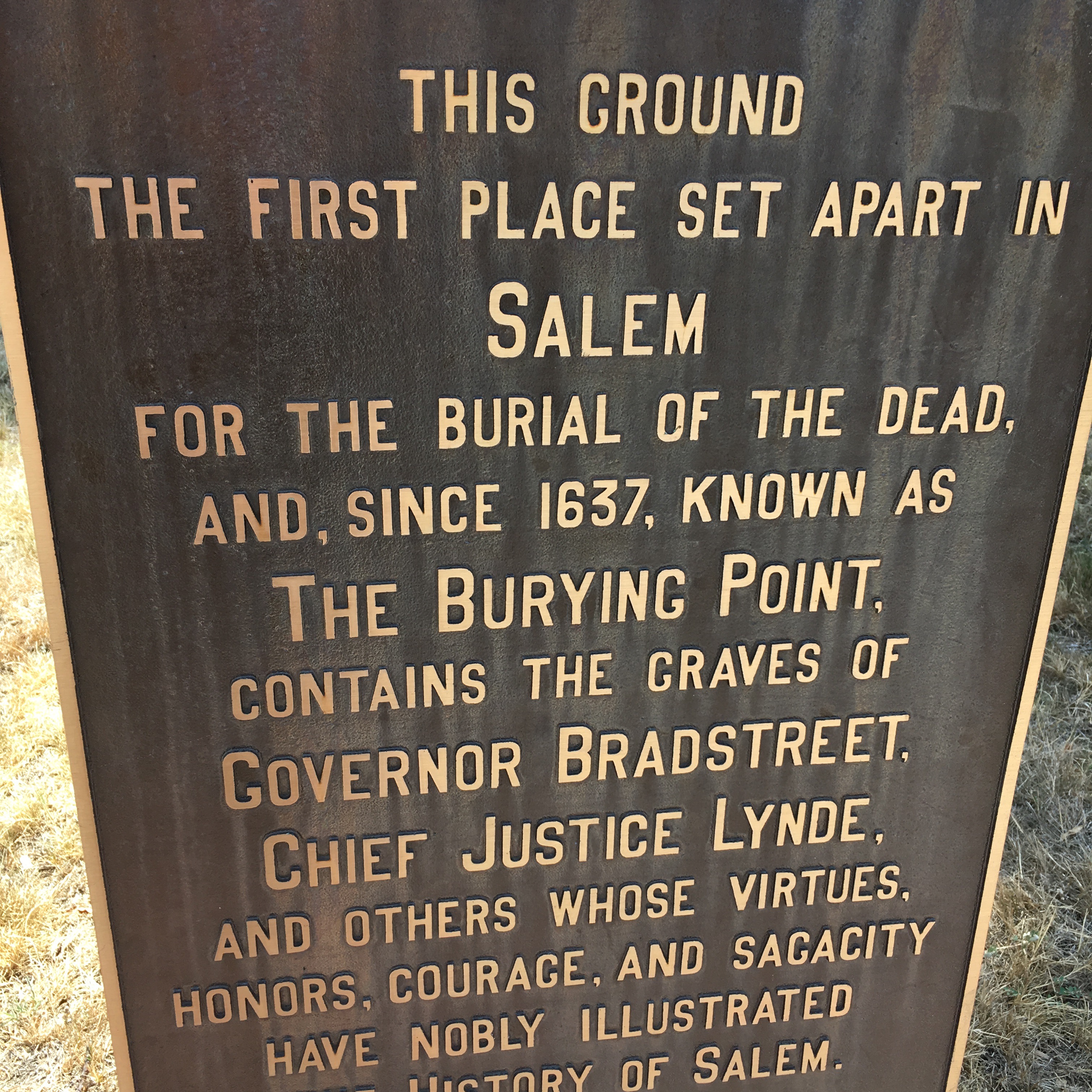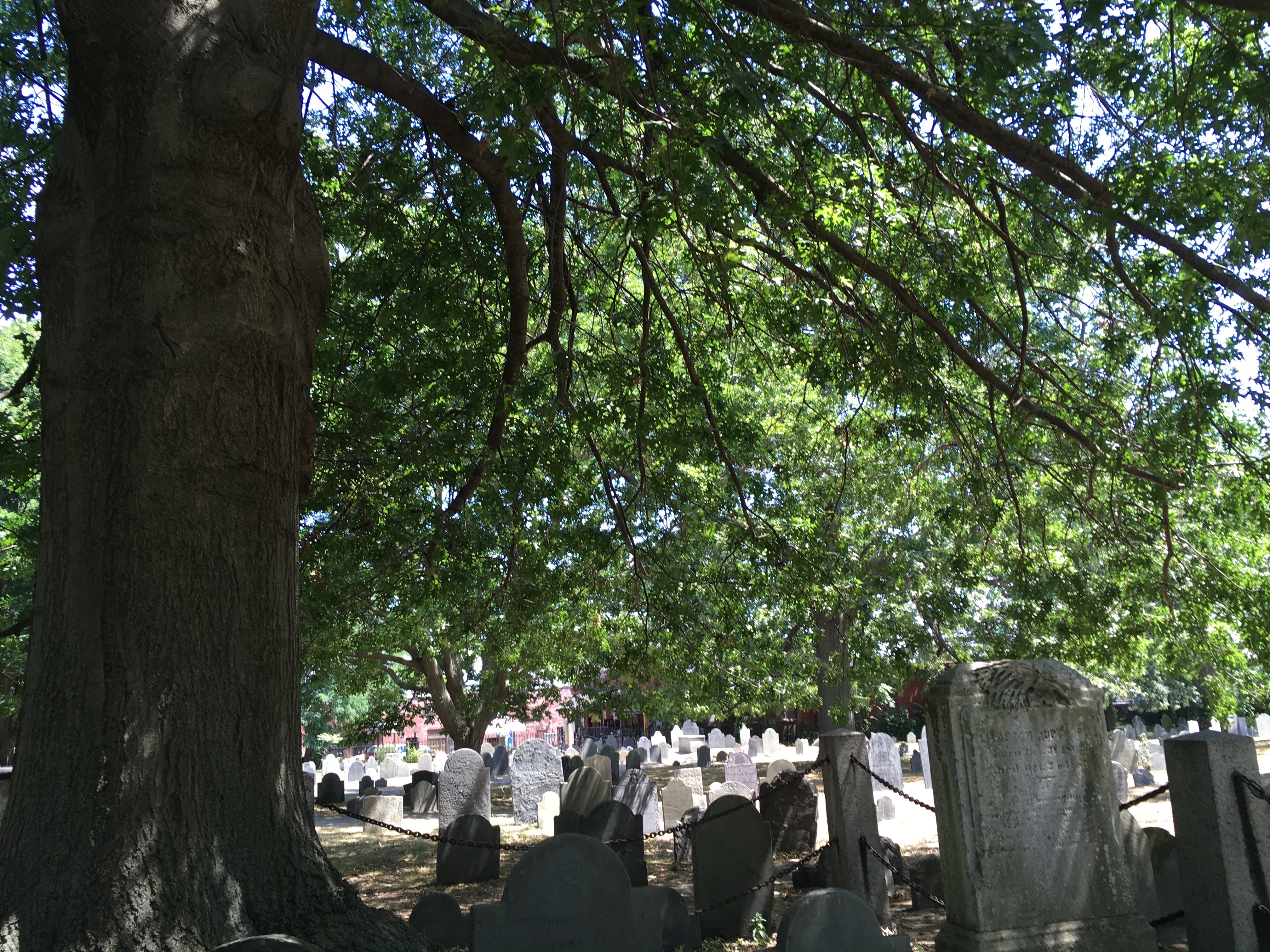 I've always found reading old grave stones fascinating. It's easy to forget how difficult it was to survive into your golden years in this time in our history.
The wealth of the deceased can easily be detected by the ornamentation of the head stone. This young woman was a captain's wife.
So many families lost multiple children.
Adjacent to the cemetery is the Salem Witch Trials Memorial. The memorial was created by artist Maggie Smith and architect James Cutler who based their design on the theme of  injustice:
The memorial consists of 20 granite benches surrounded by a low stone wall. Each bench represents one of the victims of the trails.  The stone slabs are inscribed with the victim's protests, which were taken directly from the court records. The inscriptions say:
"For my life now lies in your hands"

"On my dying day, I am no witch"

"God knows I am innocent"

"Oh Lord help me"

"I am wholly innocent of such wickedness"

"If I would confess i should save my life"

"I do plead not guilty"
There's and interesting push and pull in Salem between the injustice of the Witch hysteria of the 1600's and the glorification of all things Witch. The protestations of these victims attest that these citizens were indeed not witches and were falsely accused. At the same time, the city is a hub for current day self-professed Wiccans. I guess the take away for us today may be that no one should be persecuted solely for being different, whether in perception or in actuality.
We took a little rest in some comfy adirondack chairs in the heart of Lappin Park. This is tucked into a nice square that has a lot of shops and restaurants, with limited car access.
It's here that you can find another memorial to a certain witch that has caused a bit of a kerfuffle.
Some folks believe that this fictional TV character may diminish the gravity of Salem's history. I believe that it is just plain ugly.
As we made our way back toward the water we happened upon an art installation at the Crowninshield-Bentley House. This house is a historic property stewarded by the nearby Peobody Essex Museum.
Just to the right  of the home stands a StickWork piece by Patrick Dougherty entitled "What the Birds Know".
These pieces are constructed using saplings that are collected locally by volunteers. As you walk around and through the structures, the perspective changes markedly.
For a look at how these and other structures are created, check out and the video below. It's just about three minutes. Fascinating stuff.
Next Up: So you think you know Nathaniel Hawthorne?