Today will be our first day in the parks. I was planning on going to the Magic Kingdom, but then Ashley and Sam offered to treat us to the Mickey's Not-So-Scary Halloween Party (yes, that's the official name) that evening, so I decided to break things up and hit the Animal Kingdom in the morning.
First thing, we ran into DeVine. She's a sort of stilt-walking art piece that ever so slowly skulks around, creeping out guests. The performer does a wonderful job contorting her body into peculiar formations so that you don't really know what you're looking at. Her costume, however, is just silly. She's covered in vines (sure, that works) and grapes! I'm no vintner, but I don't believe there are any grapes growing in the dense tropical jungles.
There are opportunities for close up animal interactions all around the park. You just have to slow down enough to find them. We happened upon an animal care expert and his 'lil pal.
This is a Blue Tongued Skink. He did indeed have a blue tongue that I attempted to get a picture of but after about forty tries I gave up.
This park is all about lush landscapes and authentic details. There are so many places to stop and take in the beauty of it all.
We had Fastpasses for the Expedition Everest attraction, which is basically a fantastically themed roller coaster. There are so many details in the queue, even if you to wait in the standby line, it's not so bad.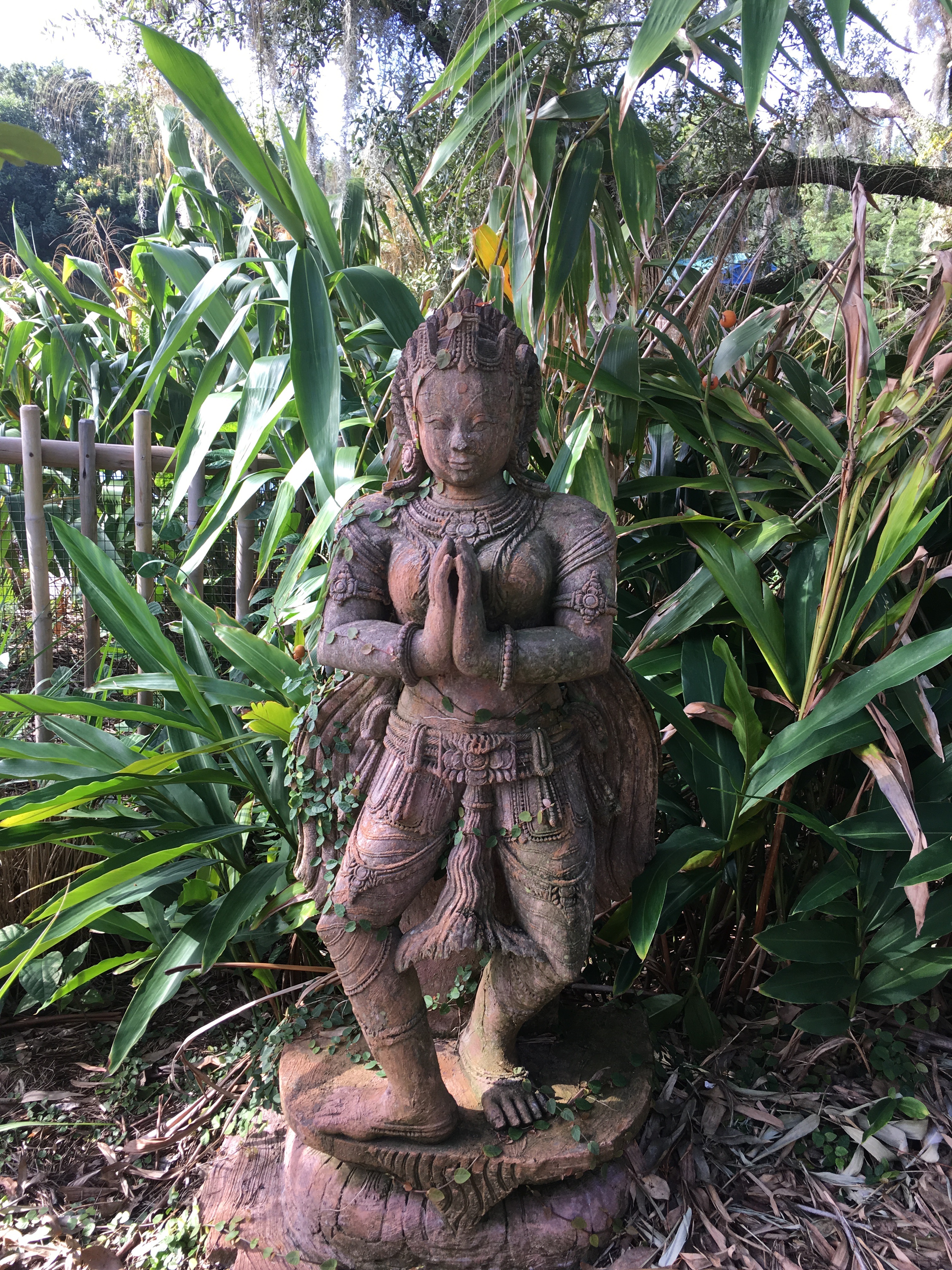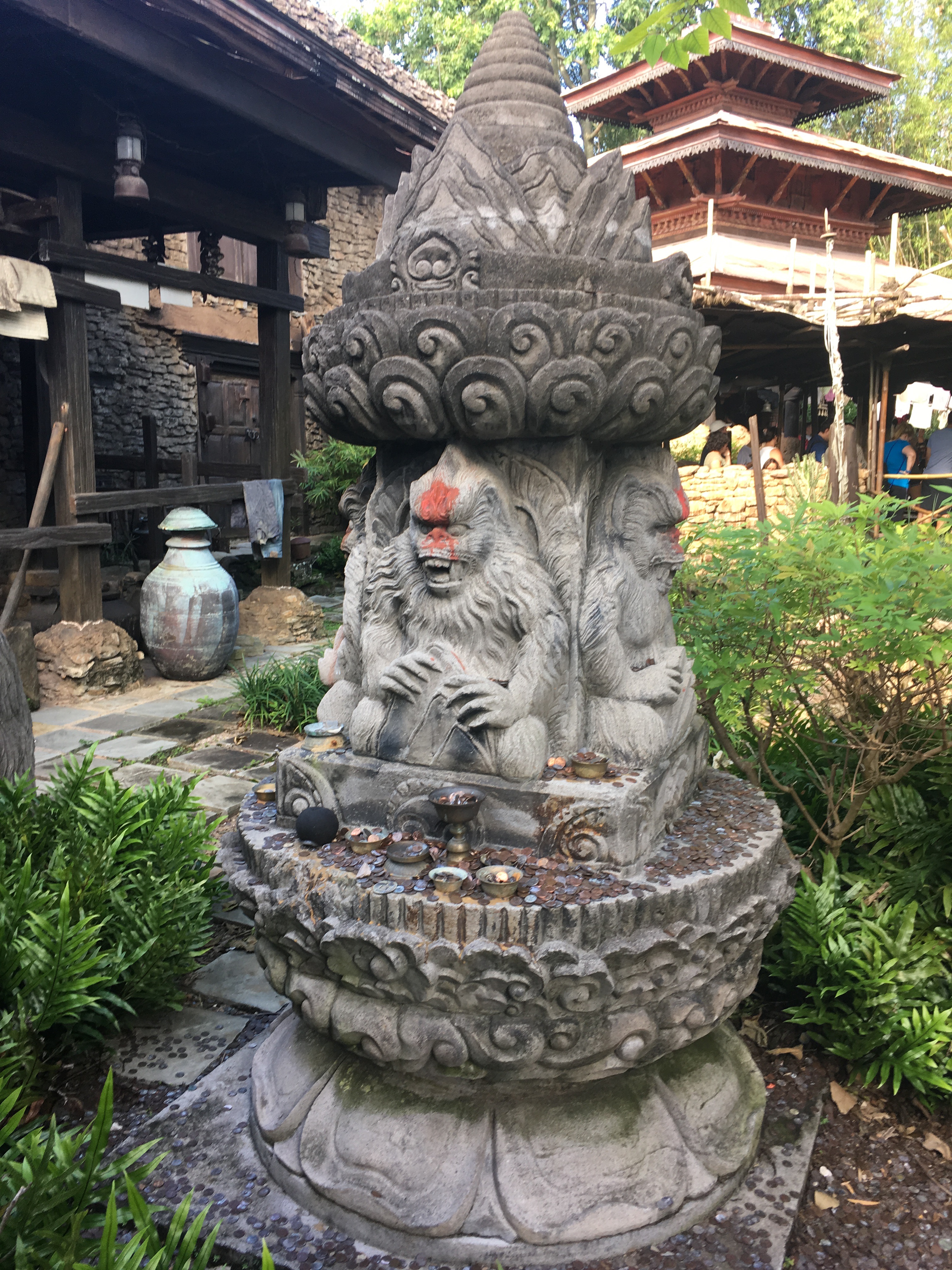 It was immediately after this ride that we discovered that Jeff is just not into coasters anymore. Certain jarring attractions have been falling of the list for both of us, but this is one that I still really enjoy. Next time, I may have to fly solo.
We strolled on over to Africa to grab a bite eat.
I had read a lot about a new area called Harambe Market which  boasts some tasty food additions.
Unfortunately, it was about thirty minutes until the windows would be opening. We just needed a little something to hold us over because we would be meeting Ashley and Sam for lunch at noon. Aha! I thought of the perfect snack: Bloody Marys!
We lounged in Harambe sipping on our liquid snack until it was time for the Kilamanjaro Safari. The safari is always a good take, but I was kind of ruined after one visit when it was pouring rain. This was a bummer in general, but on the safari, the animals were so active! It's never been quite as good as that, not that I'd wish for rain.
It was close enough to our reservations to make our way over. We would be having lunch at a brand new restaurant,  Tiffins. We were still a bit early so we first had a beer in the adjacent Nomad lounge.
This lounge has a travel theme with queries about life's journeys written on banners and along the walls.
We chose an Spiced Excursion Ale. They are dubbing it the "Kungaloosh" which is a deep cut Disney nerd reference to a cocktail once served at the long-gone "Adventurer's Club".
We were just a few sips in when Sam And Ashley arrived. We grabbed our drinks a walked across the way to Tiffins.
Tiffins is the first signature dining restaurant to be opened at Animal Kingdom. The reviews have been fantastic, but the restaurant seems to be struggling to fill up. I believe that there are two things at play here. First, the menu may be a bit challenging to the average park goer and secondly, Tiffins is off the current beaten path. I say current because it is situated right at the future entrance of "Pandora", the Avatar-themed Land which is under construction as we speak. Once this is opened I can well imagine that it will become quite popular, especially the lounge. I kinda hope it stays on the down low though. What an oasis!
There are three "Galleries," or dining rooms. We were seated in the Grand Gallery. The theme here is a celebration of  animals as well as folk art. A large Lantern wall is paying homage to a night time show "Rivers of Light". The problem is that the show never premiered. It was supposed to open months ago, but has been plagued with problems and has no opening scheduled as of this dateline. Looks great none the less.
The second dining room is adorned with artist renderings and design elements of Animal Kingdom, especially the African safari and the new Harambe area we visited earlier.
The third dining room is the Trek Gallery. I didn't poke my nosy head into that one.  It has an Asian motif and just looking at a few pics online, it is the least themed and most likely is only for over flow dining.
Now that you're acclimated to the environs, Let's eat!
Jeff and Sam both started with the Lobster soup. It was served table side. I didn't get the camera out quite fast enough.
The guys both loved it. Jeff gave me a taste and all the while he was muttering something about it having a familiar taste he couldn't quite put his finger on. After some time he exclaimed:"Fruit Loops!". Damned if he wasn't spot on. He mentioned it to our server later on in the meal and he was all like "Yes! that's just what I've been thinking! Thank you!". It was so weird that it was both delectable and tasted like a breakfast cereal. Go figure.
I went with the Octopus appetizer. While I'm not afraid of this tentacled sea creature, it's not something I would have jumped at. I had heard so many reviews saying that this was a knock out dish so I just had to try it. Oh my, it did not disappoint. The fish was tender, perfectly seasoned and charred to perfection. The accompaniments were just delightful!
Ashley chose the bread service. This is in no way similar to the Sanaa Bread service which you HAVE TO try when you come down here, but it was well received despite one selection being too salty.
Jeff and I decided to share the "Taste of Tiffins" which is choice of two smaller entree portions for $28. Ashley and Sam did the same. The fish I had doesn't seem to be on the current menu, so we'll have to go with my pedestrian description.
These two dishes were stunning. Perfectly composed and so flavorful! It was just enough for two people along side the appetizers we had. We still had a bit of room for left dessert. We had a long night ahead of us so we had a couple of cappuccinos as well.
This dessert was a perfect end to an exceptional meal. We all enjoyed our time at Tiffins so much. While it was not a cheap lunch, it was a great value for the caliber of food and service we received.
After a little R&R and we'll be ready for the Spooktacular Mickey's Not-So-Scary Halloween Party!
Coming Up: Can someone who doesn't care for Halloween or eat candy have fun a MNNSHP????