We were blessed with another perfect day in Sunny Orlando. Today we're headed to Hollywood Studios. This park is under some serious renovations. Even you "normals" who don't eat, breathe and drink Disney probably have heard about the epic Star Wars Land coming here. There's also a Toy Story Land  coming to boot. At the rate that Disney moves on construction these days, they will be cutting the ribbons on these in about 2056.
We had a bit of time to kill before our first Fastpass came due. Instead of fighting the morning lines for burnt coffee at Starbucks, we got a little pick me up at our old standby, Starring Rolls Café.
On to Pixar Place!
Right Next to Toy Story is the often over-looked "One Man's Dream". This is a museum dedicated to the man himself, Walt Disney, focusing on the origins of the parks and Walt's childhood.
There are many models displayed throughout the museum documenting the original concepts for attractions and lands. Some are authentic, while others are re-creations of those models. I didn't take note of which were which.
So, with the park in such a state of flux, and many major attraction now gone, one wonders if there's still enough to do here. It depends. If you have small children, it's still a great place to take in fun shows like Voyage of the Little Mermaid and Playhouse Disney. On the opposite side, those who are  looking for thrills can enjoy Rockin' Roller Coaster or Tower of Terror.  Now that we've discovered Jeff's new aversion to coasters, those two rides were scratched off the list. However, if you're a Star Wars fan, they've got you covered. Disney is pre-gaming for the new Star Wars Land real hard with some awesome shows and character interactions that will make any Star Wars fan ecstatic. First off, the March of the First Order.
You'll know this is about to happen due to the ominous and bone- rattlingly loud music playing which heralds the entrance of the Storm Troopers.
This "show" occurs just about once an hour all day long. It is really impressive to see all those Storm Troopers marching across the park. I'm not a huge Star Wars devotee, but I'm married to one and it was a real hoot to watch him marvel at this procession of characters that were such a part of his childhood.
Next up was the Star Wars Launch Bay.
This offering displaced one of my favorite activities in the former Animation courtyard where you could learn to draw disney characters and take home a free souvenir, a rarity in Disney. All of this is gone and now replaced by a sort of preview of what's to come in the new Star Wars Land. There are movie props and costumes on display, and the Storm Troopers loom about and assess the threat from random guests.
Also housed in the Launch Bay are two character meet and greets. There's Kylo Ren from the latest movie, whom I understand is pretty scary and intimidating and CHEWBACCA!!! I said I'm not a huge Star Wars fan, but who wouldn't be psyched to hug a seven foot Wookie?
All this fan boy action was making us hungry. I was very glad to see that one of our favorite spots, the 50s Primetime Café, managed to dodge the clear out for the new lands. Today we would be hitting up the lounge.
While the lounge seems to  have a separate entrance, it really just dumps you into the regular waiting area for the restaurant. It can seem pretty busy, but most people at the bar are just waiting to be seated, so stools come available pretty quickly.
We got a couple appetizers to keep things sort of light.
These were both really excellent. I would have liked to have had another crab cake on the plate for the $12.00 price tag, but the cake itself and the succotash were of real quality. The onion rings, however, were a bargain. A good portion of crispy beer battered onions and a soup bowl of horseradish sauce for $7.00!  Double onion rings next time? Maybe.
Our bellies now full, we popped over to the newly dubbed "Muppet Courtyard".  Muppets have had a low profile presence in Hollywood Studios for years. Now, it seems there doubling down on the property and I couldn't be happier.
The execs at Disney had shoe horned a "Pizza Planet" into this area years ago. The theming really had barely any resemblance to the arcade in the Toy Story movies. To make matters worse, they served doughy, cheap pizza and limp salads and not much else. So when it was announced that "Pizzerizzo", a Muppet themed, New York style pizzeria was taking it's place we Disney nerds were psyched!
The new joint has opened since we returned and voila! they're serving the same crap pizza as before. Why Disney? Why can't you serve a nice slice of pie for the people? Oh well.
It was getting on time for a pick-me-up so we skipped over to the new Starbucks for an iced latte. The addition of Starbucks to the parks was once controversial (I'm looking at you, Main Street Bakery), but they have done a really nice job of integrating the shops into the parks with some clever theming. This store is themed after a trolley car station. There's no trolley to be found here in Hollywood Studios, though there is one in Disney's California Adventure…hhhmmm. Maybe there's a Red Car Trolley on the way!
While Jeff ordered, I set about finding a place to plop down on Hollywood Boulevard. I texted him my location and then sent him off on a wild goose chase because I don't know right from left. He found me eventualy.  Sorry, dear.  We got a bit of a show while we enjoyed our beverages. The Citizens of Hollywood are character players that roam the streets, stopping here and there to put on improv shows that incorporate guests and a lot of vaudeville schtick.
This is the kind of thing that guests tend to walk on by. Honestly, if we weren't having our drinks, I would have moved on as well. I have to tell you, they were hilarious. The players were doing a tournament of champions of "a guy walked into a bar" jokes. The guests would yell out a key word and they'd have to go with it. Man, they were fast. Disney has been eliminating more and more of this type of entertainment, so if we want this kind of streetmosphere to continue we need to stop and enjoy it. I'm really talking to myself here.
We had one more Fastpass left so we headed on over to the Great Movie Ride.
This is an opening day attraction that has seen better days. It's more about nostalgia now. The show scenes of the classic films run from not-so-good likenesses to horrifyingly bad representations. Poor Sigourney Weaver. There was a refurbishment last year, but I'm afraid it was subtraction by addition. They added a narration that steps on the live actors' role. It's just weird now.
The Wizard of Oz set is exceptionally good. The animatronic witch is quite realistic.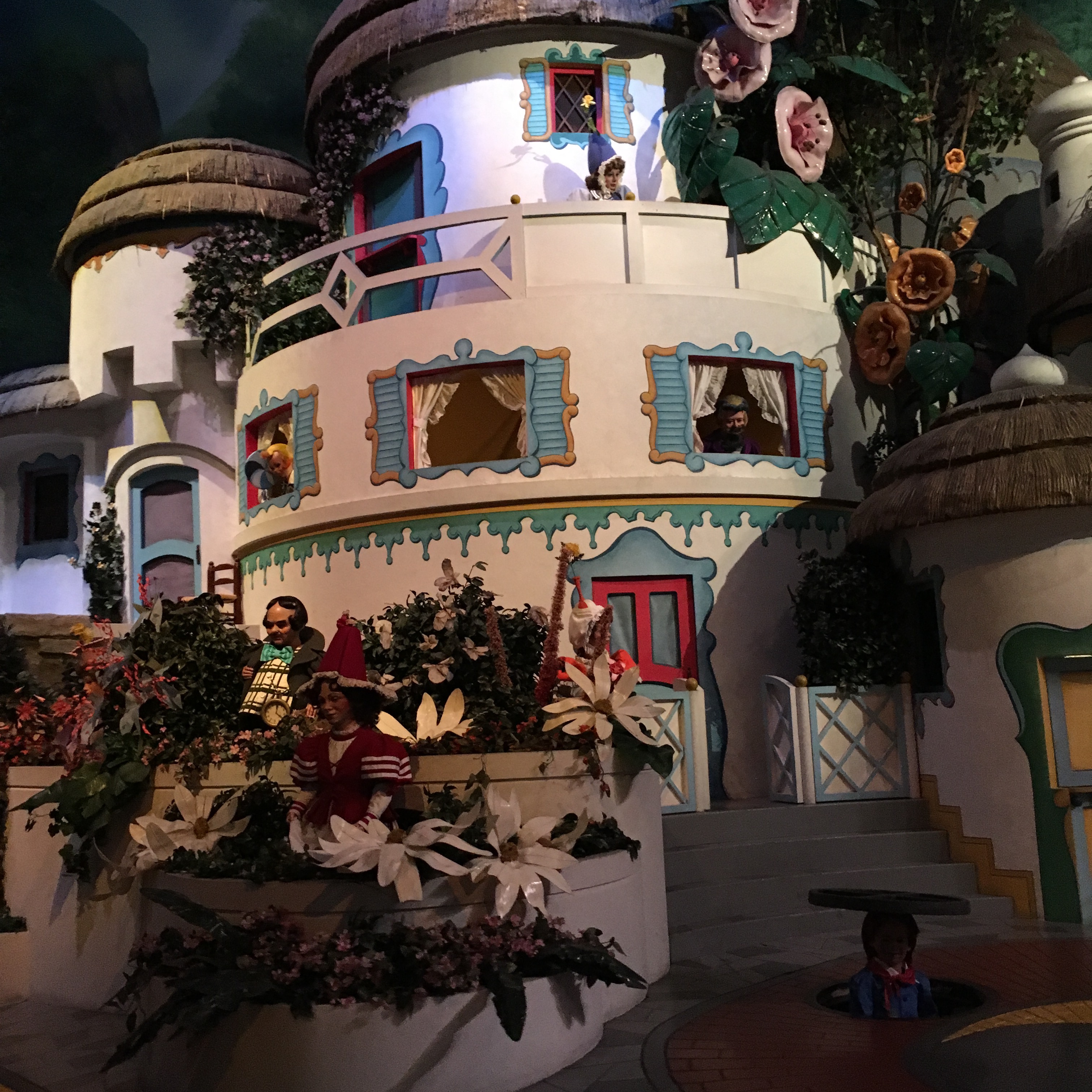 We decided to head back to our room for a wee nap. The onion rings had worn off for Jeff so we stopped into the food court for a flat bread and beer.
So, is Hollywood Studios worth a visit right now? I'd say yes, but just barely at this point. We won't be heading back tonight after our nap, as we would for the other parks. Instead we'll be enjoying a bar crawl around Crescent Lake. Not a bad concession.