After we finished our amuse bouche at *La Spaghetti we decided to have the rest of our meal at another establishment. Mark and Michelle recommended a small, family owned bistro that they had enjoyed before so we headed on over.  But we soon got sidelined by this:
I wasn't sure what was going on, but everyone seemed to be quite excited.  As it turns out this happened to be the weekend of The Fisherman's Feast.
The  large brass band was playing  jaunty music while burly men carried around a statue of Madonna del Soccorso (Our Lady of Help).
The whole entourage would parade around while boisterously singing, then when they made a stop people would approach the statue and pin dollar bills onto the ribbons that festooned the altar.
Then some ladies began unfurling ribbons of money out a window: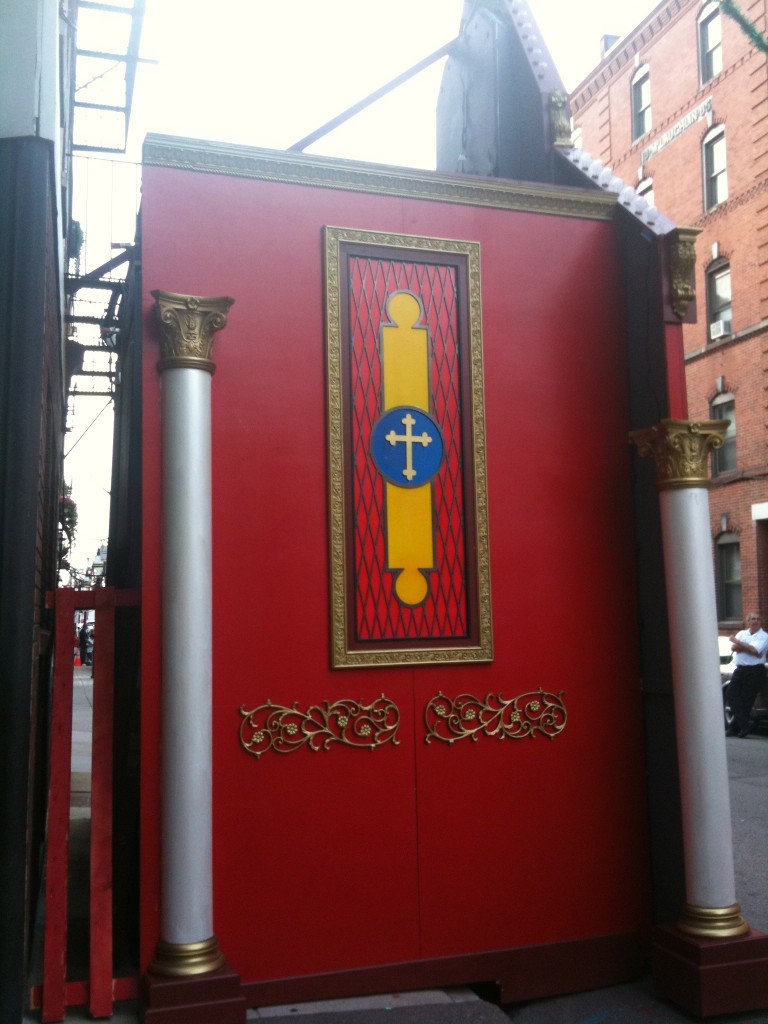 This tradition has been going on in the North End since 1910. I've read a bit about it's origins and frankly I'm still confused. But what I do know is that there is a lot of food, singing, and happy (tipsy) revelers so count me in!
The parade was getting ready to move on and we were ready for dinner. The street was packed so we followed along behind the crowd. We were almost at our destination when the parade stopped smack in front the restaurant.
We squeezed our way through the crowd to Massimino Restaurant. This place was off the beaten path of Hanover Street. It's small with a warm yet modern style.
We started off with some Sangria (I know it's Spanish not Italian, but it was hot out there!) and antipasto.
Jeff ordered a seafood special, I believe it was a Fra Diavlo. I managed to swipe some of the mussels.
I had the Gnocchi al Forno.
The gnocchi were tender and light and the cream sauce was delicious. I only wished that they had skipped the al forno part. The extra cheese was unnecessary, and took away from the delicateness the gnocchi.  All in all very tasty though!
Next, there was dessert to be had, so we decided to walk back to Hanover street for cannoli. Everybody knows about the famous Mike's Pastry. You can hardly walk three steps without seeing someone carrying a white box with blue lettering on it.
But Mark and Michelle took us to another place right next store.  Caffé Vittoria is a hidden treasure in plain sight.
The interior was so cool; marble topped tables with chrome ice cream parlor chairs, tin ceiling, and lots of antique coffee making paraphenalia to look at.
We snagged a table right at the open window so we got to watch all the happenings out on the side walk.
Vittoria specializes in coffees, but also has a full bar. I decided to try something different and have an espresso with (much to Jeff's horror) a shot of Ouzo.
Everyone else got Cappuccino.
Now the desserts. Again I broke from the pack a decided to get Tiramisu, it was terrific!
Everyone else went with cannoli.
They also served Gelato, but it would have been CRAZY to try that too.
Then, as if they were called up from central casting, two strolling musicians arrived to serenade us with  "That's Amoré":
Without doing a side by side comparison, I can't say which cannoli is better; "Mike's" or "Caffe Vittoria". However, what I can say is that I loved the atmosphere at Vittoria. It was so much more relaxing to be sipping our coffee out of real cups and saucers while people watching rather than  being herded like cattle next store.
Maybe it was because of the festival going on, but it seemed like everyone was out enjoying each other's company on  this beautiful summer evening. It felt like I was back in Amsterdam (Ack!!! that sounds pretentious!) It is pleasing to know that with the North End so close by, I don't have to fly all the way to Europe to get that feeling again.