Today we would be making a second visit to  Animal Kingdom. This is a first for us due to the fact that we've never stayed longer than six days at Disney. When one has a limited amount of time in the World, Animal Kingdom and Hollywood Studios tend to get short shrift. This time we had nine glorious days to luxuriate!  This visit will be less about rides and more about well, animals.
First on the agenda was one of the two walking trails at Animal Kingdom, The Gorilla Falls Exploration Trail. The name of this trail was recently changed from Pangani Forest Exploration Trail. Gorilla Falls was actually the name of the trail when Disney's Animal Kingdom first opened. That's a lot of trail naming drama.
The main attraction here are, of course, gorillas! We got a pretty good view of this fella.
The bamboo Mr. Gorilla was chomping on was starting to look pretty good. We set about having a proper meal. On our last visit we arrived a bit too early for lunch in Harambe, this time we hit it just right.
Harambe Market features Chef Mwanga's Ribs Shop, Famous Curry Battered Sausages, Kitamu Grill, and Wanjohi Refreshments. In the beginning, these windows were all separate, making it difficult for families to order different items. Now, each window serves all of the menu items. I love that Disney goes all in with the flavors here. Even the kids meals are just smaller portions of these African inspired foods.  Our choices were quite interesting and well executed. The portions were generous as well.
We enjoyed our relaxing lunch in Harambe tremendously. Anyone who tells you that Disney only has burgers and chicken nuggets is missing a wealth of unique culinary riches.
Next we did something that I would NEVER do if we were only hitting the park for one day; we took the train to Conservation Station.
What's entirely unique about this experience is that the train ride takes you "back stage". Usually guests only have the opportunity to see these kind of areas by going on a "behind the scenes" tour. This  however, takes regular day guests right through utility buildings, parking lots and animal care areas.
I'm really not sure if Disney allows these views intentionally or if they simply didn't want to spend the money to screen out undesirable vistas. I found it interesting none the less.
The reason this spot is not all that popular is because what's offered is not much different than what you may encounter at your local petting zoo. Educational for sure, but when Expedition Everest is right next door, it just doesn't have very much of a draw.
There are a couple meet and greets here as well. Chip and Dale were greeting folks outside.
Off to the back of Rafiki's you'll find the petting zoo.
If you have the time, this is a pleasant diversion away from the hustle and bustle of the rest of the park. We wandered around for about an hour and that was more than enough. We headed back and promptly parked it in the shade for an iced coffee break.
We were caffeinated and rested up, but we made one more stop before moving on.
Disney had just added portable charger kiosks which allow for unlimited Fuel Rod exchanges throughout all the parks. Pro tip: buy your Fuel Rod at home and you'll save ten bucks off the $30.00 price tag. These chargers were extremely convenient. We used the heck out of these during the trip.
Now we were really charged up and ready to attend my most favorite stage show in Disney, Finding Nemo-The Musical.
I've told you all about this show before, so I won't bore you with another recitation. What was different for us this time was how close we were to the stage. Interestingly, the folks who had fastpasses were seated much farther back in the auditorium. We just got in the standby line and had a much better opportunity for a close-up view.
Our view was off to the side which, if it were your first time seeing the show, might not be ideal. Having seen this several times, I enjoyed being able to see off into the wings where the stage hands were setting up for the next scenes and the actors switching up puppets.
After Nemo we headed over to Asia to explore the second animal trail, the Maharajah Jungle Trek. This is one of the most intensely themed areas of any park. There is, of course, an elaborate backstory only the nerdiest of fans will know. The basics are that this is the old hunting grounds of the King or Rajah of Anandapur. The King decided it would make for easier hunting if everything was enclosed to keep the animals from leaving the grounds so he created a royal reserve with a hunting lodge. Spoiler alert: he was eaten by a tiger, because Karma. After this, three much more enlightened rulers helped turn the hunting lodge into an animal preserve. What remains is a crumbling ruin that is slowly and beautifully being reclaimed by nature.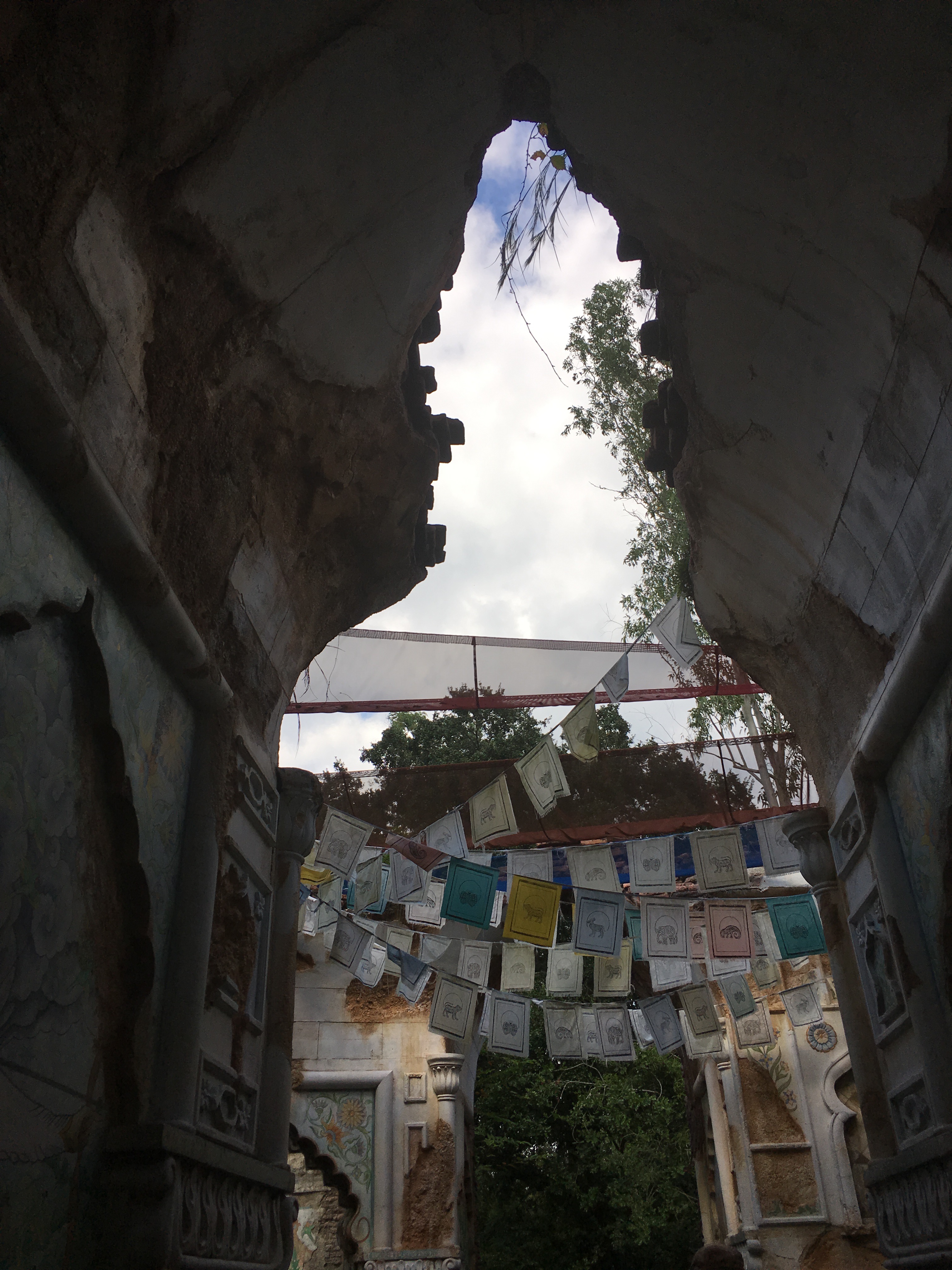 The last area on the trek is an Aviary where you get a close up view of some funky birds.
The sun was starting to get low in they sky. In the past, Animal Kingdom would be shutting down right about now. Not so anymore, the party is just getting started in Harambe.
Next Up: Everyone you meet, they're jamming in the street, all night long…