Today we would be spending our first full day in the Magic Kingdom. I say would because I had to make a bit of a concession due to a certain sports team that was playing that afternoon. More about that later. This was, once again, an absolutely perfect day. We took our time strolling down Mainstreet USA. I just adore all the gingerbread details here. There's so much to see if you just slow down and look up. Don't worry, Space Mountain will still be there.
First on the agenda was to head to Liberty Square. There you'll find a new show that I was beyond excited for.
That's right, my friends, real live Muppets before our very eyes. I can't tell you how wondrous this was. I'm a grown adult. I understand that these are just puppets made of felt with button eyes, but the Muppets were such a huge part of my childhood I was nearly verklempt.
This show takes place about twice an hour from about 9:00am to 5:00pm. It's really kind of genius. The cast of characters retell one of two stories of American history; The Midnight Ride of Paul Revere or The Declaration of Independence. They perform this in the slapstick manner of Muppets, of course.  When the show was first announced, some Liberty Square purists (yes they exist) fretted that such silliness would take away from the authenticity of Liberty Square. I disagree. This show is silly and fun, but also educational. It takes zero away from the architecture of the square either, so settle down, purists. The performance we saw today the Paul Revere. Yes, we will see the other before the week is out.
Enough of all this nostalgia business, it's time to eat! We headed over to Adventureland for lunch and the new table service restaurant the Skipper Canteen, or more specifically,  The Jungle Navigation Co. Ltd. Skipper Canteen. Whew.
We didn't have reservations, but the place has not been filling up so far so I felt pretty confident. When we arrived, the waiting area was teaming with people. Uh oh. Then I realized it was barely 11:30 so the joint was just opening.
You may have gleaned that the canteen is themed after the Jungle Cruise attraction. The servers wear skipper cast member costumes and the place is filled to the brim with Jungle Cruise backstory, tchotchke and in-jokes. We were seated in the Mess Hall which was just fine, but I knew there were posher digs in the Jungle Room, and the S.E.A. Room. Because we didn't have ressies, I didn't want to ask to switch. It was fine.
I had been hearing great things about the food here, that it was different and bordering on exotic, which is probably the reason it hasn't been brimming with guests. In-park restaurants tend to cater to the masses with burgers and chicken nuggets. It's usually the resort hotels where you can find upscale or more interesting cuisine. Skipper Canteen is bucking that trend, and my fingers are crossed that they'll stick with it.
The bread was heady with spices, and the dip was nice, but I didn't get much mustard, just honey. I read plenty of reviews (of course I did) and while most everything was favorable, the appetizers seemed to get the most glory. We decided on a tapas style lunch.
Everything was simply marvelous, the standouts being the dumplings and the falafel, both perfectly executed. The arepas were excellent. I did notice that recently they've changed this dish so that it is more composed, a good idea I think. The only thing that would have made our lunch better would have been a nice glass of wine, but this is a dry park…or should I say WAS  a dry park. As of this dateline, one can have an adult beverage here, and at other select sit-down restaurants in the Magic Kingdom! Cheers!
We had a few fastpasses to take advantage of on this glorious day. I tried to catch as much of the atmosphere in photographs as I could while keeping up with my traveling companion. Snap, Snap, snap!
We made our way full circle around back to the Jungle Cruise, the ride, this time.
You may recall that the last time we rode this attraction, the skipper was decidedly ho-hum at best. This time, we had a charmer. Very witty and enthusiastic.
A reasonable amount of time had passed so that we could legit get a snack. You may have heard of the Dole Whip, but, my friends, do you know about the Citrus Swirl???
The Citrus Swirl is entangled in a long and sordid story in Walt Disney World. Yes, I said sordid. Back in 1969, Disney solicited sponsors for many attractions and restaurants. The Florida Citrus Commission was the sponsor of The Tropical Serenade (Now known as The Enchanted Tiki Room) and the Sunshine Tree Terrace where one could enjoy the aforementioned Citrus Swirl. They also created a Mascot called the "Orange Bird", which would not only be visible in Walt Disney World, but throughout the state, on billboards and in advertisements for Florida Orange Juice. At this time, a singer and actress named Anita Bryant was the chief spokesperson for the Florida Citrus growers and had in turn collaborated with Disney in all these endeavors.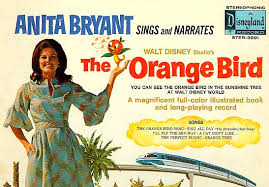 Here's where the controversy comes in. Anita Bryant became a very visible opponent of alternative lifestyles. Her public and vocal opposition of homosexuality lead to a full boycott of Florida citrus products. Because of this, the Florida Citrus Commission ended its relationship with the singer. Sadly, the Orange Bird and The Citrus Swirl, which were inextricably tied together with Bryant, were eventually phased out of the parks. Poor Orange Bird didn't ask for any of this!
By 1987, there was no trace of Orange Bird or Citrus Swirl anywhere to be found in Walt Disney World. Then, around 2004, the Orange Bird started popping up in Tokyo Disney, probably because of the burgeoning "Orange Day" holiday. This brought the lil' bird back into the purview of Disney, but it wasn't until 2012  that the  Orange Bird Citrus Swirl was swung back into action. That's right, we had gone a full twenty-five years without this creamy, citrus treat. Why, oh why must we let politics take precedence over our frozen desserts?
So, you may recall me whining a bit about having to leave the parks earlier than I would have liked, but we did do a whole lot in a short amount of time, so it's ok I guess. Maybe.
Next up: Can we find a place to watch football in Disney World?