This morning we were planning to have coffee in the room and then truck on off to our next destination, Washington D.C. However, we couldn't get the coffee maker to work for us. Not to worry! This gave us an excuse to check out a diner that a friend was telling us we absolutely HAD to visit.
Our friend suggested the Captain Crunch French Toast. That seemed a bit too intense for me, but it looked dang good.
Normally, I'm not too much for sweets, but I spied a gorgeous tray of humungous cinnamon rolls behind the counter. This immediately brought me back to the long gone old Main Street Bakery in Walt Disney World. I just had to get one, even if we just had a bite or two, you know for nostalgia. I wish I put a coin or some other object next to it for reference. It was basically the size of a toddler's head. This thing was absolutely HUGE! I figured we'd each have a bite or two and then wrap it up, but it was so light and fluffy we just couldn't stop. We didn't finish it, but it was close.
Being that were were in Baltimore, some more crab was in order. Jeff got the Lump Crab Benedict. It was lovely, but the star in my opinion was the hash brown potatoes.
I went with over easy eggs and bacon, and some fresh fruit because, you know, I'm being healthy and all.
I chose a biscuit instead of toast. It was again, a fluffy masterpiece.
Now that we've had our ahem, coffee, we were ready to hit the road. Within  just about an hour, we were in our nation's capitol. Jeff had been once, but I've never spent any time here. We found a choice parking spot and headed to the Lincoln Memorial.
There was some sort of an event at the White House on this day. I could find zero info about it, but a great deal of the area was shut down and redirected because of it. We saw some sharp shooters atop the buildings in addition to the helicopters sweeping around the area.
We took a stroll around and admired the majestic architecture and statueary. Let me point out a few for you:
As we continued our loop around the district, I spied something that made my heart skip a beat. Ever since I was a middle schooler I have been fascinated by true crime stories. I used to tote around thick paperbacks by Anne Rule and Joe Mcguinness to read between classes. This was probably not appropriate reading for a twelve year old, but I digress. Recently I started listening to a true crime podcast hosted by a couple of lady comedians that has become wildly popular. It seems that there are literally millions of women obsessed with serial killers and unsolved crimes, just like me! Who knew? From this group I learned of this amazing woman, Frances Glessner Lee. You can read more about her HERE. In her time, women were not welcomed into criminal justice or the sciences. However, she managed to apply her specialized skills in a unique way that changed forensic detective methods forever. You'll never guess how…
Frances Glessner Lee meticulously crafted what may, at first glance, seem like doll houses, but upon closer inspection you'll find something more macabre. These tiny rooms and houses were loosely based on real-life crime scenes. Frances constructed these "Nutshells" beginning in the 1940s to teach investigators to properly canvass a crime scene and to effectively uncover and understand evidence. The Nutshells are so effective that they are still used in training seminars today at the Office of the Chief Medical Examiner in Baltimore. I strongly suggest you read more about this amazing woman and take a look at more detailed photos online.
It was getting on into the afternoon and we needed to think about getting ready for our first gig of the trip! I snapped a few more anonymous government buildings along the way.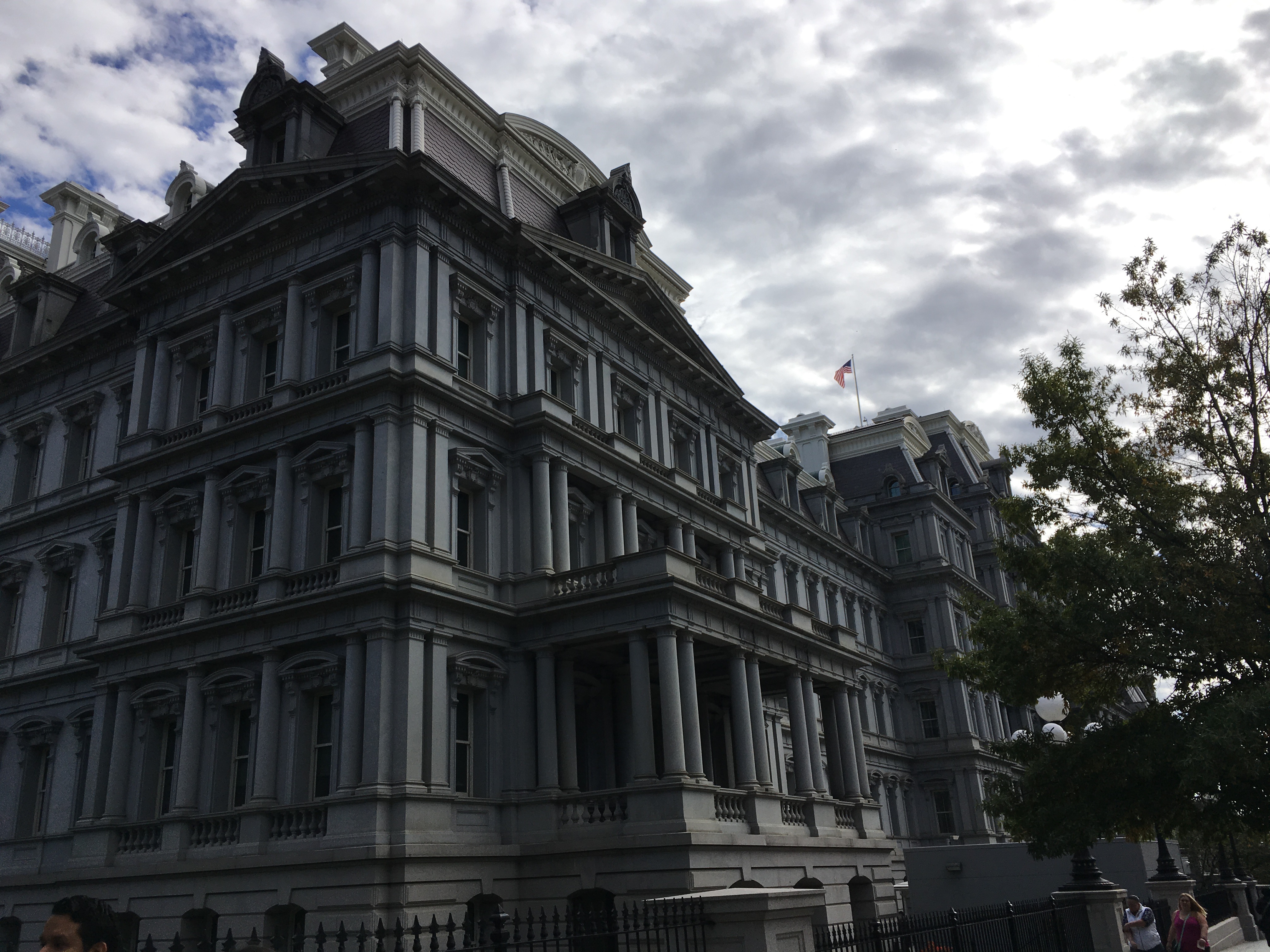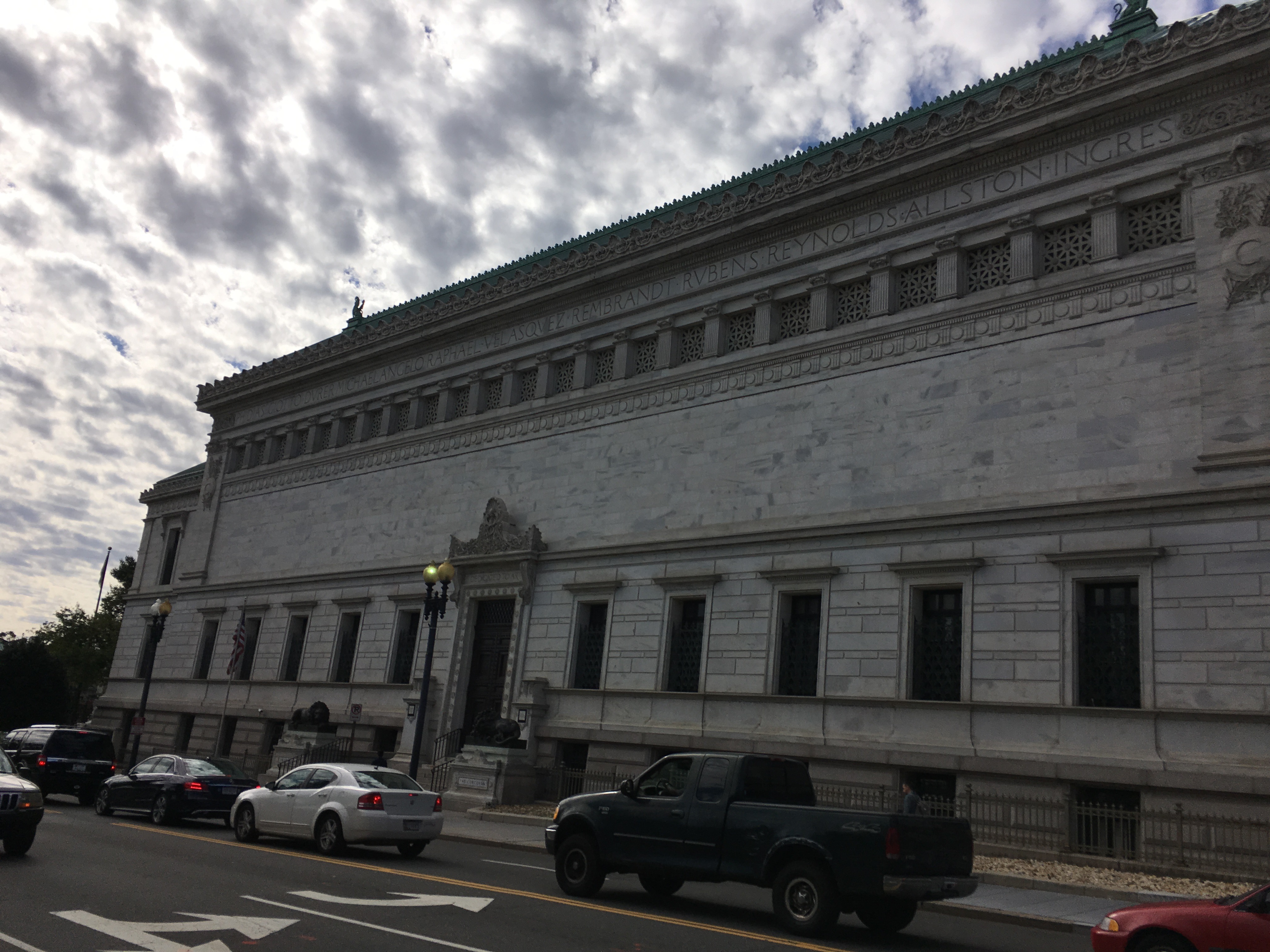 Head drove just a bit farther to Fall Church Virginia and our next Air Bnb.
The room fit the bill, but the hosts didn't mind the details like the previous spot. This was less like a Bed and Breakfast and more like crashing at your cousin's house. This family had at least three small children, so they didn't have time to carefully fold towels or put out basket of snacks and bottles of water. All in all though, nice people and a good stay.
We made our way to the Open Road Grill & Icehouse for our first show. So, did you know what an Icehouse was? Neither did I.  My research (Googling for 5 minutes) didn't really clear things up: An icehouse is an open-air beer joint, a cross between a saloon and a convenience store. I didn't see any loaves of bread or milk, but there was lots of beer!
We are always pleased when friends take the time to come out to our shows at home. But we were just thrilled when someone came out to see us in all the way in Virginia! This lovely lady, Tania, is actually a friend of a friend. Her sweetheart is someone we met through music and he let her know we'd be in the area and she showed up! Amazing!
We had a really great show here. It started out slow but thanks to a couple work gatherings and birthday parties, it really started hoppin'! After a great night, a burger and a couple of beers, it was time to crash.