Up and At 'em and six hours later, you know the drill, we arrived at our next destination, Nashville Tennessee. Ok, not quite. Our room was in Murfreesboro, about thirty minutes away. We chose this spot because my daughter stayed here the previous August during the  eclipse. This was the whole reason I gained confidence in staying Air BnB. She just loved the space and her hosts.
Unlike the rooms I had reserved on my own, this one did not have an ensuite bathroom. We had to share with another guest. Not a tragedy, but not what I was used to. Also, we could have stayed a lot closer to Nashville if I had chosen for myself.  These inconveniences however, were totally negated by the kick-butt coffee station provided by our hosts. Finally, we get some coffee!!!
We took a  little rest and then headed off to a date with Jeff's sister, her husband and their adorable son. These guys live in Indiana, about two hours from Nashville. We were so looking forward to meeting up with them. We planned to have dinner at the Opryland Hotel, a place I've been dreaming about visiting for decades. We had made our plans weeks before to meet on this Saturday night. So, picture our complete horror a week beforehand, while we were still back at home, when  Jeff's sister Sarah texts us saying they were ten minutes from the hotel!!! Oh My Gawd! We gave them the wrong date. They drove two hours to meet us and we were still in Massachusetts! We felt just horrible. They not only forgave our blunder, but were willing to make the trek again just a week later. The Opryland Hotel was beyond my imagination! I won't burden you with commentary, the pictures speak for themselves.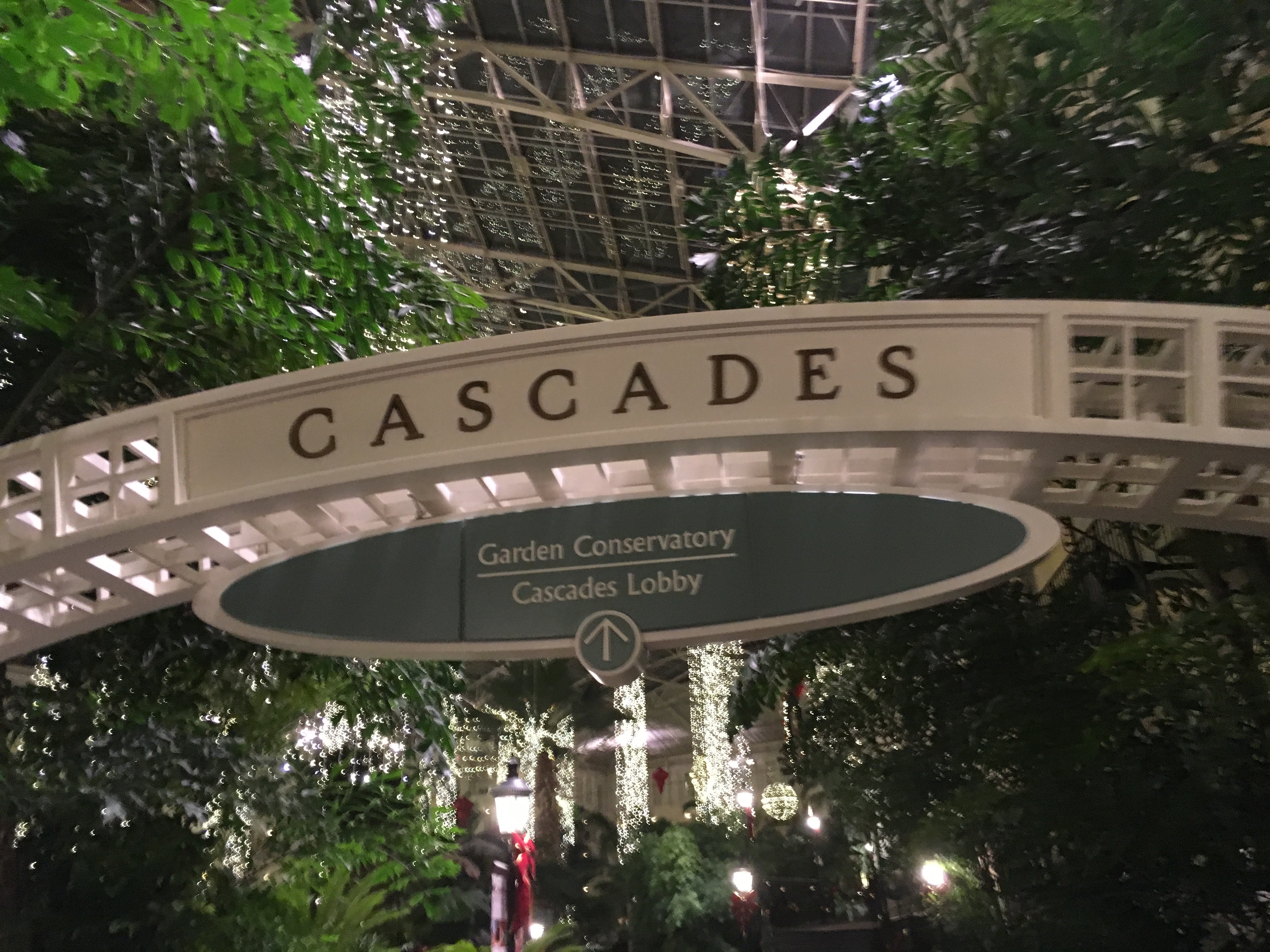 There are so many choices for dining here, but this spot was just perfect. A nice view of the conservatory along with an enticing menu.
I didn't require the other members of the party to take pictures. Luckily, Sarah and I had the same dish. Here's our very well chosen entrée.
Jeff's selection.
Update on my dish:
We had a tremendously good time catching up and enjoying the glorious environs of the Opryland hotel, but it was time to bid adieu. We had enough steam to get a quick preview of the famous music row in downtown Nashville.  There were three very good reasons why this was a terrible decision: 1. It was a Saturday night, not intentional, just a bad timing. 2. There was a hockey game at the local arena that just finished minutes before we arrived. The streets were flooded with disappointed fans. Lastly, it was Halloween weekend. Oy vey.
We circled the block for nearly a half an hour before we found a spot that we were reasonably sure wouldn't get us towed.  Finally we set about to see the Holy Land of Country music! Dreams do come true!
A musician friend who now lives in Nashville recommended this Honky Tonk for an authentic country music experience. This was helpful seeing that many of the bars had bands blasting Bon Jovi or Guns and Roses. Not what I came to Music Row for! However, there was no earthly way we were getting in any of these places.
We walked far enough off the main drag to find a much more chill bar, with some live music!
The music was alright, sort of a Robert Johnson blues vibe. We enjoyed a beer and some chit chat and moved on.
We made one more stop back in Murfreesboro at a bar we accepted a gig at and then declined after we discovered that this was a smoking bar. Ew. Now, we would normally never even set foot in here, but because of an unfortunate event in the town square which forced all the small businesses to close earlier in the day, we wanted to patronize the bar. Not only CAN you smoke in here, EVERYBODY smoked in here.
The next morning, we said goodbye to our BnB host and trekked back to Nashville. We would have had the whole day to explore and tour around all the sights if….the New England Patriots weren't playing. Yes,  once again this football team has kiboshed my plans. Grrr. Our friends, Rachel and Joe had been, ahem, good enough to find a bar where the game would be playing. At least there would be beer.
Turns out, this bar wasn't just throwing on the game, this was the home of the "Nashville Patriots Fan Club". EVERYONE was here to watch the Pats.
Despite my whining about being out of tourist commission for several hours, we really did have great time. Watching the game with such rabid fans in a state thousands of miles from home was a real hoot.  I had a distinct vision that this bar was a mirage meant for Jeff and would soon disappear after we left. They won, by the way.
After the game, Rachel and Joe indulged me and came along to the aforementioned Robert's for a beer and some real country music.
After we finished our dranks and good times music at Robert's, Rachel and Joe recommended taking a stroll on the Cumberland River Bridge, for some stunning views.
My impression of Nashville was a wee bit conflicted. I was so stoked to finally see the Holy Land of country music! But Music Row was not what I had anticipated. To be fair,  it was crazy crowded and a weird weekend for an optimal visit so I guess l could give it some grace. Plus, if we had had some more time to explore museums and other points of interest we may have had a better more rounded experience. I guess the take way is that we should try again for a longer visit??