There was just one thing I knew about Savannah Georgia before our trip and that is that this is where the famous "Lady & Sons" restaurant is located. If you are not familiar, this is the spot where Paula Deen first made a name for herself.  We decided to trek on over and see what the fuss was about. On the way we tried to soak up as much atmosphere as possible. There are a ton of statues and memorials in Historic Savannah. Here are just a few:
The Guns were captured from the British in the Battle of Yorktown and presented by President George Washington to the Chatham Artillery militia company of Savannah in 1791 as trophies of that battle and the Revolutionary War.
Erected in 2007, this monument commemorates the participation of some 700 Haitian soldiers in the American Revolutionary War in 1779. They were the largest unit of Black soldiers in the whole war.
This World War II memorial was just completed last year .
A stone monument cut from the Austrian mountains and presented by the City of Salzburg to honor the Salzburgers who landed in Savannah in 1734.
Whew, that's whole lot of historical facts right there. We are learning so much!  The architecture is interesting and varied. There's a lot of brick and stone work and lovely carved details.
One of the more recognizable buildings is the cotton exchange.
This fountain in front of the Cotton Exchange is a re-creation, the original was taken out in 2008 by a drunk driver.
I had to do a double take at these lamps with real flickering flames.
We are getting close to Lady & Sons, I promise! As we were making our way over we stumbled upon some kind of "Iron Man" Challenge.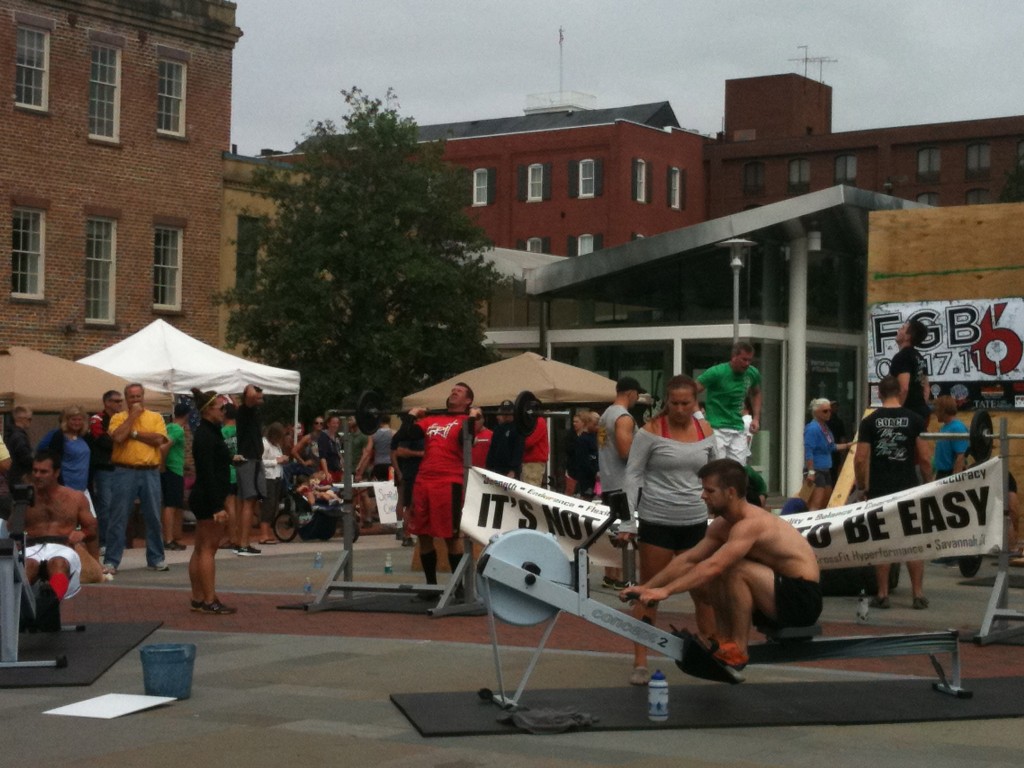 We would have stayed longer to cheer on the athletes, but it was time for our early afternoon beer so…
We finally arrived at "Lady & Sons".  If you were not looking for it you would certainly pass it by without much notice.
It was just past noon, but surprisingly we were able to head right upstairs to our table. The interior of the place was a bit dated. I'm not sure if it's a matter of preserving how it looked when she first opened the business or just laziness. It was clean, but seemed a bit worn around the edges. There was stenciling everywhere. It brought  back memories of our first little house where I stenciled ivy on anything that didn't run away. This was back in the nineties mind you, I'm better now.
Jeff snapped an unusually cute pic of me so you know I'm putting it in here!
So here's the thing, we had just a few hours before eaten our authentic southern breakfast. I had two biscuits (each the size of pillows) smothered in sausage gravy.
I was not hungry at all! We decided to just get a beer and have a look around. There was no room at the bar so they sat us at a table even though we said we would not be ordering from the menu.
Despite the fact that we said we were not eating, they still brought us biscuits and  hoecakes.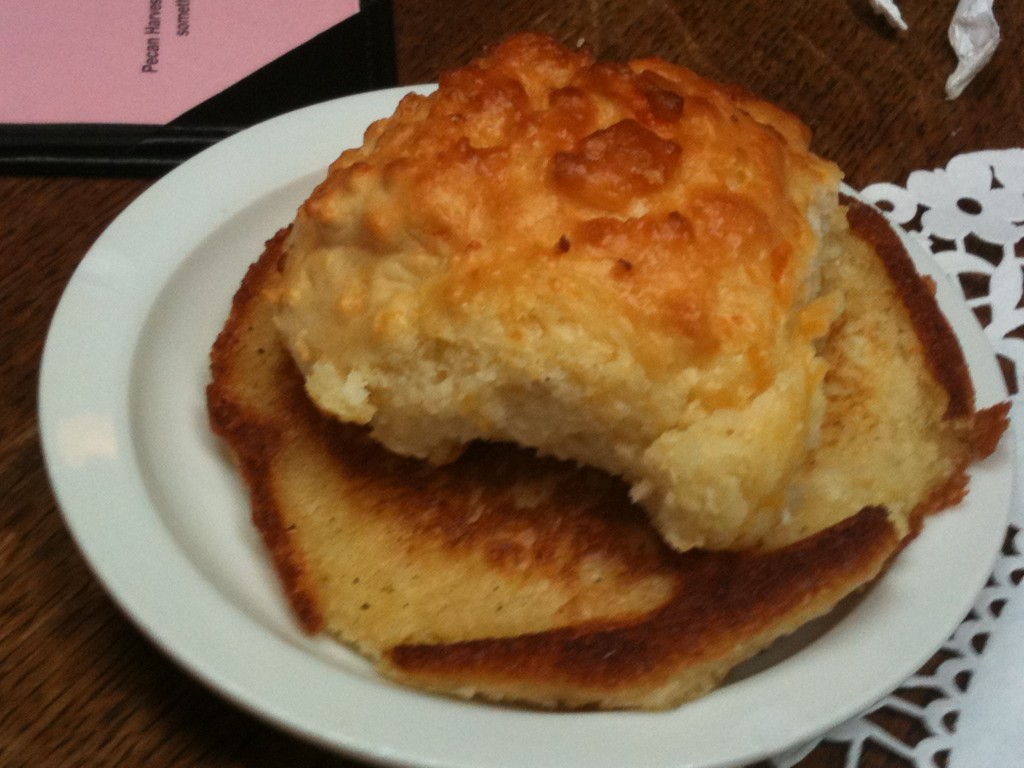 Jeff ate his baked goods and extolled their buttery goodness. In fairness I can't properly review Paula's place, but I can make some observations about the food and the Menu. There are a few items offered a là carte, but all of the southern comfort food items that I would be looking to try are only available from the buffet.
I have come to a place in my life where I just refuse to participate in a restaurant buffet.  Yes, they can be a great value, but when I look at all that once deliciously fresh food just sitting over steam tables I'm turned off.
Plus, when you've paid the entrance price for the buffet there is immense pressure to get you're money's worth by piling on a whole mess of items that don't pair well. I need the chef to do that for me, I'm not qualified!  So for me, the buffet was a surprising disappointment.  But who am I? Paula seems to be running her business just fine without me.
It was getting on time to check into our hotel so we both could rest up (and I could tart up) for the wedding. On the way I snapped this pic of an impossibly cute family. It turned out that they were attending the same wedding.
The bride and groom reserved a block of rooms at the DoubleTree Hilton ,  an excellent choice.
I typically long for my Bob-O-Pedic when we travel, but this mattress was super comfortable!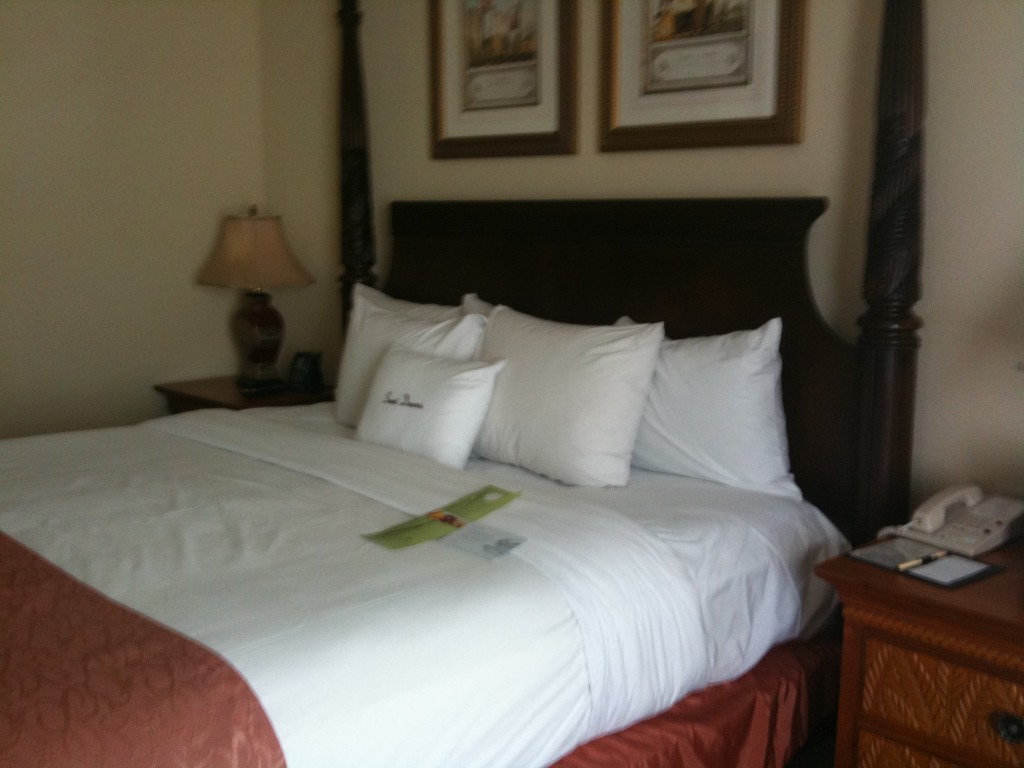 I noticed that the hotel had one room on each floor that had a corner balcony. Guess who got one on the sixth floor!
In our short stroll around Savannah we managed to take in a ton of points of interest and thanks to the wonders of the interweb,  now I  actually have some understanding of  what we saw!
Time for a nap, then off to the wedding…