Rested and refreshed, it was time to head out to the wedding. Jeff scolded me for always snapping pictures of him when he's not looking…
…so I let him pose up this time.
The ceremony was in  Whitefield Square in the Historic District. There was trolley transportation from the hotel to the park provided to the guests. This not only made it easy to get there, but we also got a bit of a tour on the way. All along the route were the majestic Live Oaks.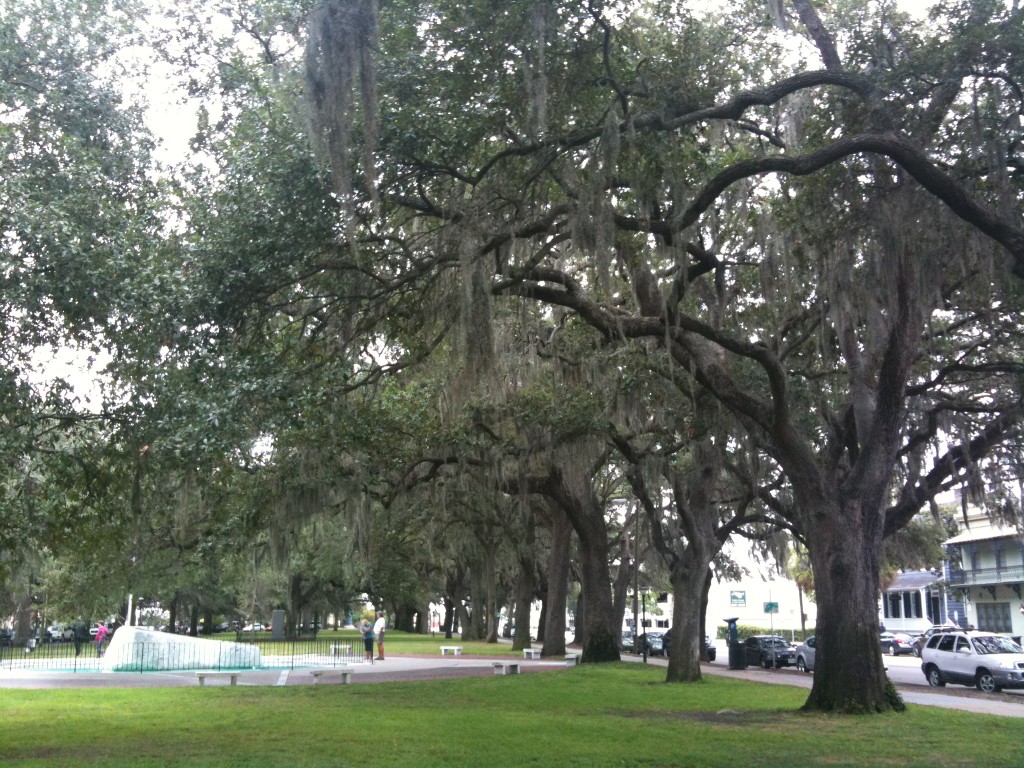 The trees are draped with silvery Spanish Moss which I've since learned is neither Spanish nor actual moss.
We saw a lot of gorgeous historic homes. The tour guide was barking out facts, but I wasn't in note taking mode. I did remember that this house was the setting for the movie "Midnight in the Garden of Good and Evil":
We saw other homes that once housed important founders of the city of Savannah. Can't remember a one though…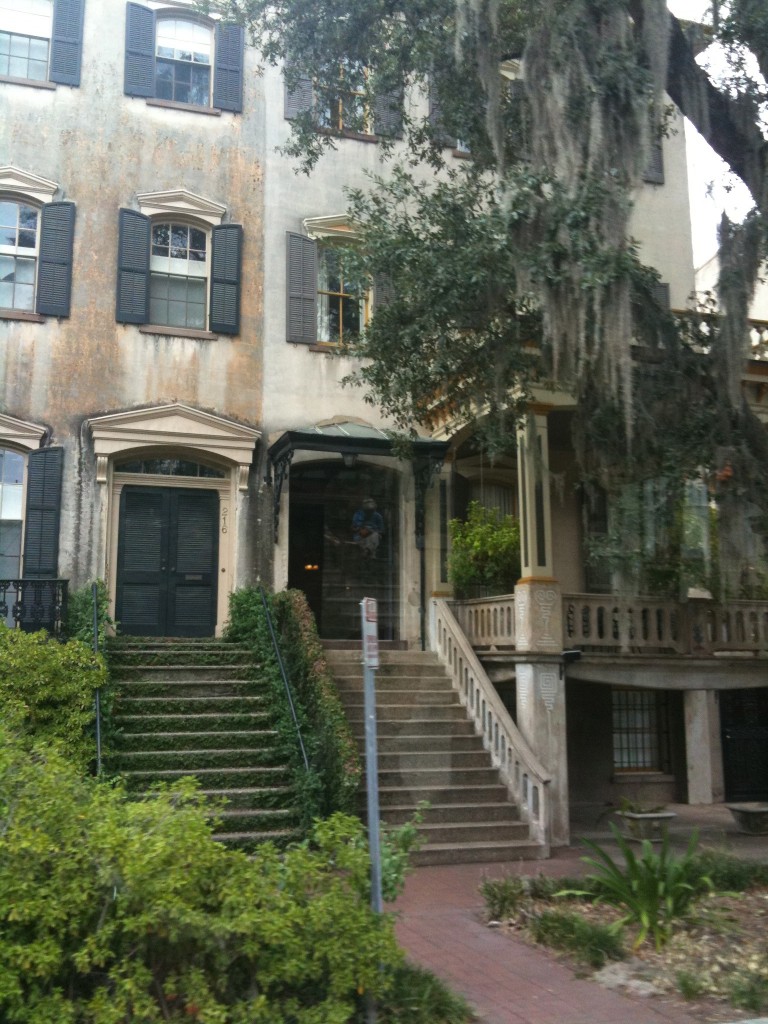 The wedding location was simply breathtaking. A perfect setting for an intimate ceremony. This was by far one of the most personal and meaningful weddings I've attended.
Kara and Nate were pronounced husband and wife but before they walked back down the aisle they did the most amazing thing, they washed each other's feet. This was an act of service and love demonstrated by Jesus in John 13.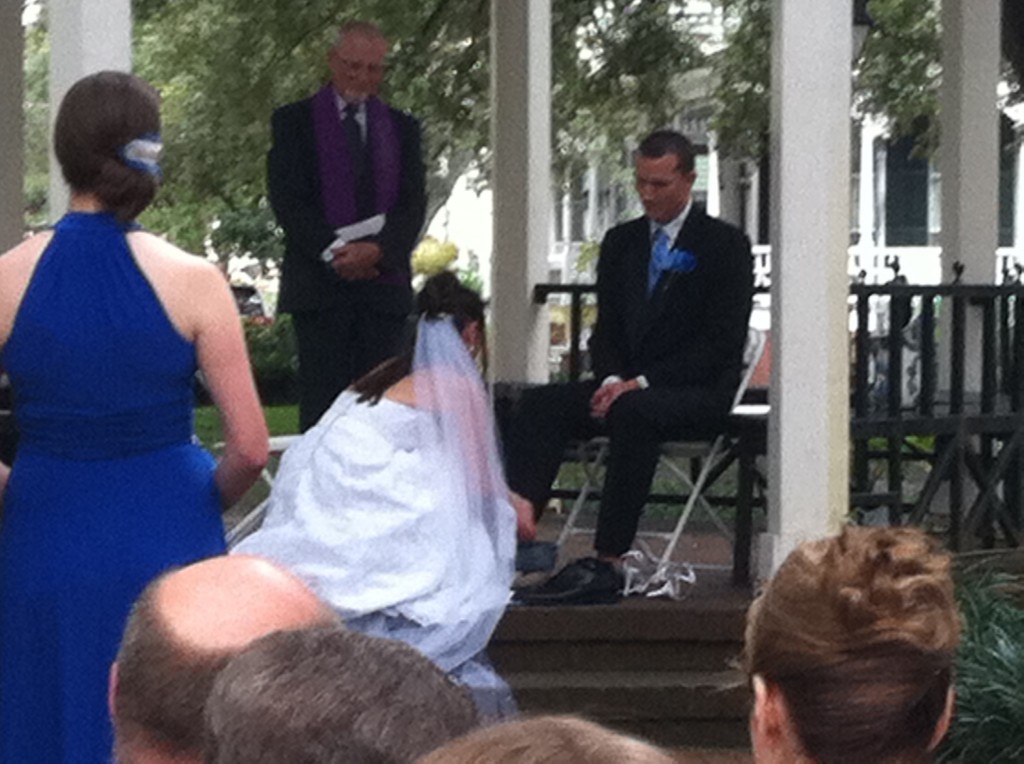 Wasn't that beautiful? Ok, now pull yourself together and wipe away those tears. It's time for the reception!!!
The reception was held in a quaint pub right on West Bay Street called Churchill's.
The pub was on the main level and the function space was upstairs. It was a great room with old woodwork and architectural details paired with modern accents.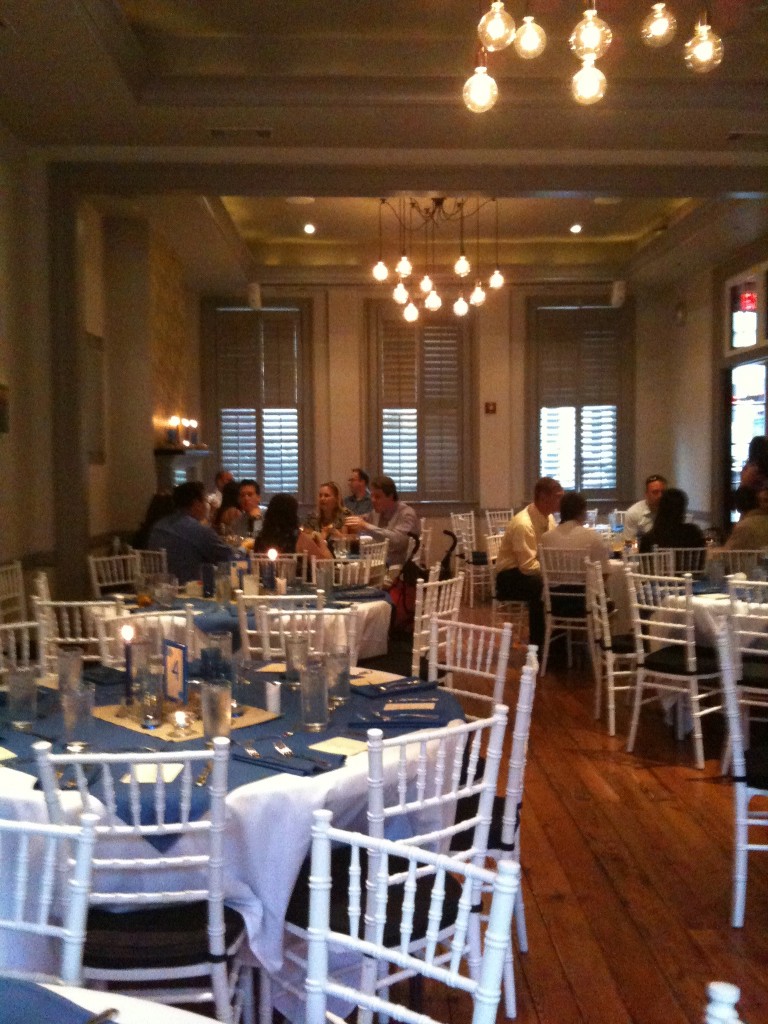 I loved the modern take on a chandelier!
When we found our spot it was so close the the head table that I thought it was a mistake. I made Jeff go back to the chart to double check, but we were in the right place. We chatted with some relatives of the bride while the rest of the guests piled in.
The table decorations were pretty and went well with the rest of the southern theme, but the open flame next to the dry Spanish moss was freaking me out. I noted where the fire exits were.
Jeff struck up a conversation with one of the aunts. Turns out that she was a huge football fan. Just between you and me, I think he had an inappropriate crush on her.
The appetizers we darn tasty. The pub style snacks like sausages in a blanket and stuffed mushrooms "went down a real treat" at the Brits say, or it that the Aussies?
I was getting the feeling that the bride and groom did not expect everyone to actually attend (you know, like insane people like us who drove nineteen hours to be there) because the room got really tight. It soon became clear that not everyone was paying attention to the seating chart because by the time the bride's parents arrived, their seats were taken. Jeff and I piped up and volunteered our spots and moved to a table in the back.
At least we were closer to the food, which was quite delicious.
Being banished to the way back table was actually a good thing. We met some really nice folks, April and Chris and chatted all evening.  Turns out that they are from California and live quite close to… wait for it… Disneyland! Yes, we are planning a visit next year. Of course I neglected to take a picture so I'll insert my default adorable couple photo:
After dinner, the party was moved down to the lower level. Instead of hiring a DJ to play the "Chicken Dance" or "YMCA",  Nate and Kara decided to set up an open mic where their guest could offer a song or two.
This was a really nice idea. Of course you need to be sure that you have a couple of ringers to step up and contribute or it might end up being just cricket sounds. Fortunately they had lots willing participants in their pool of family and friends. Kara's brother David sang one of our all time favorite quirky love  songs "Home" by Edward Sharpe and the Magnetic Zeros.  You know we had to dance to that!

Jeff and I learned a song for the occasion, "At Last" by Etta James. Hopefully we did it justice.
The party was winding down so we said our goodbyes and headed out. I really wanted to go back down to River Street and see that area at night. I had spied some nice outdoor restaurants where I thought it would be fun to have a drink and enjoy the scenery. As we walked down the stairs toward the waterfront we could sense something was wrong. An obviously drunk couple stumbled across our path. We saw groups of "ahem" ladies squeezed into tube dresses looking like ten pounds of sugar in a five pound sack. By the time we reached River Street we could not loop around fast enough to get the heck out of there. Apparently the salt water taffy, carmel apple, family friendly  tourist area turns into a booze soaked Sodom and Gomorrah after 10:00pm!  So for you, a tip: stay away from River street after dark. You're welcome.
I couldn't convince Jeff to to drive the extra four or five hours down to Disney World so the next morning  we had to go back home. He said something about earning a living and seeing our children. Our trip back was pretty much uneventful, except that I got to eat at a Waffle House!
Seeing that this was probably my one and only chance to have a Waffle House breakfast, I chose the oh-my-goodness sized meal.
Everything was really tasty except that they used fake butter on the grits and eggs. Otherwise, it was a respectable meal for eight bucks!
Our road trip turned out to be delightful adventure. However, after we got home and tallied  up all of our receipts we really didn't save any money over flying down to Georgia. But as they say, it's not the destination it's the waffles.