Without a doubt, the World Showcase is is my favorite place on property. This is one of the most relaxing and scenic areas of Disney World.
There are eleven countries represented here.  Add to that thirty additional countries serving tasty tapas sized samples of their regional cuisine for the Food & Wine Festival and you have one happy lady.  The theme of this year's event was  "Passport to a World of Flavors".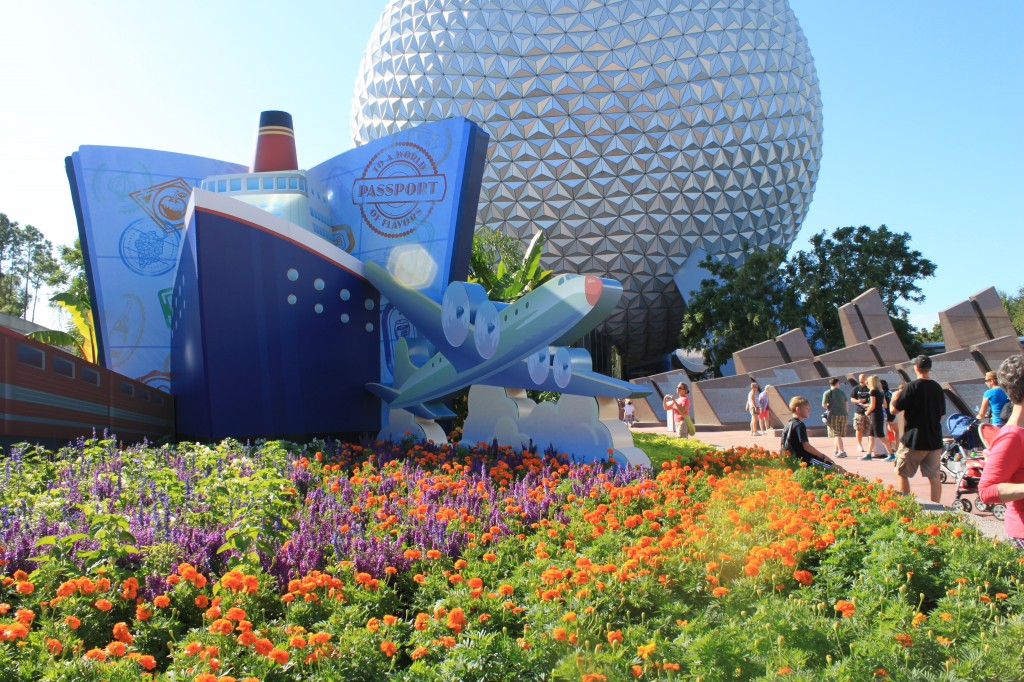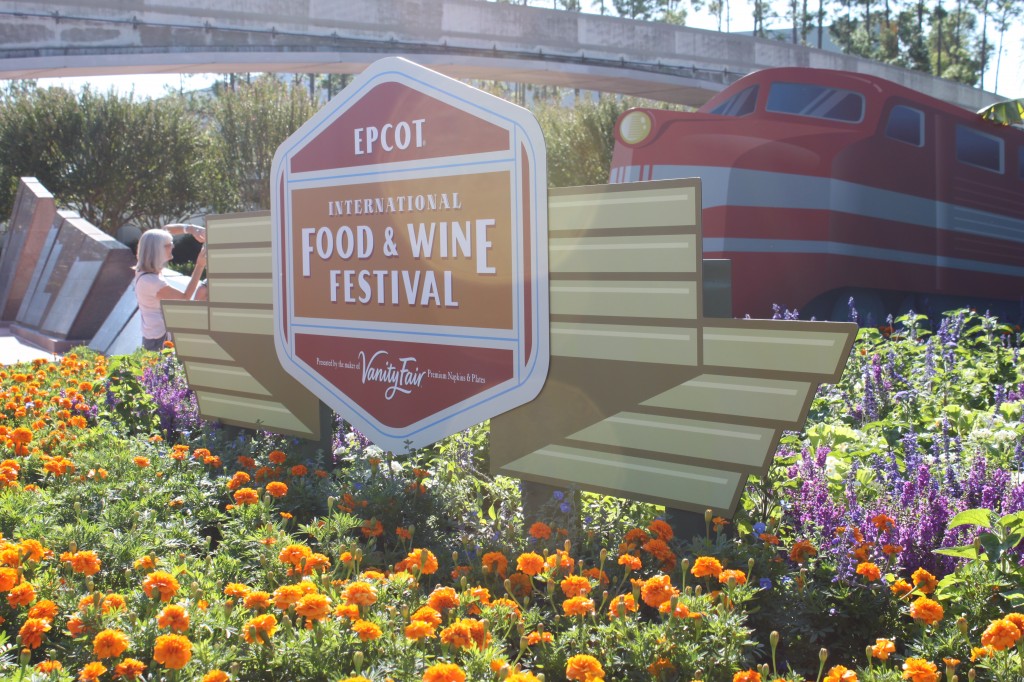 This was our first visit to the festival. I understand that in previous years there have been certain special exhibits for things like Cajun cuisine or the cowboy cooking of Oklahoma. One time they featured the wonders of the pear in fictional "Pearville". But this year they teamed up with Ocean Spray to extol the virtues of the cranberry. Yup, we flew thirteen hundred miles to experience new and different foods and we are met with the cranberry. People, my backyard is a cranberry bog. My email address is "heather@bognet.org". I am fully and totally aquainted with the cranberry!  This might be irony, but I'm usually wrong about that…
We started at the  festival center to get our map.
Our first stop was Hawai'i. I know what you're thinking, when did Hawai'i become a country? Disney just recently opened a New Resort on the island of Honolulu so they are trying to subliminally influence us here.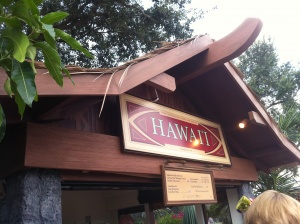 The menu board gives you an idea of the price points. The food offerings tend to be quite reasonable, the drinks however are pricey.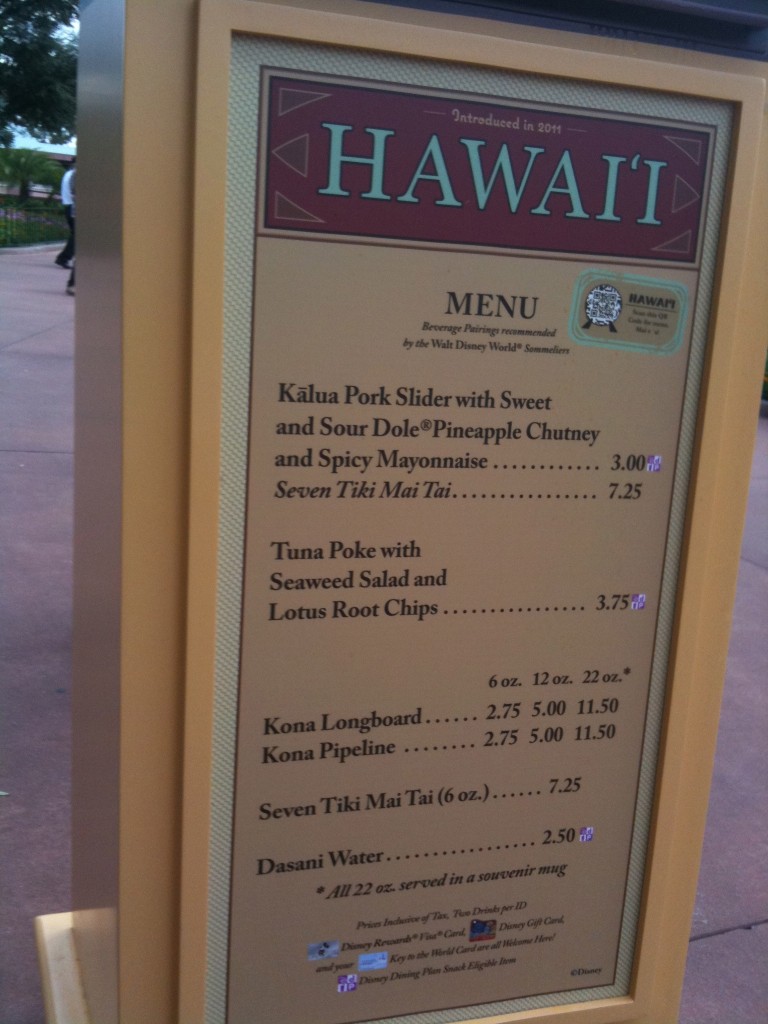 * If you haven't had a snack, now is the time to stop and get one. Gratuitous food Photos will follow.
On to Greece:
Ireland: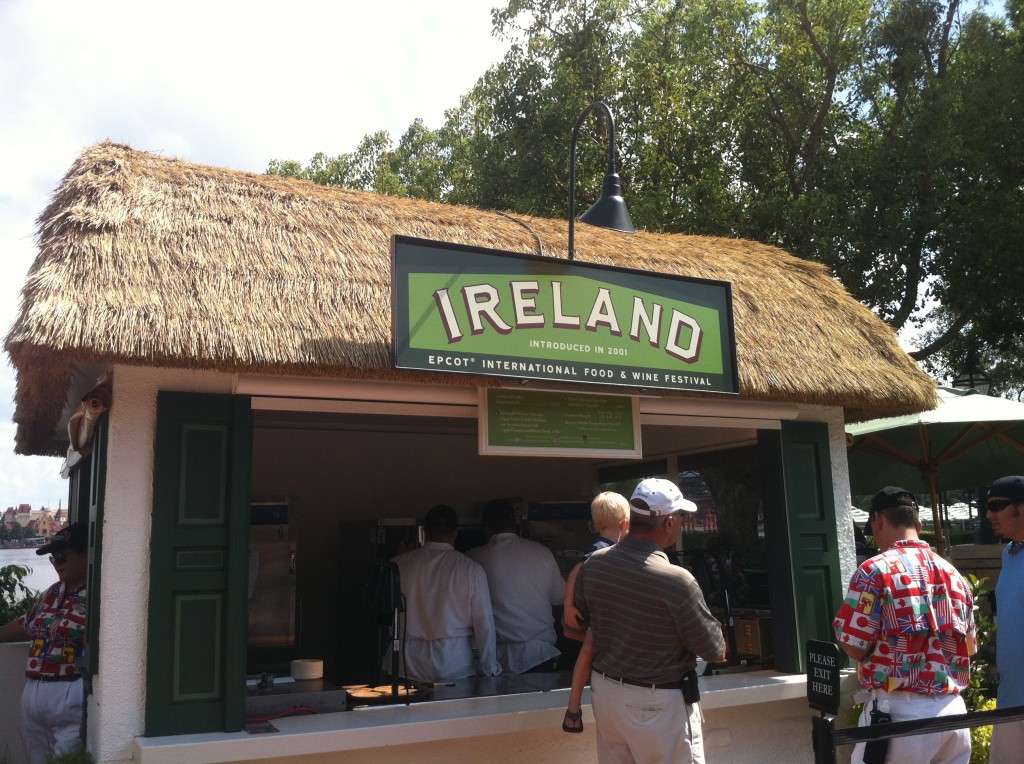 Oh Guinness, how I love ye! It was really good with the Fisherman's Pie, but the dark chocolate notes paired even better with the Lava cake.
Time to do a bit of walking and  make some  more room. We wandered around the U.K. Pavilion. I'm going to say that this is my favorite area of World Showcase now, and then contradict myself later when I say that the next pavilion is my favorite.
Things had settled down in the belly  so it was time to head down undah to Australia.
I'm not a big lamb fan but I think that even if I was this dish would be disappointing. The chop was very fatty and the potatoes were still quite al dente. I didn't realize there was goat cheese in there until I read the description later.  The shrimp however was fantastic; flavorful and spicy. Too bad they were Meghan's, I only had one bite…
Belgium was next.
Meghan and I agreed that the mussels were just ok. The bread was supposed to be grilled and it wasn't.  Belgium waaaay  more than made up for that with this:
Oh my, this waffle was even better the the one I had in the real life Belgium. Disney, you've done it again!
It's time to visit my faaavorite pavilion, France.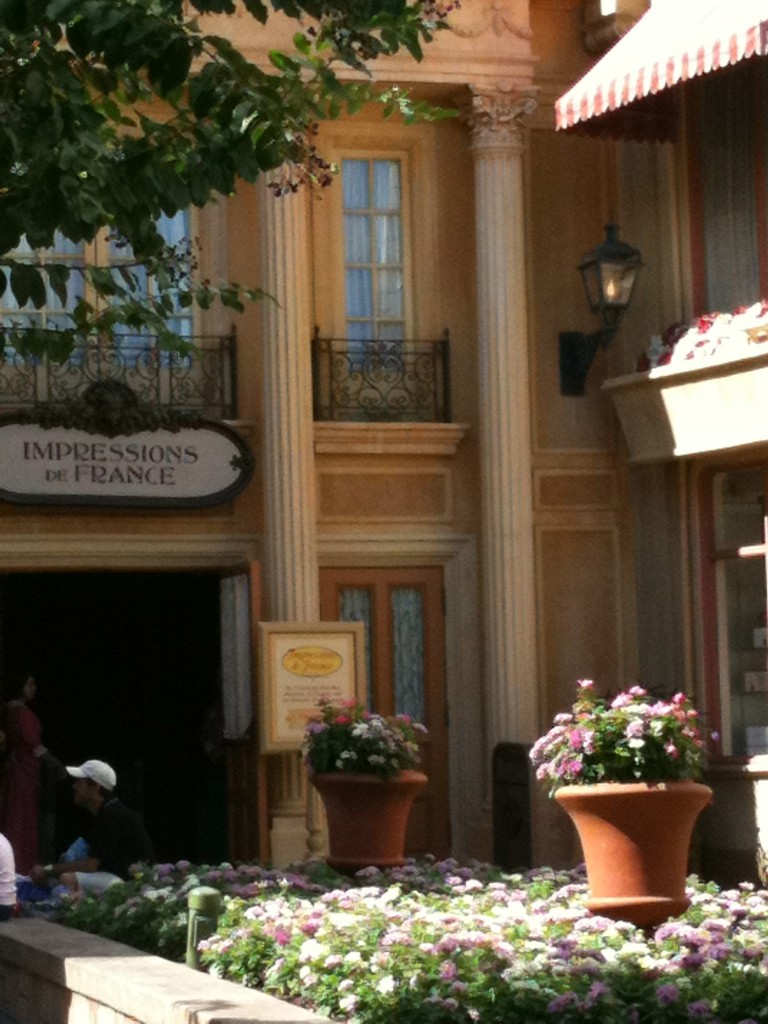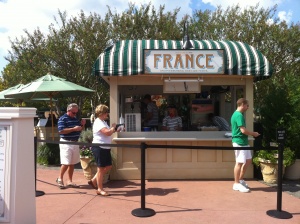 It was getting pretty hot by this time. I don't usually go in for slushy, fruity drinks but this hit the spot!
Snails in the garden, eewwwww!!!! Snails in garlic butter served in brioche… fabulous! This was a big hit in our family.
France has a winner with this one too. The chicken was delectably tender. It was served over a macaroni and cheese cake. Genius!
About this time we went back to the resort for a rest. One of the best ways to get the most out of the parks is to take a break about mid afternoon. It's a good idea to go back to resort, have swim, take a nap then head back in around five or six. It's amazing how much more fun you have when everyone is rested!
The only thing I love more than the World Showcase is the World Showcase at night. It was shaping up to be a beautiful sunset.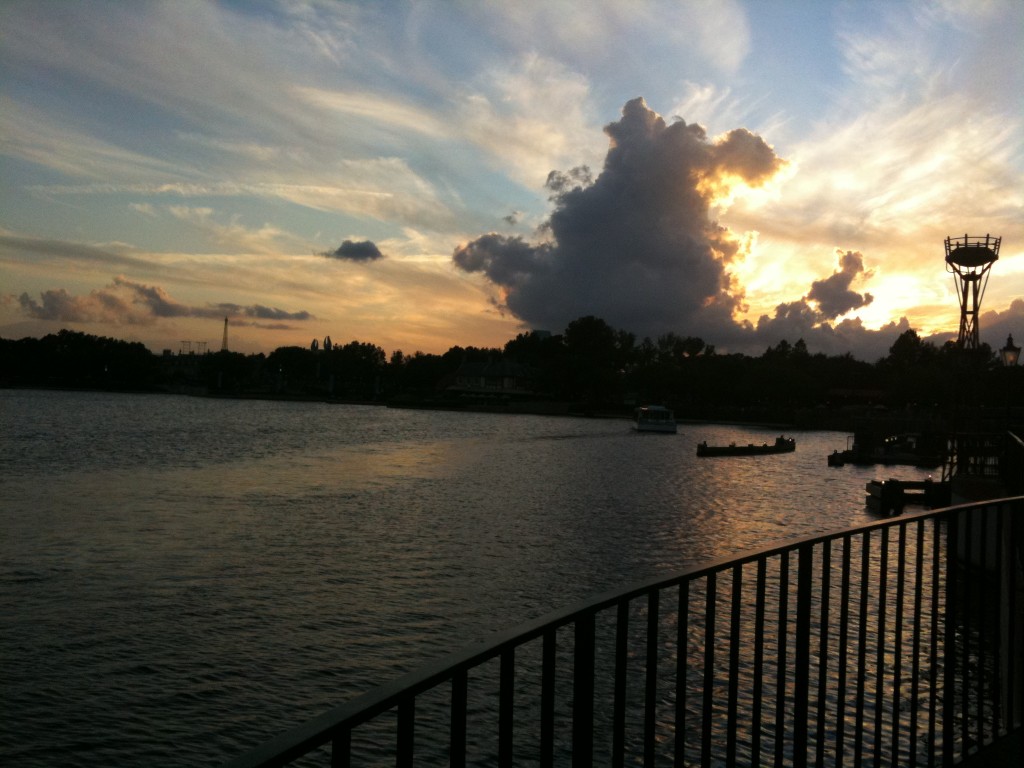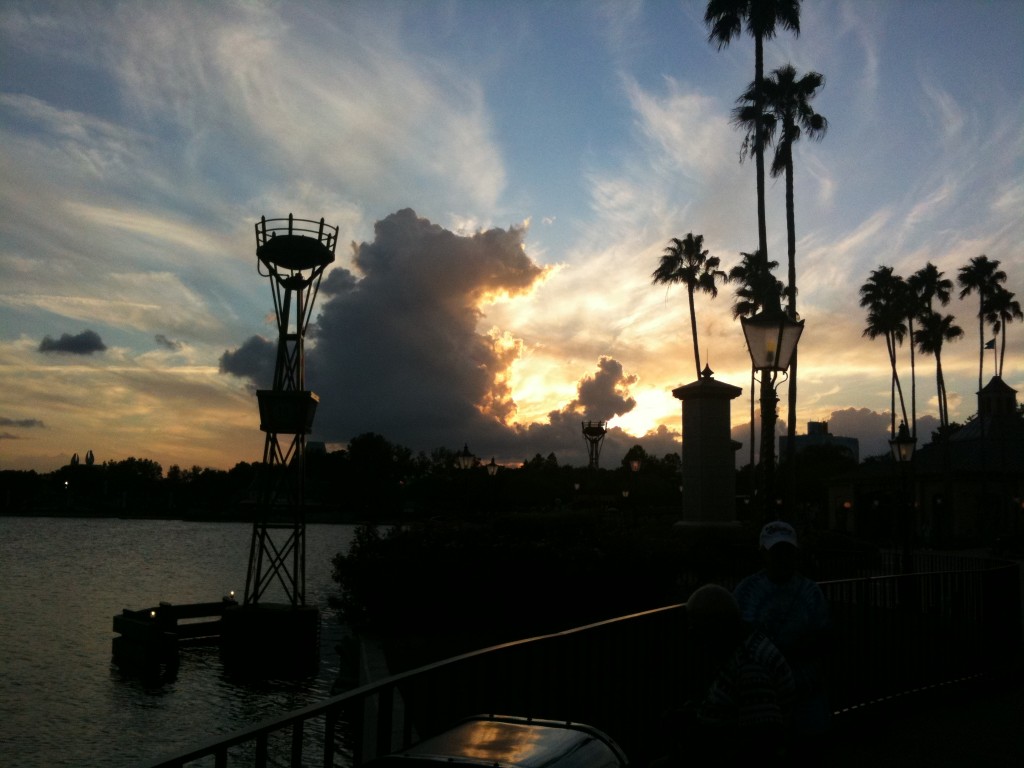 During the Food & Wine Festival Epcot hosts the Eat to the Beat concert series. They had some pretty cool acts this year like Howard Jones and Sister Hazel. This evening's entertainer was Jon Secada. Meh.
We continued our munching and strolling around the pavilions. Jeff made a stop into Germany for a beer and a ribald sausage roll.
At this point I must of gotten tired of chewing because I only have pictures of cocktails  for the rest of the evening. I wanted to try some unusual drinks. Scandinavia was featuring something called Xanté. It was described as being a pear liquor. I found it to be way too sweet. To me it tasted like melted butterscotch candies. Blech!
Another of the festival's offerings was the Singapore Sling.
When I approached the Singapore booth and saw this concoction bubbling in a drink dispenser I assumed that it would just be a fruity drink with barely any kick. Ladies and gentleman, this is not the case; this drink packs a real punch. I suggest Disney transportation after sampling this one.
We finished up the evening in Mexico.
The inside of the Mexico pavilion is set up like a market place and it is perpetually night time. This is where you can take that picture in the sombrero that everyone has had on their head but nobody has ever bought.
In the back of the market place there is a restaurant called The San Angel Inn.
I've not tried it because the food gets somewhat mixed reviews (anyone remember El Torito's?). One of the things that some people do rave about though  is the ambiance. Some find it's dim lighting quite romantic; others are pulling out their cell phones trying desperately to read the menu.
Another "perk" of dining here is that the seating area is right next to the Gran Fiesta with the Three Caballeros boat ride, but I'm not so sure that "theme park boat-ride water" would be such an appetizing aroma during dinner…
Our reason for stopping inside Mexico was to check out La Cava del Tequila.  Translated literally as the tequila cave, this place is teeny tiny. The maximum occupancy is fifty three.
We asked for a recommendation for a sipping tequila. The shots are served with the traditional salt and lime along with a chaser of a tomato drink which tasted a lot like gazpacho. The place was just closing when we stepped up to the bar, so we were trapped behind the gated doors and separated from our children; it was like being in a tequila jail. It was getting near time for the IllumiNations fireworks show so we told the the kids (read over-dramatically): "You must go on without us!"
We finished our drinks and were released from La Cava. We met up with the kids and plopped down on the stairs to watch the rest of the fireworks.
The park was officially closed now so they made us leave. We had accomplished a lot of eating on this day, but there was so much more left to try…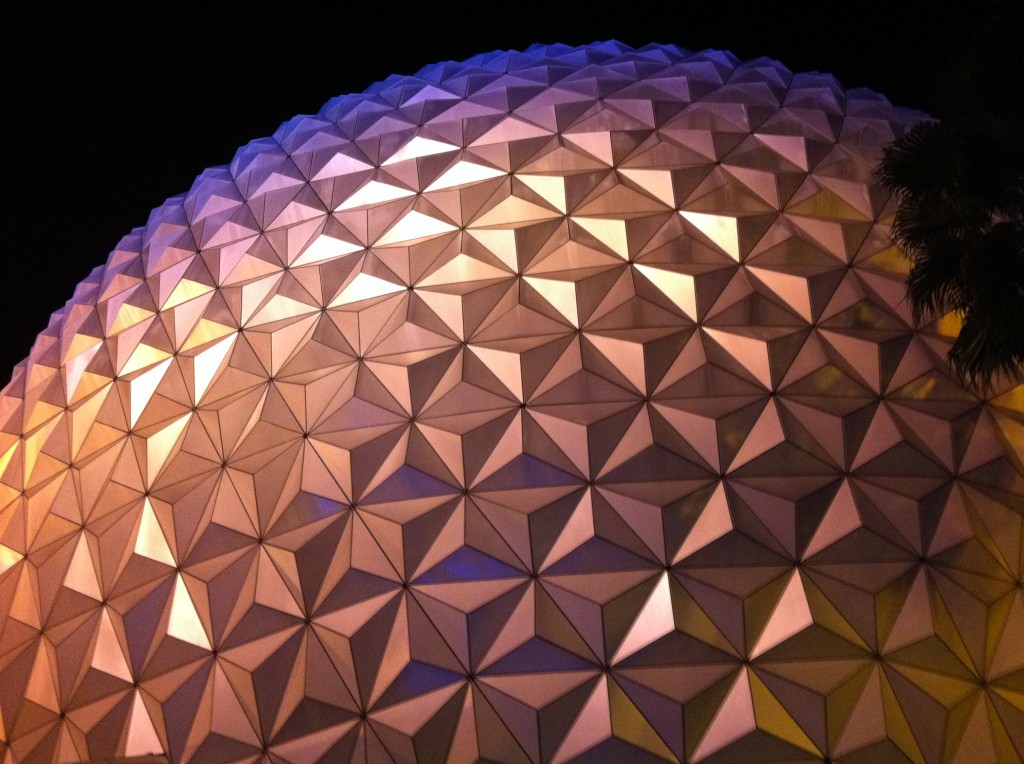 Next up:  Aerosmith, droids and fried chicken with our long lost cousin at Hollywood Studios…