We had our afternoon rest in the oh-so-spacious accommodations of Pop Century resort.
We headed back to Hollywood Studios to hit a few more attractions before our late reservation at '50s Primetime Café. It was near dusk so the Studios was just beginning to shine in it's neon glory.
Sid Cahuenga's is one of those places that can easily go unnoticed as you're booking it to the popular attractions. Here you can find interesting items like old movie posters or cancelled checks of Hollywood stars. There are signed photos for sale of anyone from Audrey Hepburn to Justin Beiber. Everything is pretty pricey but hey, there's gotta be somebody who's in the market for Bert's blazer from Mary Poppins.
If you're wandering around the Streets of America area of the Studios in the evening chances are you will run into a group of landscapers like no other:
Mulch, Sweat, n' Shears  is the horticultural name for a great rock band that is hidden under the guise of a group of landscapers. The landscaping gimmick gets your attention, but it's their kitschy covers of classic rock songs like "Life in the Fast Lane," "Heart Breaker" and "Walk This Way" that will make you  want to stick around to hear more.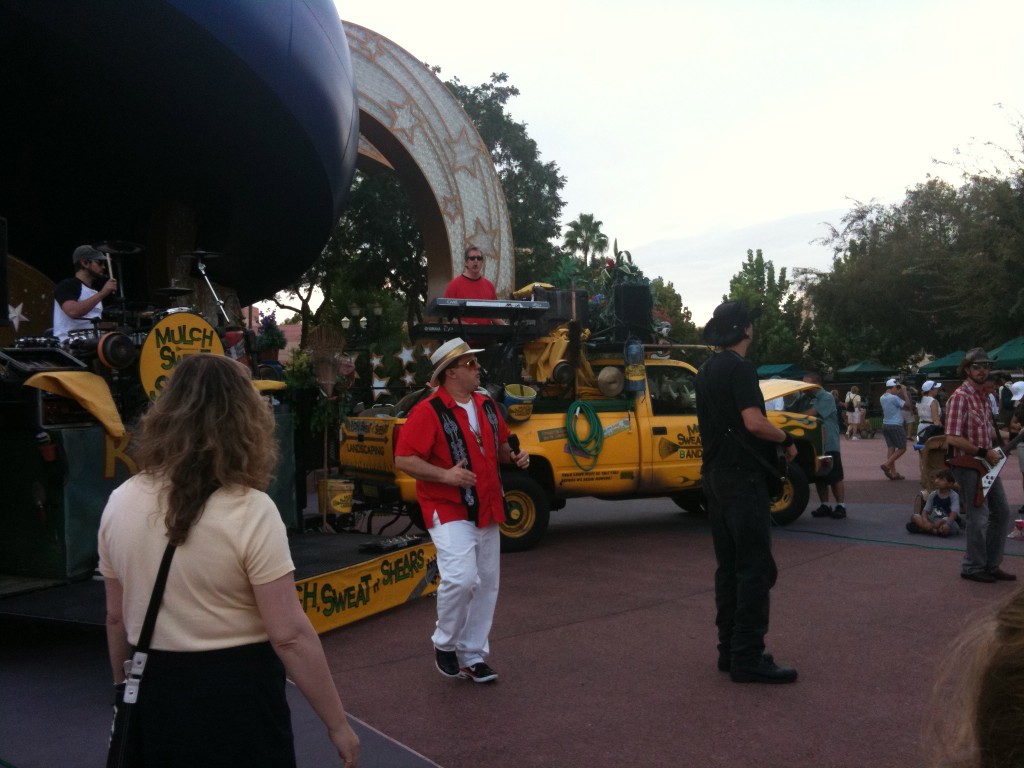 The band rolls up for their gig in their yellow truck filled with landscaping and musical equipment. These guys are talented musicians and a lot of fun.
The '50s Prime time Café is in the Echo Lake area of the park where you can find nods to the "California Crazy" architecture of the  1930s and 40s.
Also on Echo Lake is Min and Bill's Dockside Diner .
The snacks they have here are just ok but they do have our favorite Disney beer, Yuengling. Why don't they sell it in the northeast, dang it?!
The boy got a gorgeous frozen lemonade .
We checked in a bit early for our dinner reservation at the '50s Prime time Café. The outside the of restaurant reflects the progression of the architecture in the Studios from 1930s Art Deco style to the 1940s and '50s Los Angeles designs of famous architects such as Frank Lloyd Wright.
We sat outside and enjoyed the resplendent sunset over Echo Lake.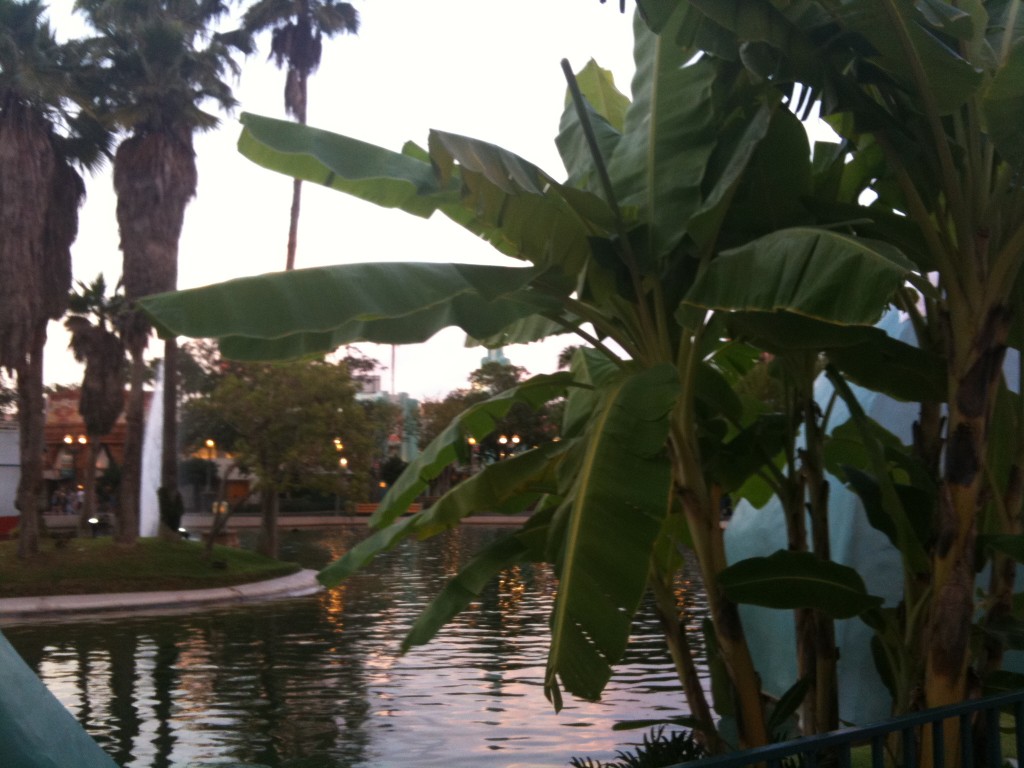 We also got to watch some cast members help the youths busy themselves hula-hooping.
This was the point where we witnessed the demise of the beautiful weather that we had been experiencing right before our very eyes.
Before we go in and enjoy our dinner, let's take a moment to discuss the complexities of the "Disney Dining Plan".  When Disney first introduced this plan in 2006, it was a pretty good deal. For about $38.00 per person per day you got credits entitling you to one Table-Service Meal (anyplace that you sit down and have a server) which included an appetizer, entree, dessert and a non-alcoholic drink – plus it covered the tip;  one Counter-Service Meal (your typical burger / drink / fries combo with dessert) and a snack. However, every year since they have taken more and more away and raised the price crazy high. Now, the same plan is $51.00 but with  no appetizer and no tip included! It's true that if you take a look at the menus at some of the more expensive restaurants you will see entree items (like the New York Strip) priced at more than forty dollars but be warned, these "signature restaurants" require that you use TWO of your credits! Not such a good deal. Plus,  if you get sick or just plain don't feel like eating a big meal just one night that money is lost. There is really no way to arrange things to make this is a value.
Now that I've ranted about NOT getting the Dining Plan… this time around Disney was offering a FREE dining plan promotion so you betcha we got it, don'tcha know!  I still don't like it though. Free or not, in order to feel like you are getting a value, you have to order stuff  that you wouldn't normally eat, like dessert after every meal!
Now, off to dinner. What's the matter,  you're not hungry after all that lunch? But we have to make the most of the dining plan!
This place is one of the mostly uniquely themed restaurants in Walt Disney World. It's like walking onto a 1950s TV set.
I'm pretty sure that they stole some of the decorations right out from my Nana Chubby's rumpus room.
This place is pretty big but it's divided up into small kitchen vignettes. If you're lucky you might get seated at one of the TV tables. Classic shows like the Mickey Mouse Club and the Dick Van Dyke Show run on a loop.
We didn't get one of those, but there was a TV up in the corner like in a hospital room.
Your server will be either an aunt, uncle or cousin and Mom is in the kitchen.  There is a playful schtick that they do here; a lot of cajoling about whether or not you washed your hands (tip: make note of the color of the soap in the restroom) and reprimands for having your elbows on the table. This really depends on your server and whether or not you're game to play along. The food here is simply for comfort, nothing gourmet or fancy, but it's really spot on.
I've only ever had the Fried Chicken here, because I love fried chicken. If I were on death row I'd have a bucket of KFC as my last meal,  before well you know…
Time for dessert, burp!!! We were celebrating Meghan's Sweet Sixteenth Birthday on this trip so I made sure to note it on all our reservations. Some places made a big deal, others didn't. All during our dinner our "cousin" was teasing Meghan about her nose ring. When our dessert came she brought out a bowl of ice cream with a candle in it and dragged Meg out into the middle of the dining room. Before she had the whole place sing "Happy Birthday" she told everyone that the girl had been snagged in the nose by her grandpa's fishing hook, priceless!
For dessert I ordered Dad's Brownie Sundae which is a warm brownie, vanilla ice cream, caramel sauce and whatever was left in the candy jar.
The park was closing so it was time to head out. We took a slow stroll down Hollywood Boulevard to enjoy the neon lights.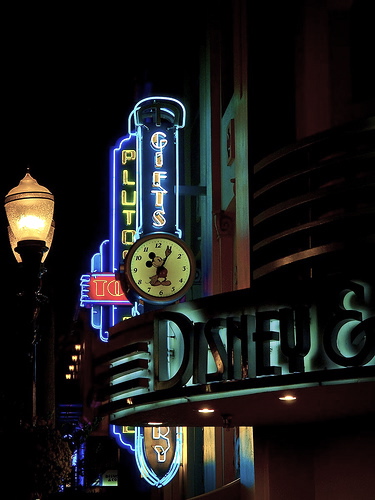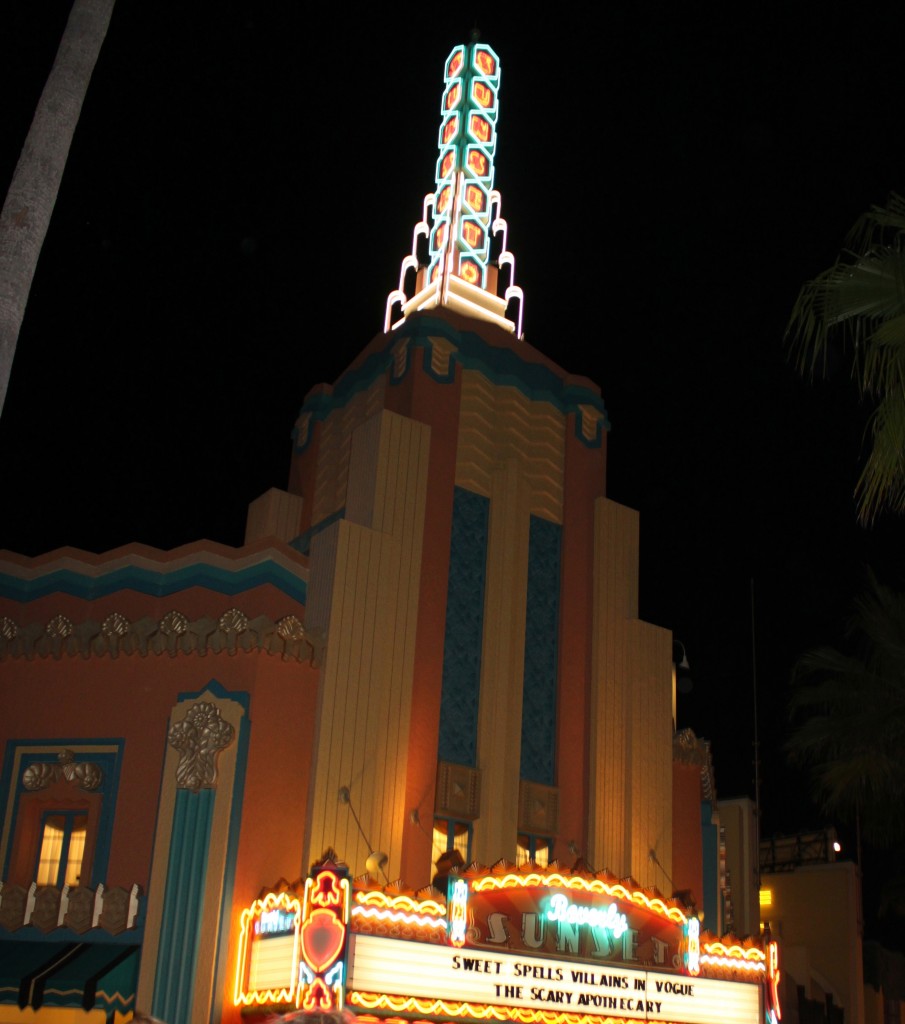 The cleaning crew was lined up like the warrior army in Braveheart.
As you can tell by the pavement, the rain had begun… Next up:  Care for a swim through Animal Kingdom?