I just love going to the Magic Kingdom at night. To me it's a whole different experience than the daytime. Maybe it's because I'm easily distracted by shiny things, but seeing Cinderella Castle lit up in its morphing pastel glory makes me giddy.
One area of the Magic Kingdom that we only visit after dark is Fantasyland. Being in Fantasyland at ten o'clock in the morning is like entering into one of the Nine Levels of Hell. It's total stroller gridlock.
The din of the mid-morning meltdowns and frustrated parents is completely stress inducing. However, by ten o'clock in the evening, all the little darlings should be sound asleep in their port-a-cribs at the hotel, making Fantasyland a peaceful destination.
Here you can find many of the classic dark rides like Peter Pan,  Snow White's Scary Adventures and… It's A Small World. Sadly, this time around I couldn't convince my family to go on any of these!  *Sigh* I think that if I ever want to ride Small World again, it's going to have to be on a solo trip.
What we all can agree on is Mickey's Philharmagic.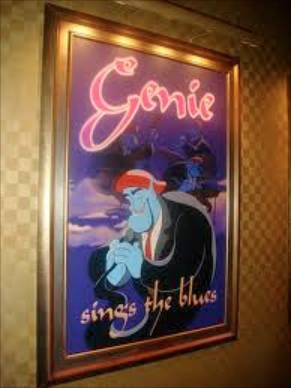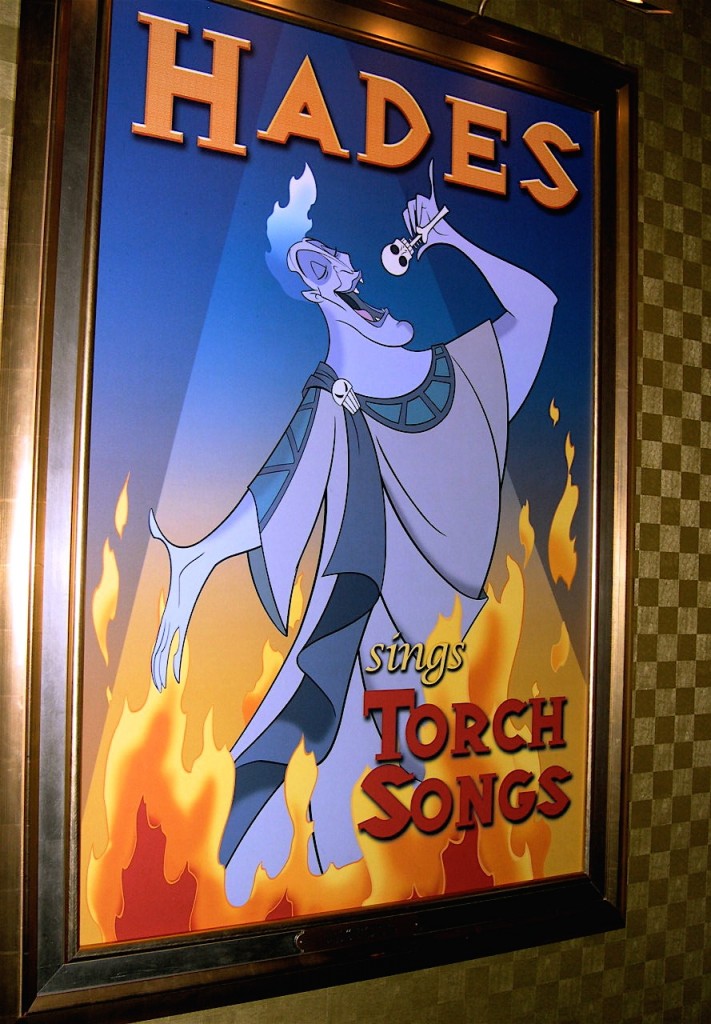 This is  3D movie experience that also incorporates fantastic audio, scents (mmm… apple pie) and you might get even spritzed too. The music here is wonderful, classic songs from Disney films through the decades. My favorite is  Part Of Your World  from The Little Mermaid. I'm still singing it.
The theater starts off looking like an average movie house, but as your are drawn into the performance the golden framework of the proscenium disappears to reveal the largest seamless projection screen in the world.
Okay, sheesh!  Donald is the poster duck for anger management.
The gang was starting to get weary, so I took advantage of their soporific state and suggested that we pop into the The Country Bear Jamboree in Frontierland to rest and regroup. Snap!
In the queue area there is a Disney detail you need to look down to see. The hardwood floors of the Country Bear's Grizzly Hall are scratched up with claw marks.
An attraction like this would NEVER be made today, not because it's passé but because it is altogether politically incorrect.  These animatronic entertainers put on a twenty minute show featuring songs about cheatin', drinkin' and whoopin' and the southern stereotypes abound .
I can't imagine today's Disney Imagineers sitting around the table to put together an attraction that would include a ditties like "MY WOMAN AIN'T PRETTY (But she don't swear none)"  or  "MAMA, DON'T WHIP LITTLE BUFORD (I think you should shoot him instead)". 
And then there's the cowboy classic sung by Big Al: "BLOOD ON THE SADDLE"
It was well past midnight and  everyone was starting to drag so despite the fact that the park was open until two a.m., we made our way back towards Main Street (I totally could have made it til two!).
*A small detail to notice in the picture above: The building to the left in the photo is under refurbishment. What you are seeing is actually a painted scrim. Notice the blue sky at the roof line.
One of the stores had these charming vignettes  set up in the windows. There was a guy with a huge honking camera taking photos of them. It took forever for him to move on so I could snap them with my iPhone. I thought they came out dang good!
Matt was thirsty so I suggested that we stop into Casey's Corner to test something I had read about which turned out to be true.
If you go up to any counter service restaurant in the parks and ask for a cup of ice water, they will give it to you for free! It's not just a Dixie cup either, it's a full sized soda fountain cup. I'm guessing that they put some sort of policy in place so that people don't get dehydrated and pass out because they refuse to cough up two bucks for a drink. The down side: it's Florida tap water. But hey, it's free!
One of the things that I find remarkable about Disney is the amount of detail and effort they put into something that they really don't have to. Casey's Corner is a hot dog joint. They sell dogs, fries and drinks, that's it. Chances are, if you wanted a hot dog you would buy it from a cart or a plain old walk up place and not expect anything more. But whether it's the trash cans that are themed to go with every different land of the parks , or a hot dog stand, they go the extra mile to amuse and delight the guest.
Our time at the Magic Kingdom had come to a close. I paused to take a last long look back at the castle. Despite the fact that the Magic Kingdom is not my favorite park (I'm looking at you, Epcot) there is something about it that gives me that lump in the throat feeling when I leave.
Next: Bye Bye, Pop Century…We're Movin' on up to the Beach Club!