For me, nothing compares to World Showcase, but wandering around  New Orleans Square served as a delightful substitute. If only they served real  Mint Julips  instead of the fake ones  I might possibly have stayed there all day. But alas, Disneyland is a dry park so you don't get the full authentic N'awlins experience. Instead we took advantage of the nearby train station and hopped on the Disneyland Railroad.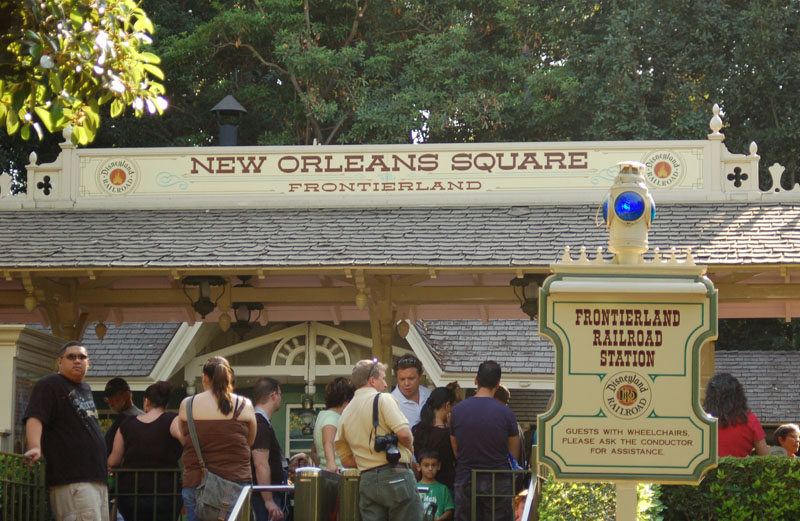 I'm not a train buff by any stretch, but the Railway is one one those things that is integral to the origins of the Disneyland Park. Walt was a huge railroad enthusiast and is responsible for preserving steam railroading for generations to enjoy at Disney theme parks around the world.
Sadly, I've never ridden on the Railroad in Walt Disney World. There are only so many geeky things per trip that I ask the rest of the family to participate in; like the Carousel of Progress or the Tiki Room. On this trip however, it was just the two of us, so I could geek out without the fear of teenage, eye-rolling judgement.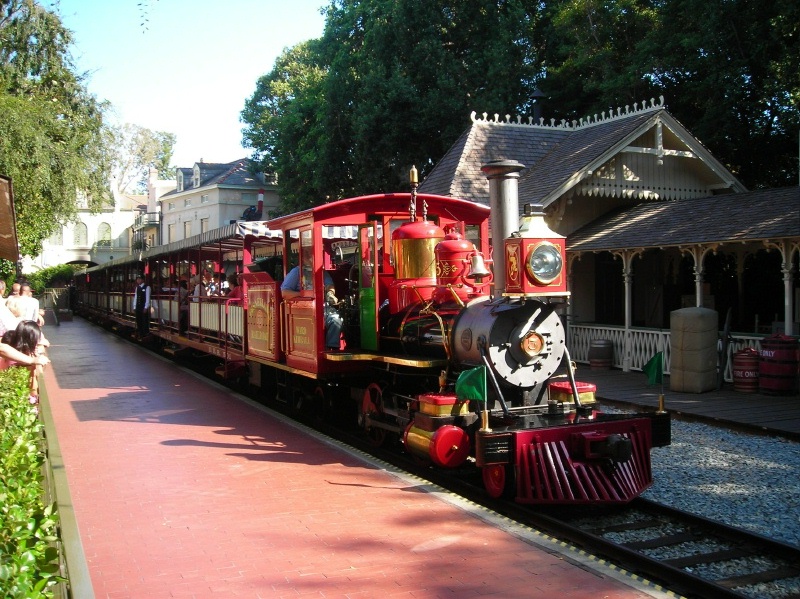 The slow journey around the park was quite relaxing, plus there was an informative schpeel that played overhead. The train ride did expose some of the challenges of the Anaheim Park. Unlike Orlando, Disneyland is plopped smack in the middle of a busy city. This means that there isn't the Disney "bubble" that you are encapsulated in as with Walt Disney World. You can see the Matterhorn  peeking over the fence right from Harbor Boulevard and you can see non-Disney Hotels and the back sides of unattractive buildings from the train.  I'm looking forward to giving the WDW train a whirl next time we go to Orlando (she said hopefully).
Keeping with the slow moving transportation theme, we decided to  take a cruise over the Rivers of America on the Mark Twain River Boat.
If you make your way to the very top deck you get  the most expansive views of Frontierland and New Orleans Square.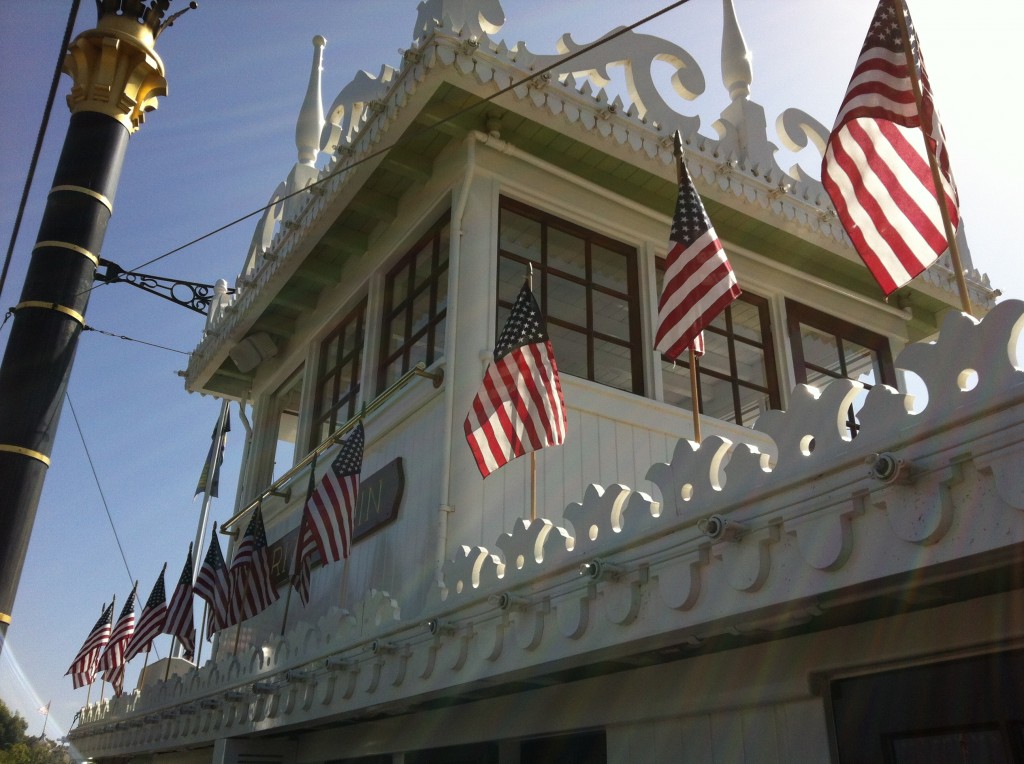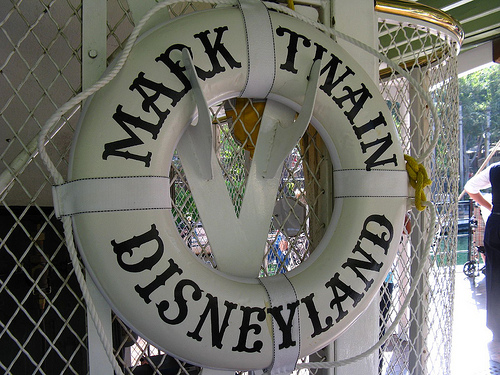 You also get to look down and judge the people in the  smoking area.
 The Hungry Bear Restaurant
Splash Mountain Log Flume
There are classic nature vignettes set up all around frontier land. They looked pretty fake, but there was a jumping fish that fooled us.
Native American Village
At dusk most guests (ourselves included) are usually occupied in the back of the park. Because of this, most people miss something pretty special. Each afternoon, right inside at the entrance on  Main Street, you'll see the Flag Retreat Ceremony.
The Disneyland Marching Band plays patriotic songs, and pay homage to the various military branches.
If you've spent any time in a Disney Park you have seen evidence of Walt's patriotism, from Great Moments with Mr. Lincoln to The Hall of Presidents. Walt famously said that his parks would continue to grow and change, but he insisted that the Flag Retreat Ceremony would always be carried out each evening.
Here is a short video of the conclusion of the ceremony; the singing of "God Bless America".
I'd like to say that we had made it a point to see the Flag Retreat, but that wouldn't be true. The reason that we happened to be at the front of that park that evening was because we were heading out to meet our hosts, April and Chris, for dinner.  We had asked them to choose their favorite place for a nice meal- our treat.  When they told us to meet them at a place called Taps Fish House and Brewery, I thought they might be selling themselves short, it didn't exactly sound like fine dining. Boy was I wrong.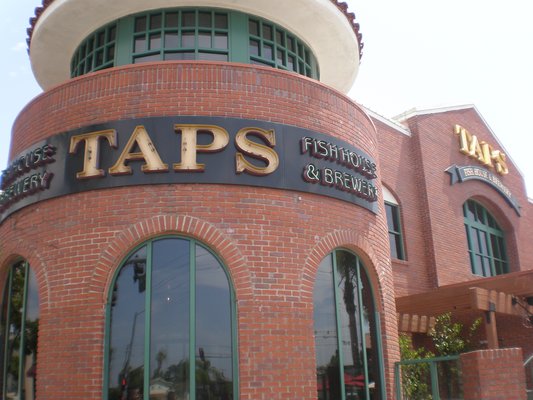 We were supposed to meet them at 6:00pm, but our or oh-so inacurate GPS over shot us by about four miles beyond our destination, so we were a wee bit late.
April and Chris had already ordered an amazing cheese and charcuterie board. They showed incredible restraint, leaving most of it intact while patiently waiting for us to finally arrive (or supreme prowess in arranging the platter to still look full).
The dining room had a perfect combination of casual energetic buzz and white table cloth sophistication. Our server was non-plussed about us arriving so late, and was very gracious every time he came to the table to discover that we were still chatting incessantly and not looking at our menus.  Let me also just say that he was handsome. I mean chiseled out of stone handsome. So good looking in fact, that as he listed the specials, even Jeff said he couldn't concentrate on what he was saying due to is blinding good looks. No, I didn't take a picture.
The food was beyond fabulous, and rivaled some of the best signature dining experiences we've had. April and Chris indulged my food photo obsession. They get me.
April's dinner as listed on the menu:
Chris's meal must have been a special, because I couldn't find a description on the menu. I'll do my best to describe:
Taps Fish House's menu made a bold statement, yea, a challenge that Jeff decided to take  on. "If you have only one thing, this should be it".  Mr. jones concurred that it was the right choice.
My dinner was excellent, but it almost seemed like it should be two separate dishes. The crab tostadas were served chilled and were tasty, but the risotto and Mahi-Mahi were served hot. It all ended up in my belly either way!
I'm so glad we took the time to slow down and experience things like the railroad and the flag retreat. It can be tempting on a trip to just go-go all the time and not notice the things that make Disney so unique, but actually leaving the park to spend time with our new friends made the day truly special.
Next Up: Exploring new territory- Disney California Adventure