The timing of our trip was bittersweet. When we arrived in Disneyland, Disney California Adventure was mere weeks away from the Grand Opening of Cars Land. I told myself that it would be great, because the crowds would be extremely low. I mean, everyone (except us) would be putting off their trips until after the big premier. This turned out to be true, but once we got there I was seriously bummed. What solidified my disappointment was when we visited the Blue Sky Cellar exhibit in the Golden State area of the park. This was set up at the beginning of the renovations to display all the plans, mock-ups and models of the new additions.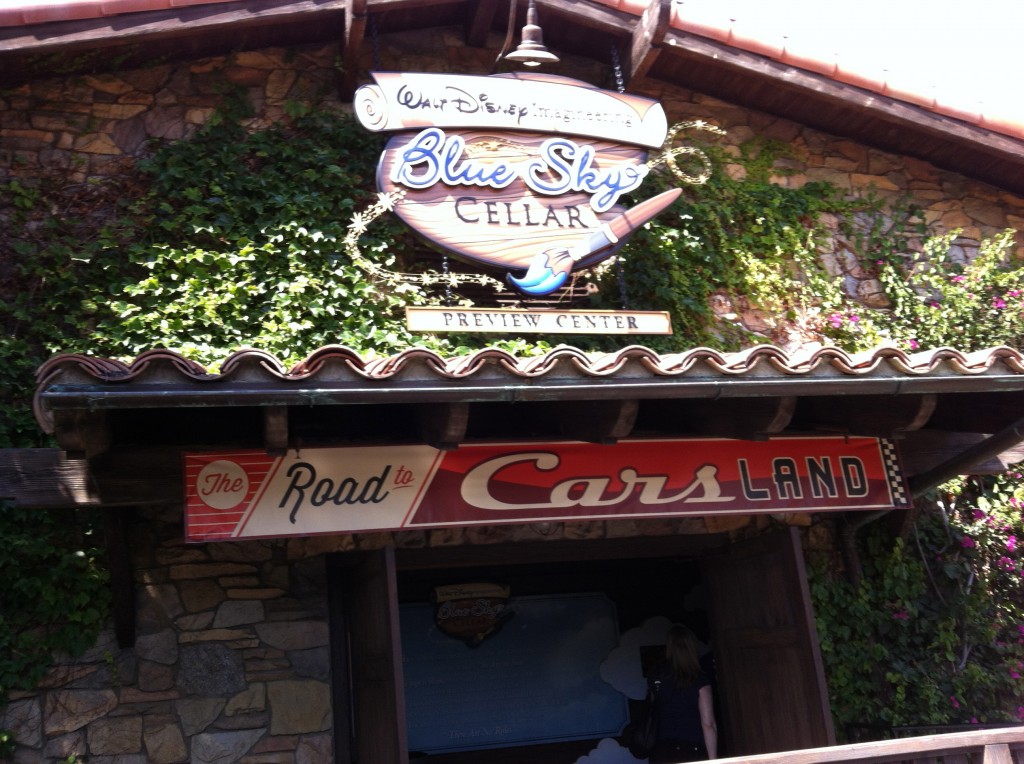 The term "Blue Sky" refers to the first step in the process of the Imagineers. The sky is the limit and everything goes on the table no matter how outlandish the idea may seem.
Cars Land is designed to make you feel as if  you are walking right in Radiator Springs. Now, Cars was not my absolute favorite Pixar movie (I don't even want to talk about Cars 2), but that doesn't matter. The realism of the theming is so out-of-this-world spectacular, it's absolutely jaw dropping!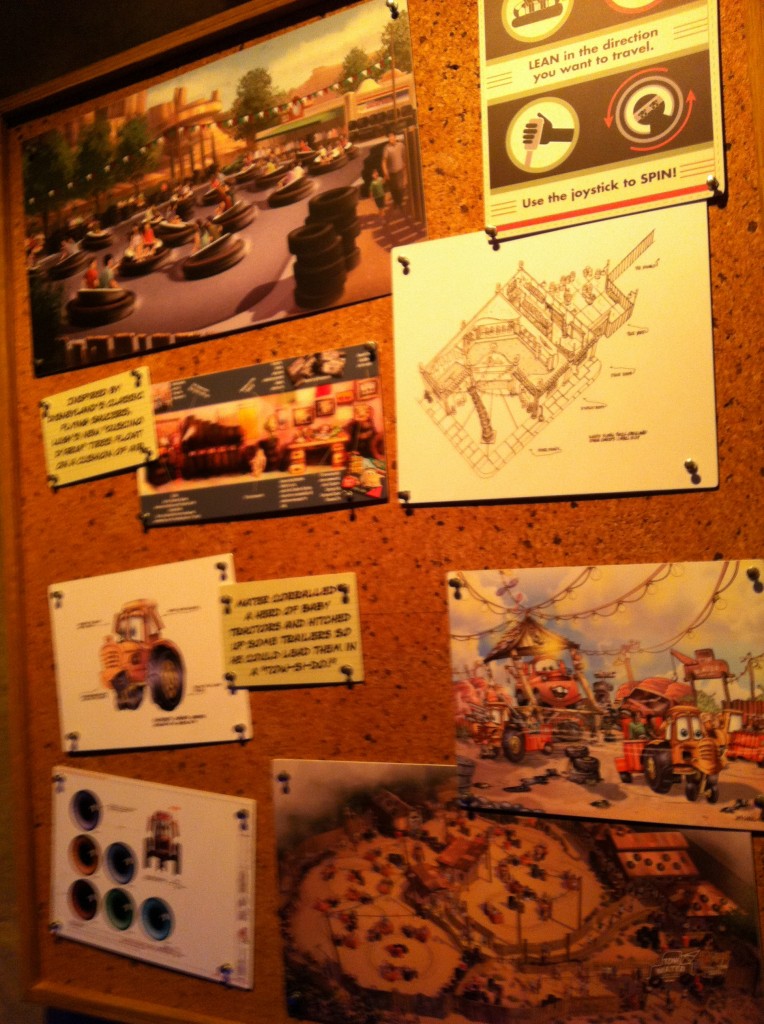 Also at the Blue Sky Cellar was a video presentation from the Imagineers who created Cars Land. I was bopping around looking at cute posters of Lightening McQueen when I noticed Jeff sitting in front of the screen, riveted. It was at this moment when I felt a glimmer of hope that we just might be coming back to Disneyland. I'm not saying that the man shed a tear, but Jeff was clearly moved by the passion of this particular Imagineer.
* Note: If you would like to see a spectacular photo tour of Cars Land and the new Buena Vista Street area, check out my friend Carrie's blog (and by friend I mean I posted a couple comments and she politely replied) at Disney Travel Babble. Be prepared to book your flight to California.
From the patio outside the Blue Sky Cellar, you could peek over the wall to see all the way down Route 66. You could see even better if you stood on the benches, but then you would get scolded by a cast member. Not me though, I didn't do that, nooooo.
The area where Blue Sky Cellar is located represents Napa Valley, which of course equals vineyards. We took the opportunity to have a little sit down and do some people watching whilst enjoying a glass of wine.
It's a known fact that things in Disney are expensive, but you usually get a good value for your dollar. You may pay nine bucks for a burger, but you could take a nap on the roll, it's so big.  Not this time. That skimpy glass of white wine cost twelve dollars! Yikes!
Also in the Golden State area is the Grizzly River Run. This is a white water raft type of ride where you get jostled around and inevitably soaked. In our case we also got ear damage due to the fact that we were seated on a raft full of screaming teenage girls.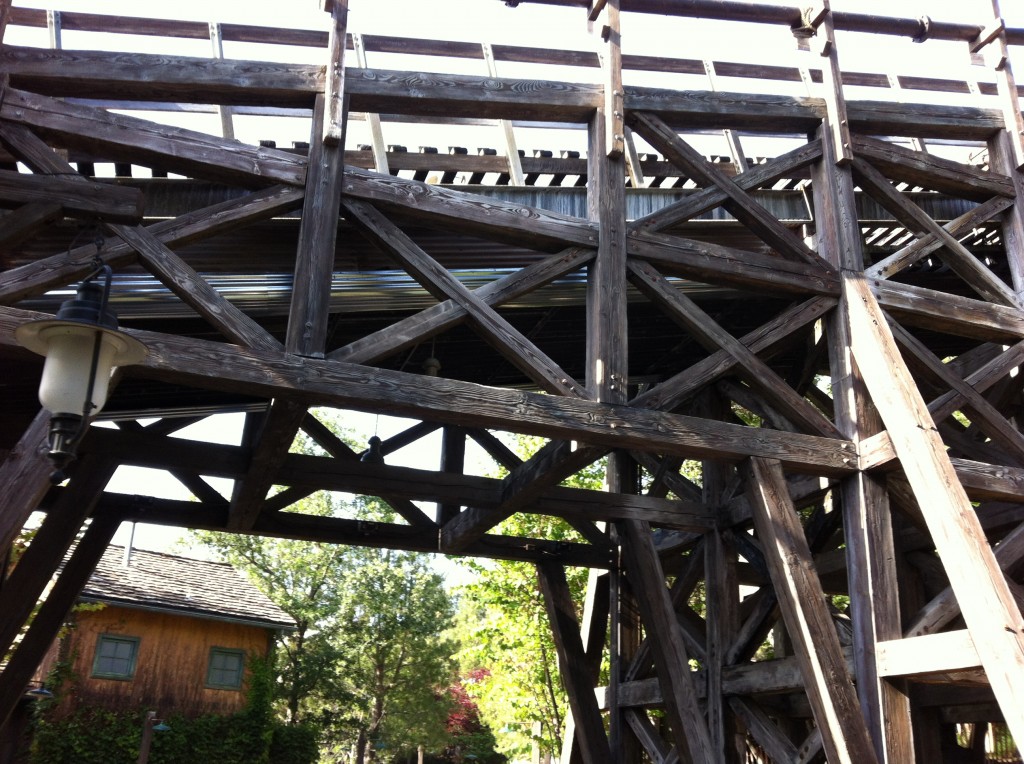 If you don't necessarily want to walk around in squishy shoes for the rest of the day, it is still worth venturing over to this attraction. Surrounding the ride are the most gorgeous waterfalls and lush, dense woods!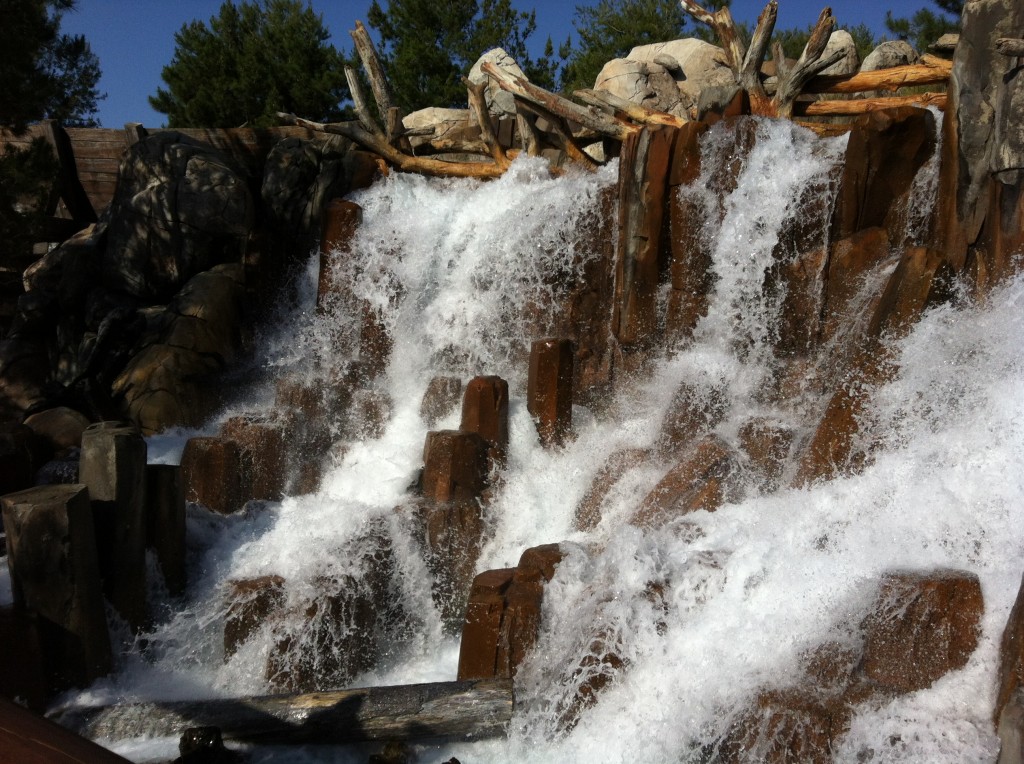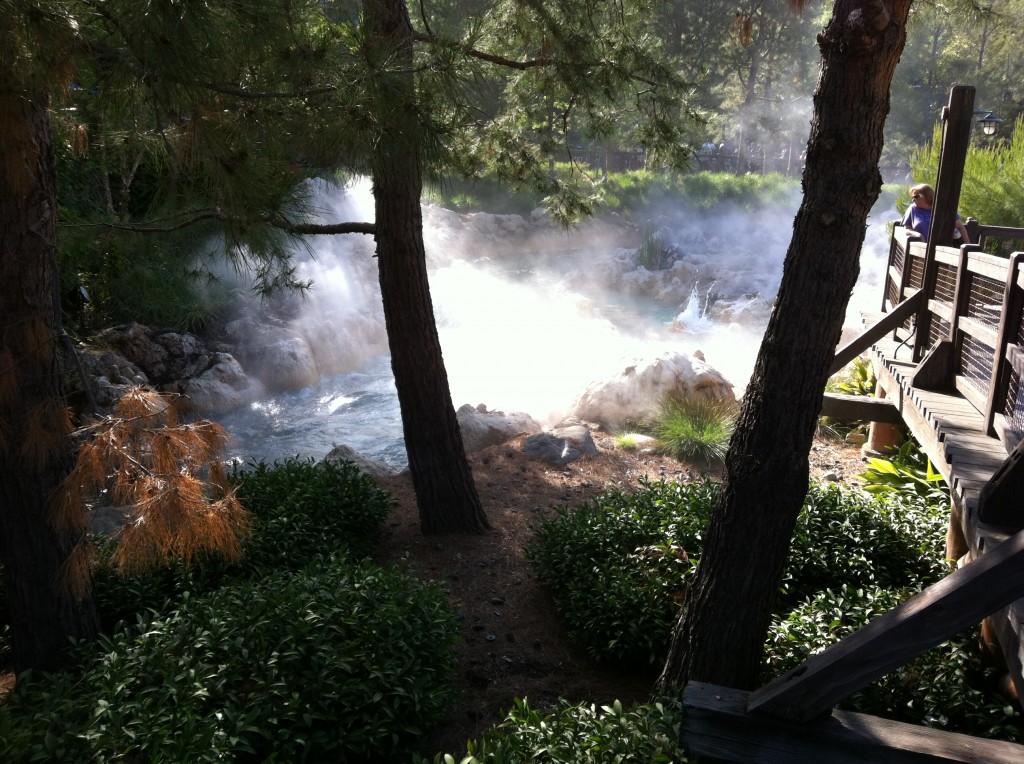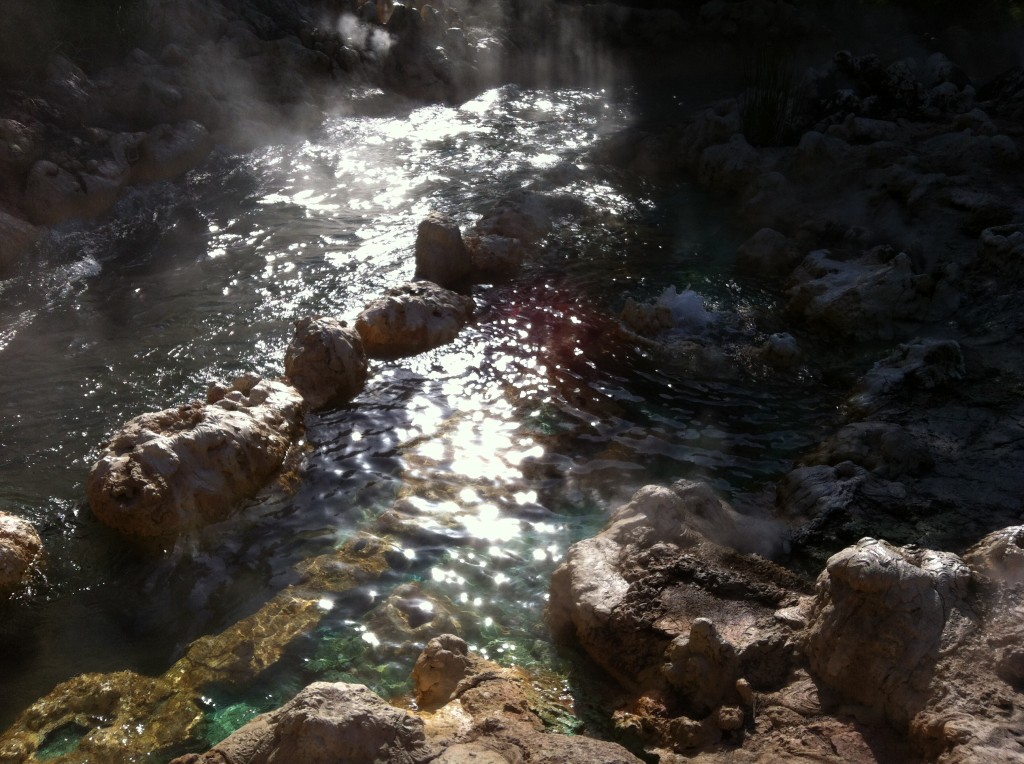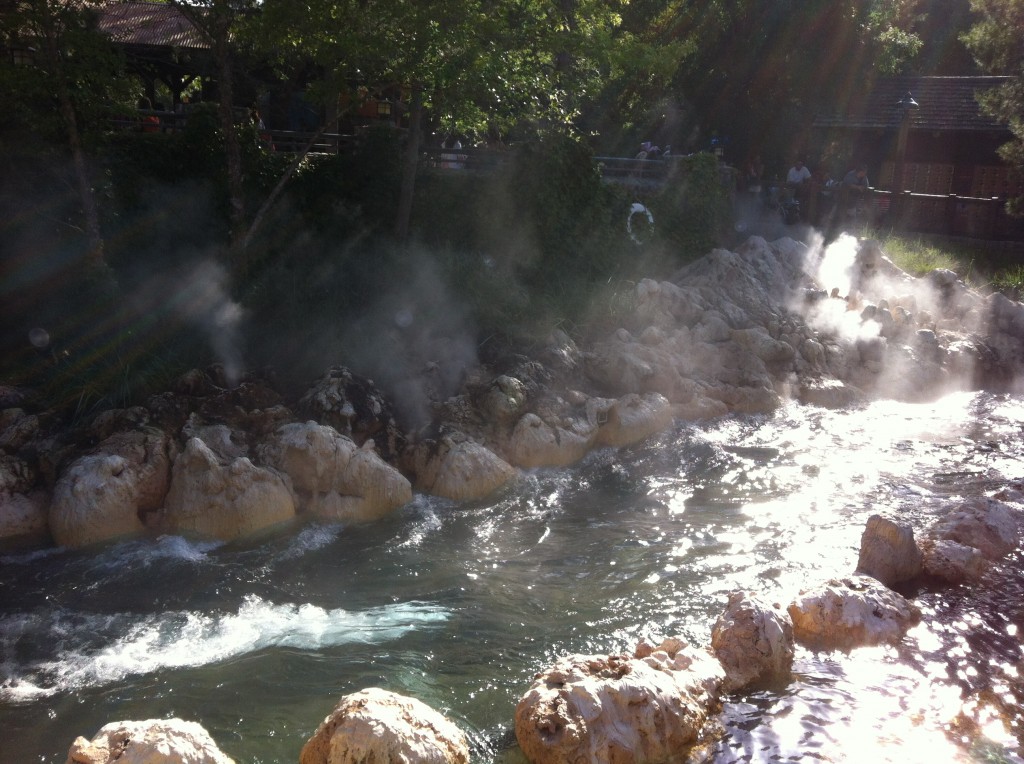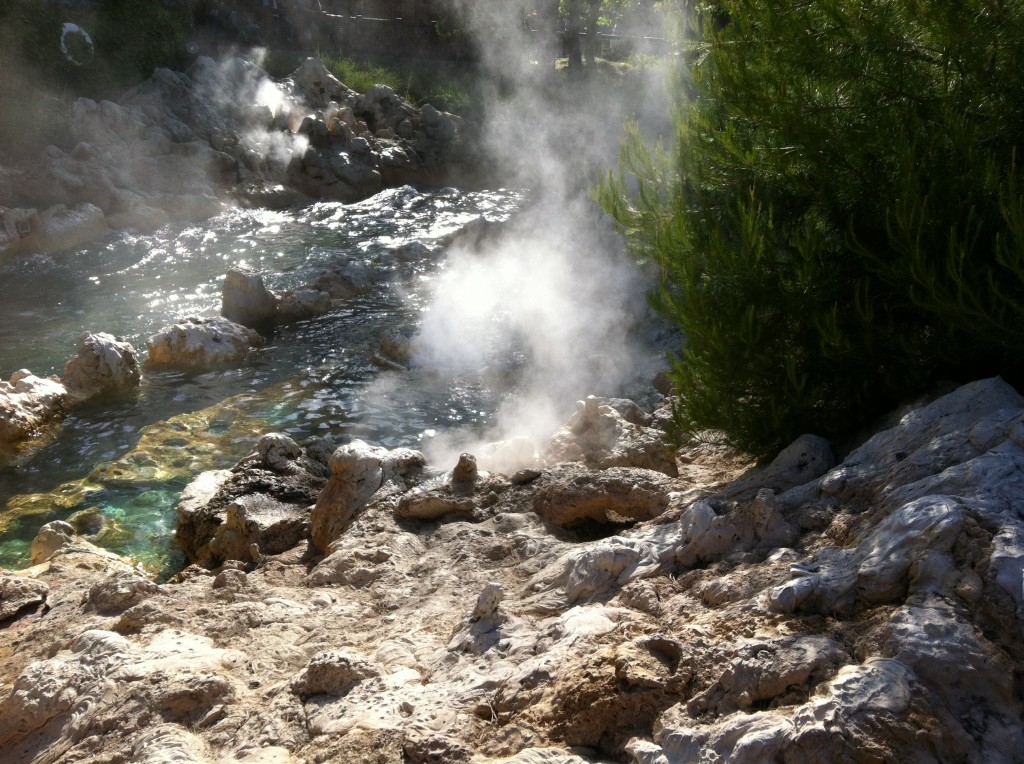 My favorite areas of any of the Disney Parks continue to be the quiet spaces where there aren't any rides or attractions that people are clamoring to get to. They are so rich with detail and charm, and usually empty.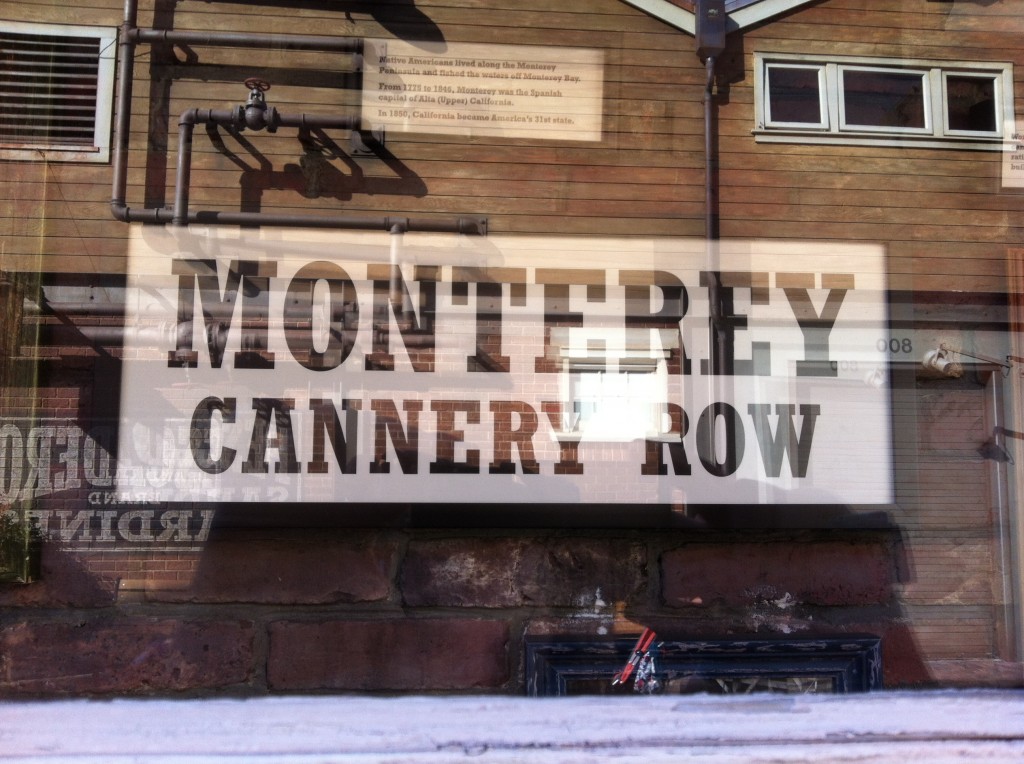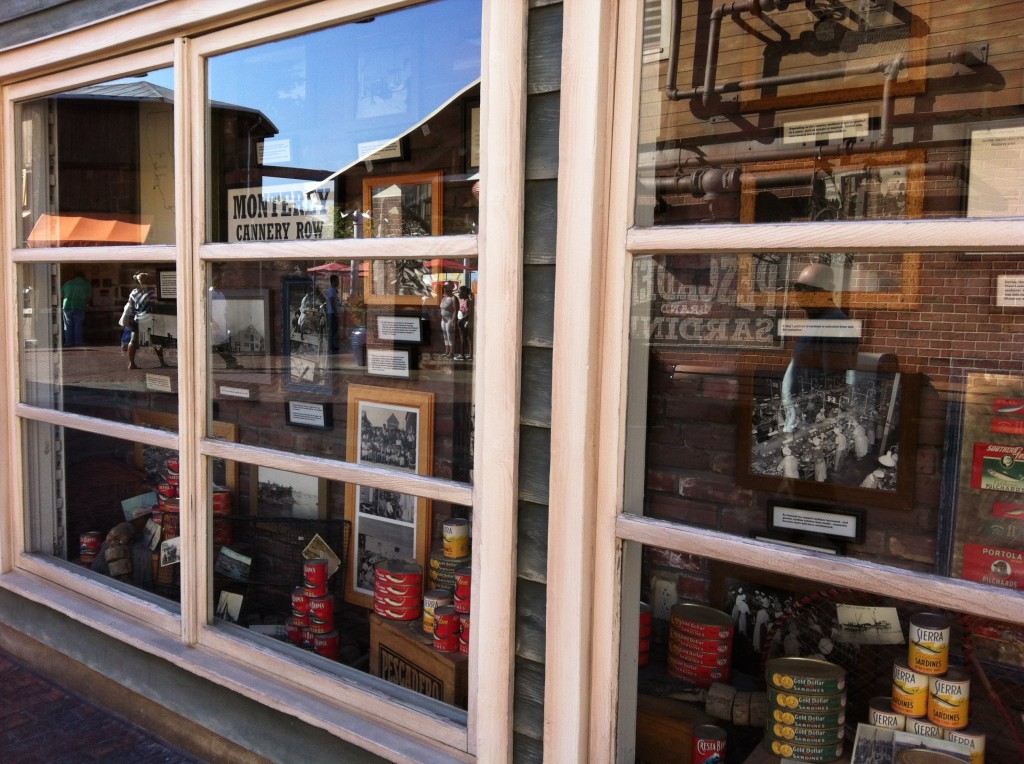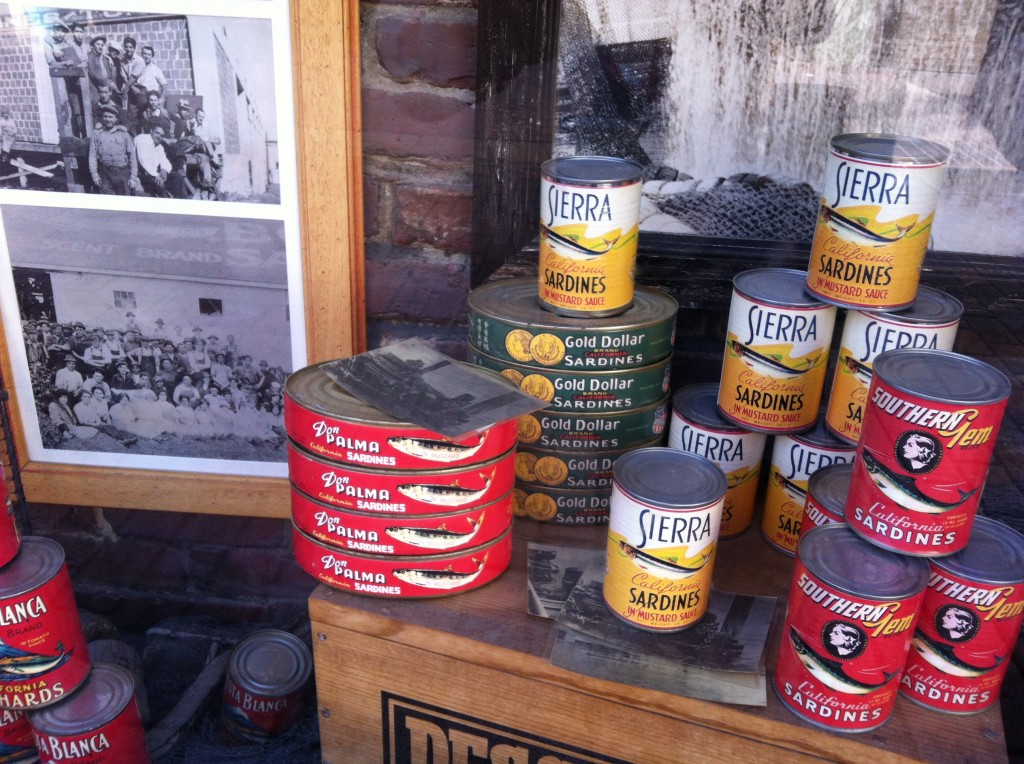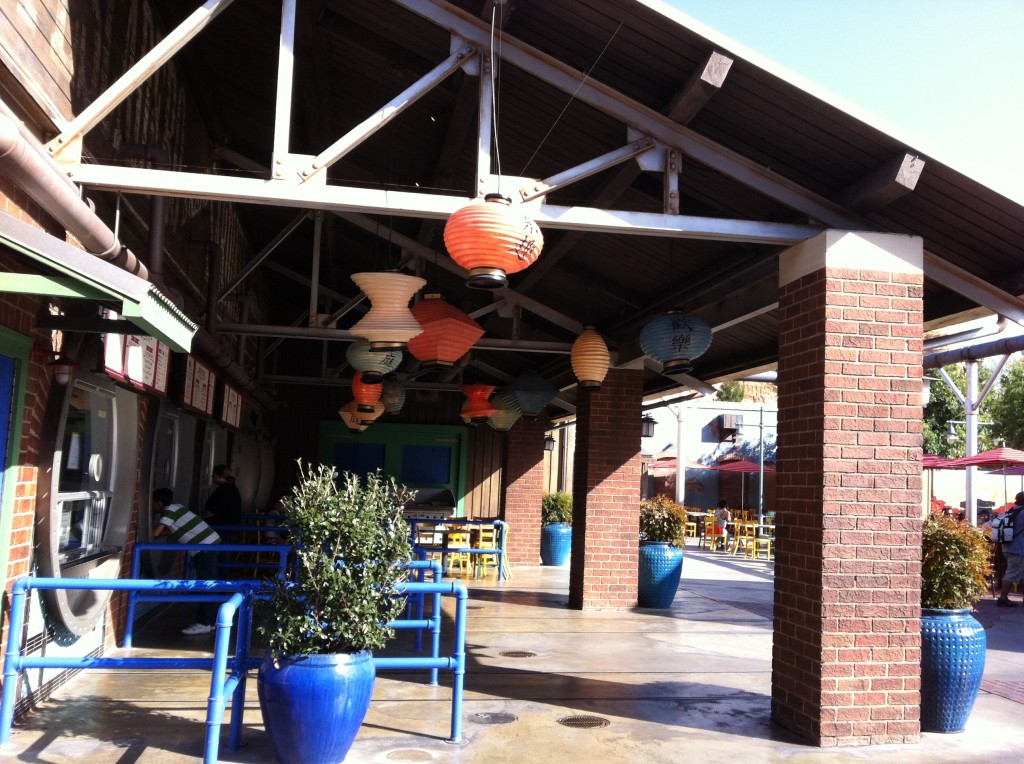 I did say it was quiet back here…
Next Up: Dinner and the best, most colorful night time spectacular, ever!