I mentioned in a previous post that Disneyland is small, but charming (I'm not just blowing smoke, Disneyland. I think I've fallen for you!) and it certainly is, but the biggest advantage of the squished together layout of the parks is that you can just skip right around from place to place without using any sort of transportation.  This is a HUGE advantage. In WDW,  if you want to hop over to any other park, you're in for about a thirty minute car/monorail/bus ride and you certainly can't walk anywhere.
Here are some maps for your consideration:
Tonight we would be taking advantage of this close proximity by walking on over to the Disneyland Hotel for dinner. As we passed through Downtown Disney, we came across a cool surprise. I had read about, but never had seen, a water artist. These cast members create character art by using only water and a broom.
This is one of those "Disney Magic" occurrences that exists purely to delight guests. This piece of art will not bring one more dime into the parks and will disappear in a matter of minutes, but yet, they create it any way.
On to the hotel…
We had visited the Disneyland Hotel on our first night when we had drinks and appetizers  at Trader Sam's. This time we were trying the lounge at Steakhouse 55, which is right in the lobby of the hotel's Magic Tower.
My goal this trip was to save money by having appetizers and drinks in the different Hotel lounges, thus being able to experience the cuisine and atmosphere without laying out as much cash. In pictures, the lounge at Steakhouse 55 seemed super posh. It was well appointed with lots of silks and shiny silver accents. What the pictures didn't show was that it was also completely open to the lobby. This, unfortunately, gave it a bit of an airport bar sort of vibe.
We bellied up for a tipple and asked to see the bar menu.
We were looking over the bar menu when Jeff proclaimed  "We can't have come all the way to Disneyland to not have a steak at a place called Steakhouse 55!"  Man, do I love him!
We did exhibit some temperance by sharing only one appetizer, one salad and one steak.
There was one other item that I had read about (and drooled over in pictures) that I was anxiously waiting to try, the Chef's Potato Stack Au Gratin. It's been said that this side dish has made prudish men blush from its cheesy decadence.
Our dinner was absolutely superb; fresh ingredients skillfully prepared and elegantly  presented. Perfect!
After dinner we strolled back over to Disney California Adventure for World of Color. This nighttime spectacular was added in summer of 2010 and has received nothing but the highest of accolades. What makes it soooo much more convenient than other shows is that you can get Fastpasses early in the day and be assured a spot to view the spectacle. I've never seen Fantasmic  because I refuse to queue up for hours on end. For me, the enjoyment of any show or event is conversely affected by the length of the wait to see it. I heard a "tip" from a Disney expert that to get the best view of the fireworks, choose your spot three hours ahead of time. THREE HOURS! There is nothing that can deliver enough of a return to warrant squatting on a curb for that long.
Now, back to the show!
World of Color, without a doubt lived up to it's hyped reputation. The water effects, the stirring music, the amazing lights were just mesmerizing. I must confess that, because I wanted to truly experience the show and not view it through a lens, I didn't take any pictures. I really want you to get a taste of this though, so through the power of the internets I give you some absconded photos: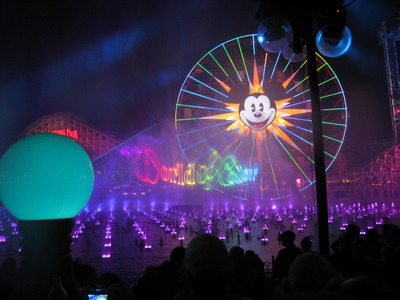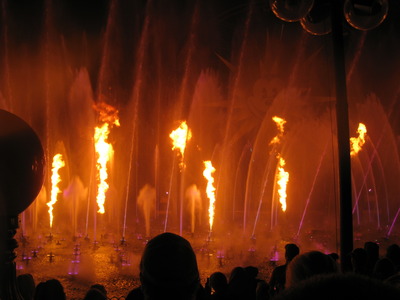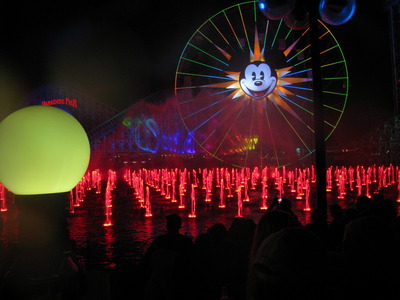 Here is a video containing some brief segments for the show. It's only about three minutes; the entire show is around twenty minutes.
Did you watch it? Really, watch it! It's incredible.
Up Next: The most unbelievably splendid, incredibly decadent meal I've ever eaten, or ever will eat. Ever.