Our time at Disneyland was officially over. If there weren't risk of extreme judgement about my geekdom, I just may have sprung for passes for one more day, but even I know that there are other things of value to see in Southern California besides Disney- I guess.  The plan was to spend the day taking in the glamorous sights of Hollywood. Truth be told, there are several Disney adjacent attractions in the area as well.
We found a sketchy cash only parking lot (hey, it was a rental) and stepped right onto the Hollywood Walk of Fame.  I only took photos of the very biggest, most important stars.
Then, onto Grauman's Chinese Theatre…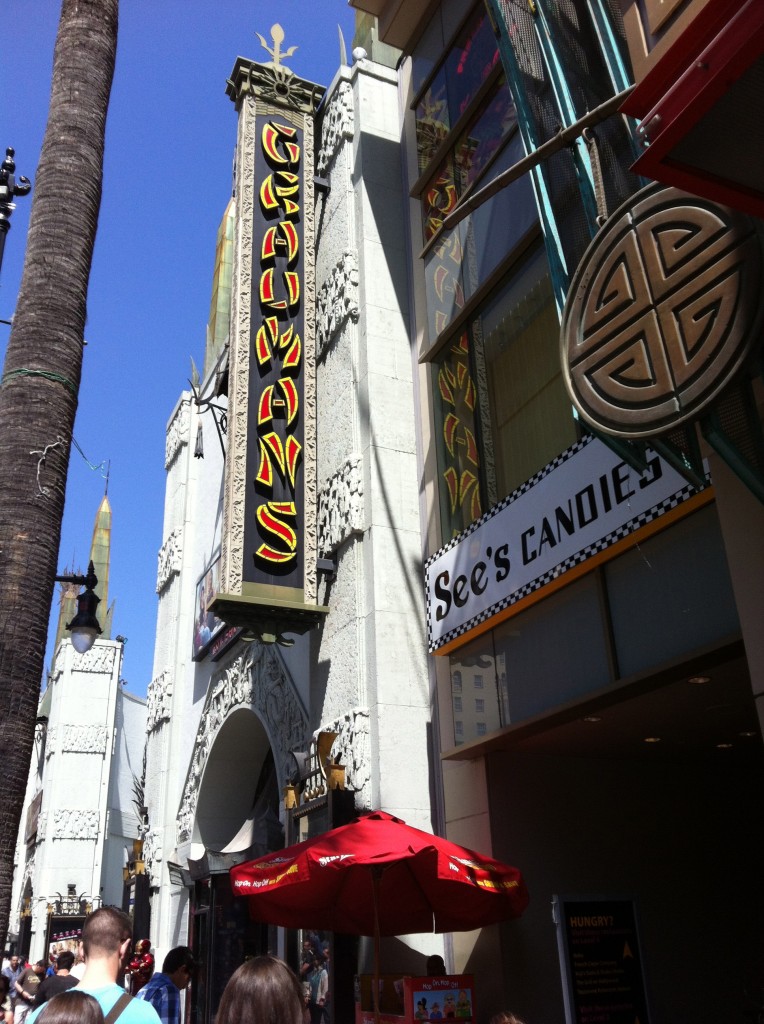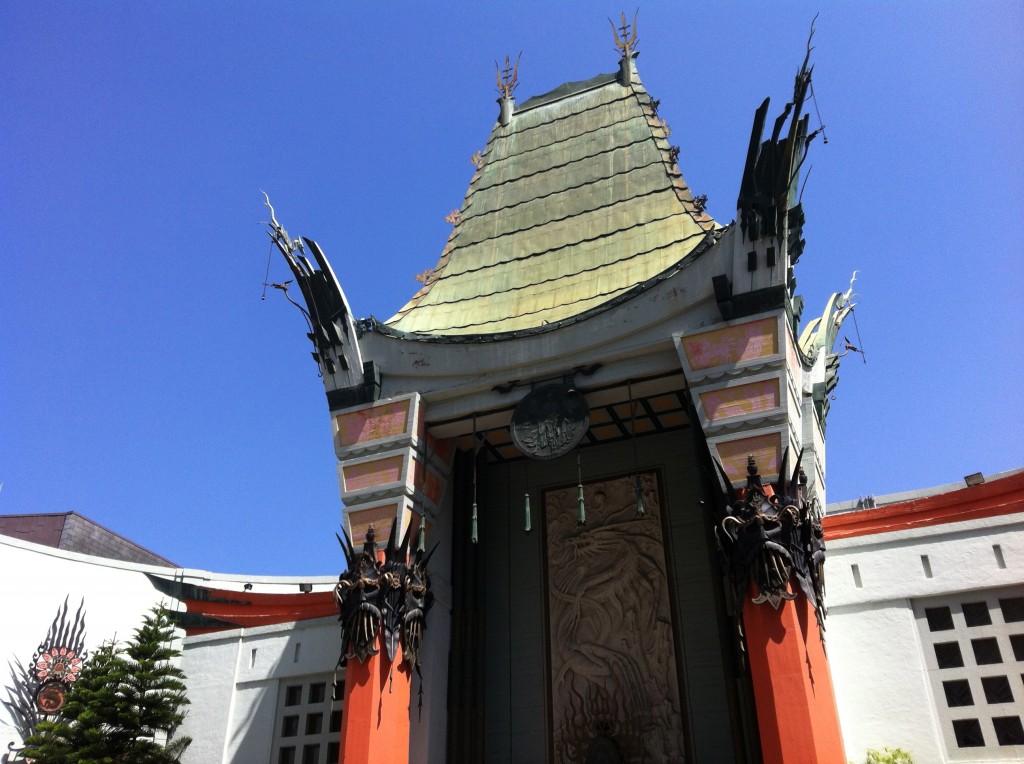 The architecture of the theater itself was impressive, but the area surrounding this major attraction was really quite disappointing. I would have figured that with all the tourism dollars flooding the city, it would have been cleaner and more slick. I know that my opinion is probably a result of my close association with the Disneyfied version of Grauman's at Hollywood Studios in Orlando.
Back to real Hollywood…  The place was teaming with tourists milling about, laying their hands onto the impressions of stars past and present. I hope they brought hand sanitizer.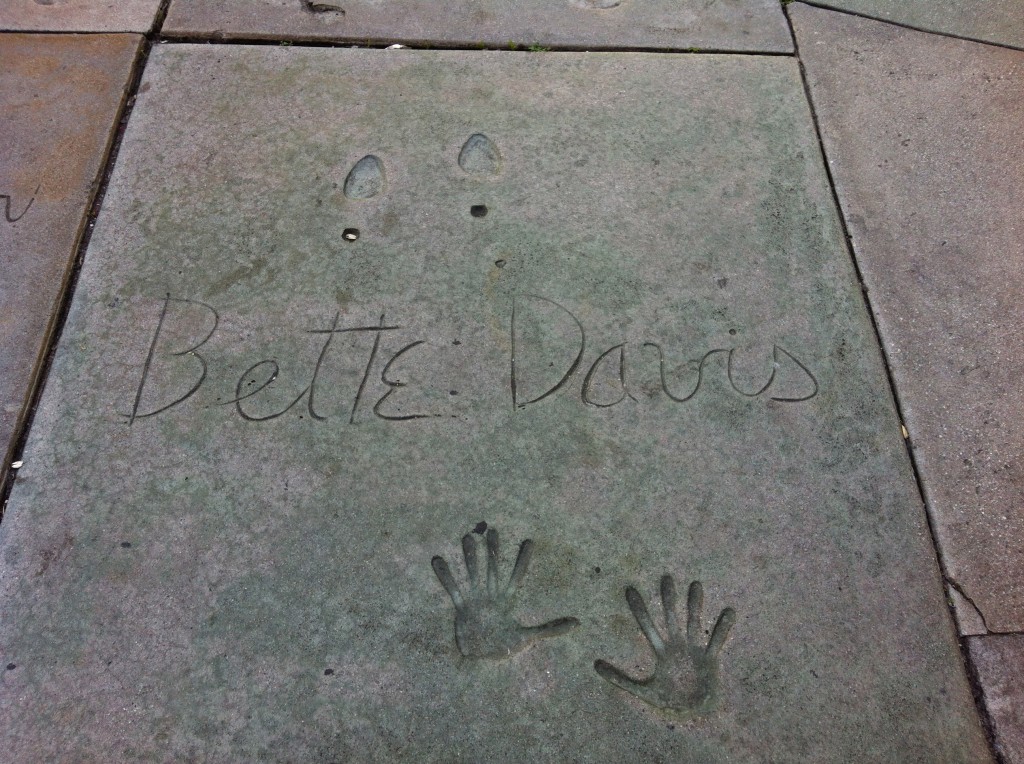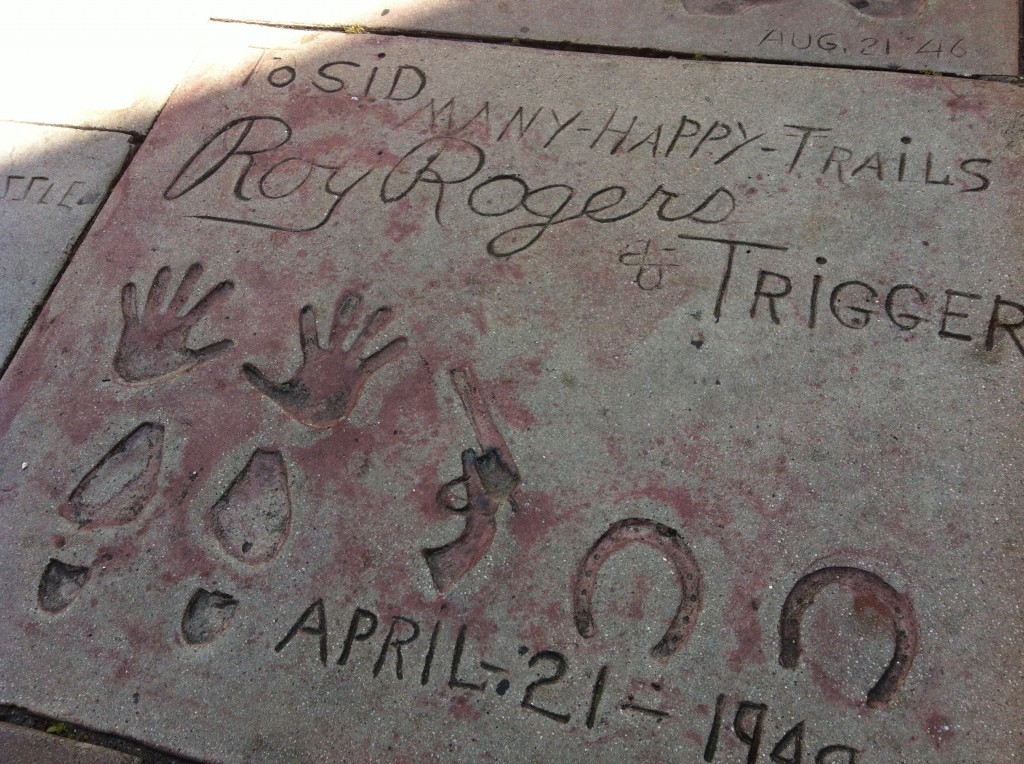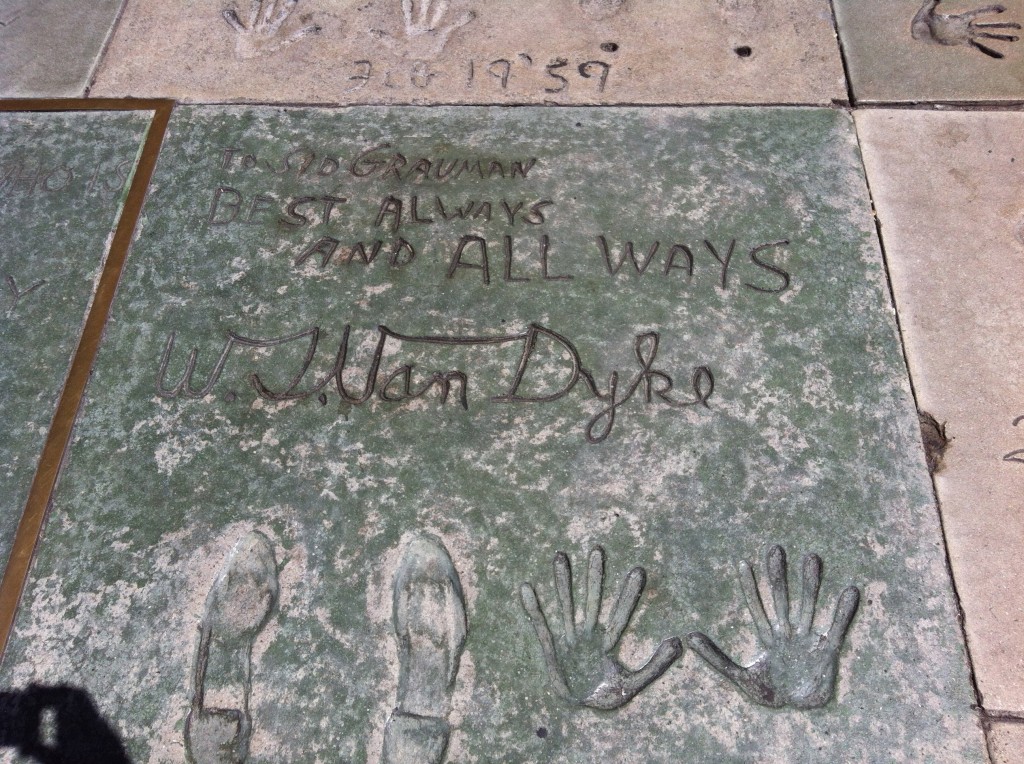 One huge difference between the real Grauman's and the Disney version is the characters that reside in front of the theater.
Though they have no official affiliation with Grauman's (numerous signs tell us that this is the case), the tradition of taking pictures with the characters is well established. The actors are only allowed on the public side walk, and may not solicit payment. They do however strongly suggest that you may tip them. I know this because the Darth Vader caught me snapping a photo and proceeded to flash his wad of cash at me while sternly telling me as much- in his Darth Vader voice. It was a wee bit intimidating. The police do monitor the situation and have made arrests at times.
*For a fascinating look into the lives of some of these characters, check out the documentary Confessions of a Super Hero.
Oddly enough, they also have characters like these in Amsterdam. These actors however, are made to be perched on what seem to be apple boxes, therefore insuring that the people are not intimidated by their presence wandering around. Please, take note Hollywood!
As it turns out, Grauman's Chinese Theater is actually a movie theater. Who knew? We took a quick look about before they had a chance to check for tickets.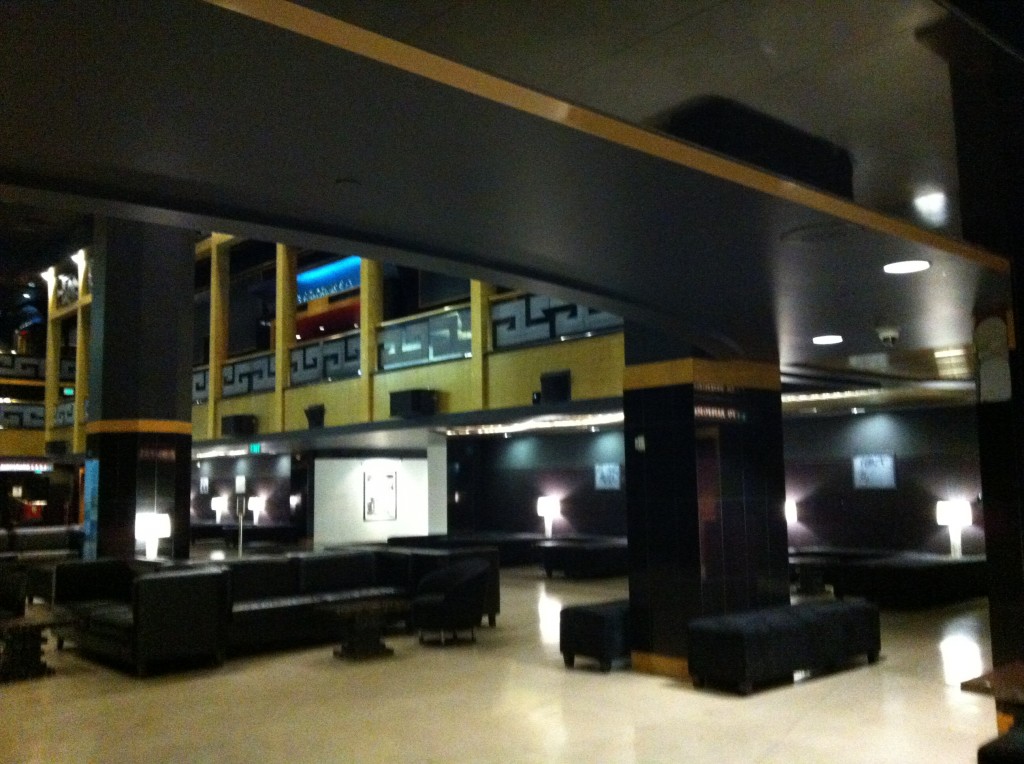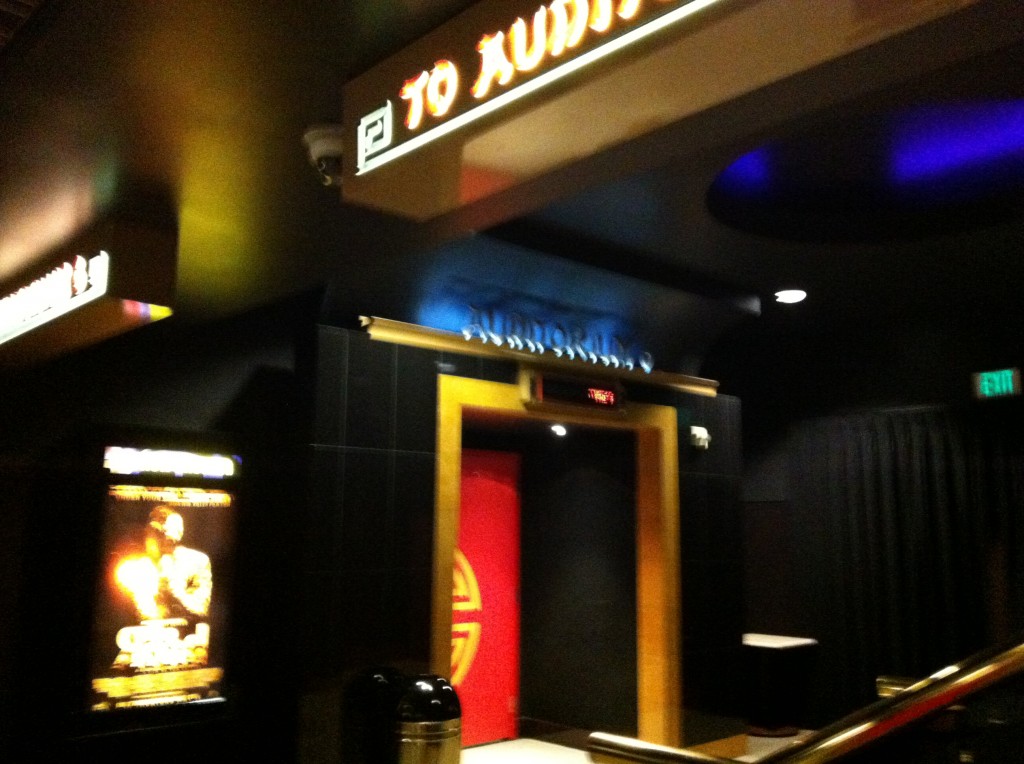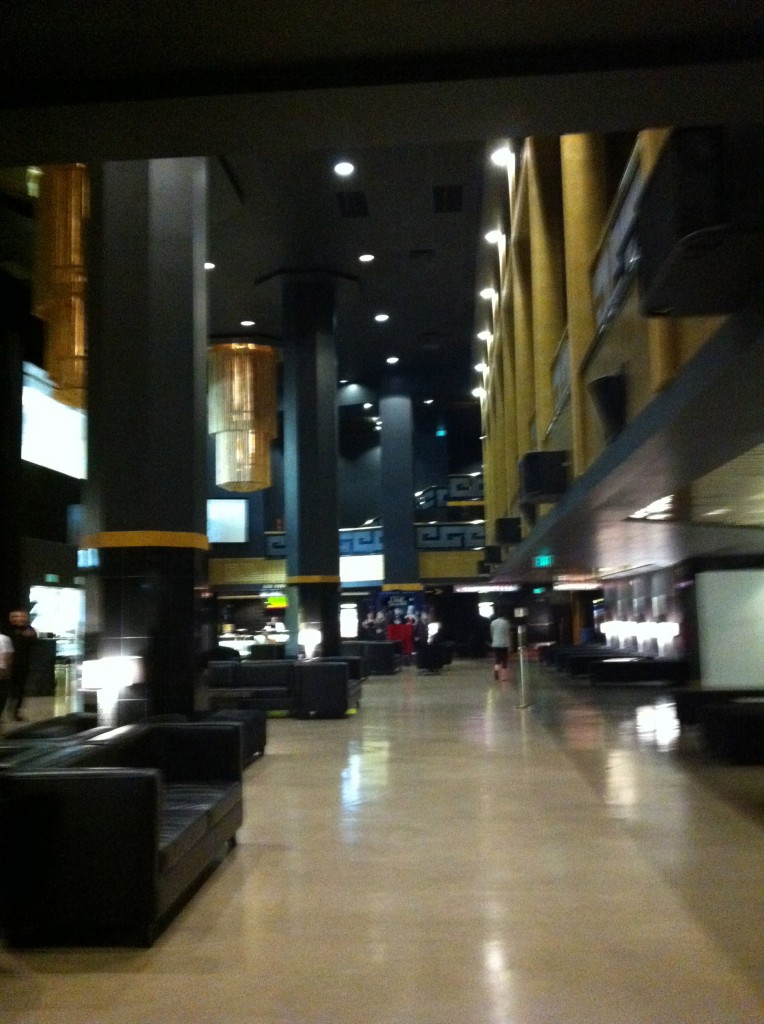 There was a hallway of fame of sorts with terrific black and whites of notable inductees to the Walk of Fame.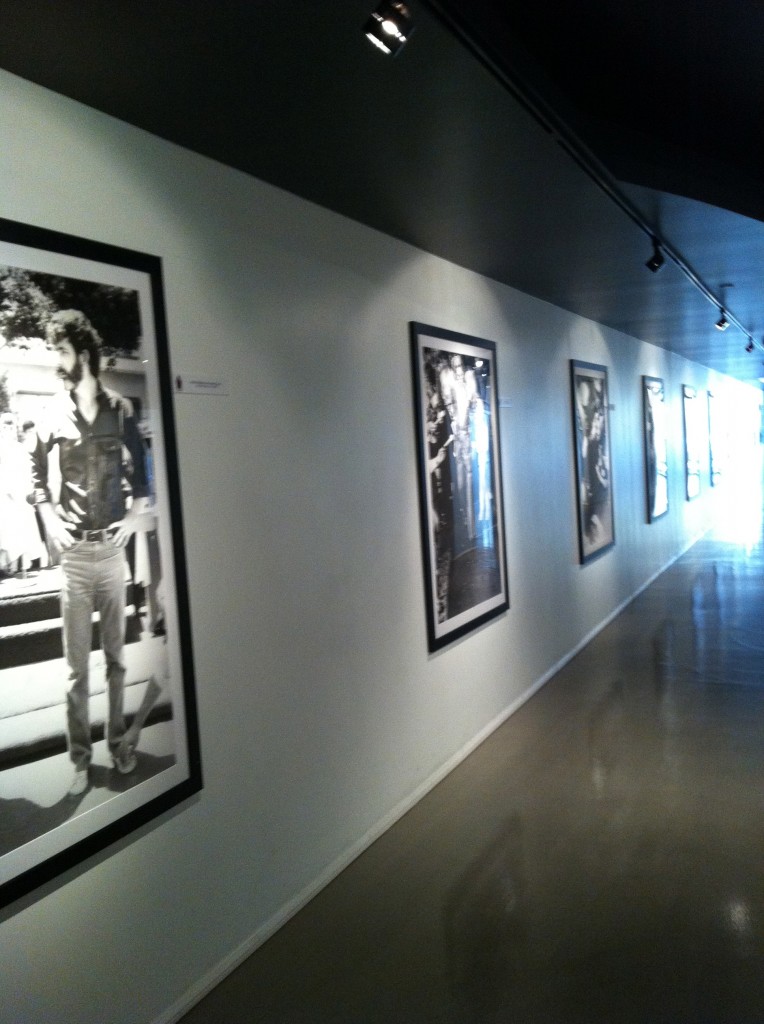 While we were there, workers were preparing for a movie premier happening later that evening.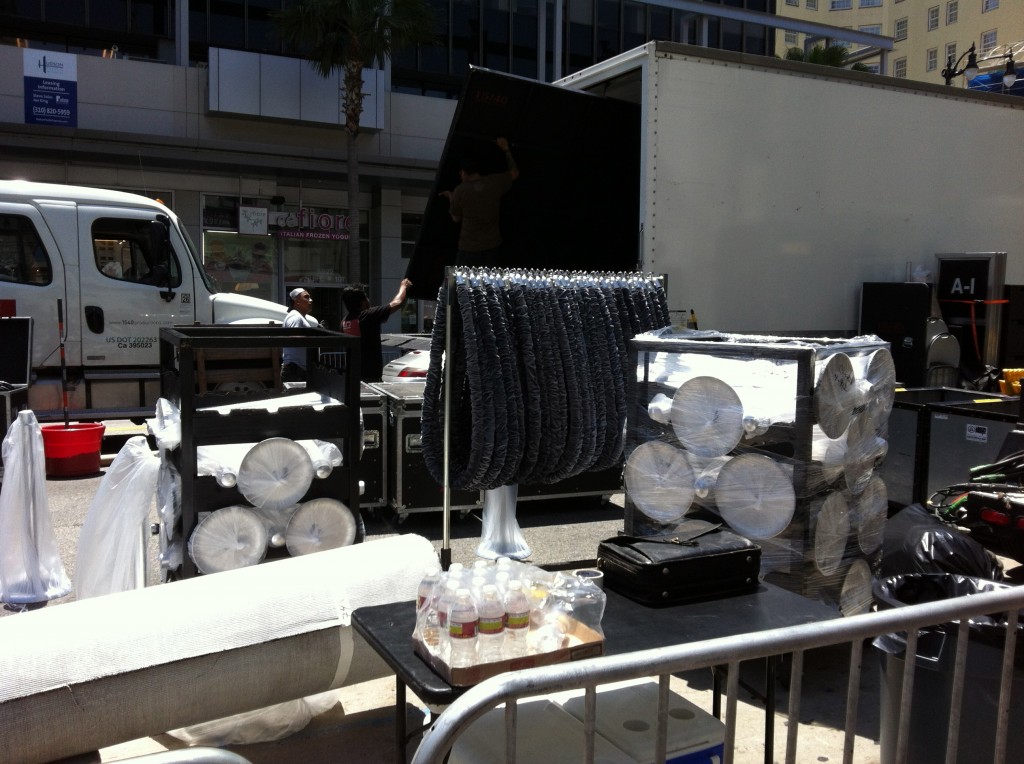 The movie in question was What to Expect When You're Expecting, which I believe left the theaters before we even landed back in Logan.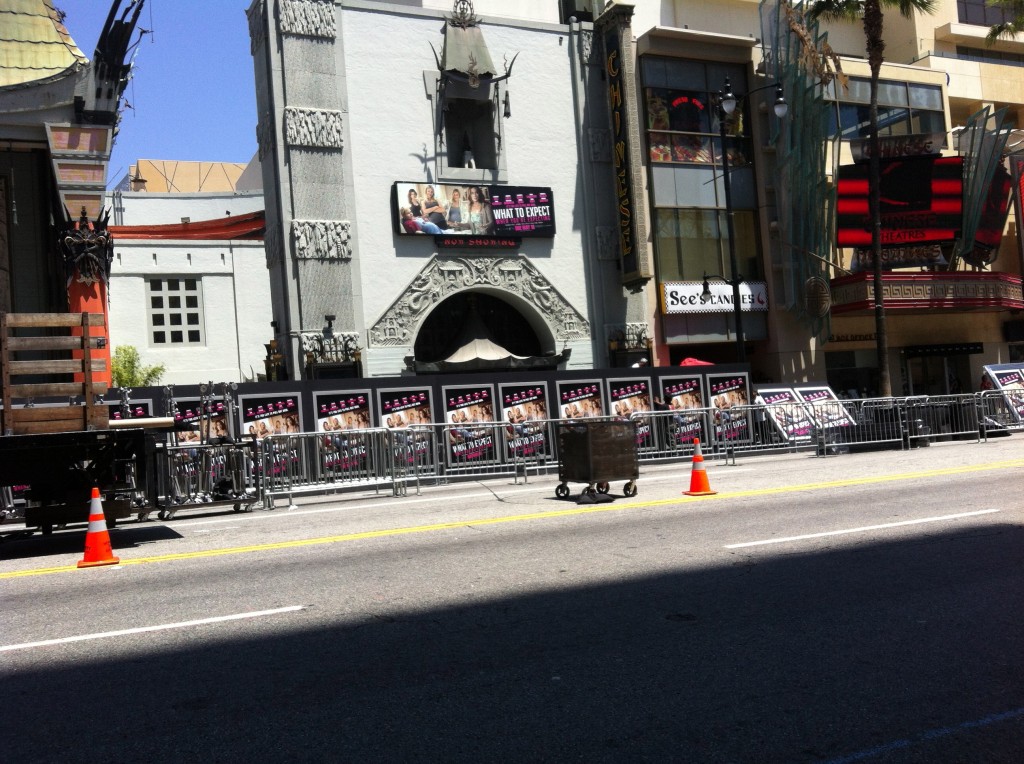 For those films that fare better than the aforementioned piece of cinematic fluff, this might be their destiny:
This theater is also home of Cirque du Soleil Iris (pronounced ee-reese,  just to be pretentious).
This is sort of Disney related in my mind because Cirque du Soleil also has a production Downtown Disney in Orlando, which we saw several years ago. A stretch, I know. What's interesting about having Cirque in the Kodak theater is that for several months surrounding the Oscars, the show shuts down and the stage is completely reconfigured for the event. Seems like a huge burden, but apparently the facility doesn't have much use  the rest of the year, so it must be lucrative despite all the extra effort.
Surrounding the theater is a shopping center containing a whole array of high faultin' stores.
The upper floors have a series of observation walkways that offer some primo views.
Another Disney related sight I was very much looking forward to seeing was the El Capitan Theater. This is an eighty six year old piece of architectural history that was bought and restored by Disney in 1991. Since then, it's been the venue for all the Disney and Pixar movie premiers.
What I was really excited about was that it also served as a major set piece for the 2011 film, The Muppets. You have seen this, of course! Right?
I was hoping to get to nose around the theater and take some pictures but they actually require you to buy tickets to enter. The Nerve!  The foyer itself is impressive enough though. It's designed in the elaborate Spanish Baroque style. The detail is mind boggling.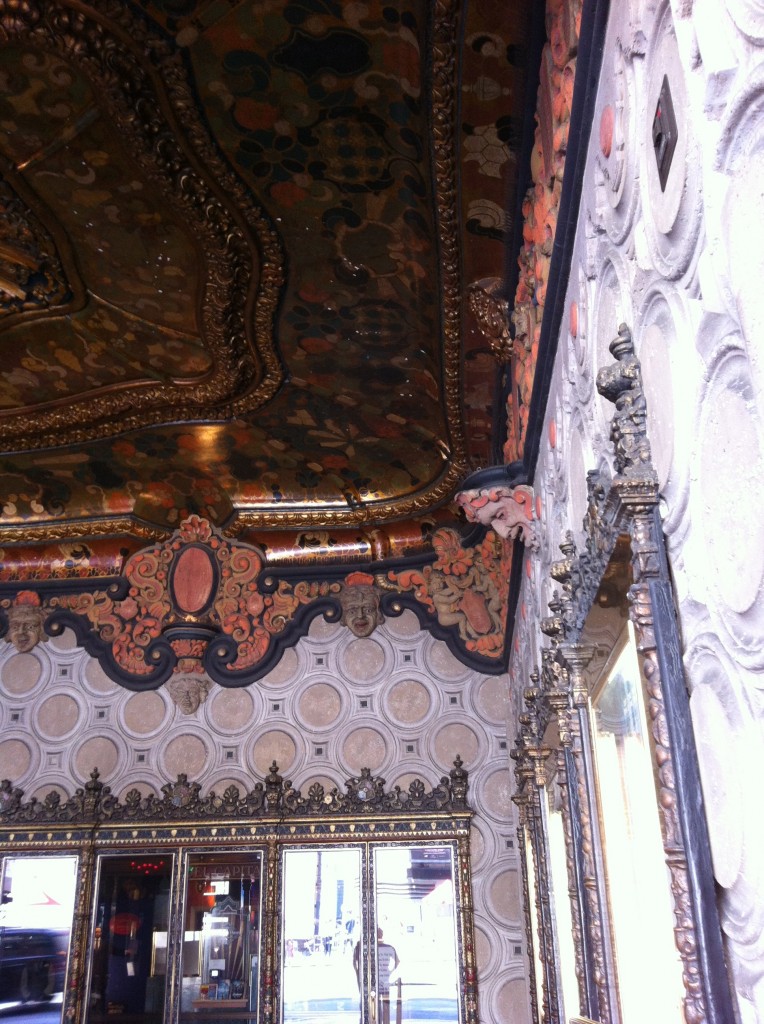 Right next door is the Disney Soda Fountain. No tenuous connection here, it's straight up Disney. The facade was under construction, so no exterior signage shots.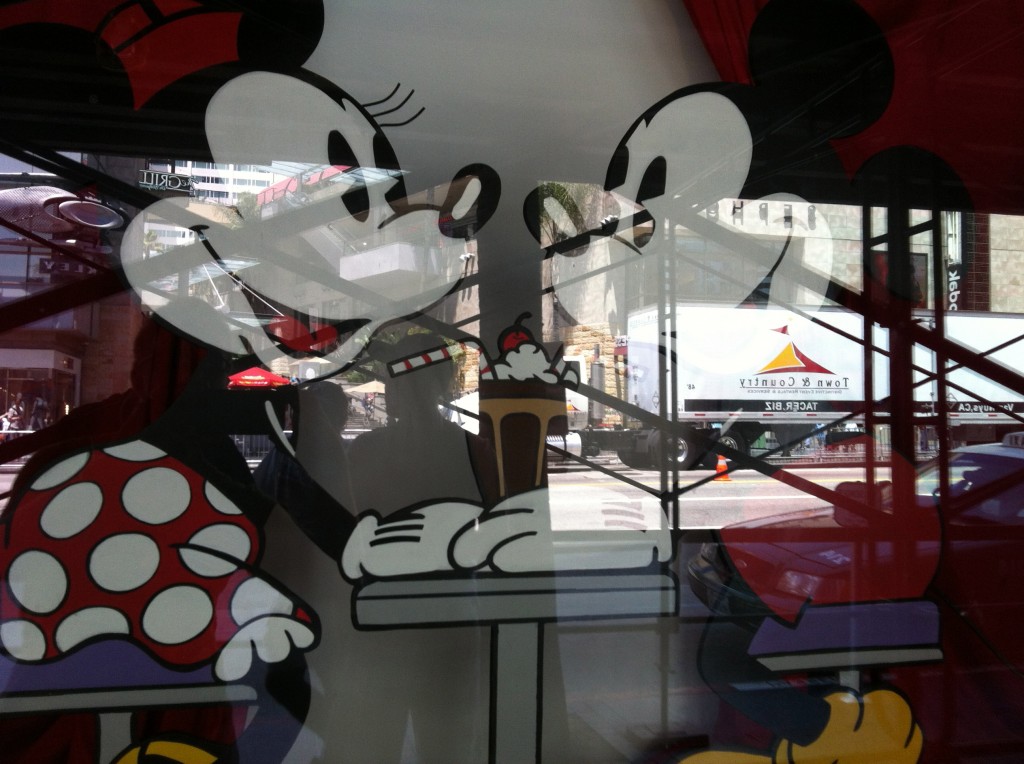 The Soda Fountain was really charming, the staff however were not. The farther away from the real parks you get, the looser the Traditions training seems to be.
We only got a wee snack, just to say we did. It was the perfect size to share.
We wandered around for a bit more, but honestly there just wasn't much else to do. I had mapped out the whole day to explore Hollywood and it was now barely noon!  We decided to duck into a bar, have a beer and regroup, when we found this!
This place describes itself  as "Burger meet Bordello". Spot on!
We really did not have designs to eat here, but we were intrigued. The name 25 Degrees refers to the temperature difference between a medium rare and well-done burger, and burgers are all they do here. I just love a restaurant that chooses something to focus on and then proceeds to do it well. Whether it's burgers or fancy French food, be good at the thing you do, restaurant!
We decided to share a burger and one side.  I got to choose, he's such a gentleman.
And the Burger…
This burger was without a doubt the BEST I've ever had! As they boasted, it was cooked perfectly, but the beef itself was also sooo flavorful.  Even down to the Brioche bread, everything about it was perfection. Keep in mind that just the previous evening we had  experienced the luxury of the Chef's tasting menu at the Napa Rose Restaurant. If I were pressed between choosing a dish from that evening or a burger from 25 Degrees…it would be a difficult choice. It was that darn-tootin' good!
Our enjoyment somewhat resembled this:
The burger bar was located in the (now I know) Famous Roosevelt Hotel.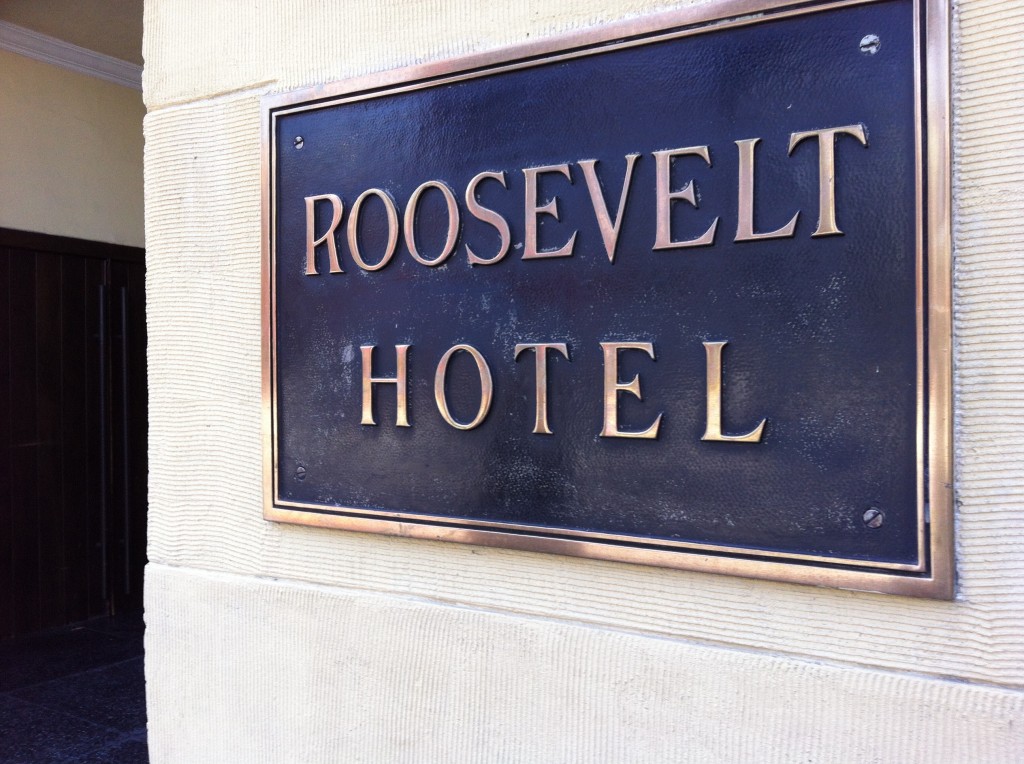 This hotel is the haunt of many a celebrity, including Angelina Jolie who keeps insisting inserting herself in my blog posts!
Okay, Ms. Jolie was not actually there when we visited, but we did have a star sighting. The problem is, we are so out of touch with popular culture, we didn't know who it was. People were making a fuss though, so we snapped a pic.  Turns out it was Chase Crawford, who was starring in the "What to Expect" movie.
We didn't get to explore the entire hotel because Fox Entertainment was hosting a programming presentation.  This is when the network reveals the fall schedule to the press and assures everyone that all their new shows are going to be totally awesome!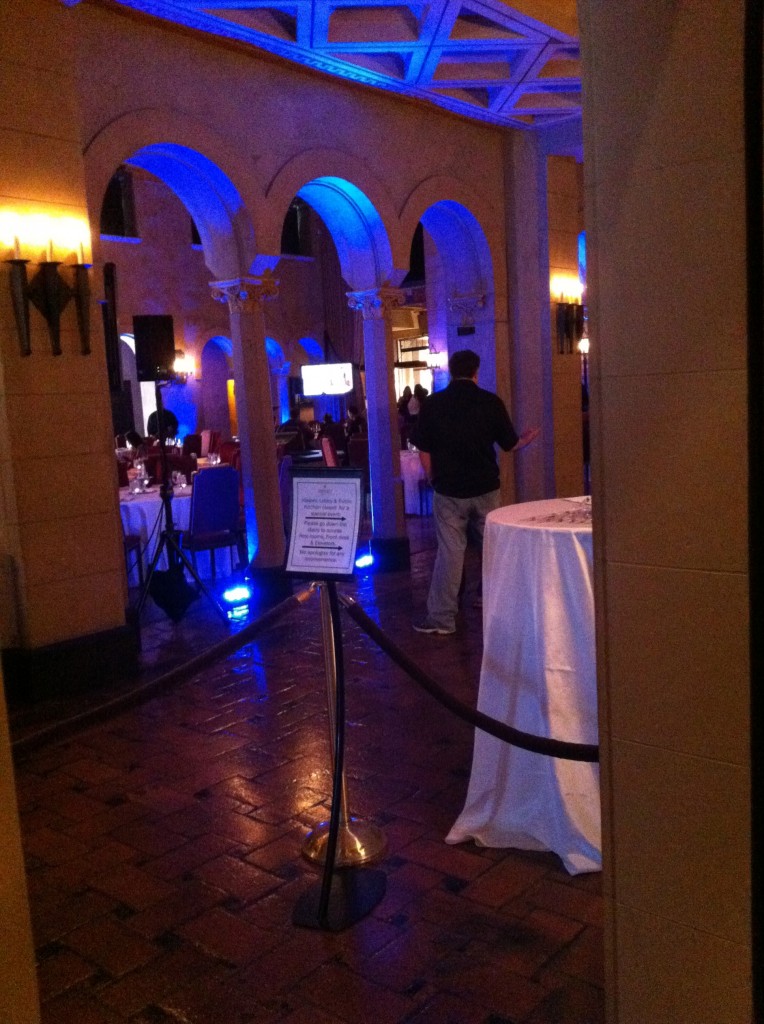 We had seemingly exhausted all there was to do on Hollywood Boulevard, and it was now only about one o'clock. Seeing that our flight home wasn't until midnight, we had to come up with a new plan: Gawking at incredibly rich people in Beverly Hills!
Coming up: Can we blend in the 90210?