Last Christmas we decided to do something fun with each of  the kids rather than buy a bunch of gifts. We ended up spending a the day traipsing around Boston hemorrhaging cash, but ultimately having a terrific time. You can read about the whole adventure HERE.
Now that you are caught up, you know that our respective outings were a big success. Because of this, we thought we might do the something similar this year.  Due to our lack of creativity and proximity to the great city of Boston we decided to hit up the Hub once again. I got the idea of trying to get tickets to the Holiday Pops at the Boston Symphony Orchestra. It was just a few weeks before Christmas so I was sure that the tickets would be sold out at this point. Surprisingly, we were able to snag four seats. Pair this event with dinner at the Top of the Hub restaurant at the Prudential Center, and you've got the makings of a quintessential Christmas Eve in Boston.
We parked our family truckster at garage in the Prudential Center where we would be ending the night. It seemed like a good deal…unless you are parked for more than five hours, after such time you will the owe twice the advertised price plus your two eye teeth.
The weather was perfect for walking through the city, sunny and crisp. I hadn't spent much time in this area so it was nice to see some of the different architecture.
I don't know much about the faith of the Christian Scientists, but they must be good tithers because that is one heck of a building!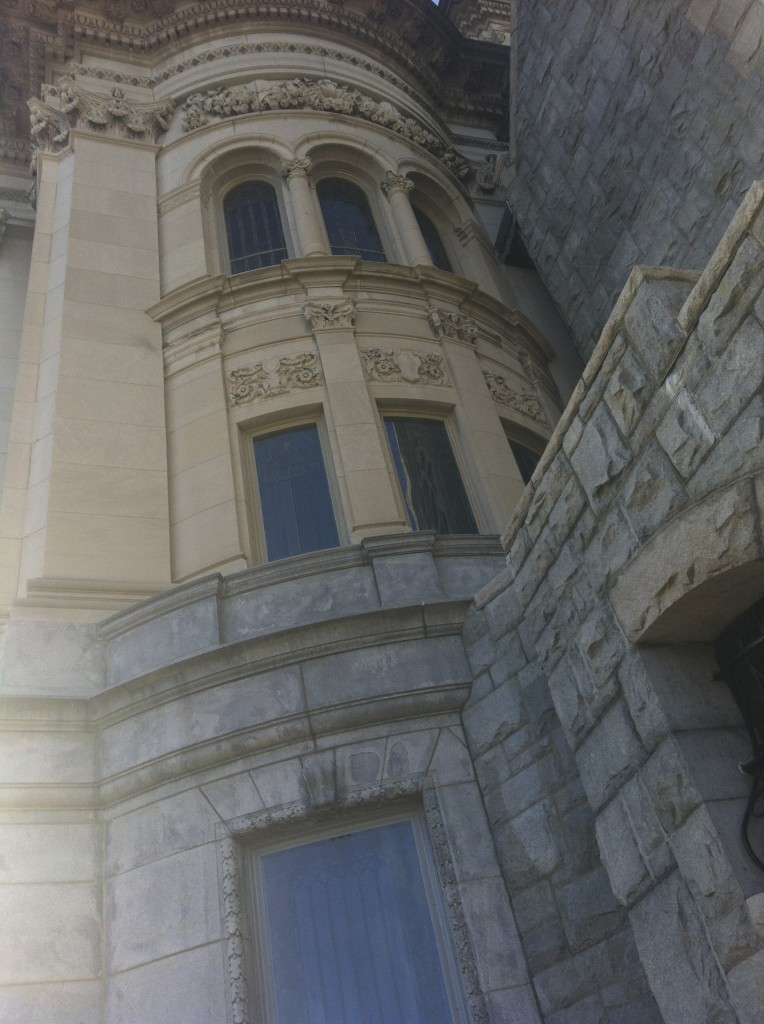 We've reached our destination, Boston Symphony Hall.
We made a harried commuter stop and take our picture. Thanks, random stranger!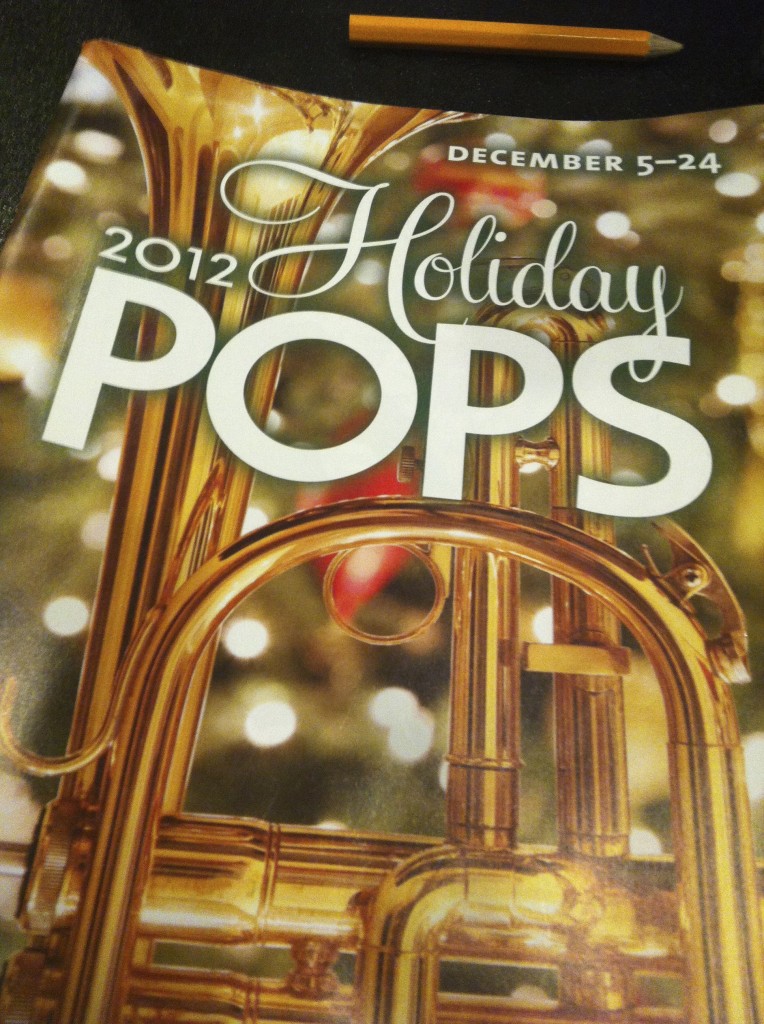 The hall was appropriately bedecked in Holiday Splendor.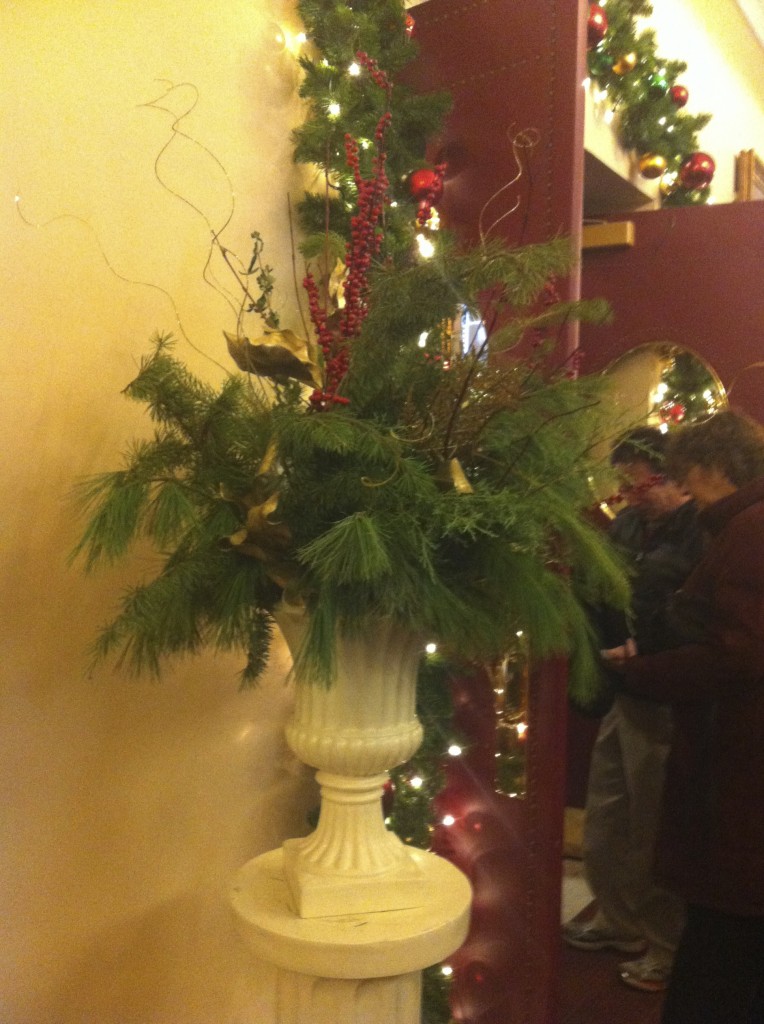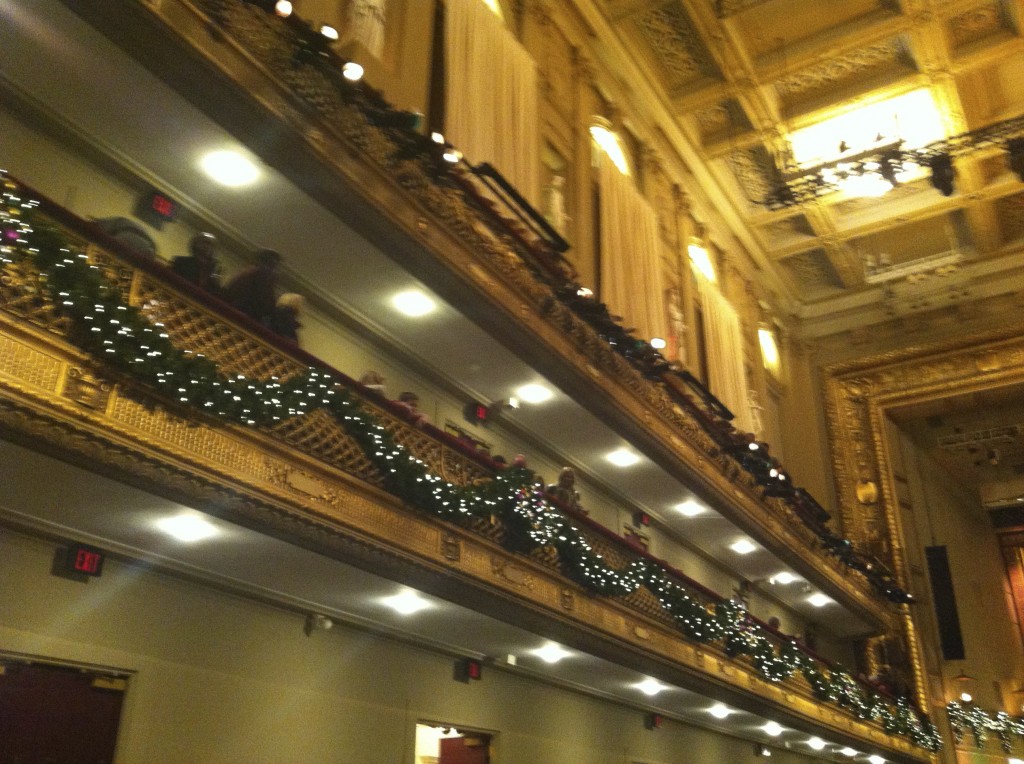 You might think that this is simply a long shot of the auditorium but no, our seats  were  actually this far back. In fact, I believe I walked about twenty feet forward for this picture.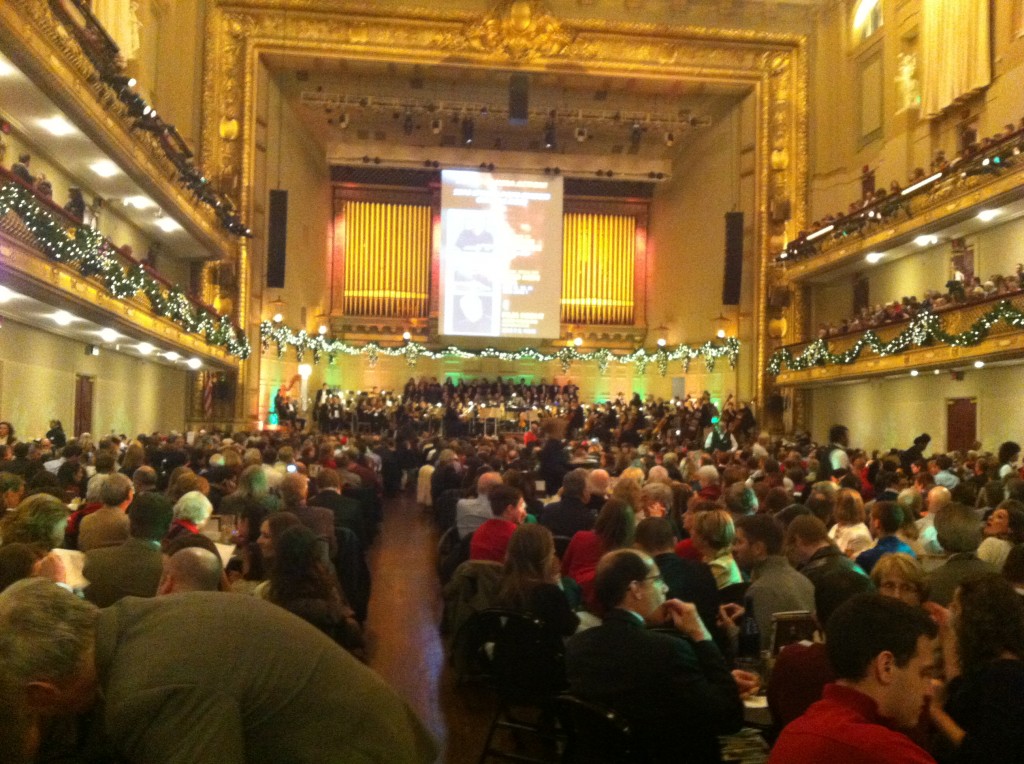 When you get tickets for Holiday Pops three weeks before Christmas, you end up in row U. This means:
U get a view of everyone in the WHOLE place!
U can lean over and adjust the sound board, if you don't find the audio to your liking.
 U can pop right out to visit the rest room.
Despite all my whining, it really didn't matter where we were sitting. The show was fantastic from any angle. There was an excellent variety of songs, from the secular to the divine, which were performed with exuberance. The biggest hit of the night was a reinterpretation of the "Twelve Days Of Christmas". This was a remarkable feat due to the fact that the original song is an obnoxiously long, cringe-worthy holiday slog. Despite the fact that it clocked in at nearly ten minutes, it was a delightful number that incorporated tunes from  pieces as varied as "Surry with A Fringe On Top" to "Bohemian Rhapsody". They don't allow any video during the concert, so you'll just have to take my word for it.
Jeff and I have had the opportunity to attend the Boston Symphony at this same venue on a couple of occasions. The Pops was definitely a different experience. First off, instead of row seating, there were tables and chairs. This was a good thing because it afforded the opportunity to have some wine during the show.
What's not good about this set up is the crowding around the tables; not nearly as comfortable or easy to move about. Another big difference was the protocol of the audience during the performance. At the Symphony, there was absolute silence during the pieces. Not only did everyone know not to applaud until the entire movement was finished, they also didn't cough or shift about in their seats. When a piece was over, the hall sounded like the tuberculosis ward from all the pent up coughs being expelled! There was no such protocol at the Pops. This is a much more casual event, which is to be expected during this jubilant season. However, there was so much going on off stage that it was very distracting. While I did enjoy having an adult beverage as I mentioned, they also offered sandwiches and snacks during the entire event. This meant servers were constantly shuffling around trying to make their way through the maze of tables and chairs.  This was distracting enough, but the sandwiches were served in plastic clam- shells that make a loud "pop" whenever they're opened. Hey, maybe that's where the name comes from?
I know I do risk sounding like a crabby pants here, but my observations are simply for your information. I had expectations of the Pops that were not met, simply because I was using our symphony experience as a guide. These are totally different events and both are a fantastic take. I will definitely make the Holiday Pops a part of our Christmas plans in the future…but I'll order the tickets in August.
We had a lovely stroll back to the Prudential Center. There was a perfect, Christmasy chill in the air. Now you will see all the same buildings as earlier only in reverse order and all lit up.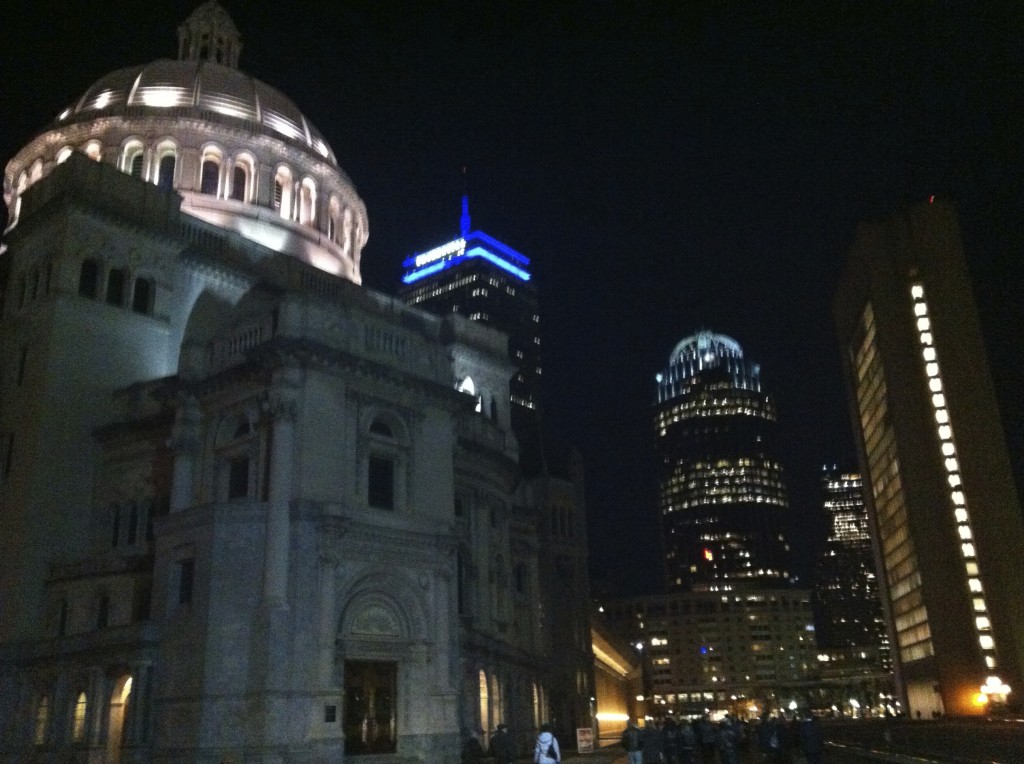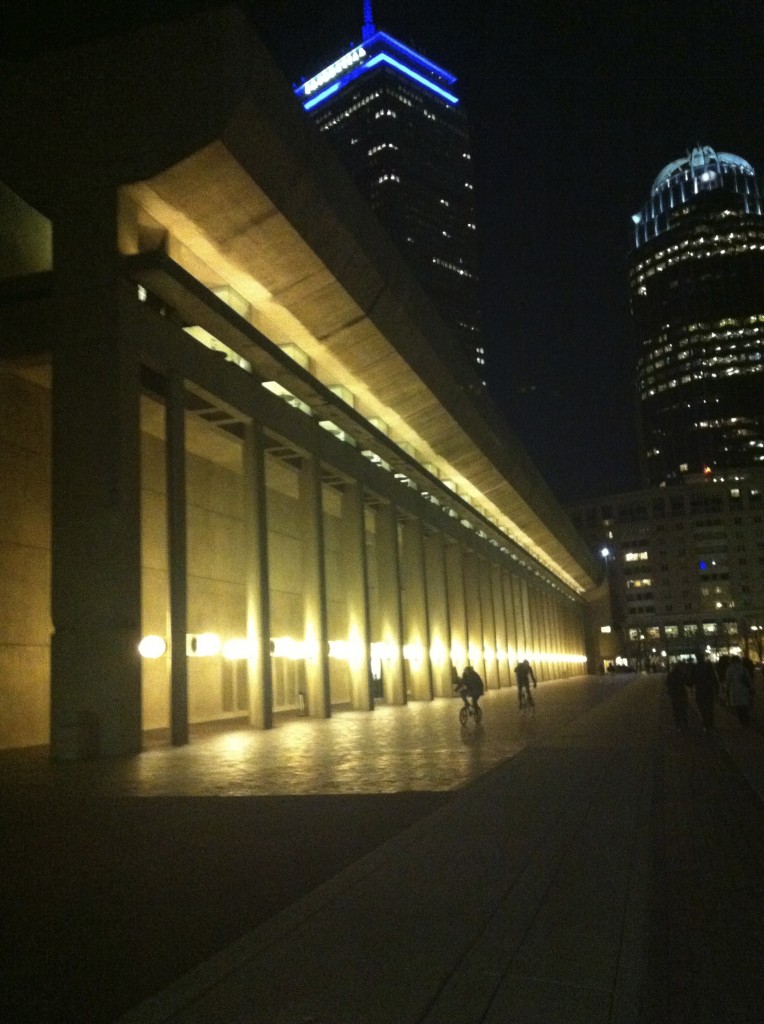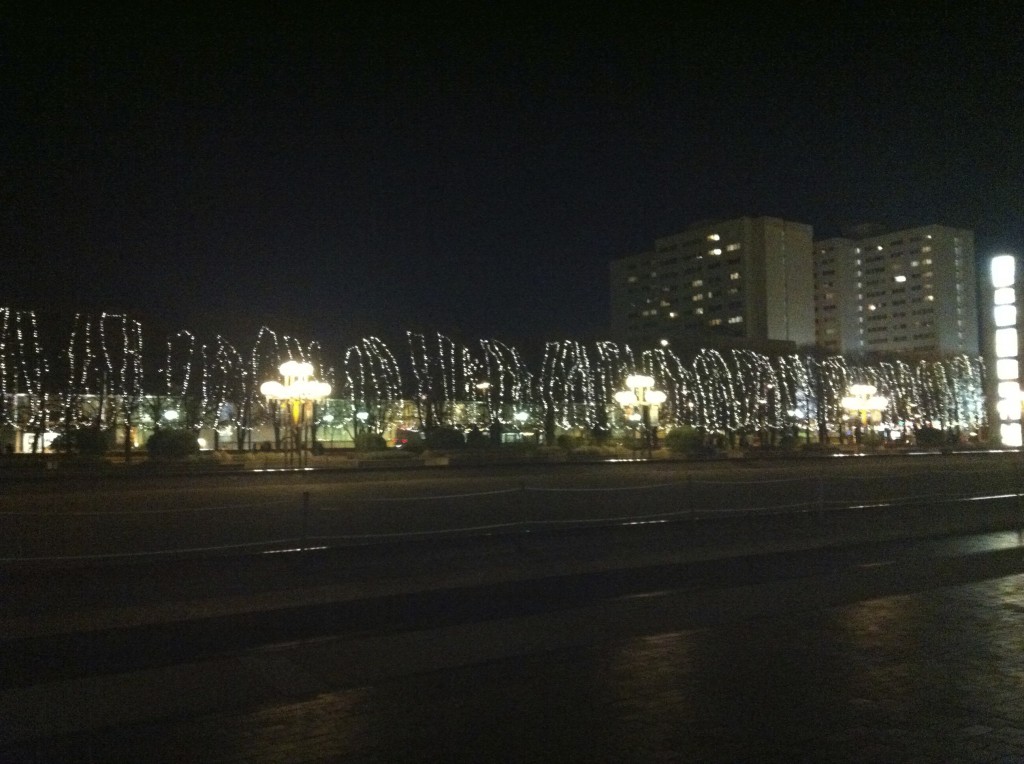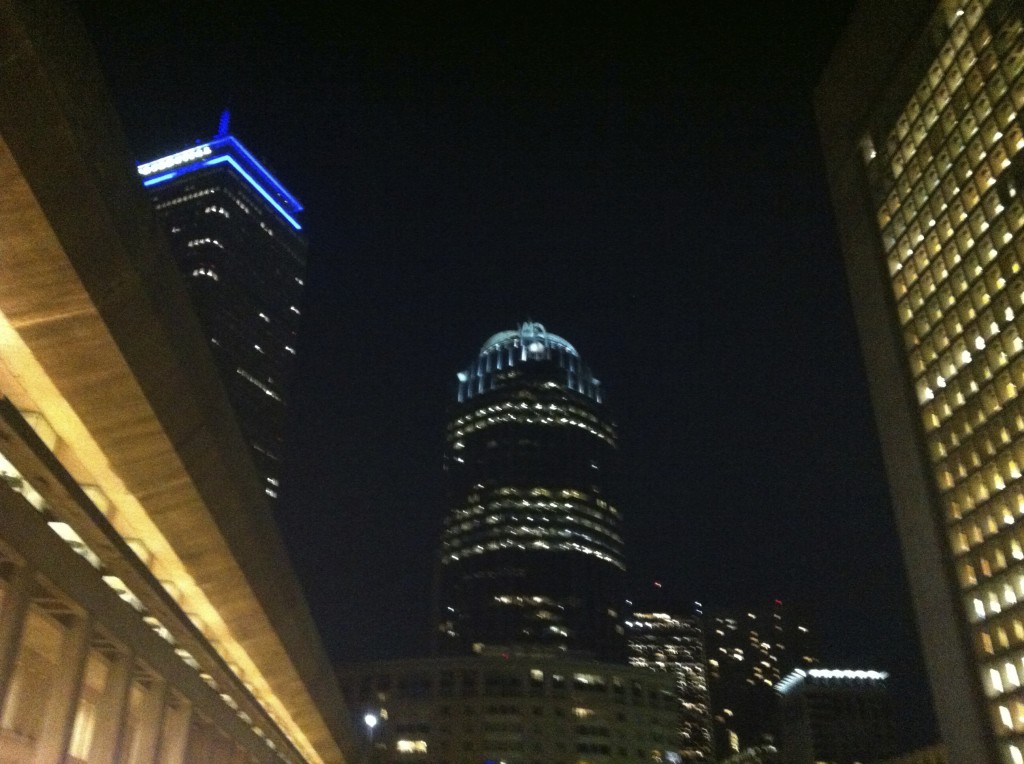 We had about thirty minutes before our reservation so we wandered around the shops at the Prudential tower, soaking in the Christmas Eve atmosphere.
They had the blingiest trees ever!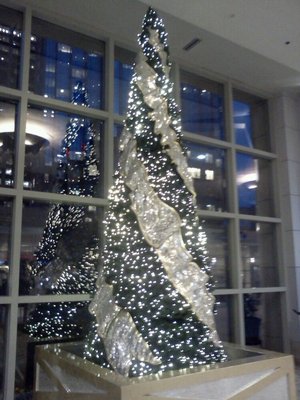 There were carolers wandering about the galleria. Sadly, people didn't seem to be taking much notice of them. When Matt and I stopped to have a listen and show some support, he inadvertently made a gesture that indicated he had a request, so we had to come up with a tune for them on the spot to avoid embarrassment. This was my choice.
One of the hip clothing stores had this etherial holiday decor that looked all iridescent and fantasctical, but the photo I took just makes it look like someone ran Tinker Bell through the shredder.
It was time to make our way up to the Top of the Hub.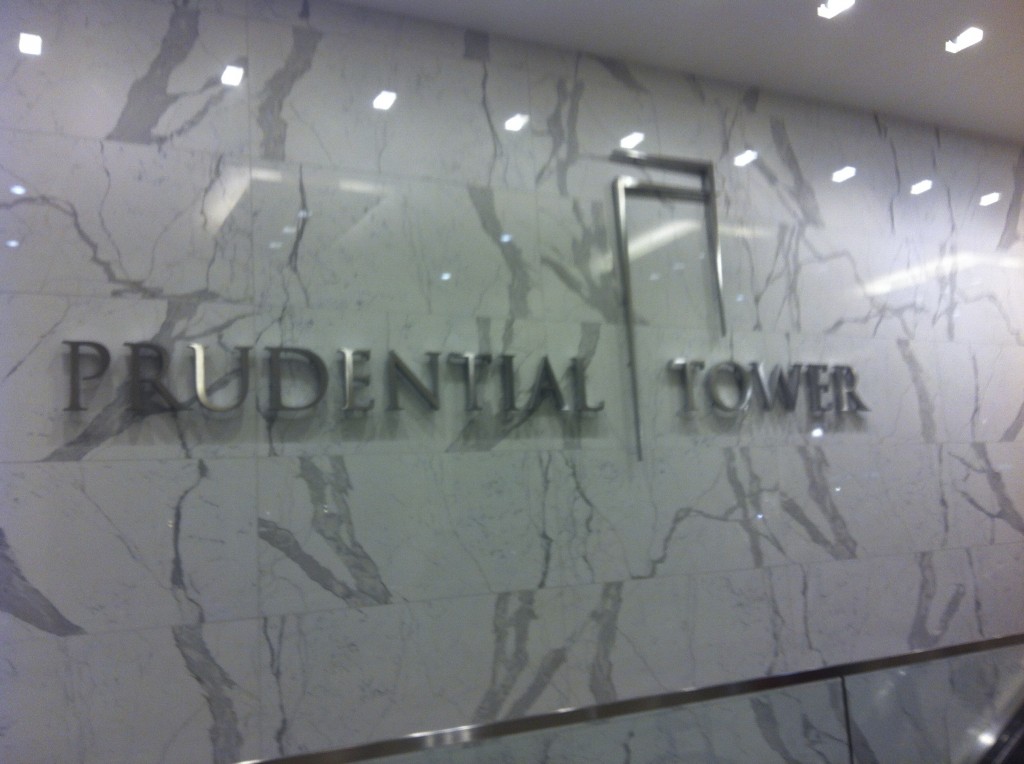 We had to check in with security before were allowed access to the elevators.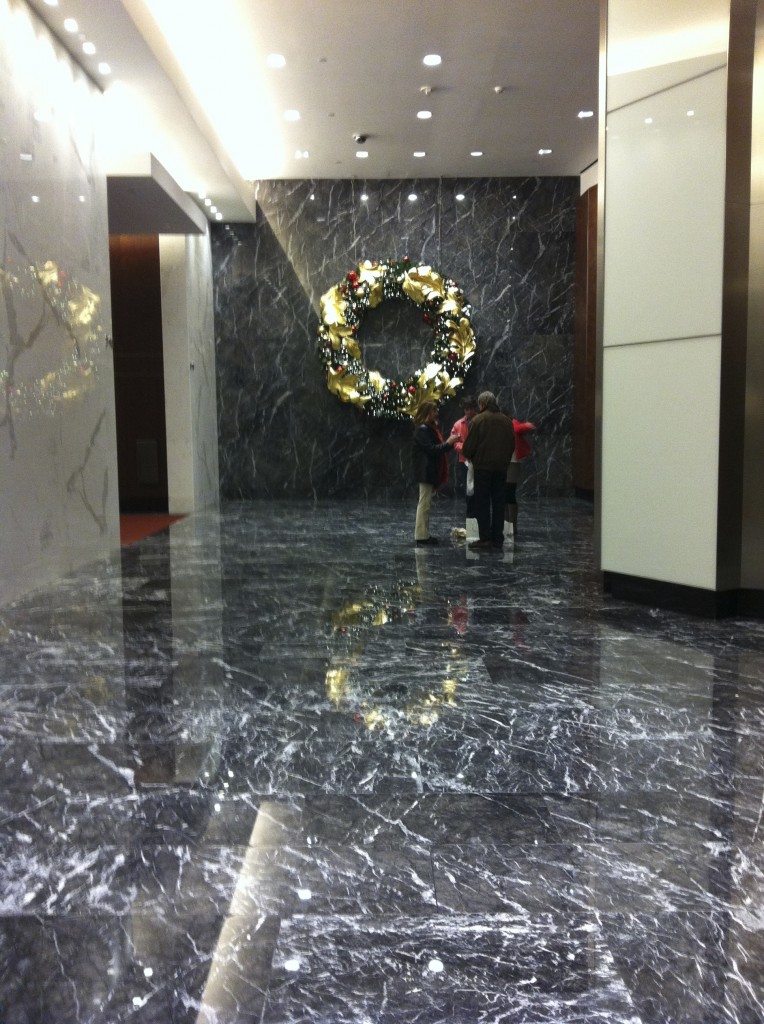 The elevator corridor reminded me of a certain fictional hotel.
Dinner at the Top of The Hub is all about the view. Even though one can technically catch a glimpse of the illuminated city scape from most tables, I really wanted to be able to press my face right against the plate glass. I approached the podium ready to deploy my patented method of obtaining a primo table, but before I could even finish my schpeel, the hostess was leading us over to the most perfect spot.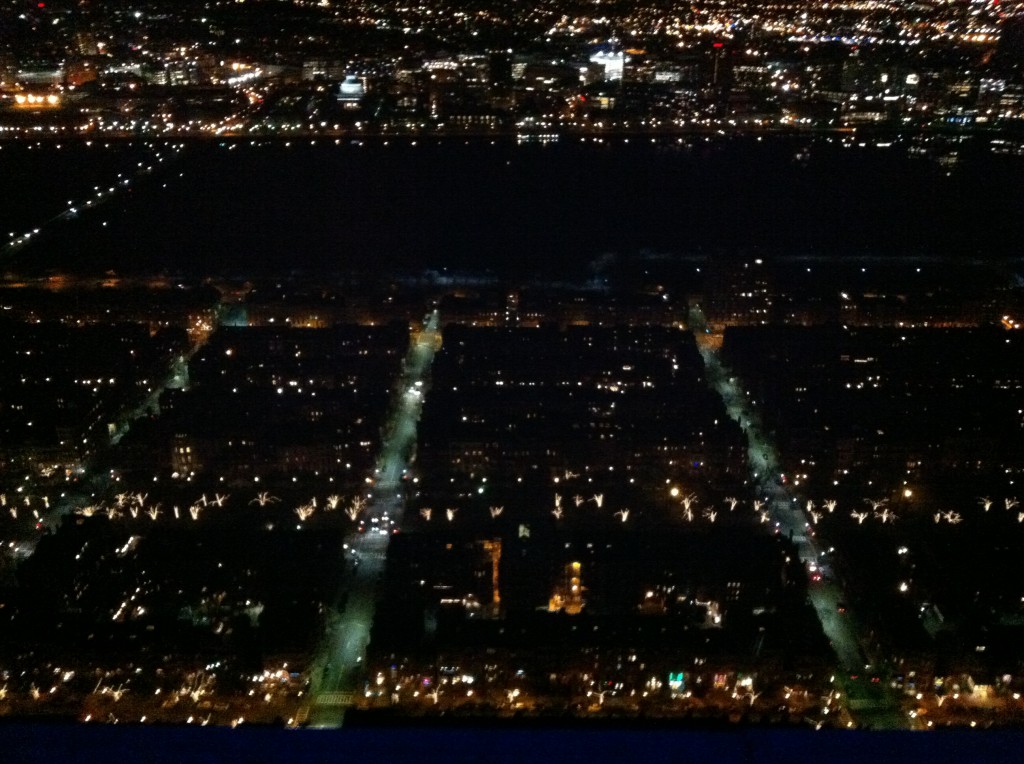 The dining room was lovely and was buzzing with people enjoying a special Christmas Eve meal. Our server was friendly with just the right amount of formality which you  would want in a restaurant of this caliber. The lighting was appropriately dim, but terrible for taking photos. I've tried to lighten them through editing but to no avail. I'm going to inflict them on you anyway.
This was a Prix Fixe menu. I'm not sure how to pronounce this. I believe it's supposed to be "Pree Fee " which makes me giggle. We were able to choose from among several appetizers and main courses, but the salad and dessert were set. The courses were presented "ballet style" where two servers approached the table and set all of our plates down at the same time. The soup that Meghan and Jeff got was poured table-side.  Very classy.
For the main courses, we all chose something different, which is standard operating procedure in this family. That way we get to try as many dishes as possible. Thank you Lord, for giving me kids who are adventurous eaters!
The gratin was just like the one we had at Steakhouse 55 in the Disneyland Hotel. It all comes back around to Disney.
I barely got to Matt's plate in time before he destroyed it…
 …I didn't make it to Meghan's. I won't subject you to the carnage.
The description will have to do.
The meal was going along absolutely splendidly until…the salad. For some reason they decided that a beet salad would be universally enjoyed by all their customers. I like just about every food on God's green earth except for beets. No one in our family likes beets. We rolled with it by scraping up the goat cheese and pistachio garnish as our salad. The people at the table next to us were not so accepting. They were a bit annoyed that there was no alternative.
I didn't take a picture, so I'll substitute this photo from  Epcot's Food and Wine Festival for your enjoyment.
The dessert course was very tasty, but not remarkable. It was an eggnog tiramisu not much different from what you might find at any standard casual dining restaurant. Nothing wrong with it, but for the price of admission I expected something more fancy. The cheesy marzipan bow just didn't do it for me.
The promotion for the dinner noted that there would be a Jazz band playing the event. This was true, but it was only in the lounge. I could here the boom, boom, boom of the plucking of the strings on the stand-up bass during our entire meal. When we finished up we decided to pop over and catch a few songs.
There were several open tables in the lounge so we plopped down at one…and then were unceremonioulsy asked to vacate because there was a waiting list. Hmmm…That's ok. I've been thrown out of better places than this! Well, no I guess this is the classiest place I've been asked to leave.
No worries, we just moseyed on down two floors to the Sky Walk…which was closed.
We honestly wouldn't have partook in the Sky Walk anyway because we discovered it as fourteen dollars per person! Besides, we got all the view we needed from our table. We decided to regroup downstairs in the lobby and ultimately head on home.
So that was Christmas Eve. We did stuff, saw things and ate a lot of food. What it boils down to is that we enjoyed the pleasure of spending time together; something that happens less frequently now that the children are really young adults. Hopefully, these times together have created memories that they will always carry with them.
"Christmas is the time of year
For being with the ones we love
Sharing so much joy and cheer
What a wonderful feelin'
Watching the ones we love
Having so much fun"
The Spirit of Christmas– Ray Charles