During our previous visits to Animal Kingdom it's been either too hot, too cold or too rainy to fully enjoy. This time it was juuust right, Goldilocks. The first thing you'll notice about this park is the lay out. It has a completely opposite design concept than any of the others. Where Magic Kingdom et al. have a central "hub and spoke" layout,  this park has intentionally narrow, winding pathways. The idea is that you will "discover" your way through the lands. What actually happens is that you wander blindly trying to orient your map to something, anything familiar.  Those narrow pathways also lend to an  always crowded feeling. However, this is by far, the most meticulously themed and sumptuously beautiful of the four Walt Disney World Parks. There are lands that are so immersive, they will make you feel you've travelled to the Far East or to the African Savannah. There are also aspects that will simply leave you scratching your head.
Caveats aside, in the right frame of mind and with the realistic expectations, there is much to be enjoyed exploring the Animal Kingdom. There are lush plantings and trees and amazing vistas to be seen everywhere. Beauty and authenticity abound.
Our first order of business today was in  Dinoland U.S.A. to ride Dinosaur. This part of the park receives the most derision from Disney community. It starts out pretty legit. The back story is that an amateur fossil-hunter found some dinosaur bones in a small highway town in 1947. The Dino Institute was founded and opened the site as a "fossil discover park".
Meanwhile, the Dino Institute discovered how to warp vehicles through time, and thus started doing time tours, but things are not what they seem. While traveling back in time on a mission of rescue and conservation, mayhem ensues as you evade carnivorous predators, and make your escape before the asteroid hits. This is a pretty raucous motion simulator vehicle ride, especially the first time around when you don't know what's coming next. No Spoilers!
Here's where it goes a little pear-shaped. A local couple, Chester and Hester, owned a gas station nearby the Dino Institute and decided to take advantage of the tourists by selling tchotkes at the station.
Soon the souvenirs started out pacing the gas sales and voíla, Dino-Rama was born!
So, here's the thing. At first glance this area just looks cheap and thrown together by Disney imagineers.  Not so. The land itself may have been an after-thought, but the details and theming here are just staggeringly thorough.  It looks cheap because these frugal gas station owners wouldn't have had a ton of money. They were just trying to make hay while the sun was shining. From the painted over signs to the tire planters, the ghosts of the gas station are everywhere. If you are a Disney geek, you could spend literally days observing all the minutia of this theme.  For a very detailed tour through this area, click HERE.
Next, we're headed to Asia to use our FastPass+ for Expedition Everest, but first, we couldn't take one more step without first getting a snack! We walked on up to the Anandapur Local Foods Café.
There's seating to the right, but if you keep on walking straight back, you'll find this shady Oasis!
This was just a refueling stop so we shared some egg rolls. They were as delicious as they were hot, which is to say VERY!
We still had a bit if time before Everest so we decided to take a walk through the Maharajah Jungle Trek.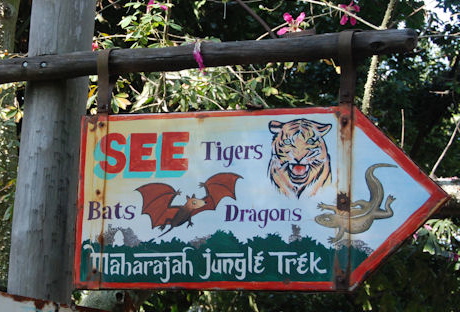 Like every aspect of this park, the Jungle Trek has an elaborate back story. If I attempted explain every one of them, this post would have a five thousand word count, so I'll spare you all the verbiage.
The trek takes you through these magnificent ruins.  Every painting, carving and statue you see describes the history of the Anandapur Royal Forest.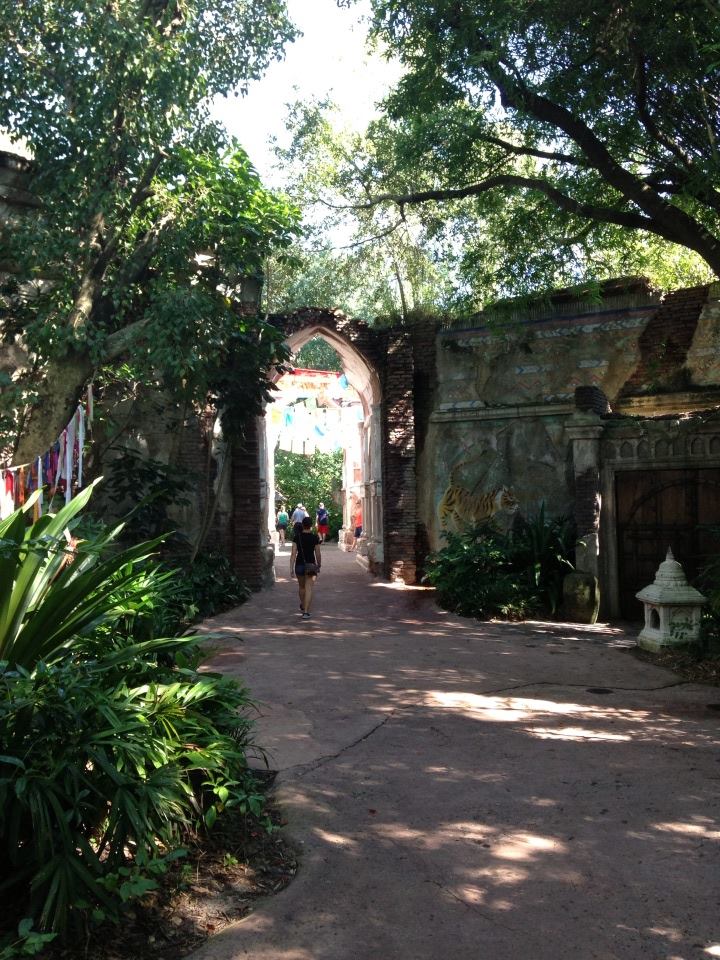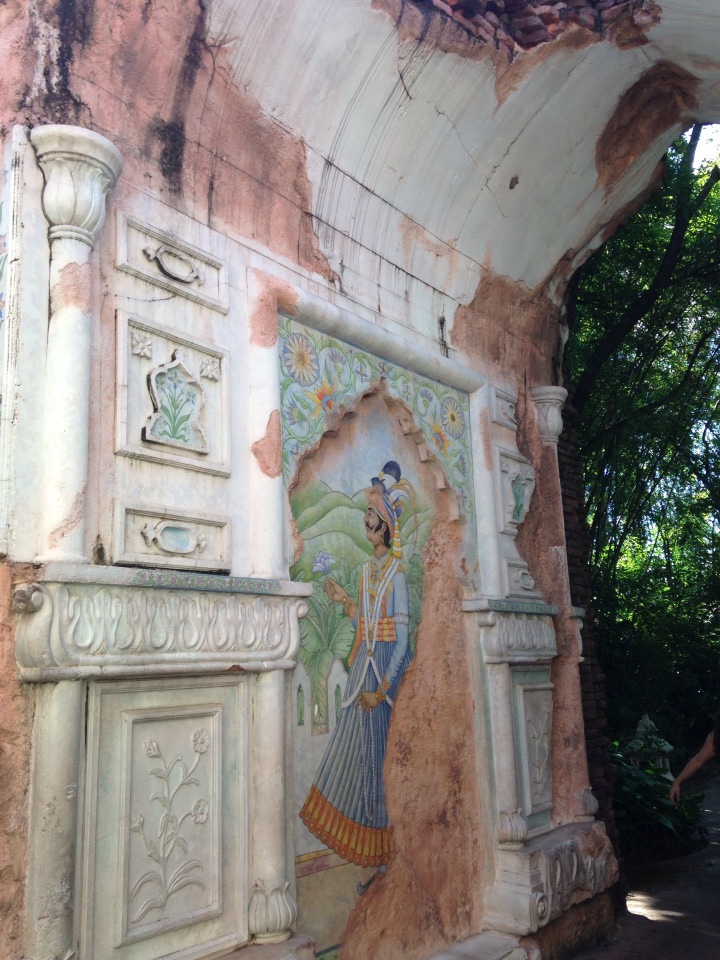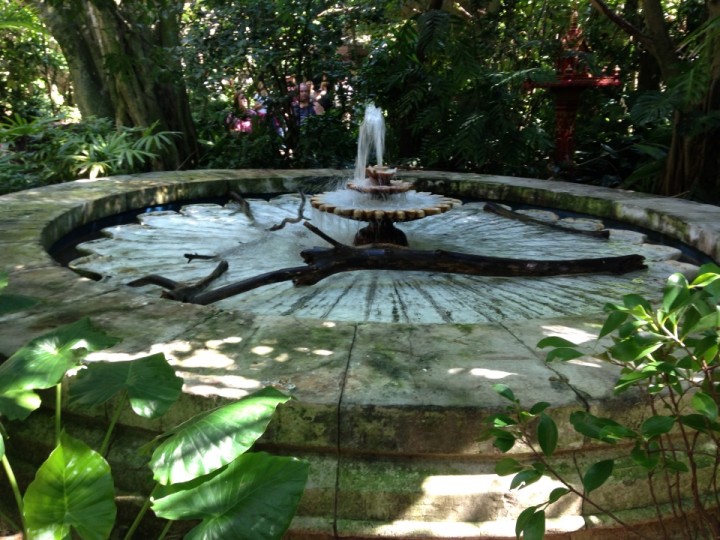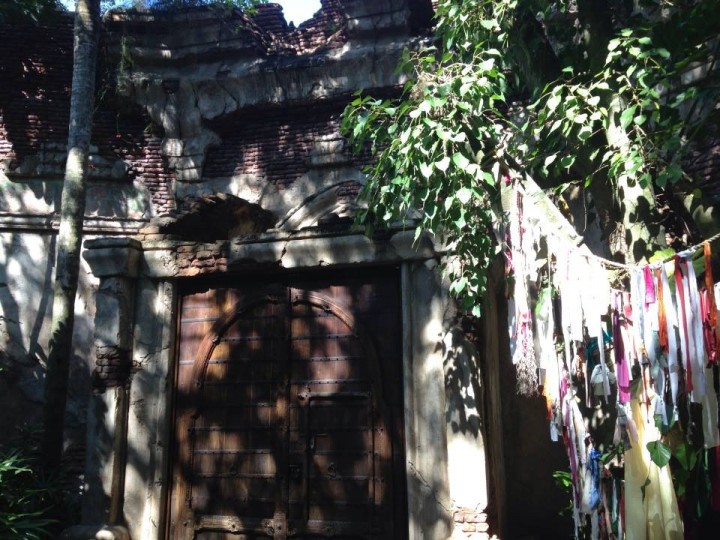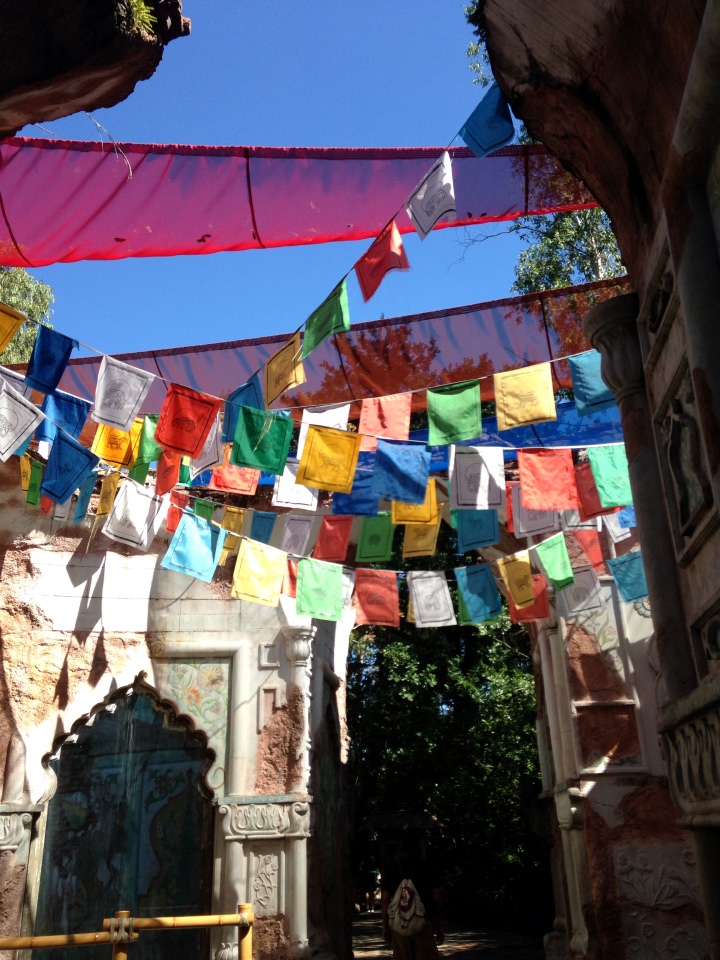 There's some pretty cool wildlife here too, by the way. You'll see creepy bats, a variety of  birds and lizard types, but I was here for the tigers, preferably frolicking ones.
While we're on the subject of potentially man-eating animals, let me take a minute to share some geeky trivia.  The rest rooms in all the other parks have an open format, meaning no doors. The Animal Kingdom bathrooms not only have doors, but heavy gauge locks. Fancy a guess as to why?
Yup, it's just in case one of those ferocious tigers gets free from their enclosures. If there were an emergency, the bathrooms are one of the safe-haven areas of the park. Between these, the show buildings and other indoor areas, there's enough space for all the guests to retreat to safety if something of this nature occurred. Hasn't happened so far…
On to Expedition Everest. This ride was not original to the park, but now it's the most prominent feature. Fastpasses are a must for this one.
 Again it's all about the story. Cliff's notes version: don't take short cuts. You'll cheese off a Yeti.
  The coaster itself is a real thriller. Although it's got some really cool surprises, the most unique part of the ride is sadly defunct. At it's opening, Expedition Everest boasted the largest and most complex audio animatronic figure ever built by Walt Disney Imagineering, but just months after opening it suffered a major structural failure and hasn't been operable since. Currently, they just flash a strobe light on the big guy, which earned it the moniker "Disco Yeti". You can experience the whole ride here or if you just want to check out the working Yeti, slide on over to minute 3:3o. It's quick so don't blink!
Now off to Africa.  The fictional Harambe Village is layered in "history". The walls of the ancient fort are remnants of the time when the area was under British colonial control.  The realism here is not pretty. You'll see jumbled phone lines strung haphazardly from  building to crumbling building.
This is where you'll find the Kilimanjaro Safari.  Before we set off to the Serengeti we'll need to stop for some refreshment.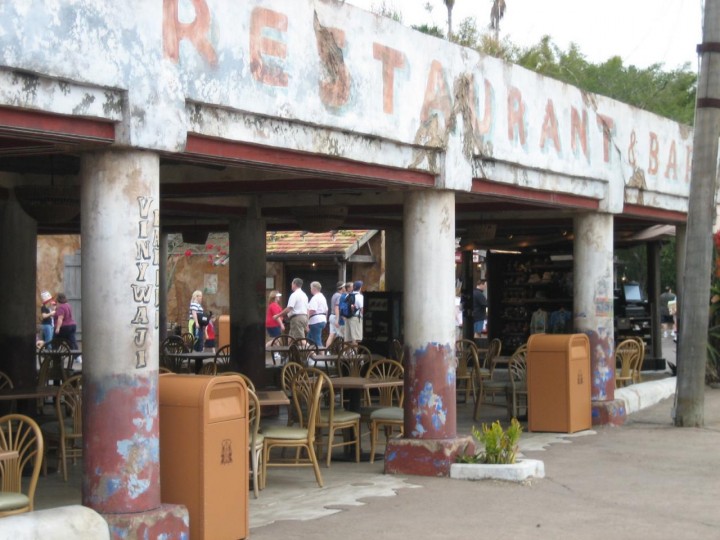 The locals are quite hospitable, serving up a variety of African beers and tasty cocktails. They could have afforded to have a few more bartenders on duty though.
We'll be heading out on our Two Week Safari in our next installment. Until then I'll leave you with an encounter with the elusive (to me until this visit) DiVine.  She's eerily fascinating.
You can watch her creeping out some onlookers here:
Next Up: I Can't Believe it's Taking Two Posts To Get Through Animal Kingdom. Sheesh!