After a bit of rest and freshening up we would be heading out to Downtown Disney, but first my family would indulge me by taking a walk over to the recently opened Art of Animation Resort.
When the Pop Century Resort (where we were staying) opened in 2003, it wasn't actually completed. The original plans included "The Legendary Years" sections themed after the 1920s, '30s and '40s.  However, after the September 11th attacks, construction was halted on this part of the project.  Technically, that would make this the Pop Half-Century Resort. The "Classic Years" section, as it is called, is so bright and cheery it's hard to imagine what a 1920s, depression area resort would have looked like anyhow. Tuberculosis room anyone?
Anyhoo, this section sat abandoned in clear view for nearly ten years. If you'd like to take a creepy tour through the old buildings check it out HERE.
 Construction finally resumed and in 2012, the Art of Animation opened it's doors to guests.
This new resort is unique in a couple of ways. First, it solves a problem for parents whose kids out number them because a majority of the rooms here are suites that sleep up to six people. They are pricier than the other value resorts for sure, but less than a suite at a deluxe or two adjoining value rooms which were the only choices before.  Second, the specific theming of each section extends into the rooms. At Pop Century all the rooms are the same inside, regardless of the section.
There are four Disney/Pixar films featured here: The Lion King, The Little Mermaid, Finding Nemo and Cars.  For me though, the lure to trek on over was the Cars Section, mostly because we just missed the opening of Carsland in California by this much. 
 The details here were just amazing! I took about a Bazzillion pictures.
 The best part is that all the Cars… um, cars are here. This is a prime photo opportunity.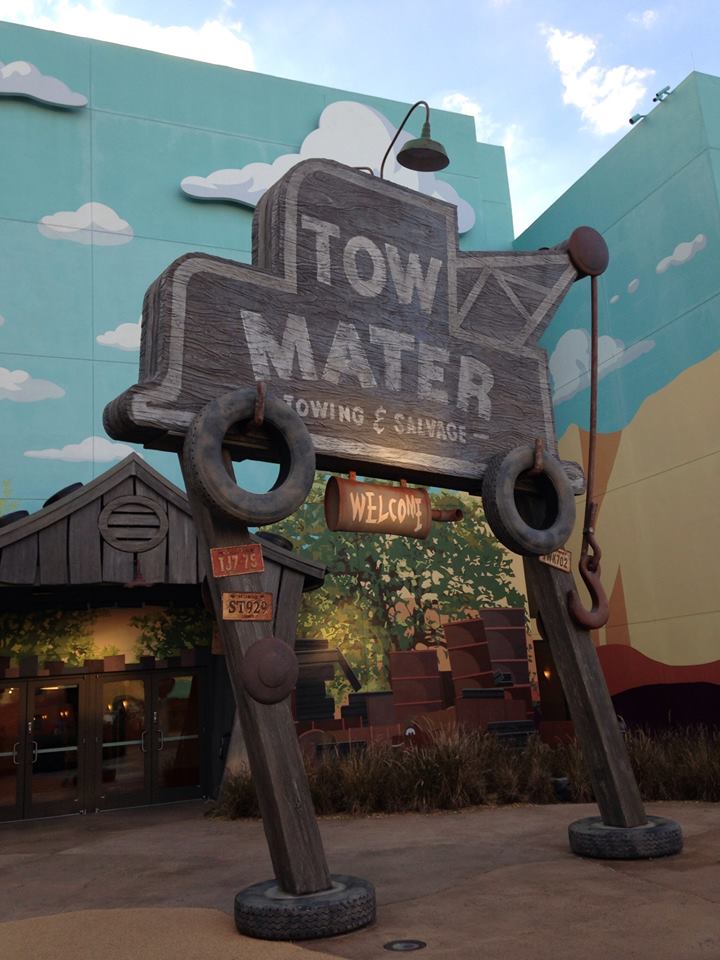 Sadly, we didn't stay here this time but here's some photos of the Cars themed suites. So delightful!
 We also scooted through the Nemo section.
The pool here is just tremendous. According to Disney, it's largest pool on property. Technically, Storm Along Bay has more on it in gallons, but it's split up into sections, while this is just one behemoth of a thing!
On our way out to catch our bus we passed through the Animation Hall. This is where you will find guest reception. This also houses the Ink and Paint Gift Shop and  the Landscape of Flavors Food Court.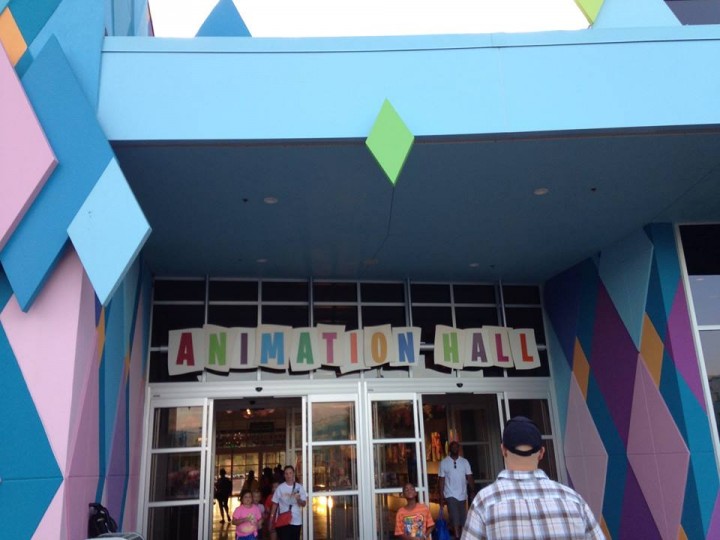 The offerings here are said to be a cut above the usual food-court fare. Along with the expected  burgers, sandwiches and pastas,  you'll find authentic middle-eastern cuisine. They installed Tandoori ovens where they bake homemade Naan bread and roast meats and vegetables. We were tempted to try something, but we had plans for dinner later. Next time, for sure.
We hopped on the bus and scooted on over to Downtown Disney. Honestly, this was not in my initial plans. My intention was for us to embark on a Monorail Crawl, ending with us sipping rum out of a pineapple on the beach at the Polynesian Resort whilst watching the Magic Kingdom Fireworks.  Circumstances were working against me, as the monorail was operating under shortened hours which left the risk of  us being stranded. Plus, we had already gotten to see the fireworks a couple nights earlier so the bloom was off that rose, so to speak. Downtown Disney it is, then!
This area is long past it's hey day of nightclubs and dance halls. A good part of Pleasure Island has been shuttered for years. Plans for revitalizing this area have been drawn up, but nothing much has happened. You can see then, why I'd be reluctant to spend precious time here, however we ended up having a ball.
This is a good place to knuckle down and get your souvenir shopping done. Here you'll find the  colossal World of Disney.  If it ain't here, it doesn't exist. We managed to find some guilt gifts for our son we left behind.
 That alien menace spat water at Meghan.
Our previous trips to Downtown Disney have all been during the day.  Going in the evening upped the atmosphere quite a bit. It was bustling with people and all the neon lighting and signage made things look more inviting.
I was pleasantly surprised by the amount of live music that was going on. We checked out some Irish music and dancing at Raglan Road, then grabbed an Ale and walked on over to the Green to hear a cheesy pop band churn out some tunes. Yes, you can walk about with cocktails here just like in N'awlins.
The Splitsville Bowling Complex is the one new addition that has made it's way to Downtown Disney.  This place is humongous with thirty bowling lanes across two floors, pool tables, several bars and live music.. This night they had an acoustic duo playing out on the patio. Hmmm…new retirement plan.
Splitsville identifies itself as a restaurant first. The menu has the usual bowling alley grub, but there's also house made sushi prominently featured. Inexplicably, half the offerings have cream cheese in them. Blech! You can eat at a table or you can have your tipple and snacks served to you right at the lane. Somehow sticking my fingers in a bowling ball whilst noshing on a burger doesn't sound so appealing.
I decided to make a last minute reservation just so that we would have a place to land. There was not much left to choose from, but I had heard that the drinks and appetizers at Paradiso 37 were pretty darn good so we went with that. It's a Latin themed restaurant that boasts 37 varieties of tequila.  That does sound like paradise!
This place also had live music, which we are naturally quite amenable to, but when we were checking in, Jeff leaned over to me and said he hoped we weren't seated too close to the obnoxiously loud, Latin band. Here's where we ended up:
We asked to move. No worries, they set us up at a great table with a perfect, people watching vantage point.
I would characterize the food here as a notch above Chili's. Nothing wrong with it, just not that special. That being said, we enjoyed everything we tried and we had a fantastic server who was hustling about, taking care of  a very large number of tables. She was a peach and I neglected to take a picture of her as usual.
Meghan got some churros for dessert.
 We got Tequila for dessert.
We asked if they had any tequila flights and she said they cetainly did. We thought it was strange that it was presented this way, in full-sized glasses instead of a trio of shot glasses on a board or something of that sort. Went down just fine either way.
The ghosts of Downtown Disney's heyday were looming about, but we managed to eke out a delightful evening none the less.
Up Next: "All right, Mr. DeMille, I'm ready for my close-up."