As much as I willed it not to be so, the final day was upon us. We enjoyed every last minute in our luxury environs, then packed up our things to be stored at bell services while knocked the stuffing out of the Food & Wine Festival.
At some point it occurred to me that, because we were staying in a suite, we would be entitled access to the Club Level Concierge lounge.  This, of course, made me giddy with joy!
The lounge itself is elegantly appointed and quite lovely. There were attendants  buzzing about replenishing food items and keeping everything tidy. The breakfast choices were pretty much what you would find at any continental buffet; bagels, pastries oatmeal etc.
Knowing that we would be attempting to consume the rest of the Food & Wine Festival, we chose just a couple light offerings. Honestly, the breakfast was not really that special at all. The pastries were of  "bulk food club" caliber. It was more the idea of being able to rub elbows with the "beautiful people" that was cool. If you want to see more of the offerings at the lounge click HERE.
If we were staying longer, we could have taken more advantage of this lounge. They offer snacks and drinks all day INCLUDING beer, wine and, later in the evening, cordials. I've heard people inquire as to whether they could make up the difference in the cost of a club level room with food from the lounge. I would have to say, no freakin' way, at least not here. I understand that some other resorts supply more hardy fare, but even still, who would want to spend all their time running back to the resort for free chicken wings and house wine when you could spend a whole lot less on a standard room and spend that cash on a pretty posh sit-down meal? In my opinion, staying at a suite would need to mean more to you than just the food. However, if money is no object, go for it!
This was the first day on the entire trip that wasn't clear and sunny.
Not to be all Pollyanna about it, but it really worked out better this way. It was cooler and more comfortable without the sun bearing down, which meant we could stroll World Showcase at our leisure and without having to constantly search for shade. That's my story and I'm stickin' to it.
One we passed through the International Gateway, we swung left and started in the United Kingdom Pavilion.  Below is a map of World Showcase for your reference. You can open this in a new window and follow along with me. Come on, it will be fun!
Before we get to the eating, let me take a moment to point out something about these pavilions. They are not only designed to reflect the character of each country that they represent, the architecture is based on actual buildings and places. It's really remarkable how much detail and care is taken here.  I'm under no delusion that going to Epcot is in any way the same actually traveling to these countries, but one can really learn and experience a ton here. For some of us, traveling to Morocco or Japan is as likely to happen as flying to the moon. Here you can experience a lot of authentic culture and history as well as meet cast members from these places. The taste of these cultures at Epcot may actually spark a desire to travel that wasn't there previously. A win-win all around.
Continuing on, we made our way to Canada. When you're walking about the pavilions, it's easy to breeze by on the main walkway, but there's much more to be seen.  Walk down those windy paths all the way to the back. There you'll find peaceful vignettes and lovely views that most guests miss out on.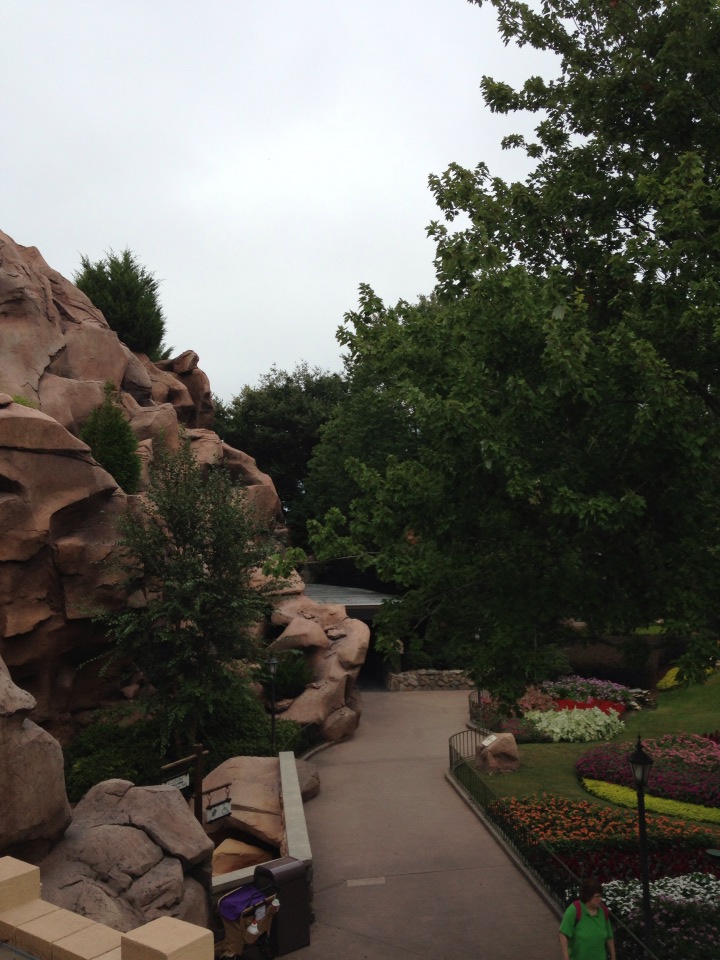 I had heard from my friend Josh at EasyWDW  (Hi Josh! I'm that girl who commented on on your blog once, remember?) that there is a beer dispensed at the Canada pavilion that could quite possibly change lives. I led my husband over to the kiosk and instructed him as to which beer to order. I earned some serious cred here because it was indeed phenomenal. See dear, all those hours of reading Disney blogs and listening to podcasts IS worth while after all!
Canada is where we had our first tastes of the day. Meghan got the trout. I remember this as being tasty, but not knock-your-socks-off good.
This next sample, however, was exceptional. It's a familiar menu item for Disney geeks, the famed Le Cellier Filet Mignon.
Le Cellier Steakhouse is the sit-down restaurant located in Canada. For many years, this was THE hot ticket reservation to be gotten for your Disney vacation. This was not only because of the top notch food, but because of the Disney dining plan. Le Cellier was just  one "meal credit", where other similar caliber dining options would burn two credits. This is no longer the case. It's now two credits and the out of pocket prices went sky high to justify this. A portion of filet, not much larger this sample, will set you back forty-four bucks.  We were lucky enough to snag reservations here during it's one credit hey-day. It's not likely that we'll be back.
I was stoked when I had heard the  Scotland would be added to the Food & Wine roster this year. We are huge scotch whisky fans and I had hopes that we would be treated to some fine single malt and authentic Scottish fare.  Not so much.
Scotland only offered us Glenfiddich single malt. Respectable yes, but with so many other varieties to offer (Lagavulin, Ardbeg, Oban to name a just a few) this was too pedestrian to lay down the cash for. The food offerings were also a disappointment. There was a salmon dish which sounded just ok or the inexplicably ironic Vegetarian Haggis. Disney tends to dumb things down when it comes to some ethnic tastes. Hopefully they'll up their game next year.
Following along on our map, you'll see that we are passing by the main entrance that connects Future World with World Showcase. Here you'll find the ugliest building ever, the Odyssey Center.
This was a restaurant at one time, but now serves as a restroom location and a sometime convention space. It reflects worst of 1980's architecture. Like, gag me with a spoon!  Let's try and pretend it's not there, ok?
While waiting for the rest of my party to ahem, rest, I just took a whole mess of pictures. so…
Once we regrouped, we stopped at the Mexico Booth.  The lay of the land during Food & Wine can be a bit confusing. While there are eleven countries represented in World Showcase all year round, there are additional thirty-two booths added during the festival. However, the countries also overlap.
We grabbed a few items and headed up to the patio area. Everything at the Mexico Booth is a sure bet. All was tasty and worth the price.
I had had it my mind that we could go through all of the World Showcase in just one blog post (stop laughing, please), but if you take look at your handy map, you can see how much more there is to see (or little progress I've made). We've only eaten in the countries  to the north and south of the good ol' USA, so there's lots more to explore.
Up Next: There's no way I'm finishing this business in one more post. No way.