After a brief post-lunch siesta we went on back to Carsland. I really wanted to experience the Radiator Springs Racers ride at night. It was just before dusk, but we queued up anyway.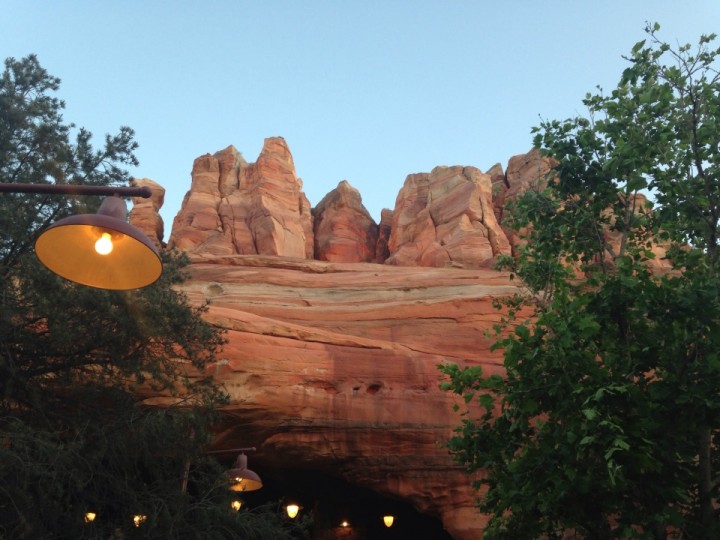 We rode together on our first time around earlier in the day because we were there right at rope drop. At this time of day the wait was over an hour for stand-by there were no Fastpasses left. Thankfully, this attraction has single rider line. People, please listen to me. Use this! It will save you hours!
The ride vehicles are adorable. The cutsey windshields are totally transparent from the inside of the car. I do think you get a better vantage from the back seat, though.
The trip begins with pleasant cruise through ornament valley. The music that accompanies this portion is so lush and moves you right into the movie.
After this brief cruise around you then enter the indoor portion of the ride. This consists of several astonishingly detailed  show scenes from the movie. I had not seen any video or stills of this so I was completely taken aback by how stunning this was. The animatronics are way beyond any other dark ride I've experienced. They utilize projections to animate the "faces" on the cars and it's so impressive.  I won't spoil it for you either by posting photos. Plus, they all came out cruddy anyway.
As soon as we exited, we turned right back around and got back in line. This time it was completely dark so it was like a whole different ride. Woohoo!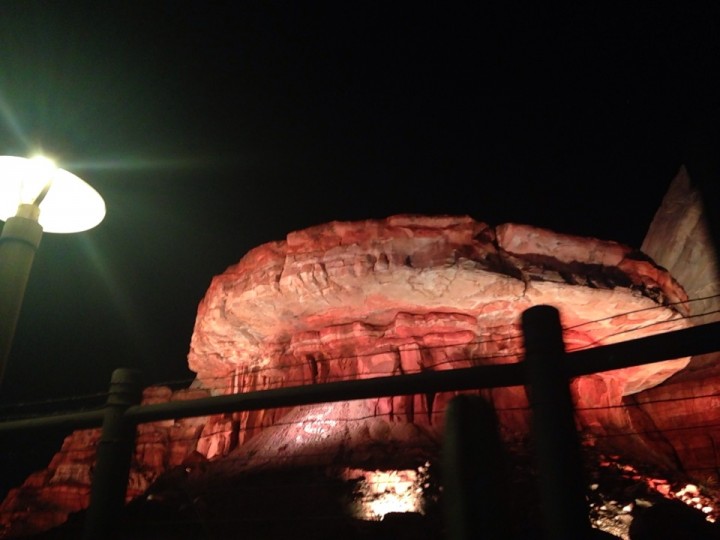 The final phase of the Radiator Springs is the actual race. You go head to head with another race car. This is super-fun and fast. I may have inappropriately taunted our competitors.
Having gotten our rides in on Radiator Springs Racers, we strolled back out to Route 66 which was now bathed in neon lights. If you time it right, which we did not, you can catch a nifty little show where they illuminate the buildings to "Life is But a Dream" just like in the movie. Here's a clip of the ceremony that also give you the lay of the land:
I took a ton of pictures so it was inevitable that some would come out nice, but I was really happy with these!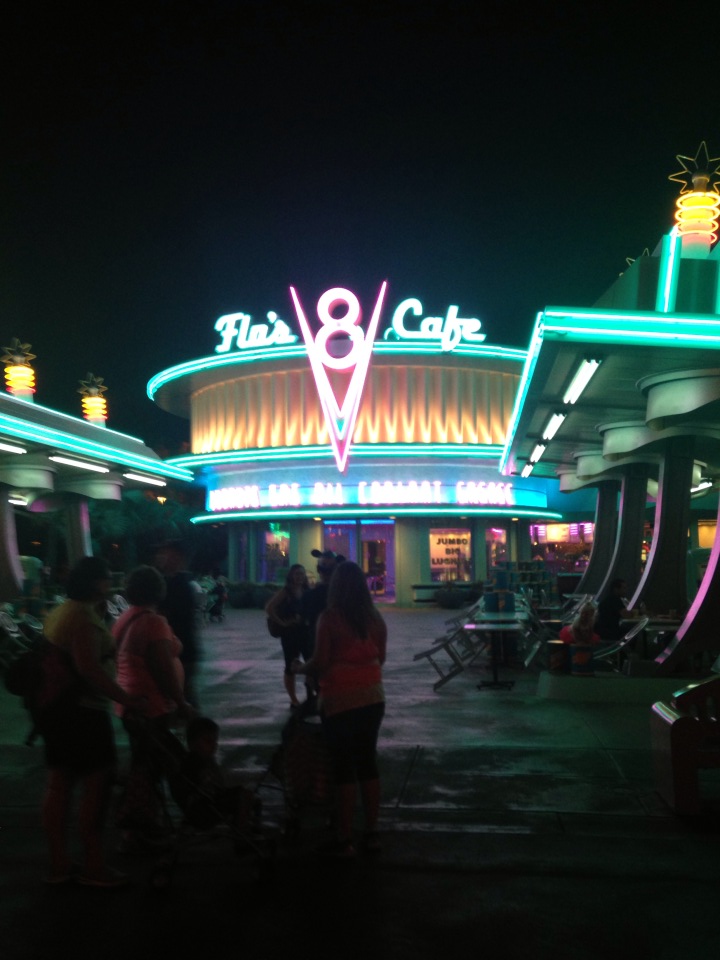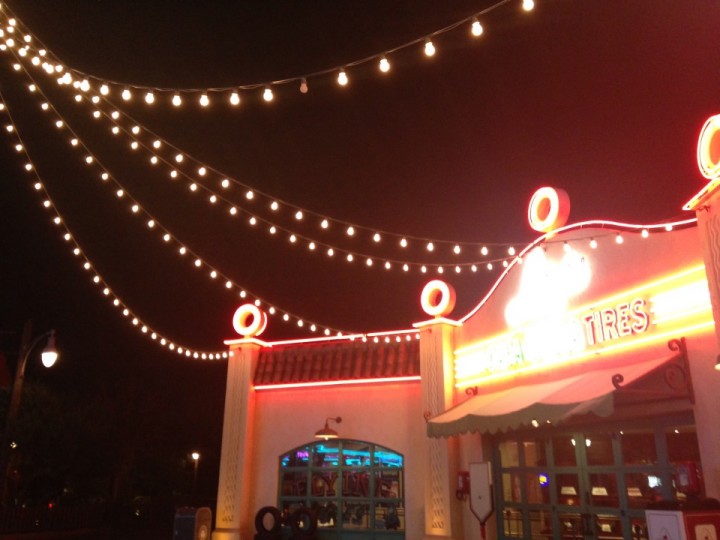 I love how the souvenir shop from the movie was the gift shop here. I guess that makes sense. I like how they leave some of the lights burned out just as it would be in the real Radiator Springs…or they are just being lazy.
The Cozy Cone, like some of the other elements here we'll discuss in future installments, is adorable in theory but not very well executed.
The "cones" are individual snack counters that each sell different cone themed foods like Chili "Cone" Queso and flavored Pop "Cones". The problem is that if Johnny wants popcorn and Mary wants ice cream, you will have to stand, order and pay in two different lines. Not so fun when you've got small children in tow. My understanding is that the food is not all that great, so we didn't bother with this. Very cute though, Disney!
The "check in" area of the motel is unfortunately not a public space. It's used as a back drop for the meet and greets during the day. You can, however, press your face up to the glass and have a look around after the character greets are over.
There's a cute Easter egg inside. I couldn't capture it with my iPhone camera so I found this public picture. IP lawyers, stand down.
We had no right to be hungry but we weren't done eating today. Time to saunter over to Downtown Disney for a nosh.
I can't say enough how fantastic it is to be able to move from park to park, or in this case Downtown, in just a matter of minutes by foot. It just makes the time there some much more relaxing. We bellied up to the Uva bar right in the center of Downtown Disney.
The Uva Bar serves as the lounge for the upscale Catal restaurant. In pure California style this is completely outdoors with no awnings or cover of any sort.
Uva Bar has a pretty good sized menu here that includes burgers, salads and flatbreads and a variety of appetizers. It's a bit pricey for the atmosphere. We had a mussels appetizer that was very good but was $18.00 and not that big.
These were quite tasty but I was annoyed by the presentation. The mussels were inexplicably stuffed into a much too small bowl. This meant that all the savory broth into which one desires to dip their charred bread could not be accessed, at least not until one  is nearly finished. Plus, there was no bowl provided for the discarded shells. Man, do I sound like a jerk. Really, they were great.
What happened next would be referred to as the Lagavulin incident. We ordered a scotch to finish the meal, as we are want to do. While whiskey at a bar is never a bargain, here we were stunned when we got the bill. A dram of Lagavulin, even at the poshest of places, will run between $12-$16. Here they charged us $20.00 each. Oof! The kicker was that it wasn't even served properly (Ugh, here I go again!). Whiskey in a rocks glass is alright, but it's preferably served in a snifter or a dram. Here they poured it in a shot glass. Unacceptable! (I'm totally aware of how shallow I sound, don't worry). I couldn't let this go, especially after having the same libation just the night before (served appropriately) for only $14.00, and that was a double! I expressed my concern to the manager who was very nice, but insisted that was the going rate. Not so. When I expressed my dismay at being served a top shelf whiskey as if it were a shot of Jägermeister, he relented and gave us another round in a proper glass, gratis. Made it right, just that easy.
Justice having been served, we strolled across the empty esplanade to retire to the Camelot for the night.
Coming Up:  We enter into the Dog Days!