Looking at the photos from this day I've come to the conclusion that we must have had some kind of crisis of confusion because we seemed to zig and zag for no apparent reason. Perhaps we were on a scavenger hunt? I have no idea.  That's what California does to you,  no coherent plans, and it's all good.
Due to the close proximity of our hotel, and because the park opened late this morning we able to conquer another rope drop. Woo hoo!
We boot scooted right on down the Big Thunder Mountain Railroad. As a devoted reader, you may recall that we flipping loved this ride.
Man, I loved this coaster. We got off and I squealed "AGAIN!" like a four year old so we turned right around went for another spin. The lines were getting pretty deep so went single rider this time.
I have failed to mention that during our stay we experienced record breaking heat. The weeks before and after our trip were a perfectly pleasant seventy something degrees each day. During the Joneses vacation? A scorching one hundred! It's a dry heat don'tcha know. This was a good time to get on a water ride.
The flume logs in this version of Splash are a wee bit different than in Orlando. You have to get quite intimate with your riding companions.
It was about time we had a snack, but true to form for this day I forgot to take pictures, probably cause it wasn't so pretty. We got some grilled skewers from Bengal Barbecue. They were just okay. There wasn't any place to sit so we vamoosed to Rancho Del Zocalo for some much need shade.
Rested and refreshed we crossed back through the hub on the way to Tomorrowland.
Normally we would have made a point to ride Space Mountain at least once, but I think I'm through with the herky-jerky coasters. Sigh…the inevitable has happened, I'm officially too old for certain fun. Instead, we took a turn or two on Star Tours. This has become a favorite of ours on both coasts. No pictures again, of course.
On the way out Jeff was super excited because we spotted a Storm Trooper. Turns out these guys aren't as friendly as you'd expect.
Whew, are you hot? Let's get an ice-cream.
We enjoyed our creamery confection in a quiet little nook off of Main Street. I love the details here. This Hotel is just a facade and probably houses some offices. It's cute enough on its own, but if you listen carefully you can hear the "guest's" morning routine.
All the windows and store fronts here are either tongue in cheek puns or tributes to legends of Disney past. The window below is a tribute to Bill Justice, a Disney animator and audio animatronic engineer.
This one is just dang funny.
Jeff had to answer some e-mails or some sort of boring business, so I left him to it and set about taking pictures of every darn thing.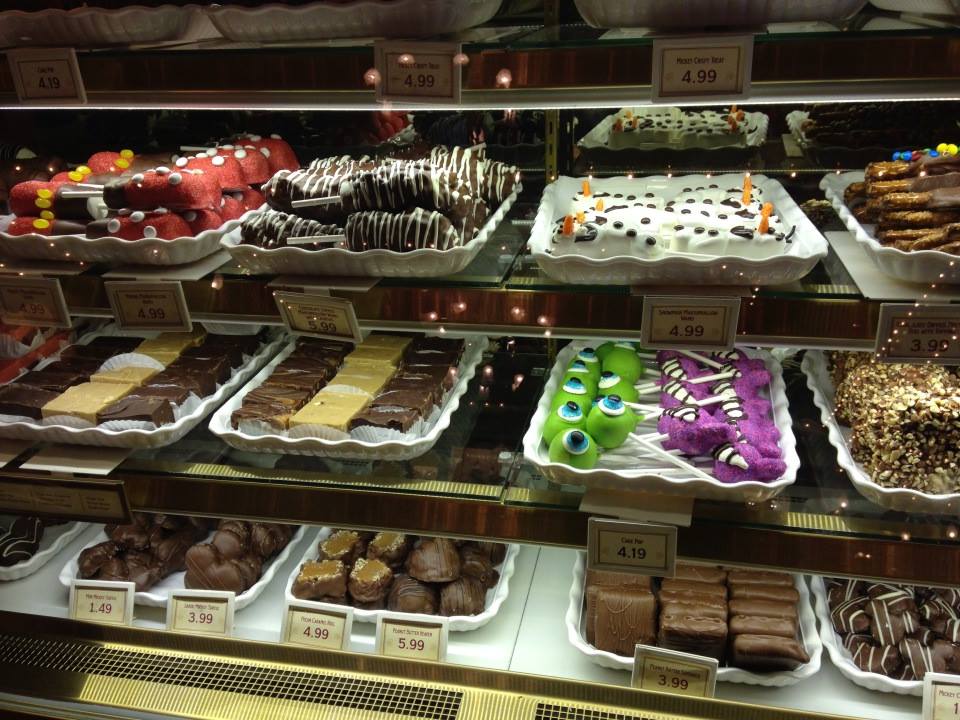 As I wandered by the Carnation Café, I spotted a Disney celebrity!
What? You don't know who Chef Oscar is? You had no idea that Oscar Martinez is the longest tenured  Disneyland cast member or the he joined the company Dec. 29, 1956, and has been a Disneyland mainstay for 54 years – and at Carnation Café since 1967! I guess you're not the Disney nerd that I though you were.
We probably went back to the hotel for a nap, then on to to Carsland. First thing, we stopped at Flo's for a beer. Hey, it was very hot.
 The details in this place are impressive.
You can have your lunch indoors in one of the adorably appointed Dining rooms…
 …or you can sit outside and enjoy the view.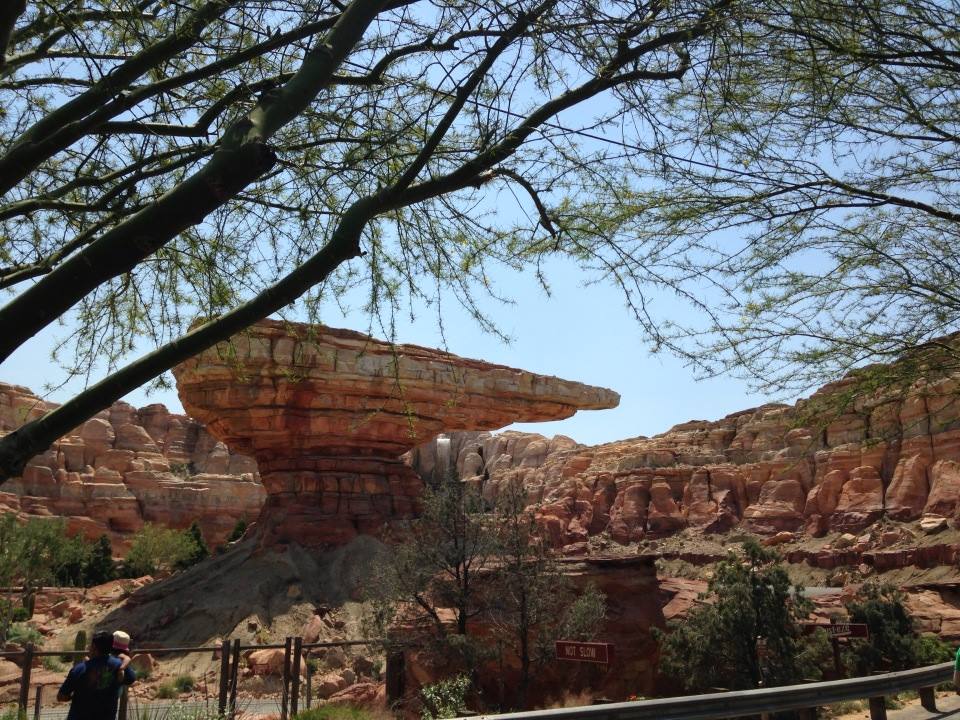 We took a couple more turns on the Racers, going through the single rider line. This turned out to be a very good idea because the ride was broken down off and on for the remainder of the trip.
Then suddenly, we ended up in Downtown Disney. I believe we were on a souvenir hunt for the kids. The jaunt over there took it's toll though, and I needed some refreshment. We wandered over to the newly opened Starbucks. The place was huge and had a sleek  theme. Despite all the square footage there  was no indoor seating.
There was an elaborate ordering scheme with many steps to go through to order your beverage. This probably makes sense when you're trying to keep the Venti, Half- Caf, Soy Milk, Vanilla Bean Frappuccinos with whipped cream organized, but all this girl wanted was a small Iced Coffee, black please.
Walking around Downtown Disney I spotted the Monorail.  Unlike the WDW version which is a form of transportation, this is classified as a ride. You need to use a park ticket to board, so be careful not to blow a day's ticket for this.!
The 2.5 mile route parallels Harbor Boulevard and travels over the Disneyland Main Entrance and Entrance Plaza, taking you above and beyond the park scenery.
This ride also shows the limits of this tiny park plopped in the middle of the city. There's some distinctly un-magical sites along the way.
The monorail dropped us off in the back of Tomorrowland. This was not a good plan seeing that we wanted to be waaaaaay over in California Adventure for World Of Color in fifteen minutes. Who planned this trip anyway?
 We were boogying until.. BOOM! Parade Blocked!
Having made our way through the parade nonsense we approached our destination, the Cove Bar Behind Ariel's Grotto.
The internet told me that, at the Cove Bar, you would not only get some tasty drinks and a huge plate of Lobster Nachos, you can also get a pretty decent view of the World of Color show. It's not straight on, but there's booze so…
We made it with ten minutes to spare but then we were turned away! I know, terrible! The hostess said that they no longer seat people for the show because it's too dangerous. Shouldn't I be the judge of that?
It took a couple of minutes to regroup from this grievous news.  Now what? We needed to find a happy place. I know! Trader Sam's!
We've been here before so you know the drill. This place is super fun. We started (you can see where this is going) with the mutli-faceted Uh Oa!  This is Light and Dark Rums, Orange, Passion Fruit, Guava, and Grapefruit Juices, Falernum ( Wha???), Cinnamon, and Freshly Squeezed Lime Juice. It also comes with a show.
You can see the whole perfromance here:
We moved on to drinks more in our style, which is to say whiskey. We got couple of Shipwrecks with are delightful.
I don't usually go in for tchotke, but these souvenir mugs were just too epic to pass on.
Do you have the munchies? How bout some pizza!
I'm not gonna lie. We had a couple more plates of food, it was just too dark for pictures. So, the day ended very well, but man it was a literal hot mess! Good thing tomorrow is a pool day.
Coming Up: Adventure is out there!