It was time for the breakfast part of the B & B. Trouble is, it's so very, very early. Breakfast ENDS at 9:30. My stomach doesn't wake up much before 10:00am on the best of days, let alone the morning after imbibing on several different varieties of libation the night before.  However, it was free so you gotta take advantage of the goodies.  Everything was adorably presented and tasty, I just wish it was about two hours later.
We packed up our bags and said our goodbyes to Deb the Innkeeper and headed out. After aimlessly circling around the city a bit we stopped by the water to regroup.
We had heard that the Western and Eastern Promenade areas of town were a nice take.  We were closest to the east so off we went.  This is a lovely area where you'll find gorgeous victorian style homes once belonging to wealthy sea captains.
Smack in the middle of this beautiful promenade was this huge, ugly apartment building. I believe it was senior housing. I'm all for housing seniors, really, but can you imagine your 150 year old family homestead which overlooks the ocean suddenly being blockaded by this?
This particular area of the Promenade is Fort Allen Park. Like most historical sites we visit, I've learned much more about this after we've returned home. This park had just finished long term renovation and was rededicated the weekend before our visit.
There were brand new plantings and pristine walkways and fencing. It really looked great.
This park is home to monuments from the War of 1812, the Civil War and from World War II.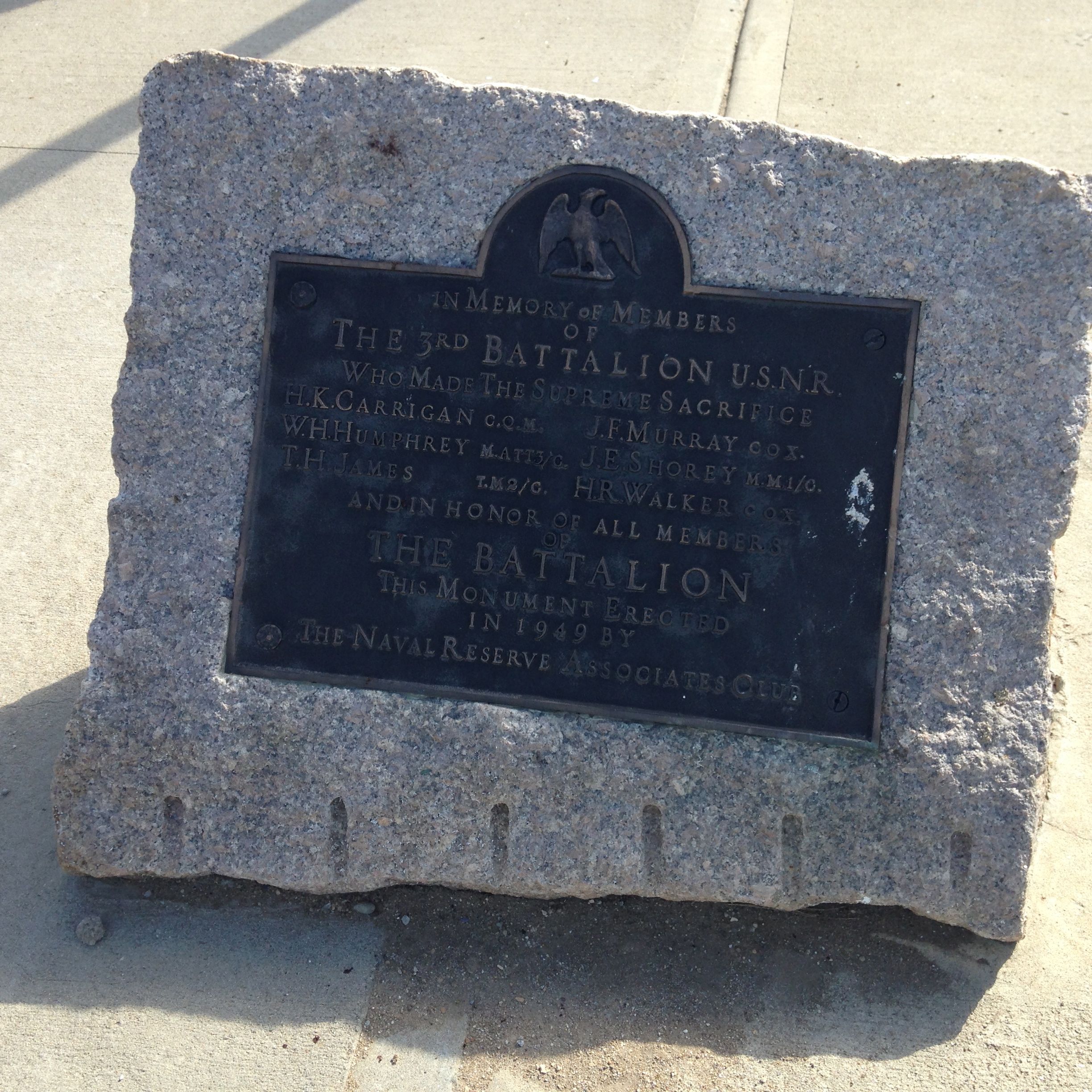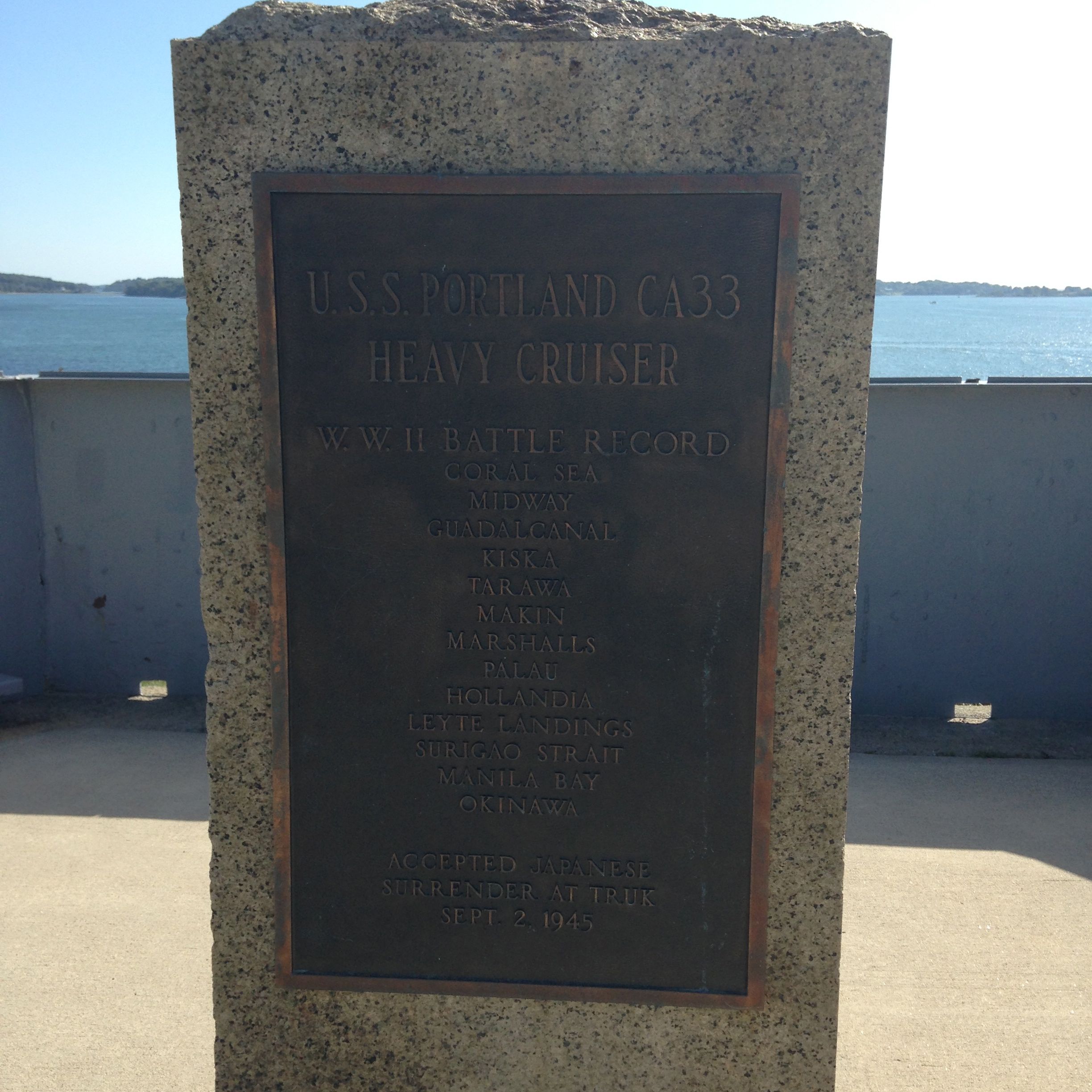 Fort Allen Park is also the home of the mast of the USS Portland.  This was the only United States ship to participate in all four Pacific aircraft carrier battles of 1942.  When the warship was set to be scrapped the mast was rescued and relocated here at Fort Allen.
 We strolled around a bit more enjoying the flora and ocean vistas.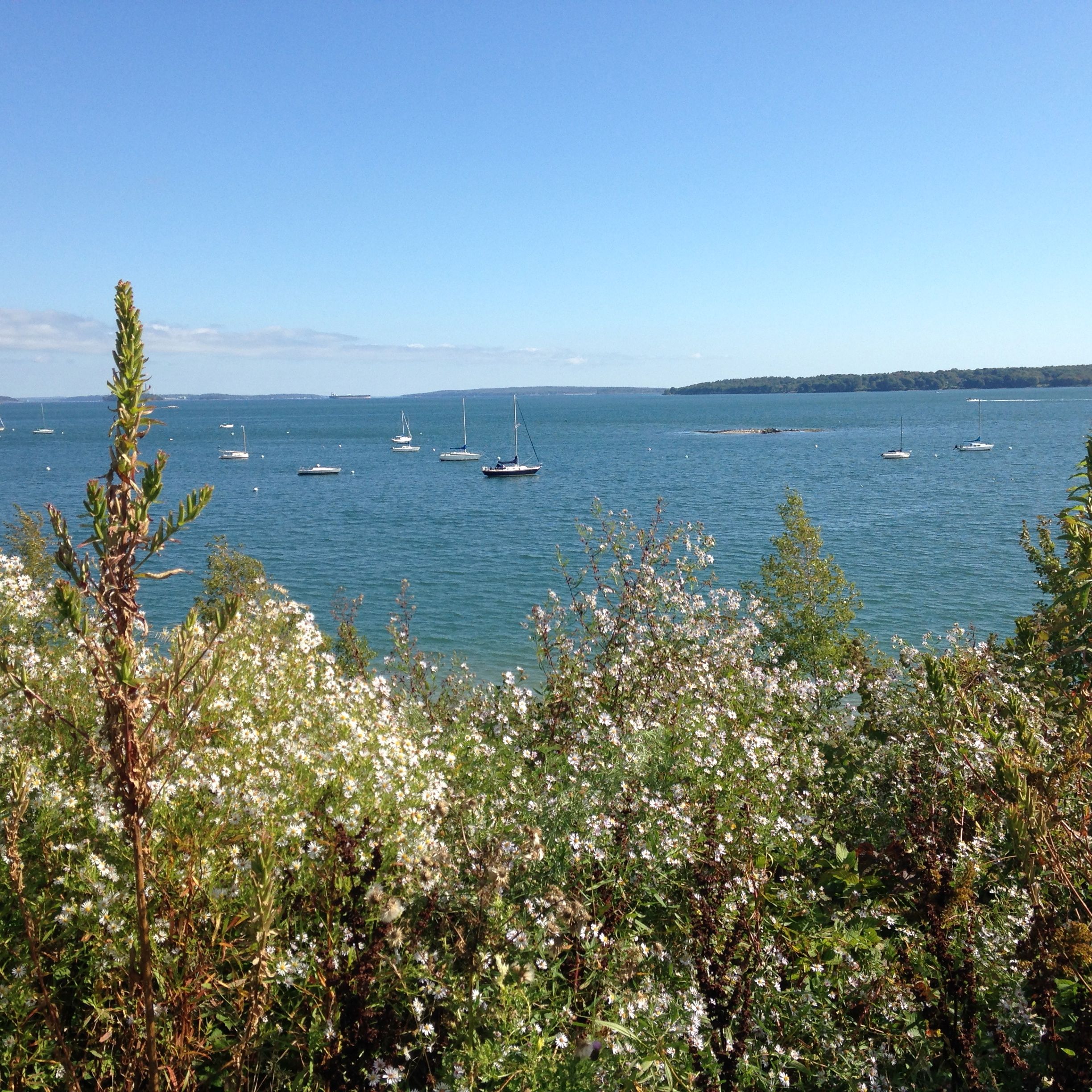 The breakfast was a mere memory by this point, so we headed back to Old Port for some lunch. This time around we wandered farther down the side streets and alleyways. The cobblestone roads and brick architecture is utterly charming.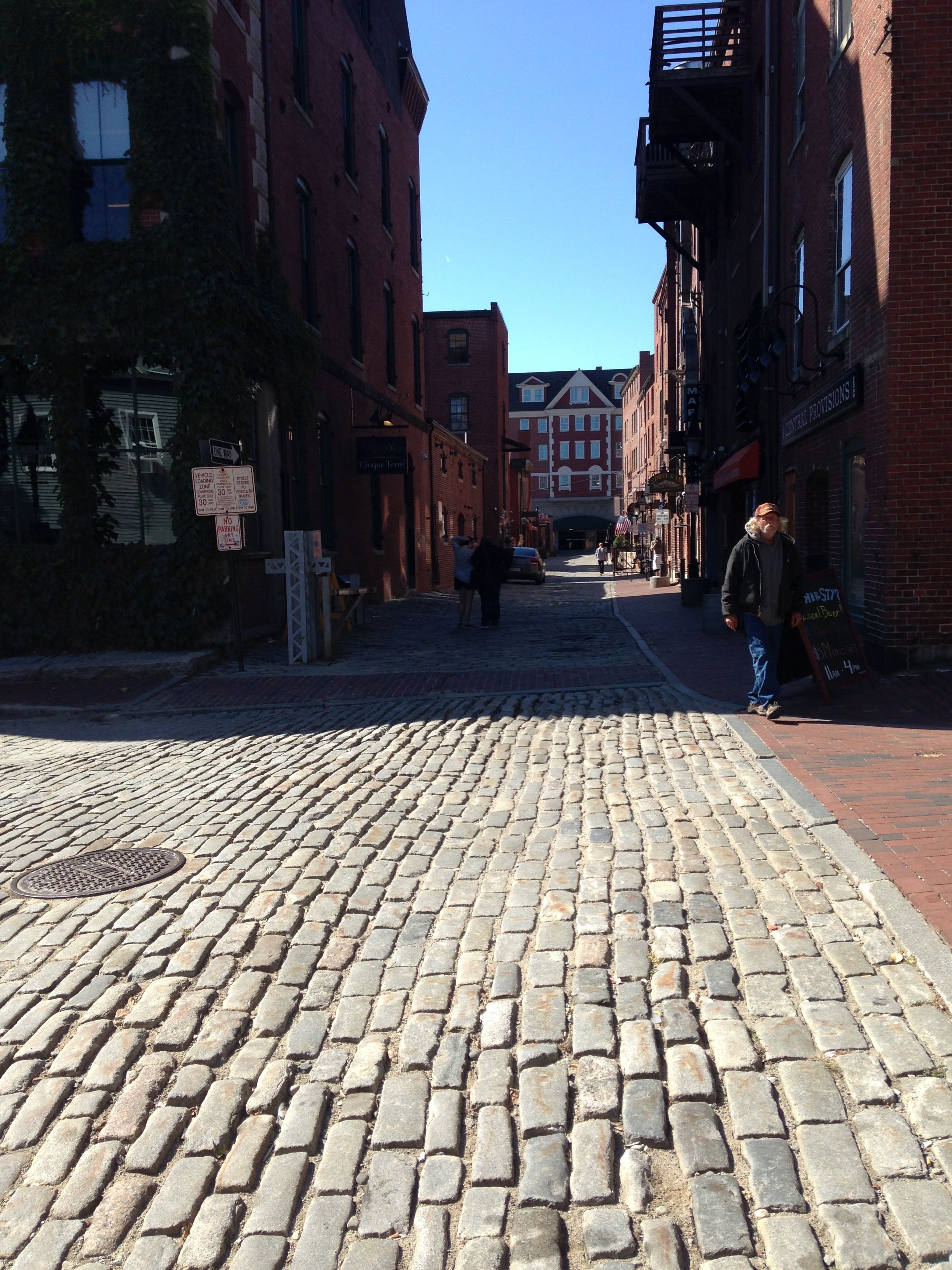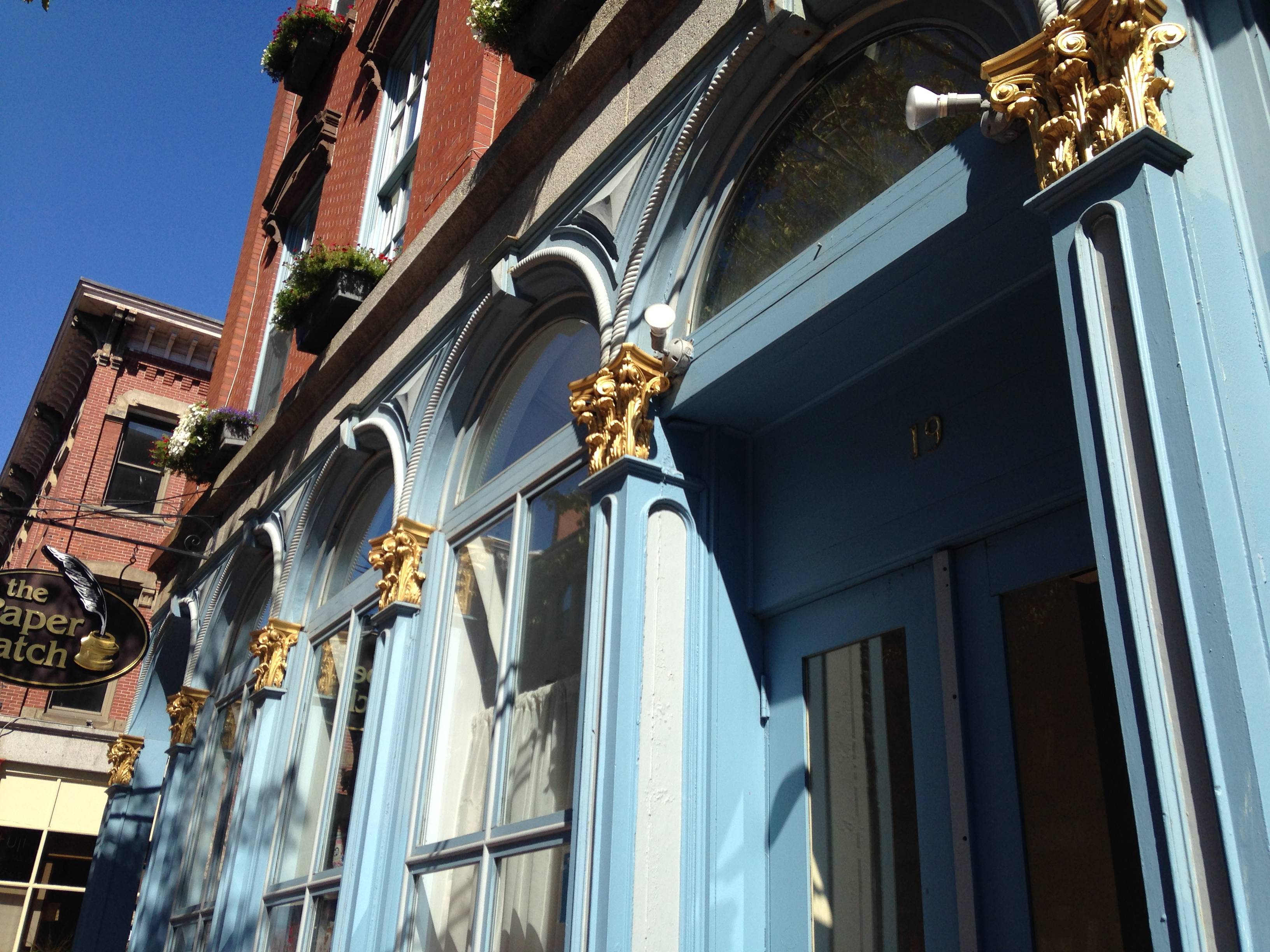 We have reached our lunch destination.
This place came highly recommended by our chef friend. I just love an eatery that  chooses to do one thing and does it right. All the sausage are made on site and the choices were quite creative.
 It was juuust warm enough to enjoy our lunch on the patio.
The sausages were fantastic. I especially liked the buttered, grilled New England Style rolls. The sides were lacking. They may have been homemade but they tasted just ho-hum. The pickles however were definitely homemade and tasty. All together a win!
We set about to walk off a bit of lunch, popping into any shops that interested us.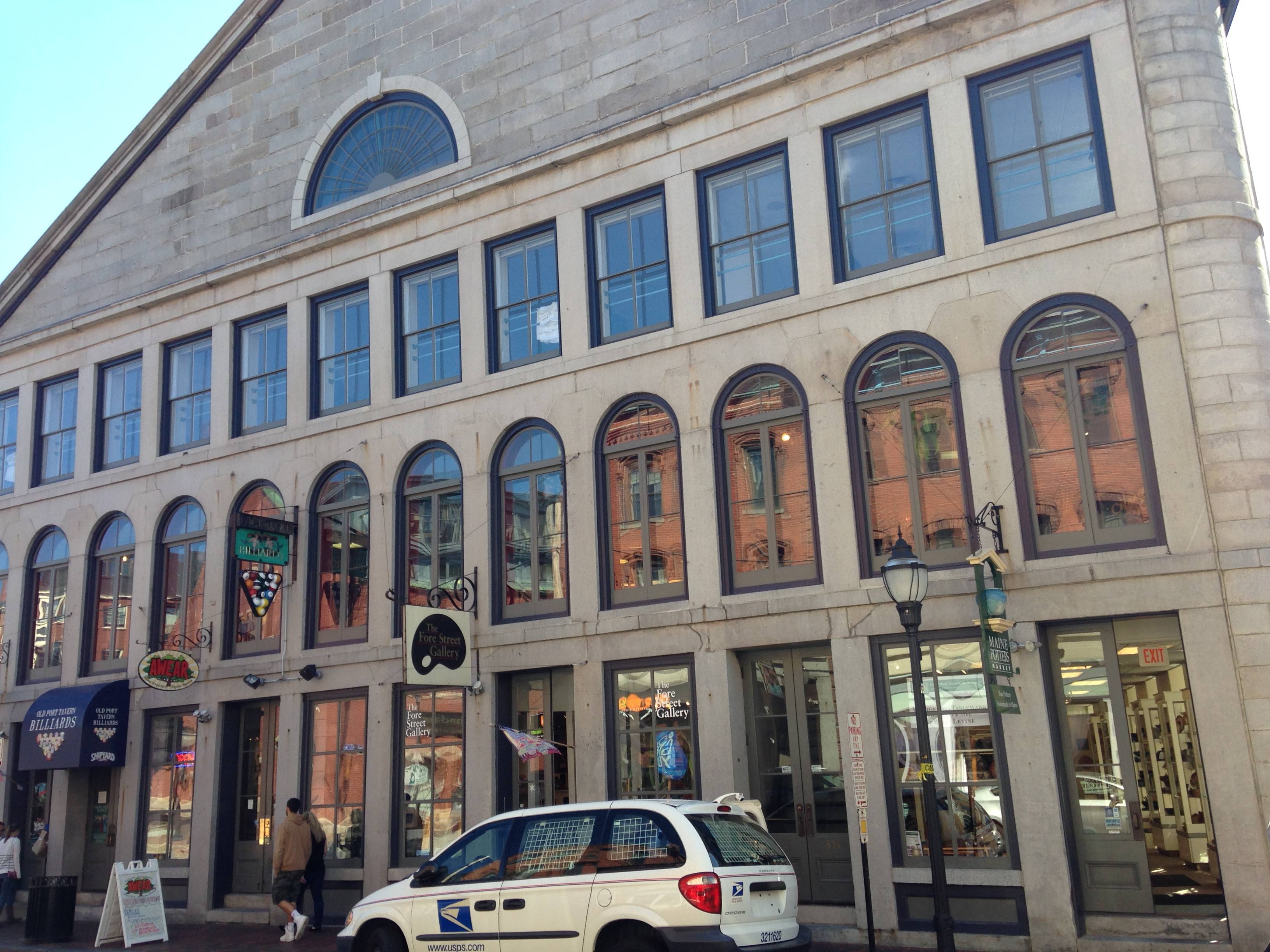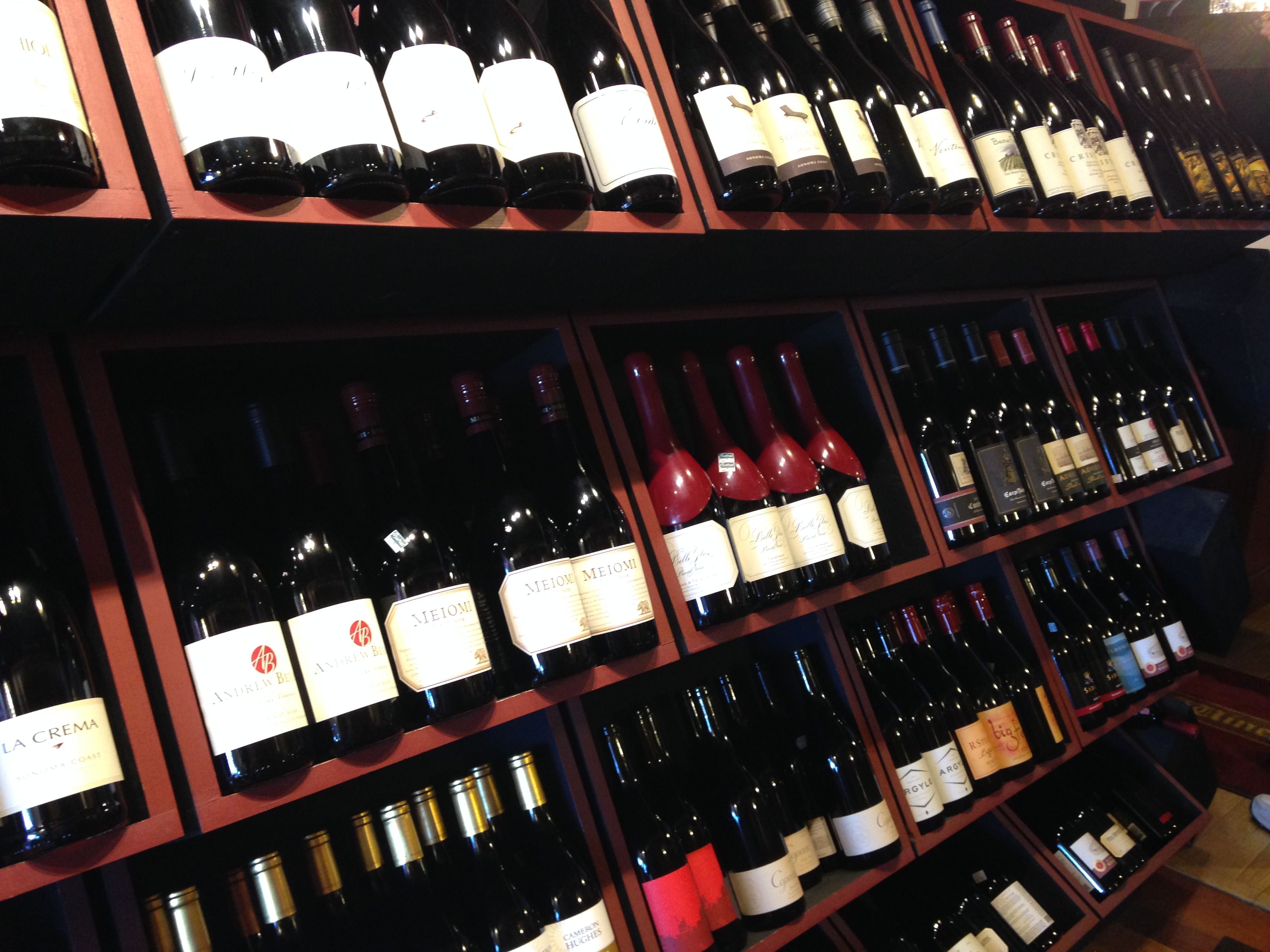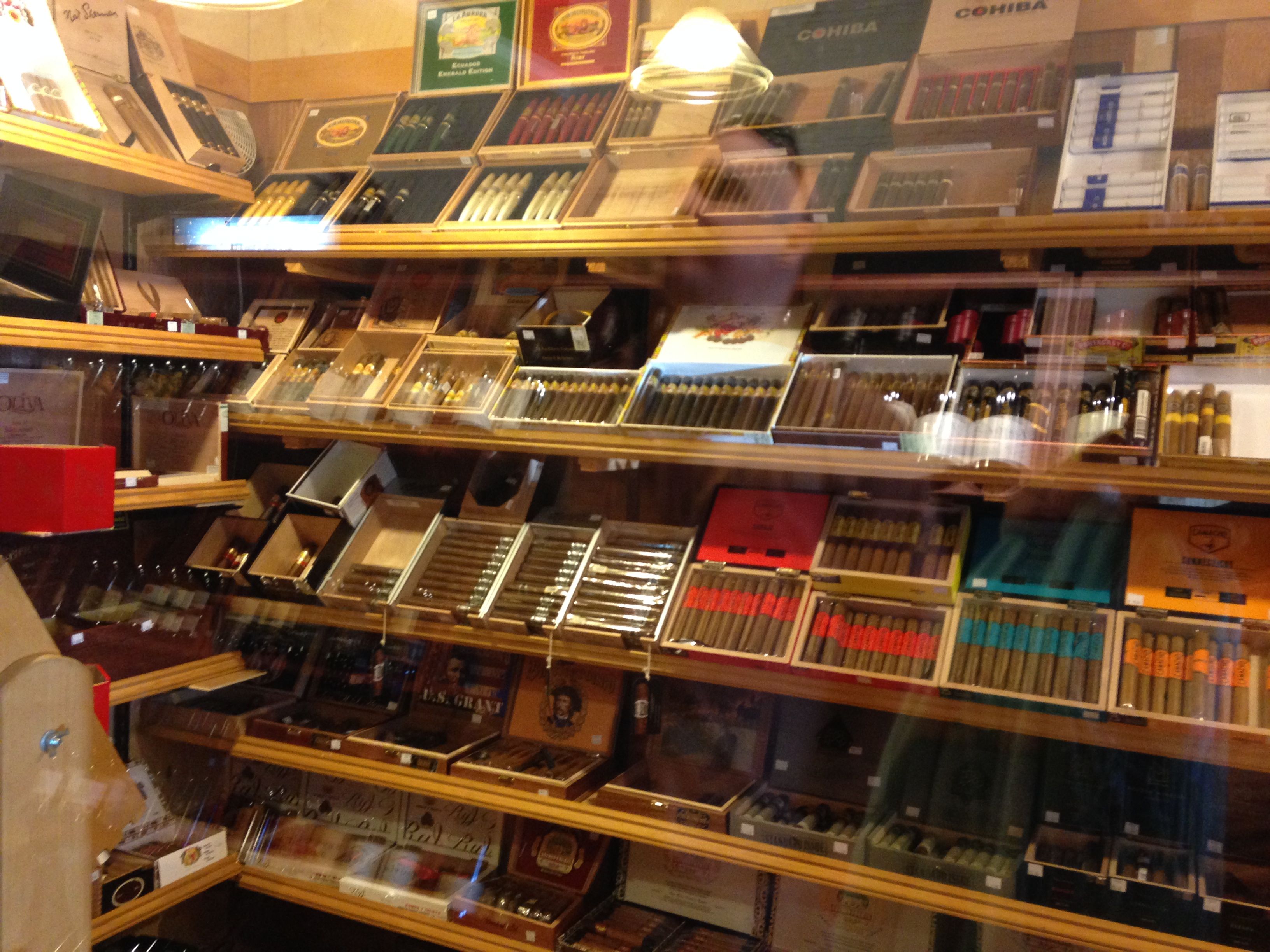 On our walk about we spied the In'finiti Brewery and Distillery from which our beer from yesterday's lunch was born. We decided to go on in and check it out.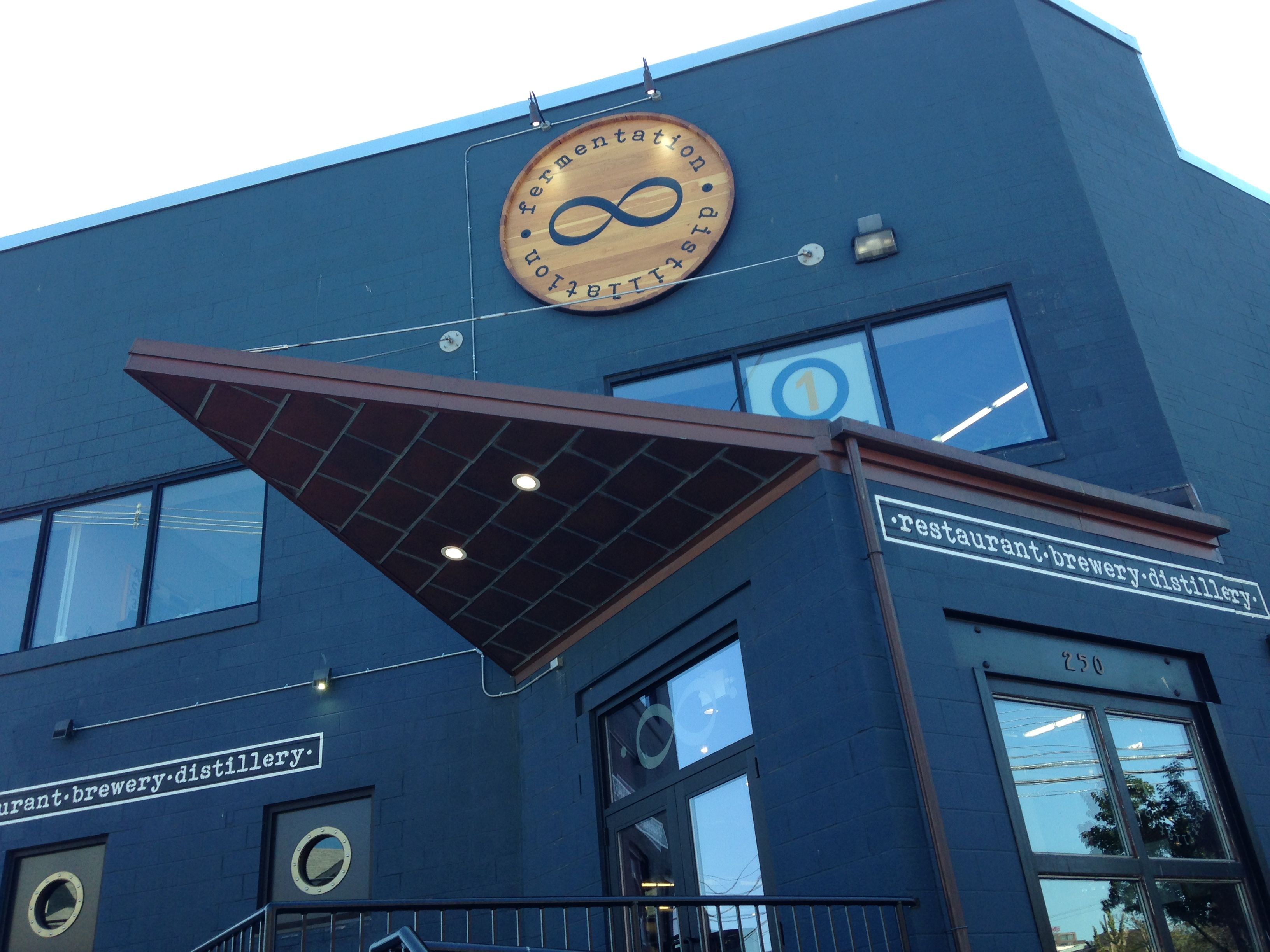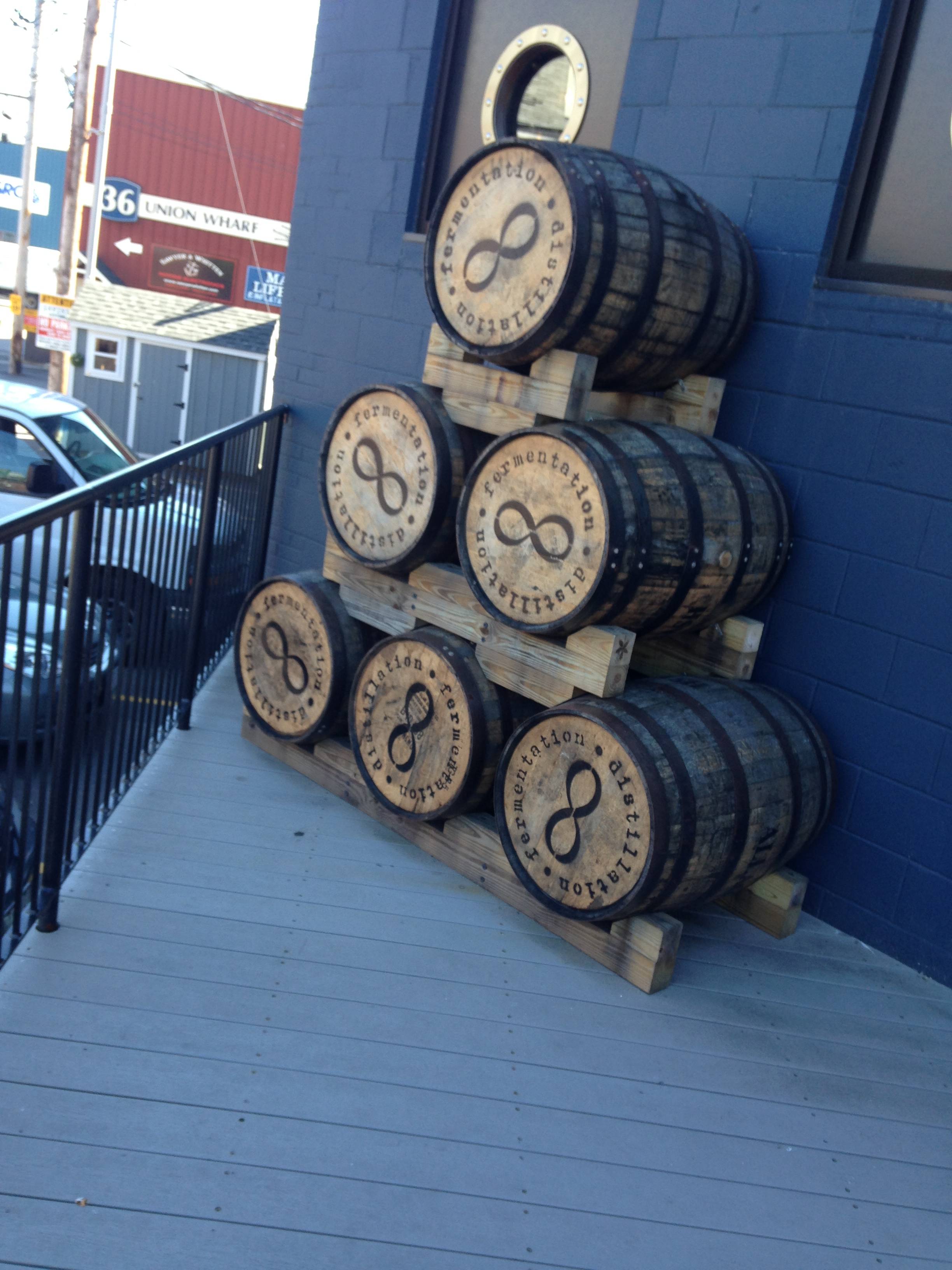 Having gone on a brewery "tour" the previous day, we weren't really interested in the beer so much as the booze. There were large glass windows that allowed you to watch the crew work on the current batch. Today it was bourbon.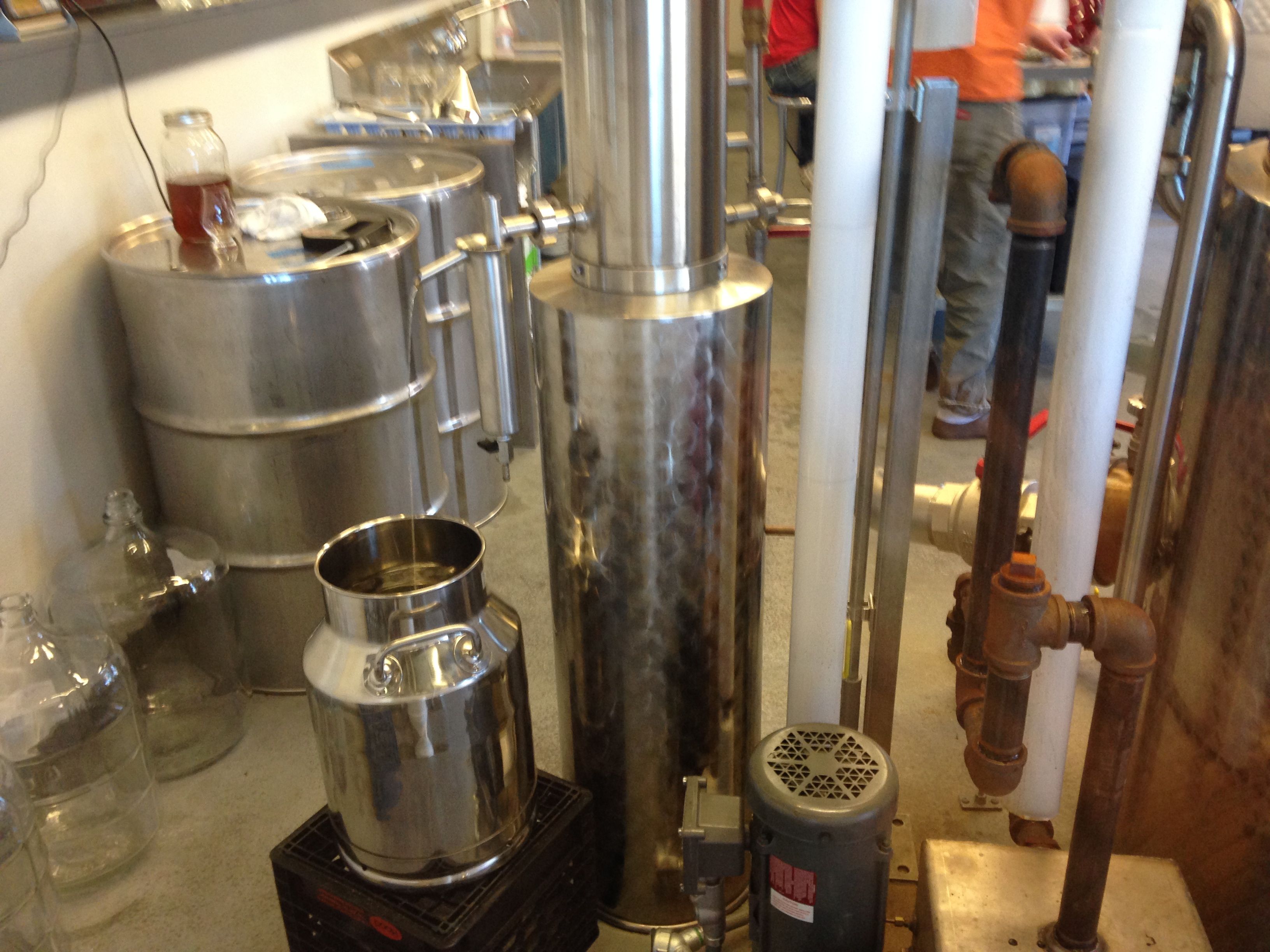 While getting to peek into the laboratory was pretty cool, there was one problem. It stunk in there. I'm not sure if the odor of all booze making is this unpleasant, or if it was the bourbon in particular but it was pretty awful. I'm hard pressed to describe it other than cloying. There were people sitting in the restaurant having lunch and seemed unfazed, but we just couldn't take it. We cruised on through and took a table outside.
We decided to share a beer and a distillery sampler of Rum, Vodka and said Bourbon. These are all young and have no coloring.
We gained an appreciation for the aging process here. These young varieties were not very pleasant. We threw back the beer and forged on!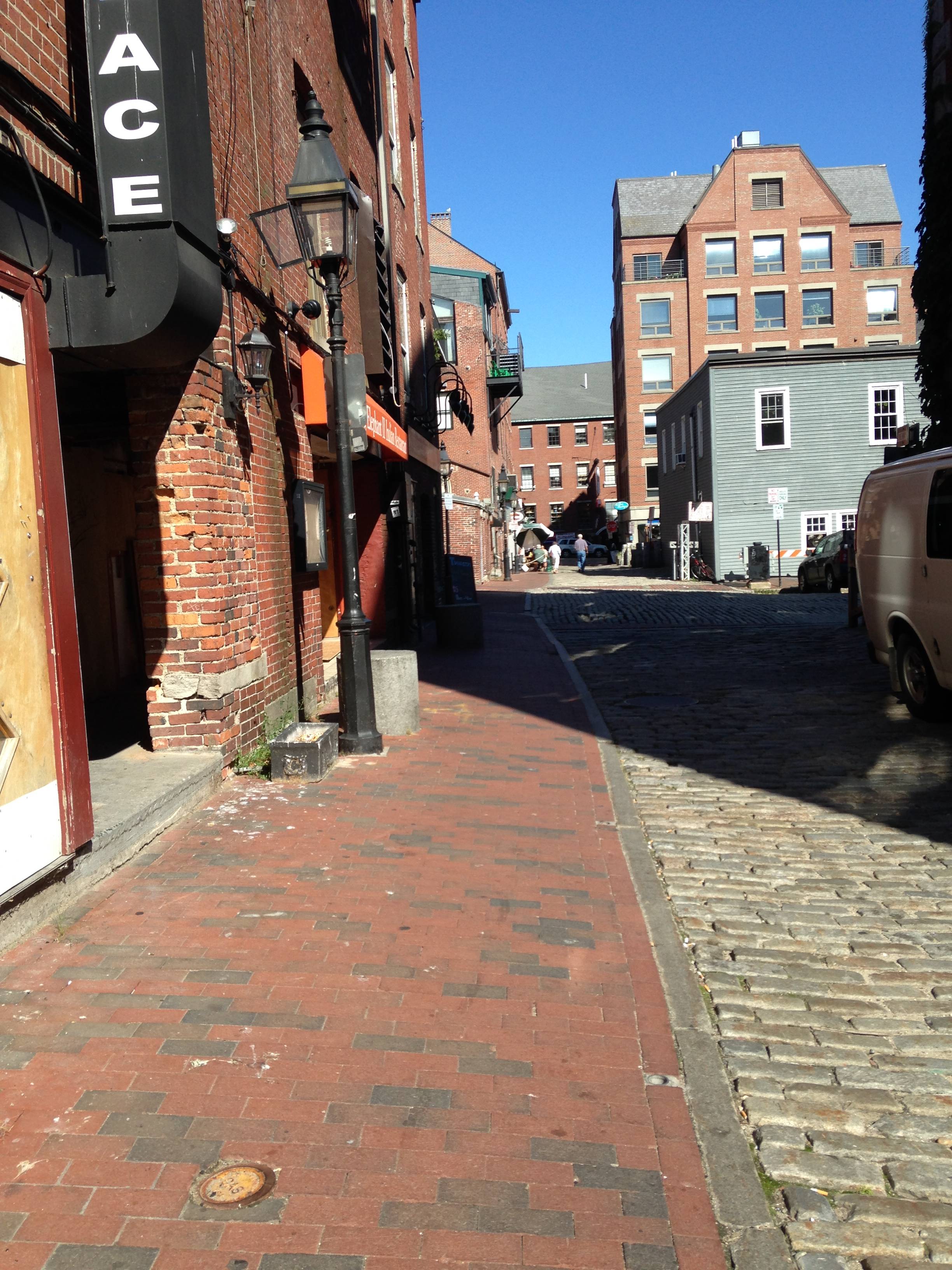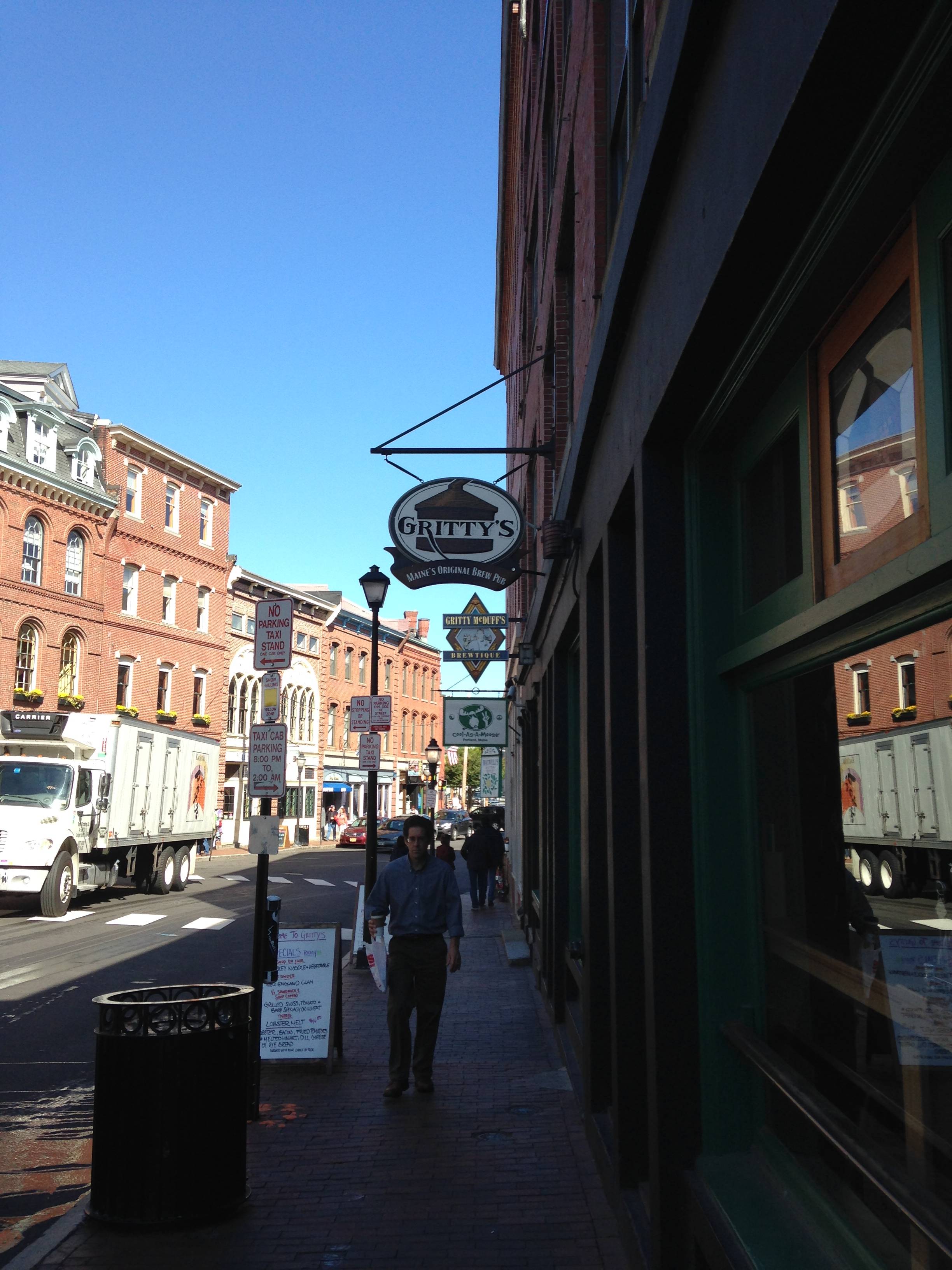 Now, we had no intentions of sampling more alcohol but then we saw this enchanting sign.
We tend towards brown liquors like whisky and bourbon, but gin is an exception. This little store front is not actually a distillery, just a tasting room and store. The farm where they make their goods is in Union, Maine.
I loved the way the pace was decorated especially the tin letters. Maybe a JONESES version is in order?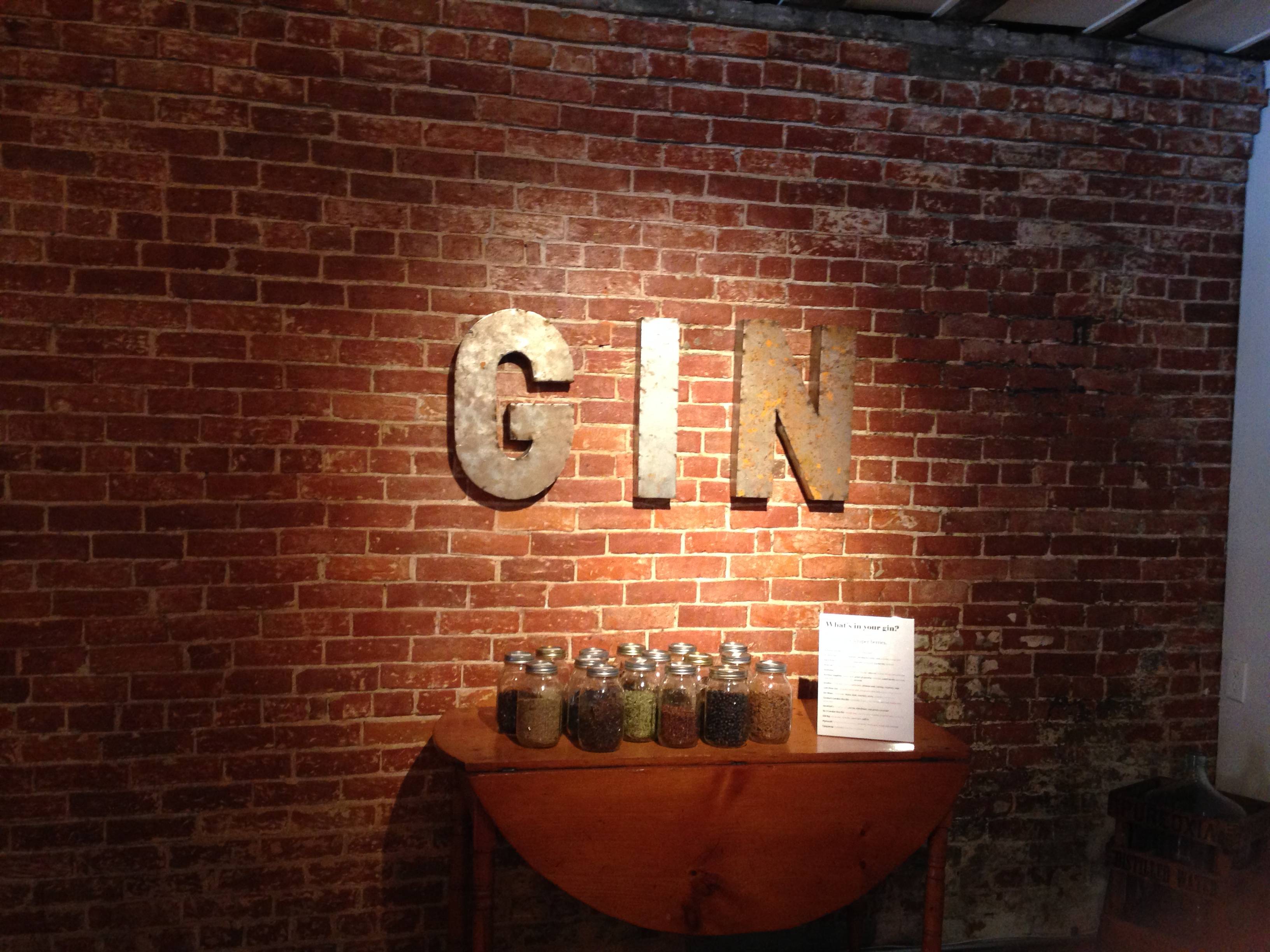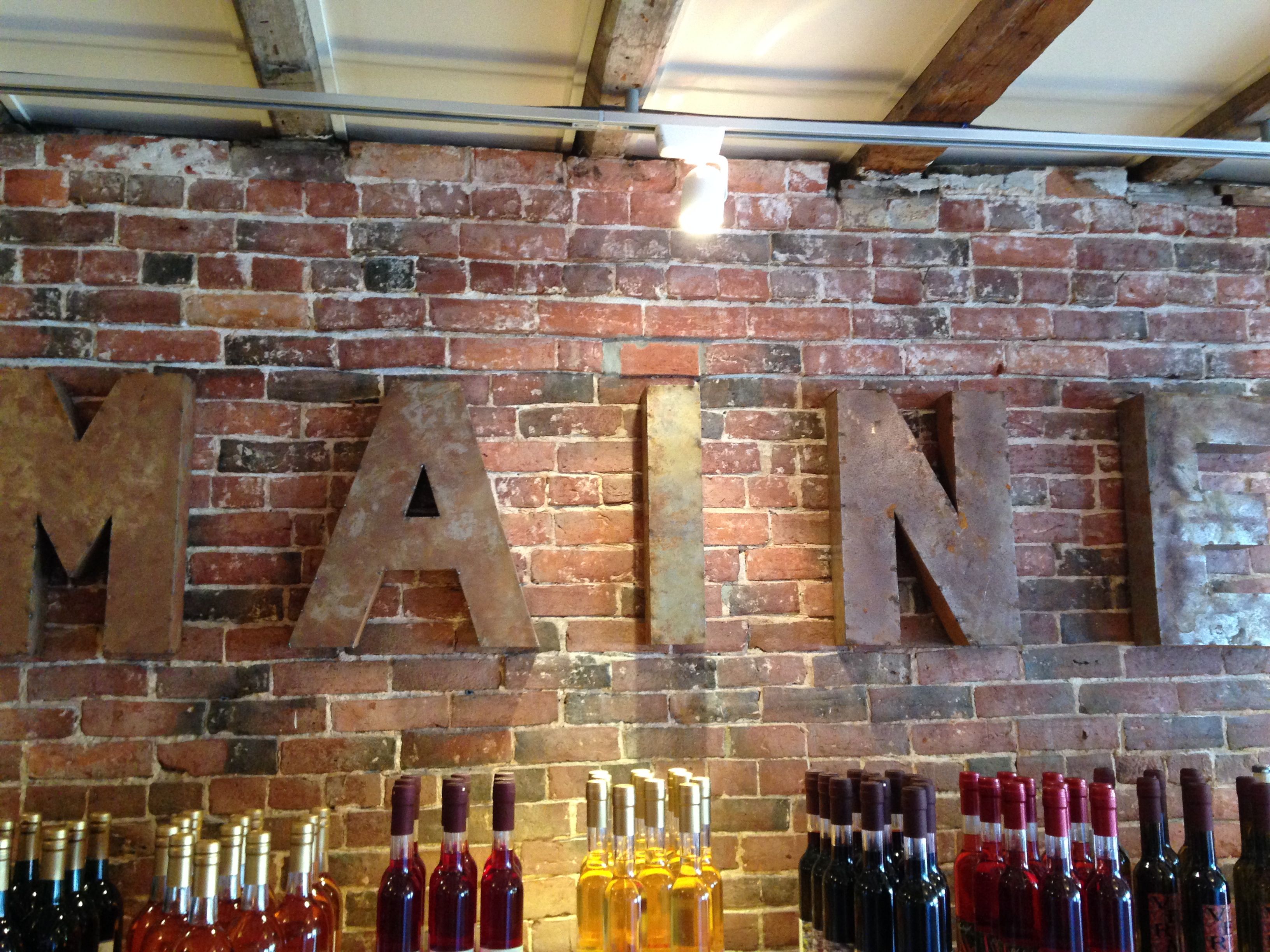 For five dollars you can sample four of their offerings and you get to keep a cute etched glass to boot. Good deal!
We tried the Blueberry wine. It was fine. From the dessert wines I tried the Rhubarb Smash. I really liked this because it wasn't nearly as sweet as they tend to be. Last we sampled the cranberry gin and the straight gin. Both very nice.
There was one last stop we had to make, more of a pilgrimage really, to the Holy Donut.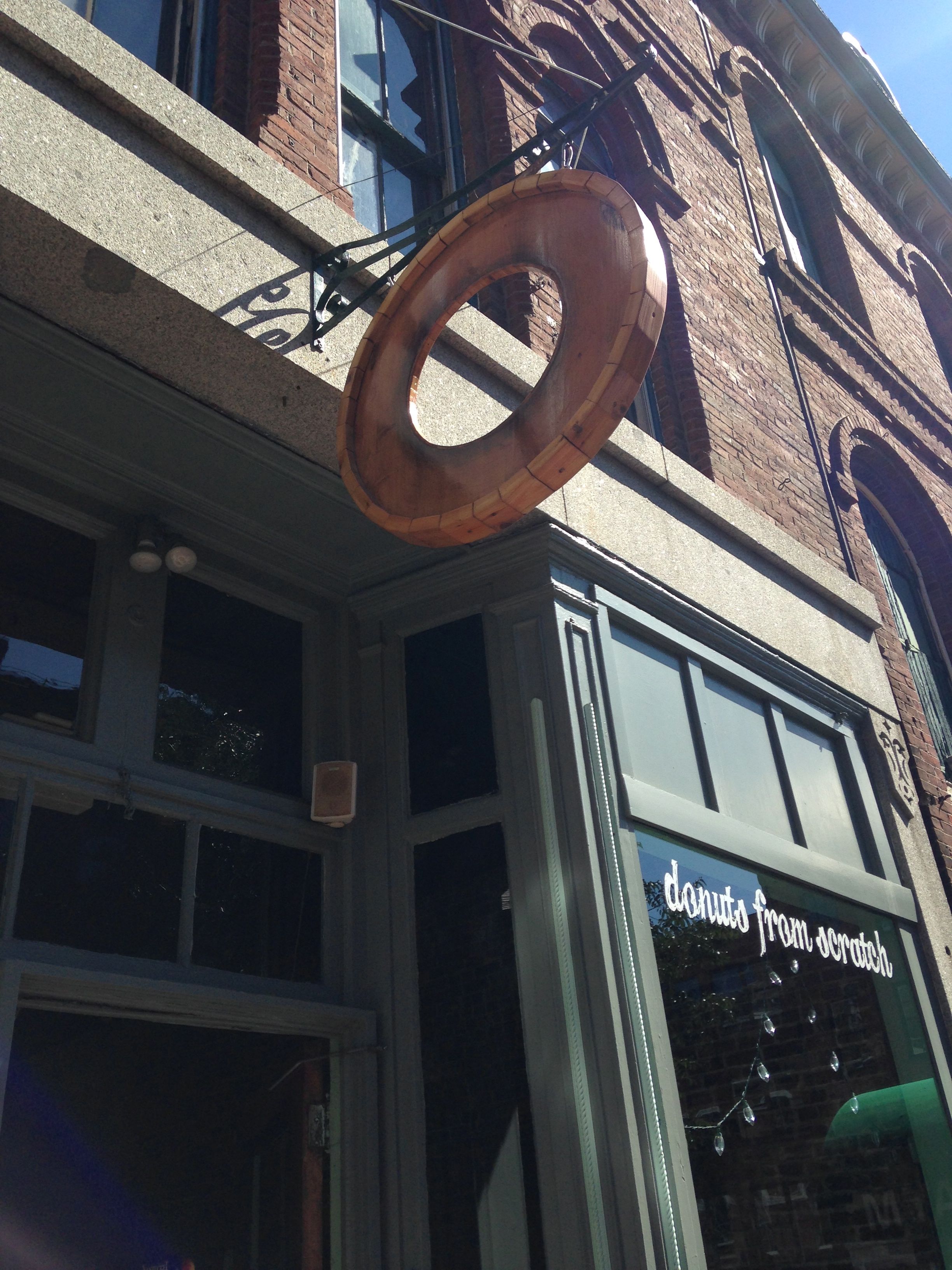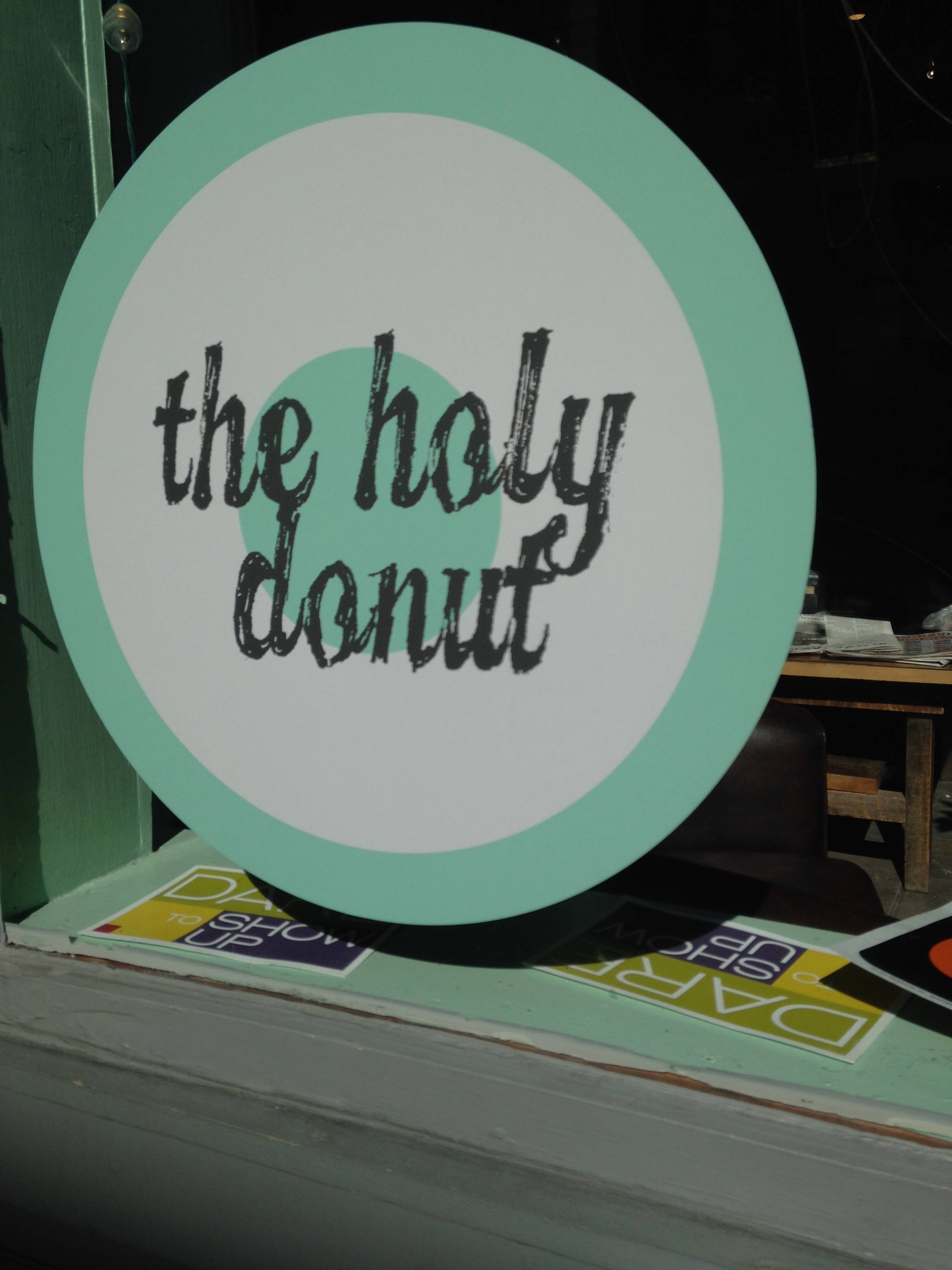 These donuts are made from scratch everyday with Maine mashed potatoes. Sounds weird, but the potato gives them a dense texture rather than the dry cakey variety. I was told to try the savory bacon cheddar, but I was craving something sweet so we shared a Dark Chocolate Sea Salt number.
We took a half dozen home to our daughter and my mom for taking care of the puppies. They made it home intact. I know, it was difficult to say the least.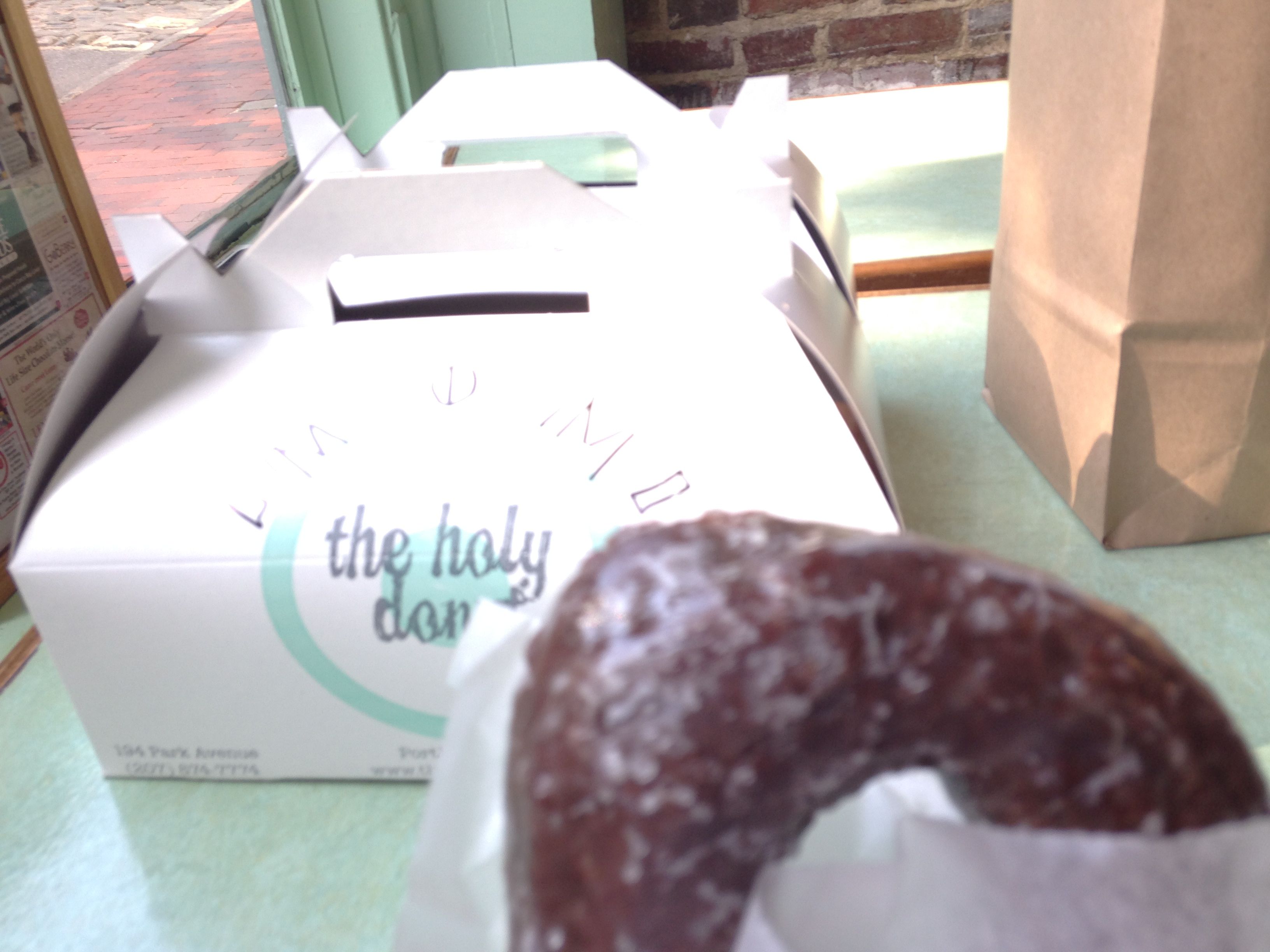 I grabbed an iced coffee to take on the road. Usually not newsworthy, but they do something pretty cool. They use coffee ice cubes, so every bit is coffee and doesn't get watered down.
We took to the road, but not quite all the way home. Providence would have it that some very good friends were spending a few days in Ogunquit. We met up with them for some cocktails and conversation around the fire at this lovely spot.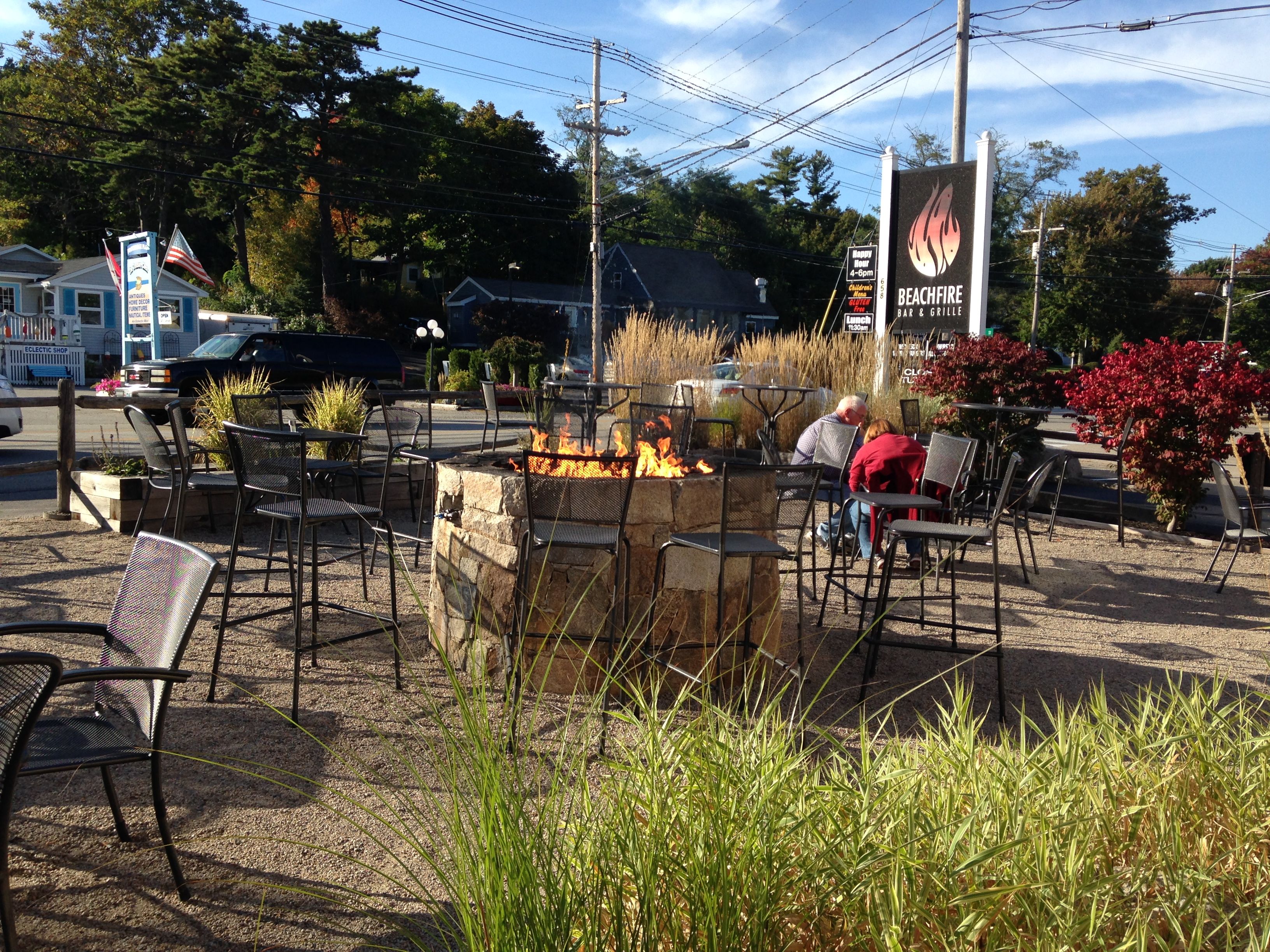 We spent a couple hours relaxing and enjoying the company, but it was soon time to continue the trip home.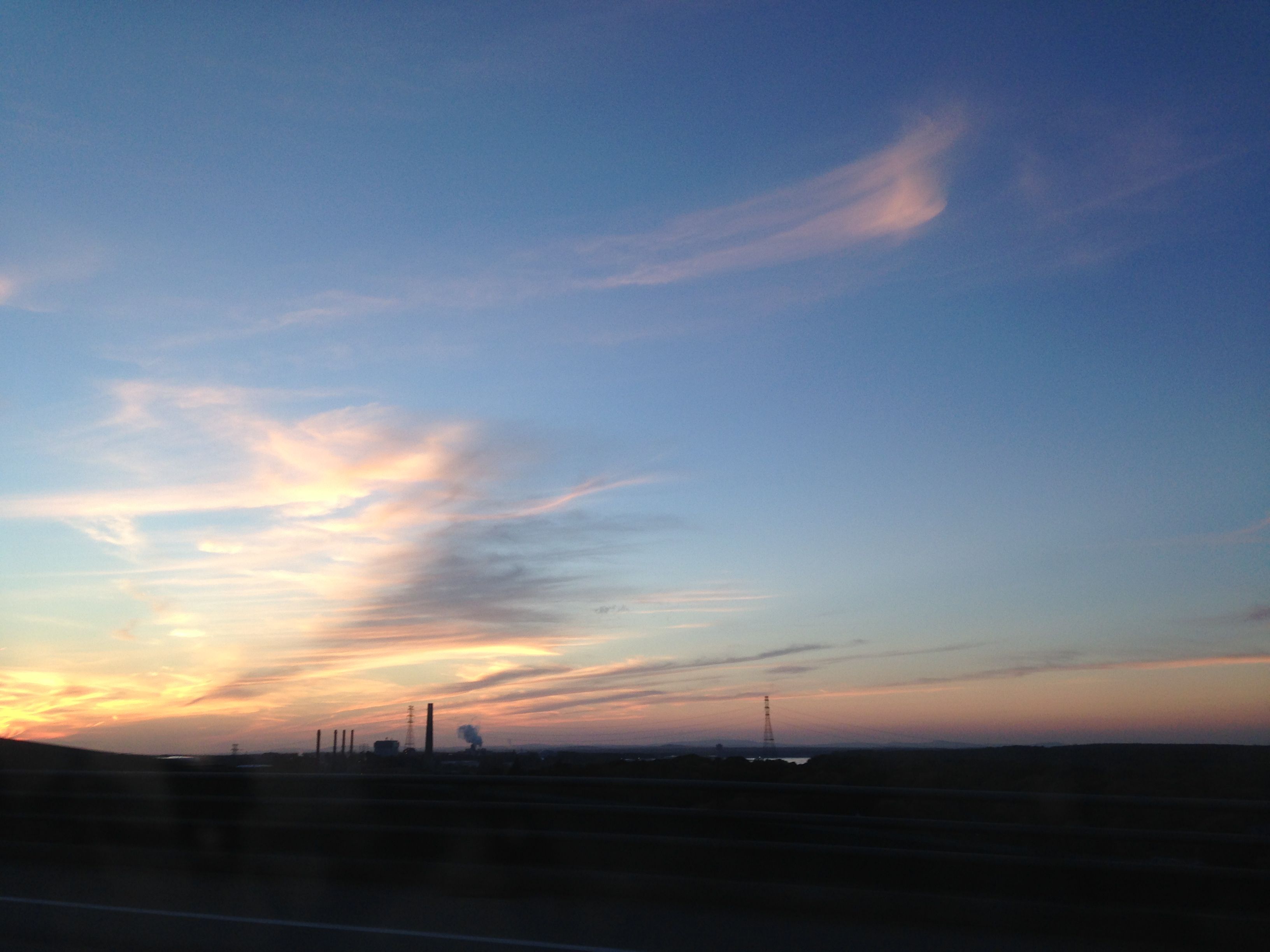 Instead of having dinner so far from away, we decided that we would end the trip a bit closer to home. We had been seeing to-die-for food pics from a place about an hour from home called Fat Cat.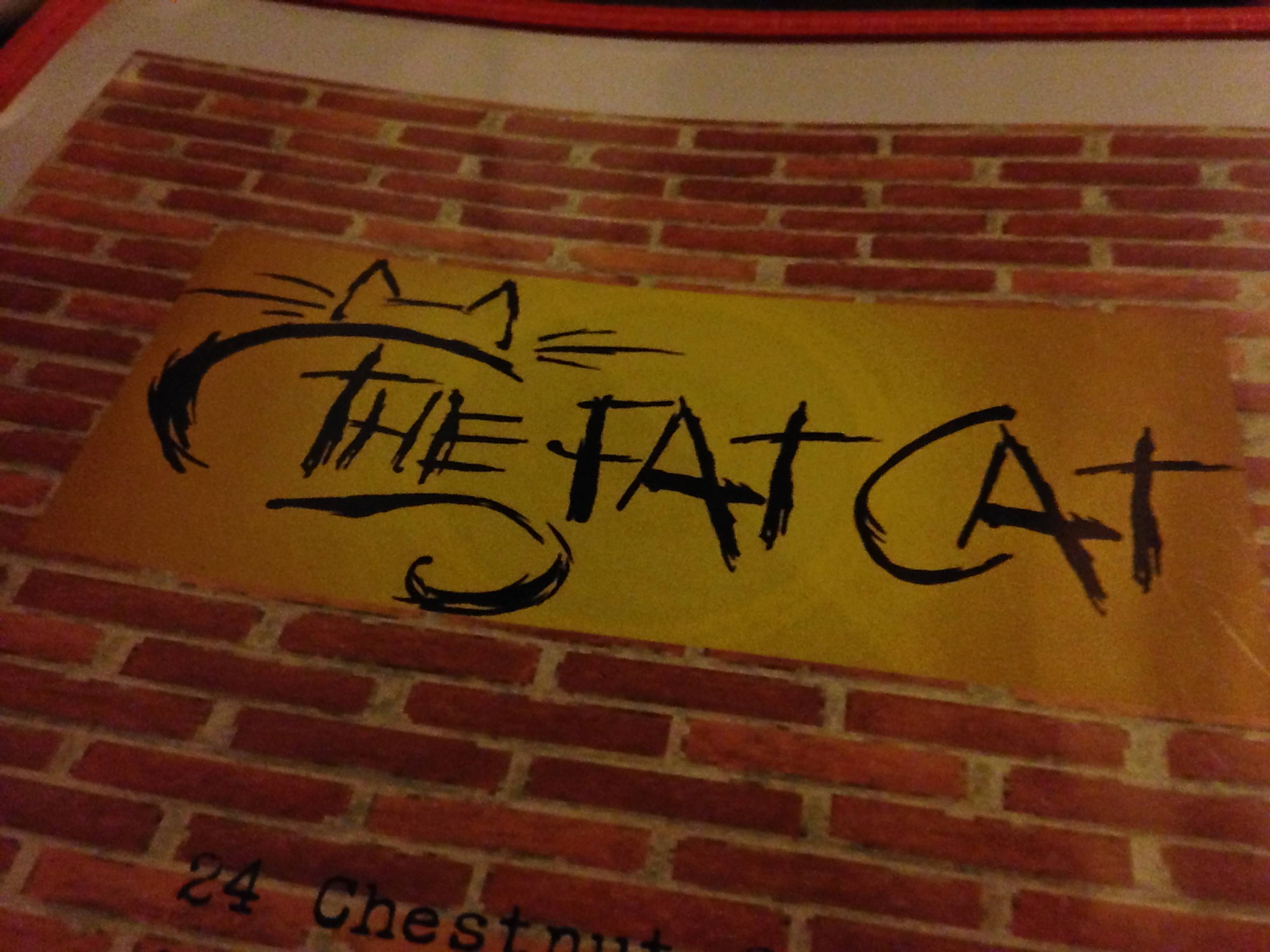 There was an hour wait for a table, which is not too crazy,  but this was a Tuesday night AND the street this place is on was completely blocked off for a construction project. It must be good.
It was pretty dark in there so my food photos weren't that appealing to look at. Suffice it to say, it's worth the wait to eat here. We'll definitely be back sometime soon. It turned out to be a good move to make our last stop close to home cause we were plumb tuckered by the time we got back.
Portland did not disappoint one bit. As tired as we were after all the walking, eating and drinking, it really was rejuvenating to have sometime off together exploring this fantastic city. We'll give the purveyors some time to replenish their supplies and be back for sure!