Rested and refreshed we headed on over the the Boardwalk. This jewel is situated smack-dab between the International Gateway of World Showcase and Hollywood Studios. If we hadn't ducked out for a nap, we could have just walked on over. Now we needed to take a bus ride back to the studios and hop on a boat to get to our destination. Still easy-peasy.  We exited the boat at the Swam and Dolphin Hotel complex. The sunset was stunning.
This area includes three hotels and a plethora of restaurants, shops and live entertainment. One of the best aspects of the Boardwalk is that you do not need a park ticket to enter, it's completely open to the public. Let's take a tour around, shall we? First, the Atlantic Dance Hall. This does not appeal to me. Although it looks like a ballroom dancing venue, it's really a video DJ club. No thanks, but there's no cover, so if you want to peek in you can.
Next up, JellyRolls, a favorite of several friends of mine. It's a dueling piano bar, so the live music aspect could have pulled me in, but there's a $12.00 cover charge! We wanted to hop around tonight, so this wouldn't be a good investment.
In the evening you'll find buskers, magicians, jugglers and such entertaining guests.
We've reached our first destination, Abracadabar. This is a brand new cocktail lounge featuring a "magician" theme. As with most things Disney there  is an overly elaborate back story regarding the bar's origins.
This is a relatively small space considering it serves as the lounge for two neighboring restaurants,  but what it lacks in size it makes up for in eye candy. There is an incredible amount of memorabilia on display to take in.
This was a nice bourbon drink which was well prepared. All the cocktails here are twelve dollars (you have to search for this on the back page), which is a commensurate price point for a lounge of this caliber.
The real draw here for us "Disnerds" is the schtick. Several of the signature drinks are presented with a magical flair. Unfortunately for me they're all waaaay to sweet for my tastes, Luckily, the "Moms' Weekend" group of ladies next to us were all too willing to imbibe in these treacly concoctions.
A few more snaps of the atmosphere:
Our next stop would be at the the titular hotel of the Boardwalk area, the Boardwalk Resort. The location here is great, just steps away from Hollywood Studios. While there are a lot of good reasons to stay here, there's one huge reason not to:
Nothing says fun like being spat out of the gullet of a psycho Bozo. I thought this was horrifying during the day, but man, those glowing eyes! Let's looks at this cute elephant to calm down.
The Boardwalk resort is fashioned after an idealized version of the  hotels in Atlantic City during the Victorian age.
Tucked up on the second floor is our next destination, the Bellevue Lounge.
This lovely little haven is stuffed with cushy couches and seating areas where guests can play boardgames, chat and of course, enjoy a drink.
As adorable as the lounge was, it was such a lovely evening we decided to take our beverages outside.
I have to say, it was so relaxing and peaceful we could have just sat on this balcony all night, but we had other goals. We set out next to have ourselves a meal.
A short stroll later we arrived at the Yacht Club. This is on the Epcot side of the Boardwalk. This resort is themed after the tony yacht clubs of New England. Where it's sister resort, The Beach Club, has more of a casual, Martha's Vineyard theme, this hotel has a highly polished nautical look.
Keeping with the high-end theme, you'll find a very expensive à la carte steak house here, the Yachtsman.
Sorry kids, we won't be dining here tonight. I had made reservations for a splash-out dinner here, but in the end  I decided it might be more fun to roam around from lounge to lounge rather than putting all our steak in one basket. Perhaps we'll go back for an anniversary dinner someday.
We will instead be noshing at drinking at one of my very favorite pubs, the Crew's Cup.
The Crew's cup is adjacent to the Yachtsman Steakhouse .
Vegans should be warned that patrons of the Crew's Cup get a view into the meat room from the Yachtsman. Carnivores, however, will rejoice!
We came here for the much lauded burger (sorry, the picture didn't come out very pretty). It was just as tasty as advertised, but the truffle fries that accompanied it were just spectacular! In other news, the second dish we ordered may have been our best bite of the whole trip.
I'm a sucker for any kind of mussels so I've had my share of iterations of this type of dish. The Crew's Cup version was by far the best balanced presentation I can ever remember enjoying. We lapped up the gorgeous broth, believe you me.
We had just one more establishment to visit to conclude our Crescent Lake bar crawl.
This stop would bring us full circle around to the Swan and Dolphin Resort. These sister resorts are on Disney property, but not Disney owned. They are nice enough, but they don't have the detailed theming that adds so much charm to the Disney resorts. They are geared towards conventions and large crowds, so the common areas are simply huge.
We wound our way through to BlueZoo, the chef-owned feature restaurant of the Dolphin Resort.
This bar has the rare reputation of being worthy of the designation as a "Mixology Bar".  The cocktails were skillfully created before our eyes by a truly competent bartender. While the first selection was excellent, it was the flamboyant "Burnt Orange" that I had been dying to try.
Oh yeah, baby!
This was not just about show, the brûléed brown sugar on the orange wedge settled into the cocktail and added burnt caramel undertone to what would have otherwise been too sweet of a drink. That is to say, I lurved it.
Our leisurely evening around Crescent Lake was all that I had hoped. We strolled, we drank, we noshed and we enjoyed each other's company. Everything a vacation should be, in my eyes.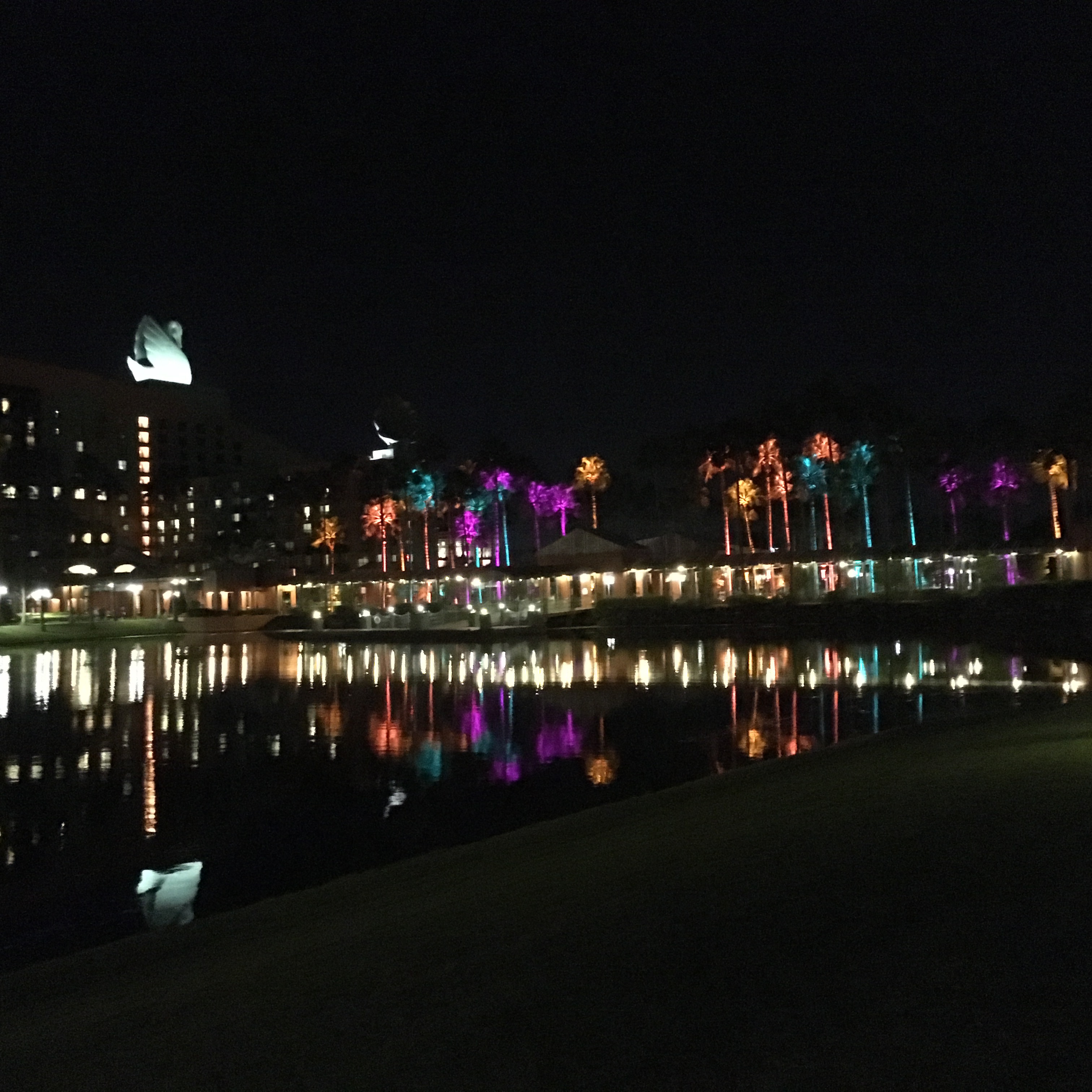 Next Up: You guys, Animal Kingdom is truly extraordinary!