This trip was a long time coming. Jeff and I had had plans to visit Walt Disney World last February where we would be meeting up with our friends Sam and Ashley and staying at the Animal Kingdom Lodge for the first time. In the weeks leading up to the trip my father fell ill, and sadly, shortly after passed away. My dad first took me to Disney when I was about ten and once more in high school. This laid the foundation for my love of the parks, and the innovation behind Walt Disney World's attractions. After things settled down, I began the process of re-planning our vacation. Although we weren't able to keep our original plans of staying at the Lodge, we were still able to arrange to meet up with Ashley and Sam who happened to be attending a wedding in nearby St. Augustine. Having to rework everything actually turned out to be a good thing, It gave me something to focus on, and certainly to look forward to. So, here begins our epically long, attraction filled, food and drink packed, Disney Vacation!
I've gone on quite a bit here with no food pics. We've got more blah, blah, blah to get through so here's a photo of an adorable Mickey pastry to hold you over:
For me, planning a Disney vacation is like a sport. I spend literally hours researching which parks to visit on which day in order to avoid the crowds. I read countless blogs to find the best restaurants and bars to visit and what snacks we must try. I meticulously organize our Fastpasses for attractions so that waiting in lines is not a part of our days. Booking our flights however, is not something I tend to do. I hand that over to Jeff because he's travelled so much for work and it's something he's always done. He just sends me the itinerary and I then add it to my plans.
I tell you all this so that you understand how incredibly dumb I felt when we MISSED OUR FLIGHT!!!! That's right, I totally whiffed it. I all too casually glanced at our flight times and thought we took off at 8:00 am. Not so, my friends. We were getting our luggage together and buttoning up the house when Jeff looked at our boarding passes. Our flight was at 6:30 am, our return flight was at eight. Nooooo!!! I put my face in my hands and laid on the couch. Probably not the best solution. Jeff called the airline; this was a better plan. First, let me just say Southwest Airlines is fantastic. The gentleman informed us that if we made it to the airport within two hours of the flight, we could be added to the next available flight with no penalty. This is the good news. The bad news is that by the time we arrived, there were no available flights, only stand-by. While Jeff was parking the car I ran in to see if something had miraculously opened up. It hadn't, but then the woman helping me asked if we would be willing to fly into Tampa instead of Orlando. I asked how far away and she said only about an hour. Yes!!! New plan: we'd fly into Tampa and rent then a car. We made it to the gate just moments to spare! Whew. Now, I realize this isn't life and death, it's just a vacation, but I had so been looking forward to just getting there. Plus, our visit with our friends would have been cut in half if we had to wait a whole day to get there. I was simply gutted that I made such a rookie mistake.
We landed in Tampa and after a half hour or so of quibbling with car rentals we decided to call an Uber instead. It was about half what they wanted for a one way rental plus we didn't have to fuss with where to return the car. Money well spent. This wouldn't be the last Uber we used on the trip (more on this later) but alas, we made it!!!
We checked-in to Pop Century. I've talked enough about these accommodations. It's a clean room and a good place to land. Nothing fancy, but the theming is fun. We normally switch to a Deluxe resort at the end of our trips to have something to look forward to, but budget wouldn't allow for it this time. It turned out to be much more cost effective to stay longer at Pop and forgo the upgrade.
We stayed in the Sixties section for the first time. Same rooms, different enormous icon.
When are we gonna get to something fun, for Pete's sake? Right about now. We won't be going into the parks today, instead we headed to the newly (and still being) renovated Disney Springs.
I have mixed feeling about the changes. On the one hand, it's gorgeous! On the other hand, it's lost a lot of the Disney charm. You can still find Disney themed shops, but they're relegated to the old MarketPlace area. The food, however, has been a vast improvement. Many new choices with a range of price points. There are several celebrity chef-owned spots that are still quite affordable.
Our first stop was a true example of old school Disney theming, Jock Lindsey's Hangar Bar.
This bar is themed entirely around an obscure character in the movie Indiana Jones Raiders and the of the Lost Ark. Jock was a pilot and airplane mechanic who was frequently hired by Indy to fly the archaeologist to remote parts of the world. The place is crammed with memorabilia and movie references. Even if you know nothing about the films, it's just a rad place to have a drink.
We had reservations for an early dinner, so we didn't want to spoil things, but our tummies were a grumblin' so we had to have a wee, small appetizer.
These were just perfect. Surprisingly, we both liked the the mustard better than the cheese fondue. They were a bit expensive at ten bucks though. Let the hemorrhaging of cash begin!
It was time to meet up with our dinner companions. Ashley and I became acquainted a couple of years ago through her podcast, WDW Happy Place. We started chatting through Facebook shortly after and made a meaningful connection. We'd both been going through a whole lot of tumultuous stuff and leaned on each other through these times, all the while having never met in real life. This was our first opportunity to get together. Needless to say, there were hugs all around. We were both so travel weary, we don't have photo evidence of the hugs, we needed naps and make-up before any pictures would be happening. On to lunch!
We headed over to the BOATHOUSE (all caps, that's how they do it). This was one of the first new restaurants in Disney Springs and it has maintained a great reputation right from the start.
Ashley and Sam had eaten here before on several trips, including this one, so they were very gracious to indulge me. When the bread arrived she said that they were as close as she's ever had to her mom's yeast rolls. I hope I get invited to Thanksgiving at mom's house!
I didn't burden our companions by taking pictures of their food, but it looked scrumptious and they enjoyed their choices. Jeff and I shared a crab appetizer which was light and tasty. I split it before I snapped the picture so pardon its sloppy appearance.
We each choose a main dish and then did splitzies. There were no losers here.
These sliders are a must-get. Two generously sized portions of fork tender filet on brioche rolls with a pile of some of the tastiest fries I've ever stuffed in my gob for just $14.00. Guys, that is a dollar less than the BBQ burger at the quick service joint in Tomorrowland! No comparison.
We finished our lunch and continued our conversations as we strolled over to another of the brightest spots in the new Disney Springs, Amorette's Patisserie.
This next-level bakery features the most beautifully constructed cakes and pastries I've ever seen.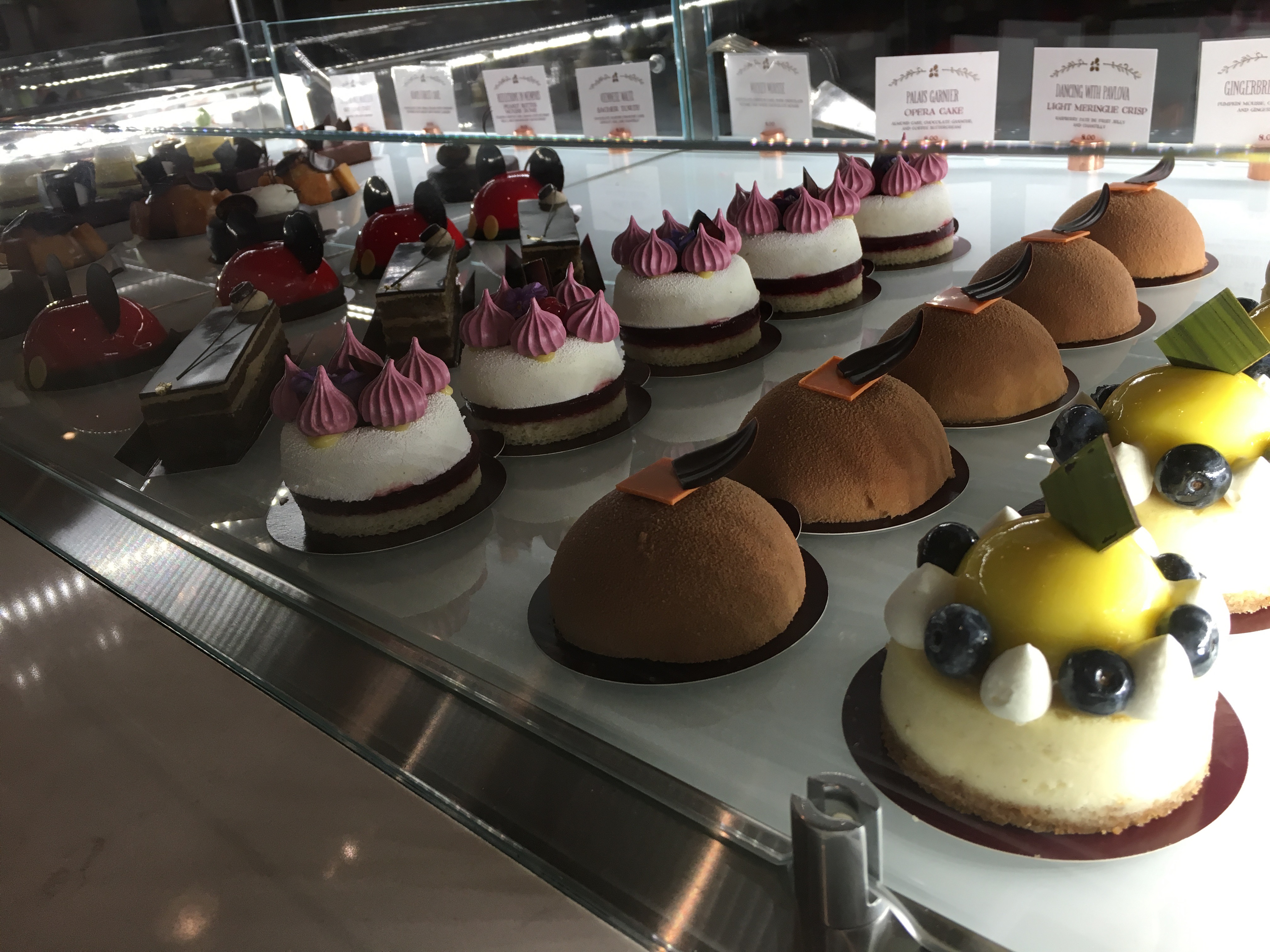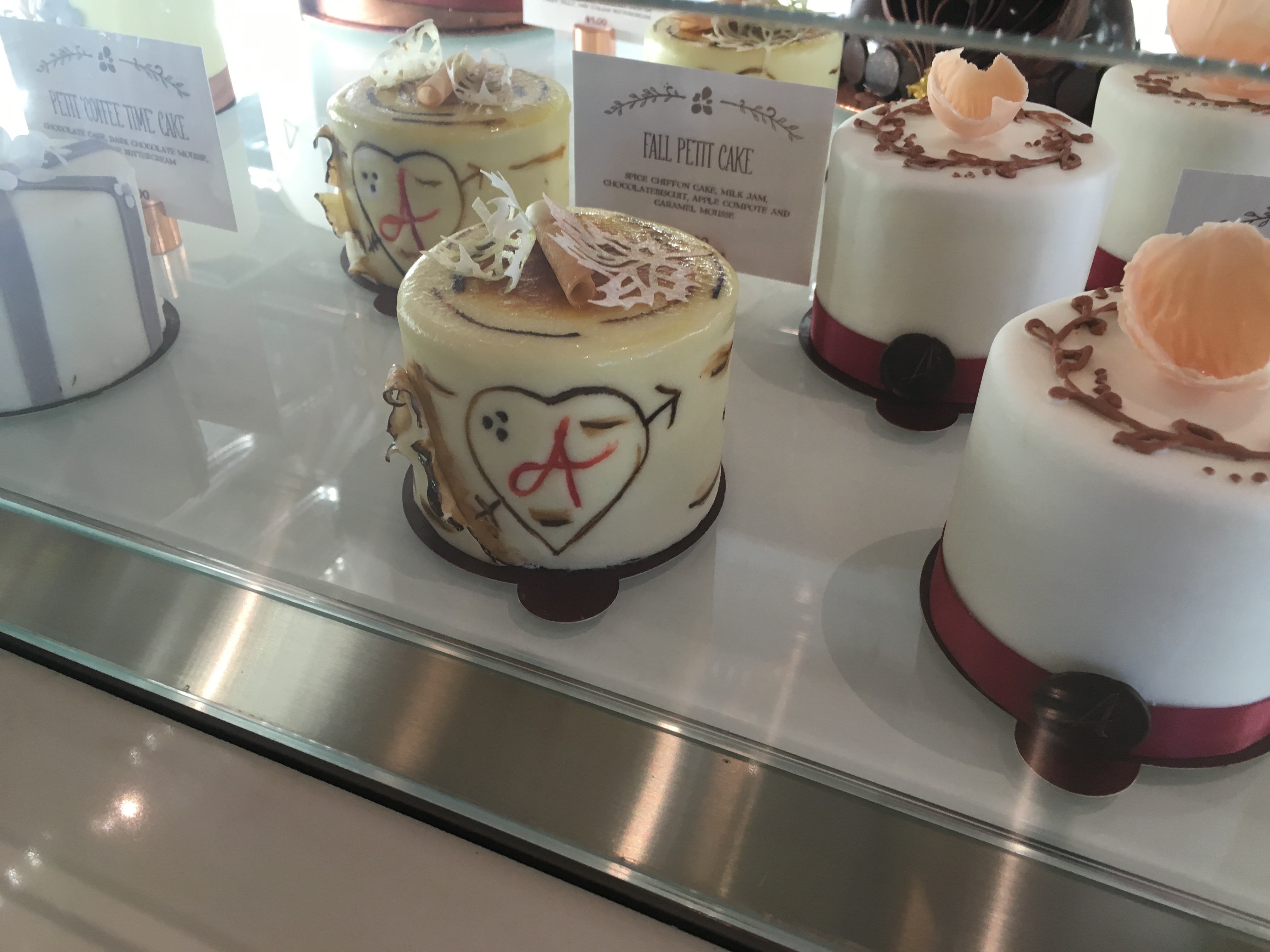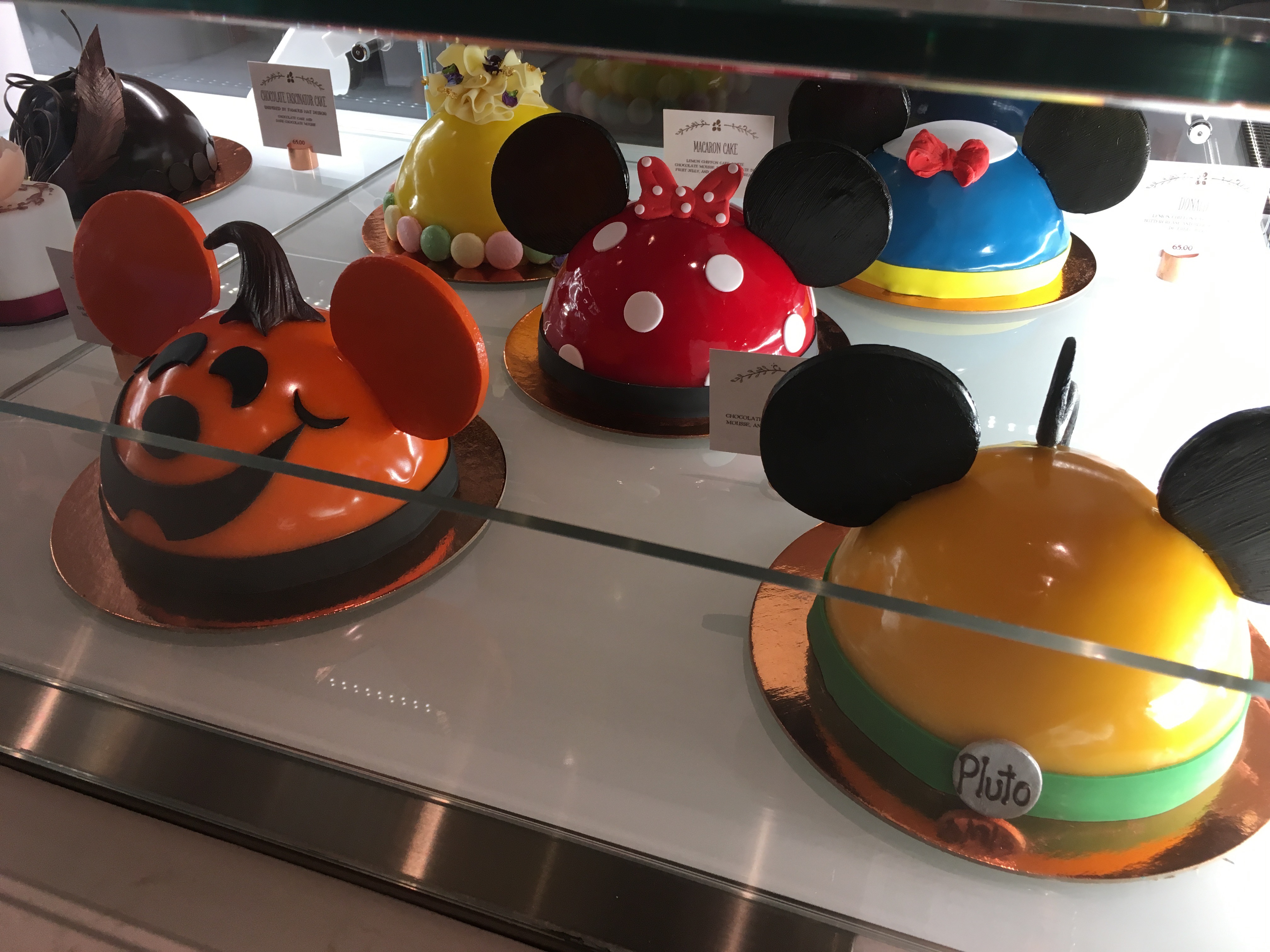 The pastries here range from $8.00 for the smaller cakes and tarts to $65.00 for larger, more elaborate cakes. We chose the "Reflection in Memphis Peanut Butter Mousse Dome".
We headed back to Pop for a bit of a rest before we moseyed on over to the Polynesian Resort.
This was the first time we'd been to this resort since it had a major remodel. The lobby had previously been entirely made up of a huge, volcano-like waterfall and gardens. While it was quite a sight to behold, it wasn't very practical. Some old school Disney fans aren't quite as impressed with the new digs.
We came to the Poly for two reasons: to watch the fireworks and to drink rum out of a gigantic pineapple. One down…
One of Ashley's very favorite things to do at Walt Disney World is to find her favorite spot on the Polynesian Beach and watch Wishes. We talked about this moment for months and months and now it was finally here!
We finished the night with some snacks and a night cap back on the Lanai. The food was really tasty but it was too dark for decent photos.
I have to say that I've never looked forward to a trip more than this one. Perhaps our little "hiccup" flying out was to make it all the sweeter when we finally arrived. Now we have nine more glorious days ahead to explore this amazing place. You'd better rest up!