We had couple more historical sites to take in before it would be yet reasonable to eat again. We happened upon this formidable building which housed Salem's Custom House. The doors were wide open and it was free, so we climbed on up the granite stairs.
I knew almost nothing about the purpose of a custom house, but I gleaned that it had to do with taxes. Bingo! I was right. This was the place where taxes on imported goods were first collected for the British Government during the Colonial period, then for the American Government after the establishment of the U. S. Customs Service in 1789. So much for the Tea Party.
There was a gentleman there leading informal tours. The furnishings were preserved and displayed as if it was business as usual in 1819. Interesting fact we learned from the guide: the workers had to bring their own desk and chair from home. The most notable employee of the custom house was author Nathaniel Hawthorne. We'll lean more about him later.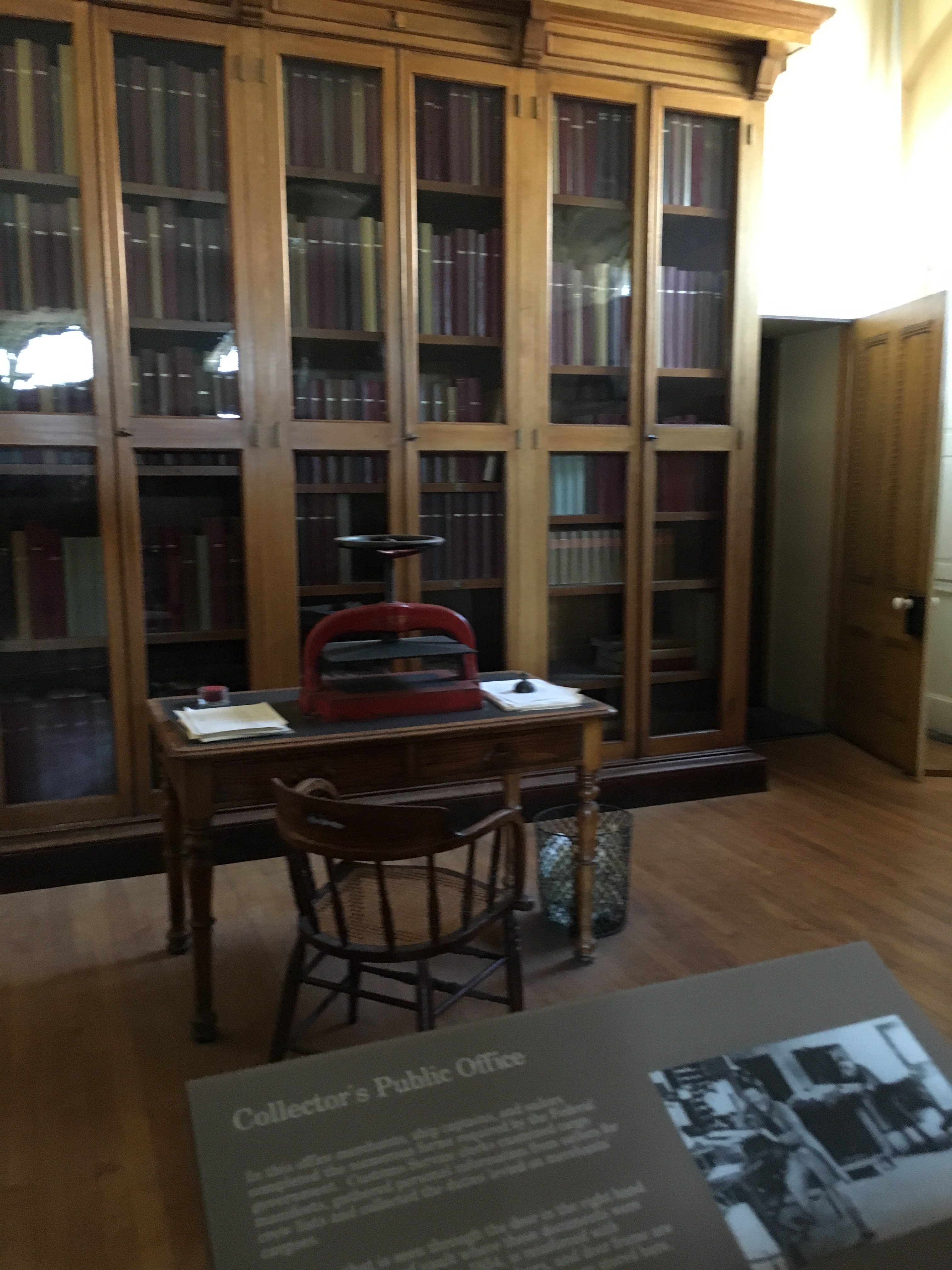 There are displays of all the ways the Custom House officers weighed, measured and assessed the value of the goods being imported, down to the level of alcohol is the booze barrels.
Also on display was the chronicling of the restoration of the gilded Eagle that was atop the building. It had begun to crumble and was too fragile to be left outdoors any longer.
Our next stop was sorta historical. Okay, maybe I'm stretching the definition here, but it's a bar that has the oldest running live music program in Salem. That's something, right? We dropped in for a quick tipple.
I found this little bôite through the Salem city website. I have to say, it was pretty cool. It had a neat feature where you can tick off from a list what sorts of things you're into and  it generates a bunch of suggestions. I chose food, beer, maritime, and history, if that's not already been made pretty clear. One of the suggested destinations was, of course, the House of Seven Gables.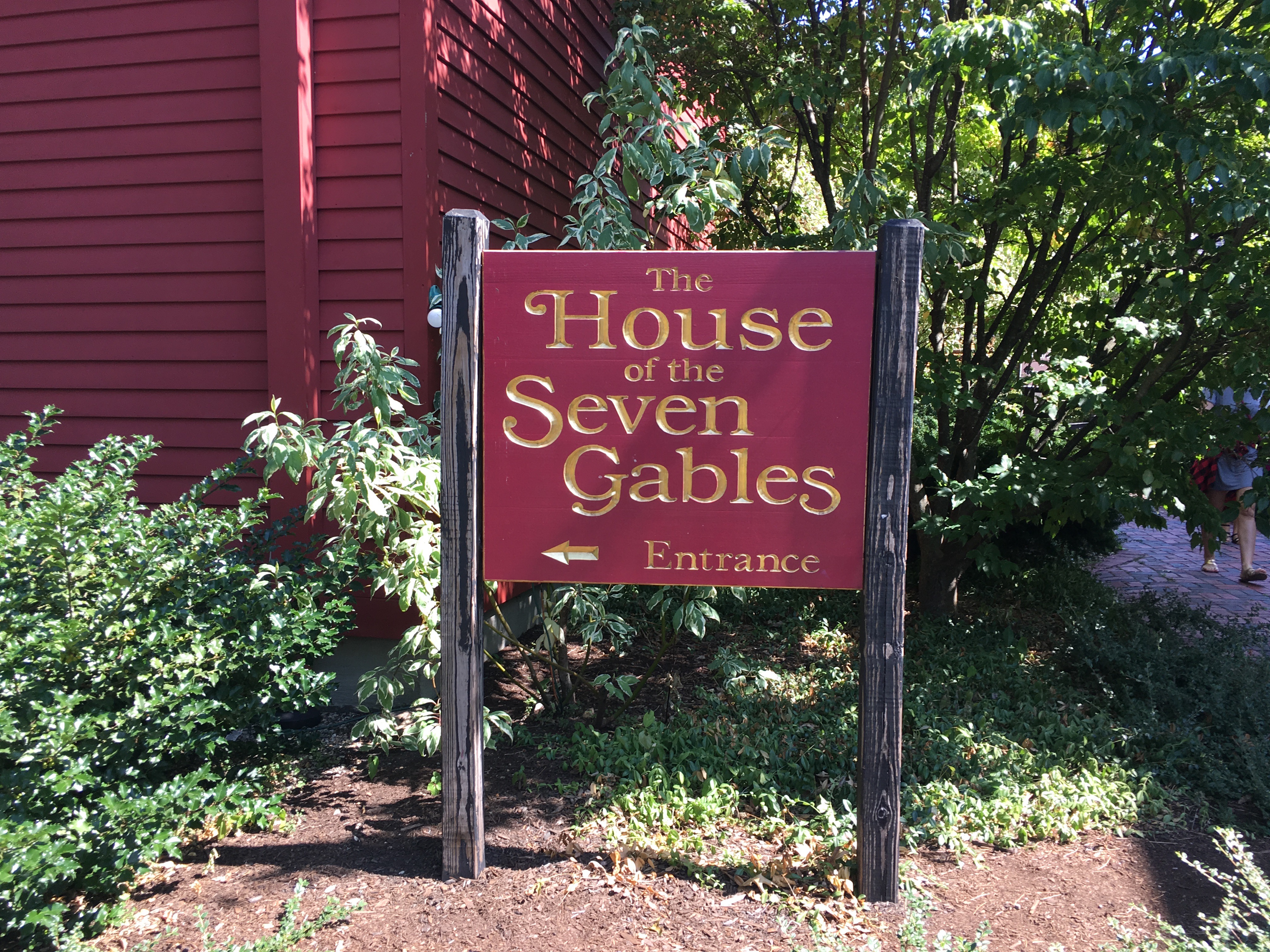 The admission was pretty reasonable at $13.00. Once we entered the property, the gardens and views were worth it alone.
We were not allowed to take any photos inside the house. I'll tell you, our tour guide was great. We had a group of about 15 people and he lead us about the home spouting out all manner of facts. The history of the House and Nathaniel Hawthorne is long and complex. Here's a succinct breakdown:
The house originally had seven gables.  
When Nathaniel Hawthorne visited there it had three gables.                                                                          
He was told tale of when the house had seven gables.                                                                                    
Hawthorne was inspired to write The House of Seven Gables
Centuries later, a new owner was inspired by the book to restore the seven gables.                    
The house now has seven gables along with rooms from the book that were not in the real house of seven gables.
Now, you are up to speed.
I failed to mention earlier that while the city itself was lovely, the roads were a right mess. It seems that the city planner decided to dig up and repave every road in the environs. This city is going to have the bestest streets… in two years.
With all the digging up, the old cobblestone streets were left exposed in patches. What a shame that these will be tarred on over again. Although, I can well imagine the day when the streets were first paved a hundred years ago. The people must have been so thrilled to ride in their carriages without their teeth getting rattled!
It was getting near grumbly tumbly time so we looped back around towards Pickering Wharf for dinner. On the way by I spotted a shop that was on the to do list.
This was not a fish monger, but a tackle shop that also sells some curious art. These fish prints are made by painting and using the fish like stamps. Sounds gross, yes, but the result was quite stunning!
And just like that, it was time for dinner. I found this spot from review sites. It had its charms, but we didn't enjoy it nearly as much as our lunch at Sea Level.
We had a couple of appetizers which were just fine. I failed to take pictures because I kind of thought we might move on, but as the evening unfolded, we got settled in a decided to stay. There was nothing wrong per se, there just wasn't anything enticing or unique on the menu. We just decided to go all traditional New England and get the good ol' surf and turf.
This was all just fine and tasty. The prime rib was a bit beyond medium, but the crust had a nice season to it. The lobster was cooked just right and the claw was huge. The "seafood stuffing" was 95% Ritz cracker, but who doesn't love buttery ritz jammed into a lobster carcass? It filled us up just right. If I were to do things over though, I would have headed back to Sea Level for the food, view and beer selection.
We finished our dinner just in time to take a leisurely stroll and catch the sunset at nearby Derby Wharf.
The sunset put on a spectacular show for us. I'll let the pictures speak for themselves.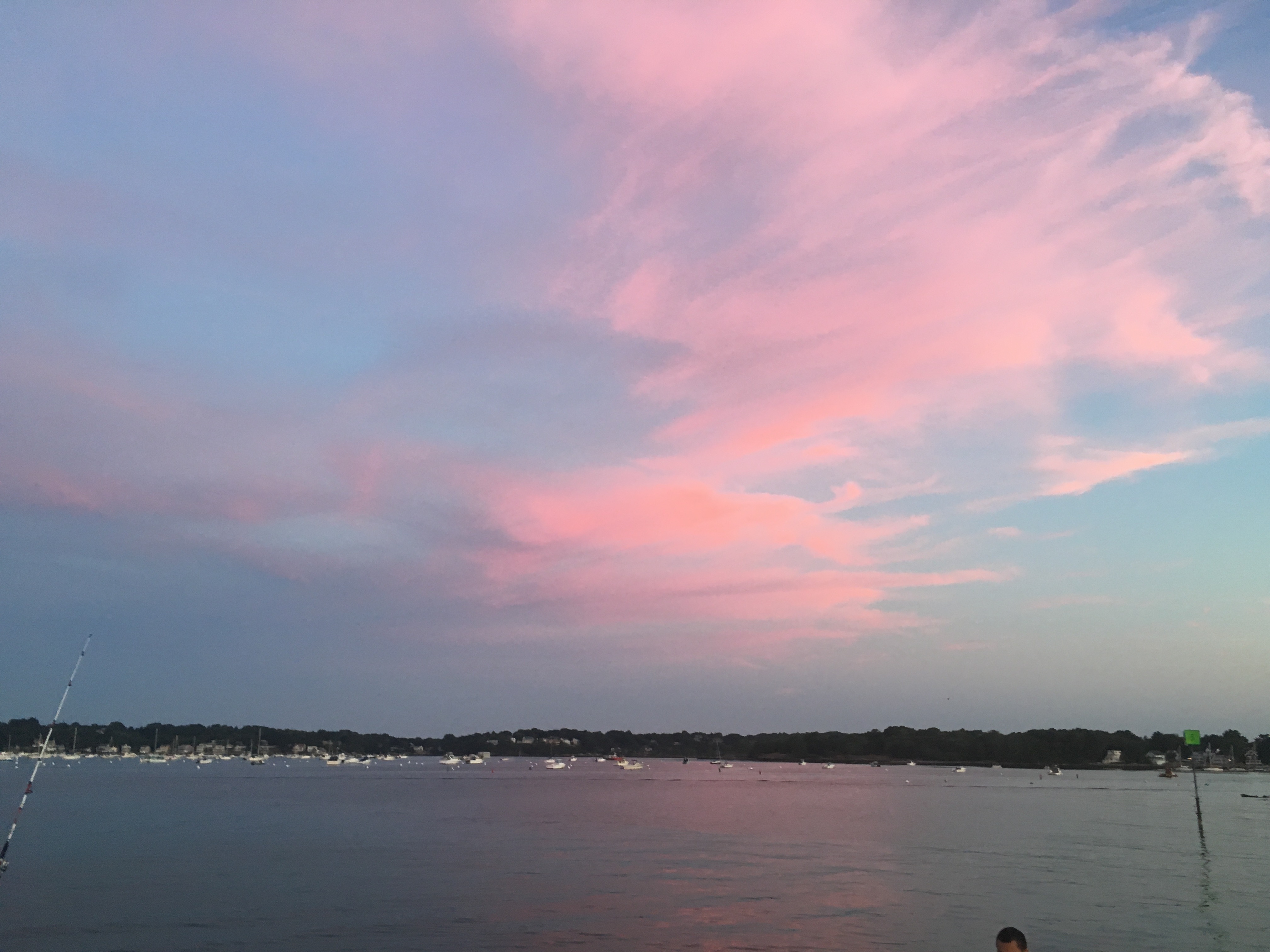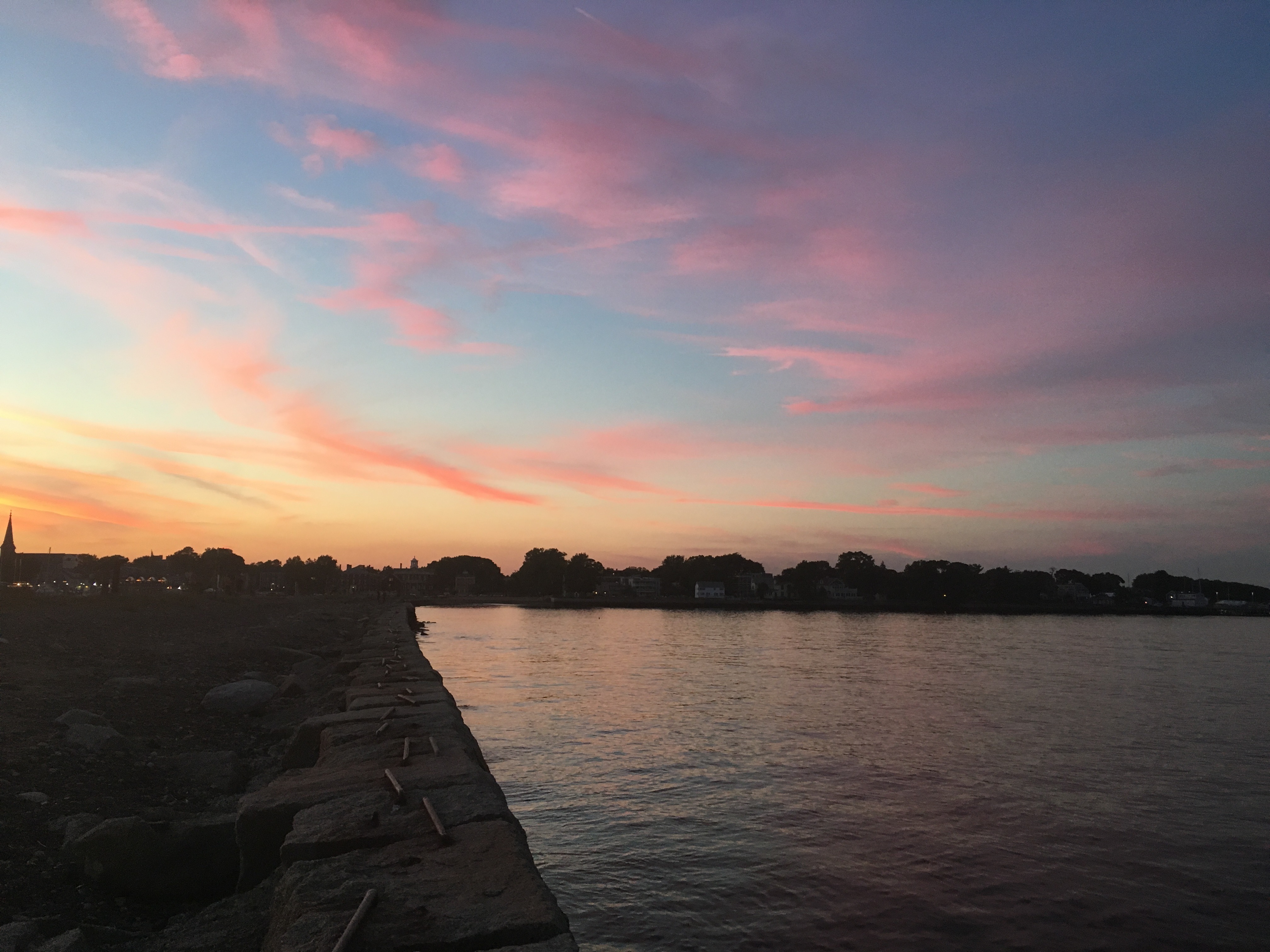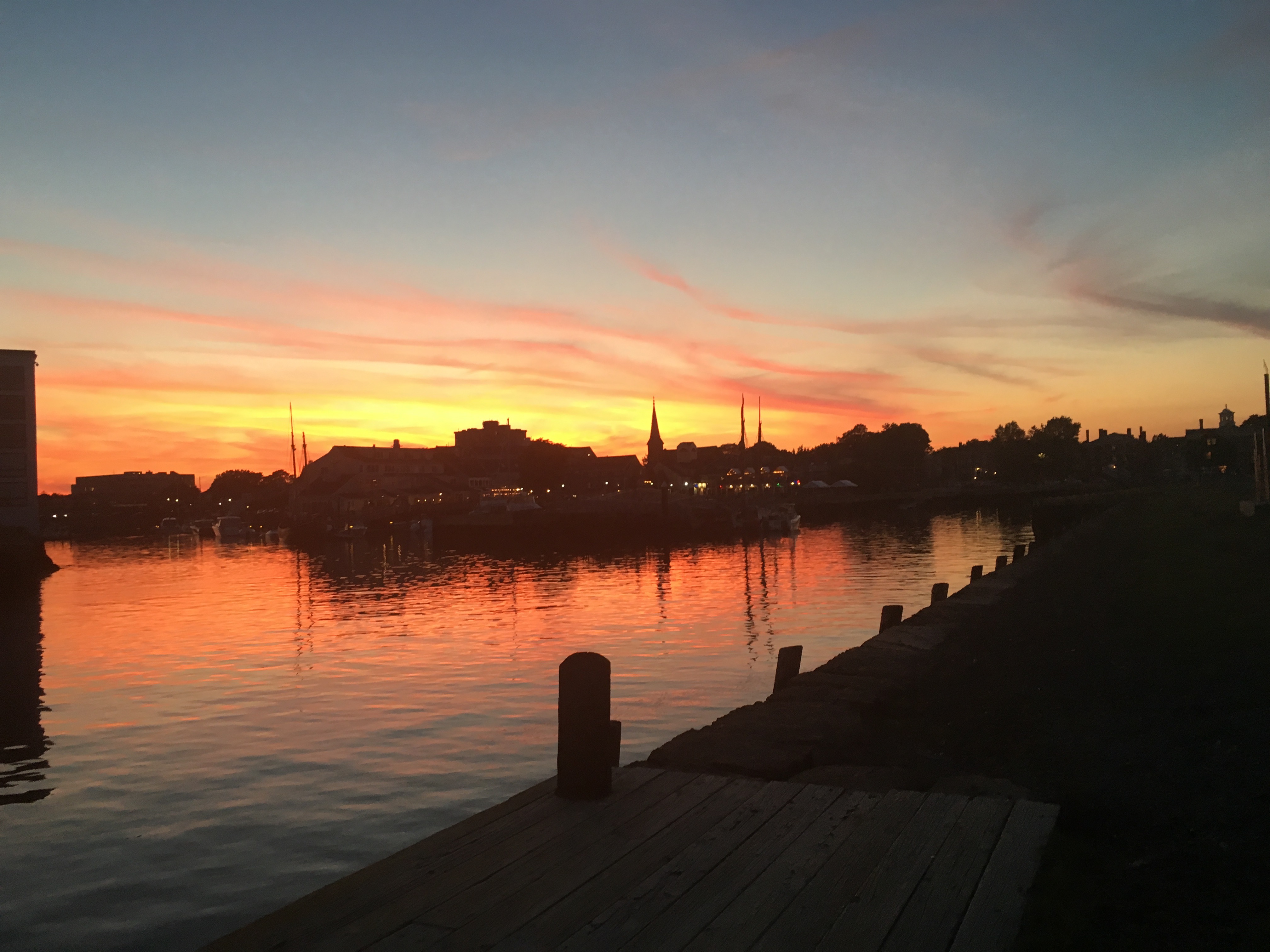 Our quick trip to Salem was as educational as it was relaxing. We've been so busy that it's taken me well over a month to jot out these few pages. I do think we're due for another mini-get away soon.