Today's destination is Disney's Hollywood Studios. Disney's MGM Studios (as it used to be called) was once a working television and film lot. The main attraction when the park first opened was a two hour tram tour of the studios, now it seems a bit disjointed. There are some areas that hearken back to the back lots of the 1940s and 1950s, but there are also thrill rides thrown in like the Rockin' Rollercoaster that don't seem to have anything to do with movie making. Despite my criticisms, I love this park! Some of my favorite attractions are here.
As you enter Hollywood Boulevard there are grand Art Deco styled buildings and towering palm trees lining the street.
It used to be that the view down the boulevard led your eye to an authentic re-creation of Grauman's Chinese Theater, but since 2001 there has been a huge honkin' Sorcerer's hat in the way.
There's some  Internet folklore concerning the reason for this style choice. I'm not sure what the real story is, but we can all hold on to the hope that the imagineers will loose the hat someday soon.
Just a few short years ago EVERYONE headed right down to Sunset Boulevard to ride the Hollywood Tower of Terror and Aerosmith's Rockin' Roller Coaster. Now everyone does the patented Disney walk/run to get their Fastpasses to Toy Story Midway Mania. This attraction  is a lot of fun. We managed to ride it last year during the late Extra Magic Hours. As I've said, we were not making to the parks right at opening and the Fastpasses to see Woody and Buzz are gone by mid morning. You can wait in the standby line, but the amount of pleasure one gains from an attraction is  greatly diminished the longer you have to wait for it, so after you've stood in line for two hours to ride Toy Story, it's about as fun as a cup of warm water.
So, on to the Tower of Terror. The theming  (a Disney nerd term) here is amazing.  The setting is a 1930's luxury hotel that is suddenly abandoned and we are left to wonder why…bwahaha !!!!  That was supposed to be a menacing laugh.
The ride itself is essentially a free-fall in an elevator, an awesome feeling to be sure, but really not any more intense than many other amusement park rides. The thing that Disney does so well is create a story that draws you into a total experience. The elements are impressive enough on their own, but what's even more amazing are the lengths to which they go to add  authentic details that most people will never even notice. They actually had a group play this Mahjong game before abandoning it on the table.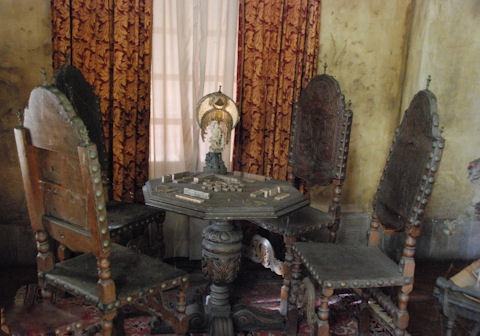 The design of the lobby is not just random either, it's modeled after the Biltmore Hotel in Los Angeles
I don't want to give anything away, but something goes terribly wrong at this point.
Aerosmith's Rockin' Roller Coaster is right across from Tower, so we hopped on over.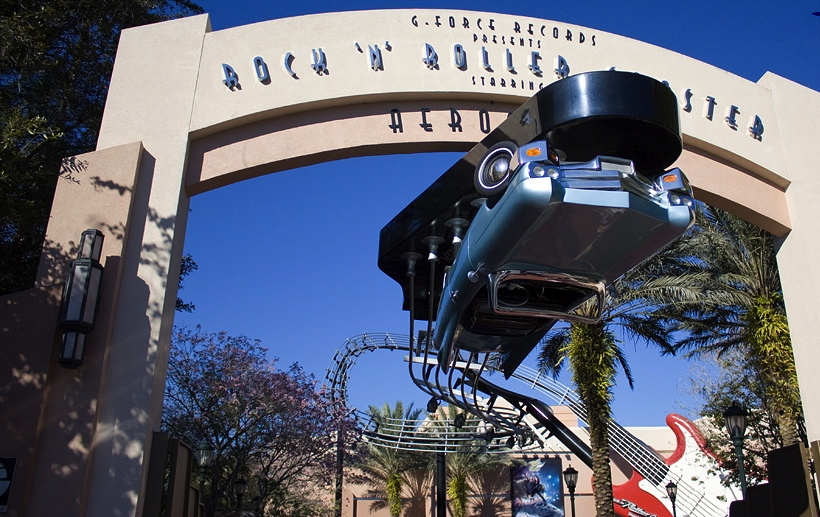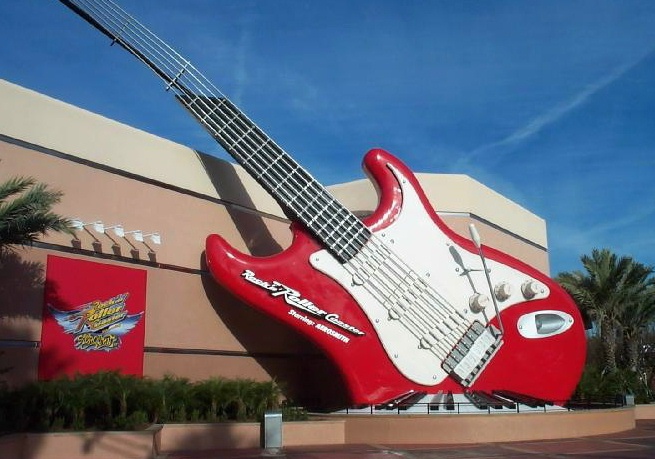 We walked right up to the front using the single rider line. I just don't understand why more people don't use this! It's not like you can carry on meaningful conversation with your family member and/or friend while screaming through the inverted loops of a roller coaster at 60mph, but whatever…
The pre show is gives you the opportunity to see Steven Tyler in action before he became a candidate for a Life Alert System .
This coaster goes from zero to sixty in 2.8 seconds, so there's no time to say              "Stop! I've changed my miiiiind!!!!"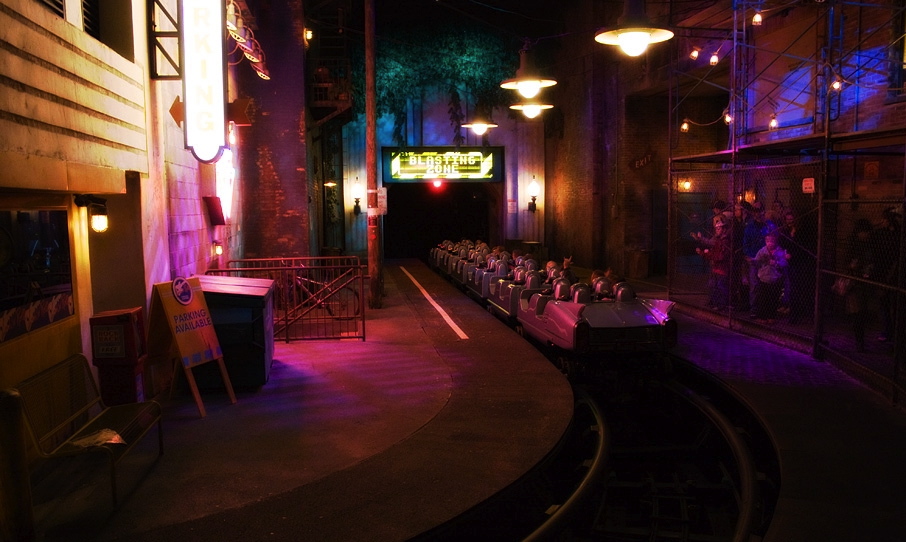 Next up was our first ride on the newly refurbished Star Tours: The Adventures Continue.  This is a flight-motion simulator with state of the art digital 3D video.
Hopefully they haven't chosen the Dark Side as some have done before…

The kids and I got to check out the original ride on our first trip.  Jeff had bailed because he was feeling queasy which was a huge bummer because as soon as he left the queue we rounded the corner to see C-3PO.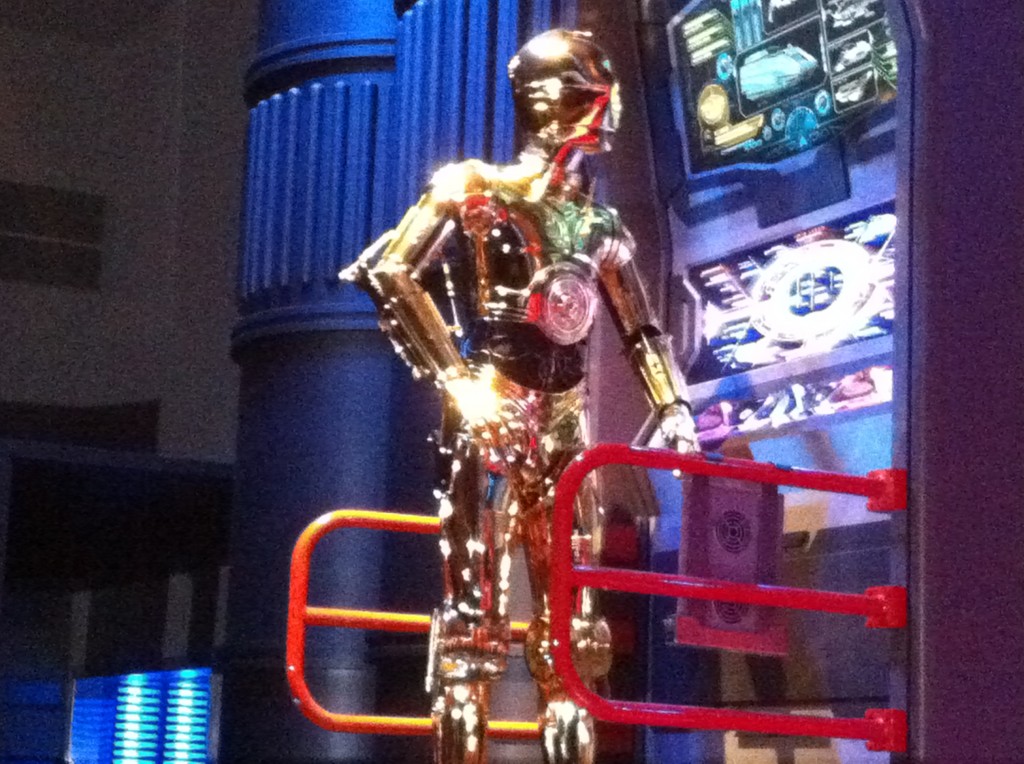 Now, I wouldn't know a Tuscan Raider from Shinola. I'm not a Star Wars fan at all really, but knowing that for some people Star Wars had a HUGE impact on their formative years I can see how just being in the presence of this droid voiced by the original actor would be thrilling.
The big deal about this new rendition of Star Tours is that you can travel to multiple destinations and have a totally different experience each time you ride.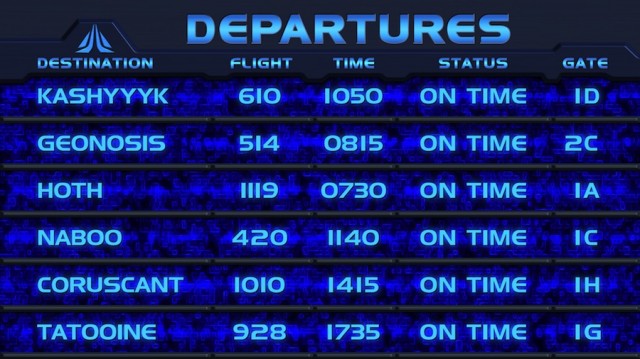 I usually have trouble with 3D movies, but this one was spot on for me. Plus I looked     bad- a**  in the glasses.
Over in the Streets of America area is  Muppet Vision 3D . Unfortunately, this is one of the older 3D movies that my eyes just can't adjust to. But come on, it's the Muppets!!! You gotta see it…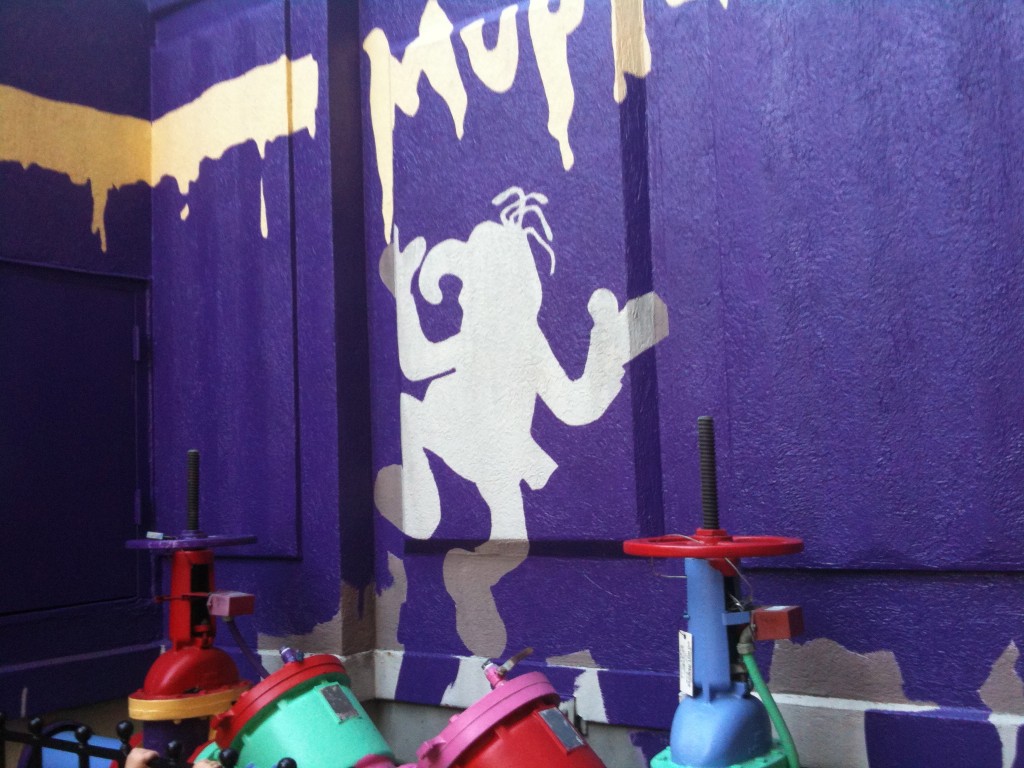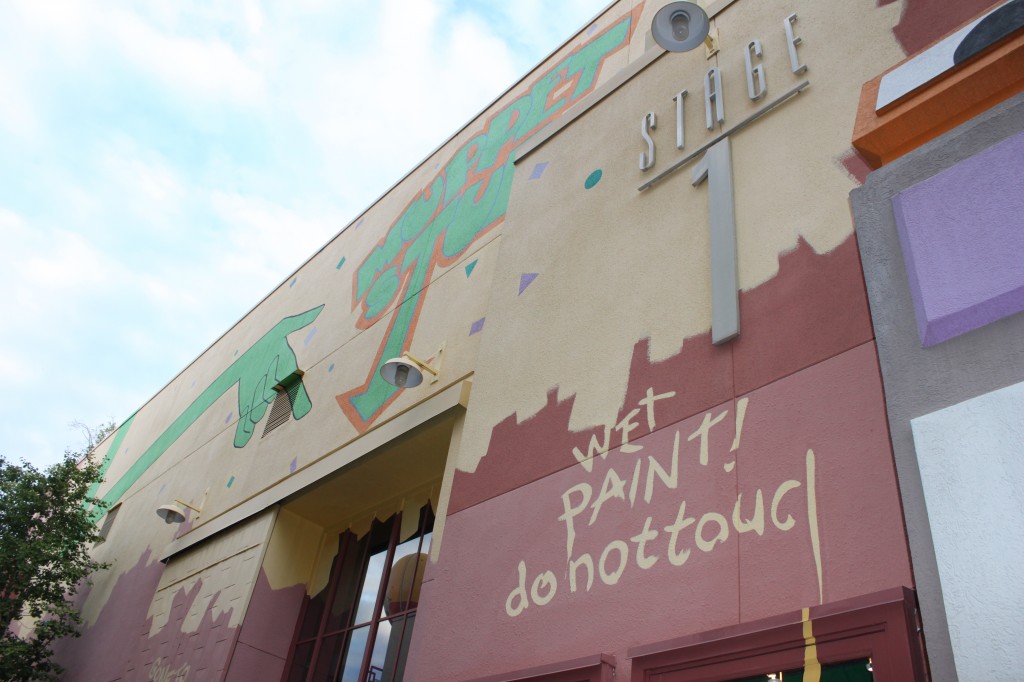 It's getting near time for our afternoon nap so I'll leave you with a slide show from the Indiana Jones Stunt Spectacular. When we return we'll entertain the question "Just how many free desserts can one be forced to eat?"