This morning started off looking pretty bleak, the weather forecast was even worse than the day before. However, as I was monitoring the radar on my phone, I saw a glimmer of hope. There was a small window of clear sailing between two huge blobs of hateful looking storms.
I knew that the Magic Kingdom was going to be decked out for the  Mickey's Not-So-Scary Halloween Party  and  truth be told, I'm not a big fan of Halloween.  I was prepared to detest the swathes of orange bunting and Jack O' Lanterns dotting Main Street but I must admit to you that I really liked it. It was less about Halloween and had more of a harvest feel.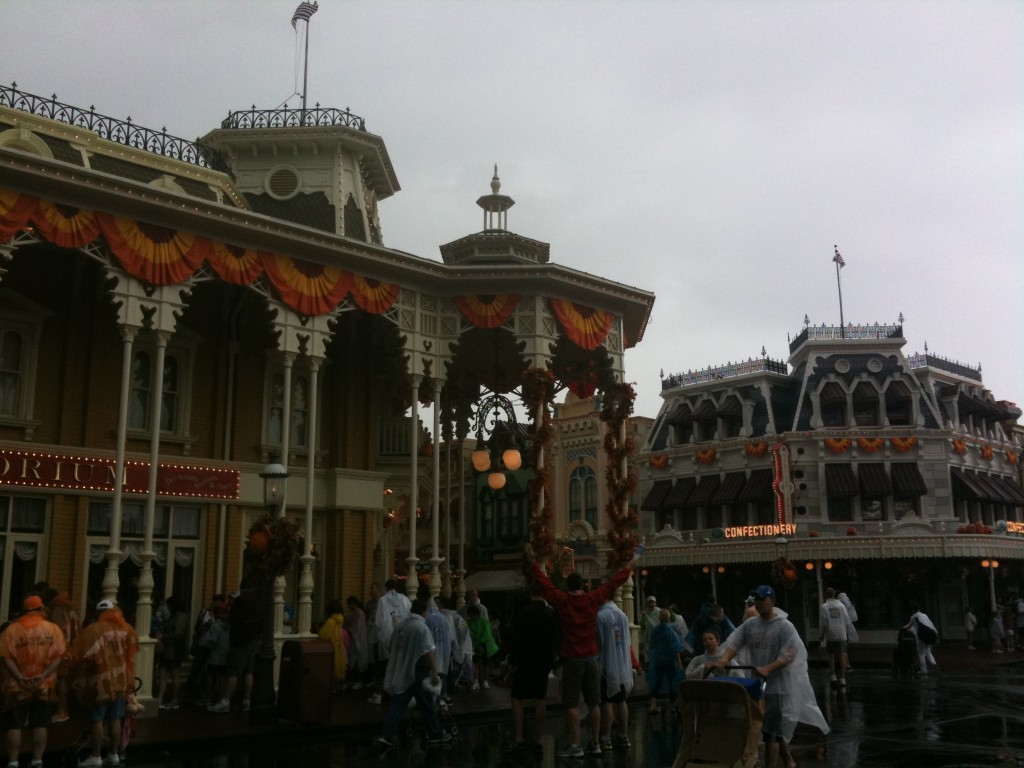 Just between you and me, I think I actually preferred this over the Christmas decorations, mostly because those wreaths they string up on Main Street block the dazzling view of Cinderella Castle.
On this morning we planned to have breakfast at the  Main Street Bakery. Here you'll find a cinnamon roll that is not only as big as your head, but is as delicate as the brush of angels' wings.
We were on the Free Dining Plan so the treats at the bakery could have been counted towards our snack credits, but we had already blown through our week's worth of points at the Food & Wine Festival.  We did have plenty of counter service credits left (usually a full meal like a burger, fries, drink and dessert) but that's not how the bakery rolls (Ha!). I decided to do a bit of an experiment based on some tips I found on the Disney message boards. This required loading up with more bakery items than any sane person should ever desire in order to make a "counter service" meal. Our haul: Four Cinnamon Rolls, Three Fruit and Yogurt Parfaits, Two OJs, One Ham & Cheese Croissant, One milk and One Cappuccino .
After we horked all this down we waddled over to Adventureland to ride some low key attractions. Our first stop was the classic Pirates of the Caribbean.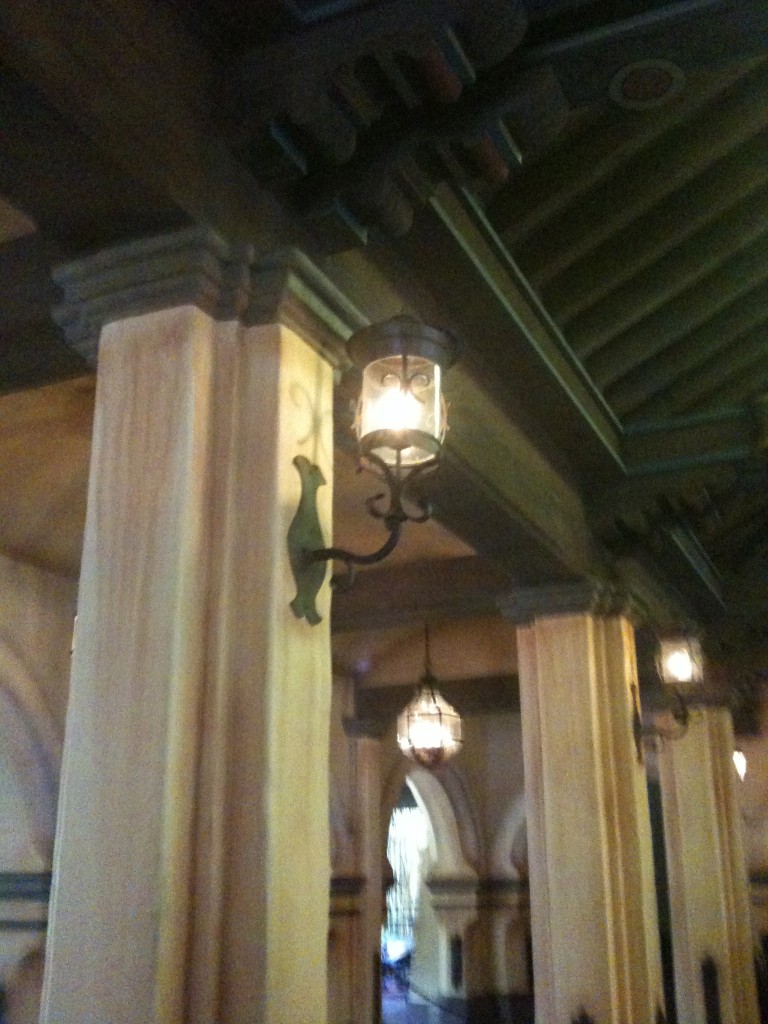 I don't have any pictures of the inside of this attraction and that is for a very good reason. In these dark rides there is supposed to be NO FLASH PHOTOGRAPHY! Somehow this escaped the notice of the large foreign tour group with whom we were stuck on this adventure. It was as if Paris Hilton was in the building. I nearly had a seizure from all the flashes. We tried to politely ask them to stop, but they didn't "understand" English. The cast members even stopped the boat at one point during the ride to make an over head announcement about not using flashes, but it was to no avail. These people also talked incessantly the entire time. Needless to say it was hard to immerse ourselves in the pirate's life.
We had gotten  fastpasses to ride the Jungle Cruise later, so we had a bit of time to kill. I really wanted to check out the newly refurbished "Enchanted Tiki Room".  This attraction had gotten a retro make-over after a small fire this past winter. Gone are the obnoxious Disney bird characters Iago and Zazu that were added in the late nineties.
Walt Disney's Enchanted Tiki Room, as it is now called,  pays tribute to the Disneyland original – notable in theme park history for ushering in sophisticated Audio-Animatronics technology.
It should come as no surprise that this show is well, dated.  It might hold some enchantment for small children (there was a baby in front of us that was enamored) but my family thought it was corny, which it was. However, if you are a fan of the Sherman brothers music or if classic attractions like the Carousel of Progress tend to give you a thrill up your leg, you are geeky enough to appreciate the significance of  the Tiki Room.
We moved on to the Jungle Cruise  which is also extremely corny but my family loves this one for some reason.  The boat captain will deliver a script full of the most groan worthy puns! A skillful cast member makes all the difference here. Ours performed an admirable deadpan act.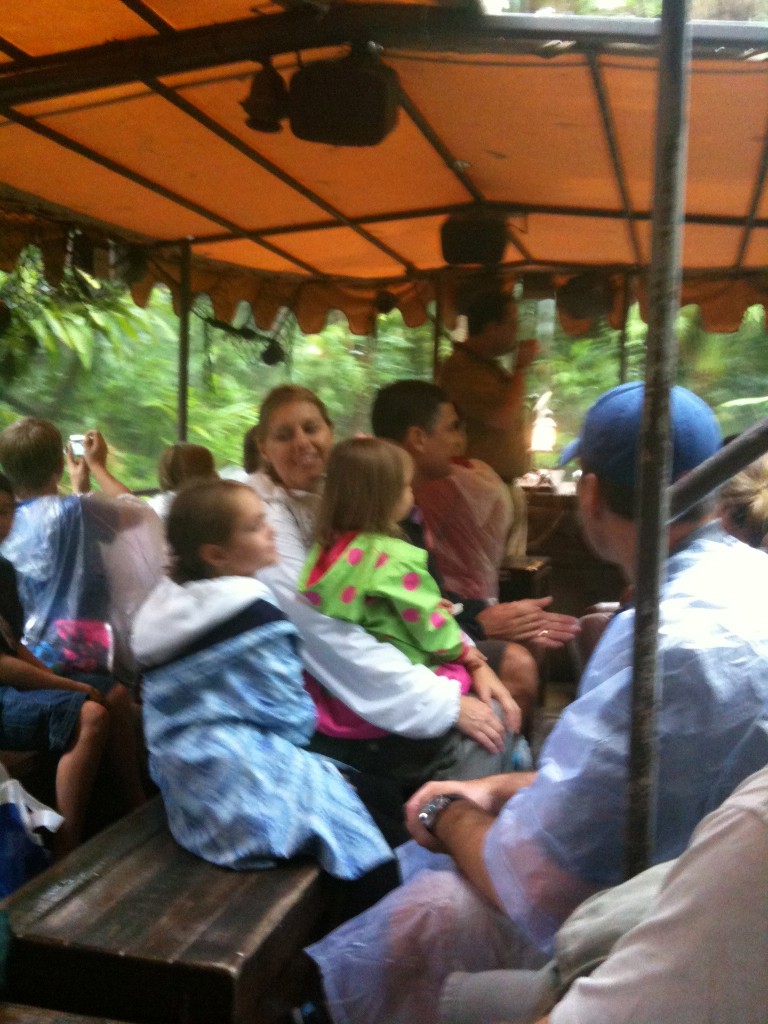 Enough time and digestion had  progressed for it to be safe to head over to Tomorrowland to see about riding Space Mountain. Something most miraculous happened as we arrived,  blue sky appeared!
It had rained so long I think we were actually pickled, but now we were able to take off the plastic outerwear.  The line for Space Mountain was a bit long so we got Fastpasses to ride later on in the day.  This was just fine because it gave me an excuse to drag the gang onto the The Tomorrowland Transit Authority PeopleMover  or the TTA. At first glance a slow moving tram ride may seem pretty lame but I feel it is arguably the best take in the Magic Kingdom. It seldom has any sort of a line, you get to sit down for ten minutes and rest your doggies, plus you get a bird's eye view of  Tomorrowland with sweeping vistas of the central hub and castle.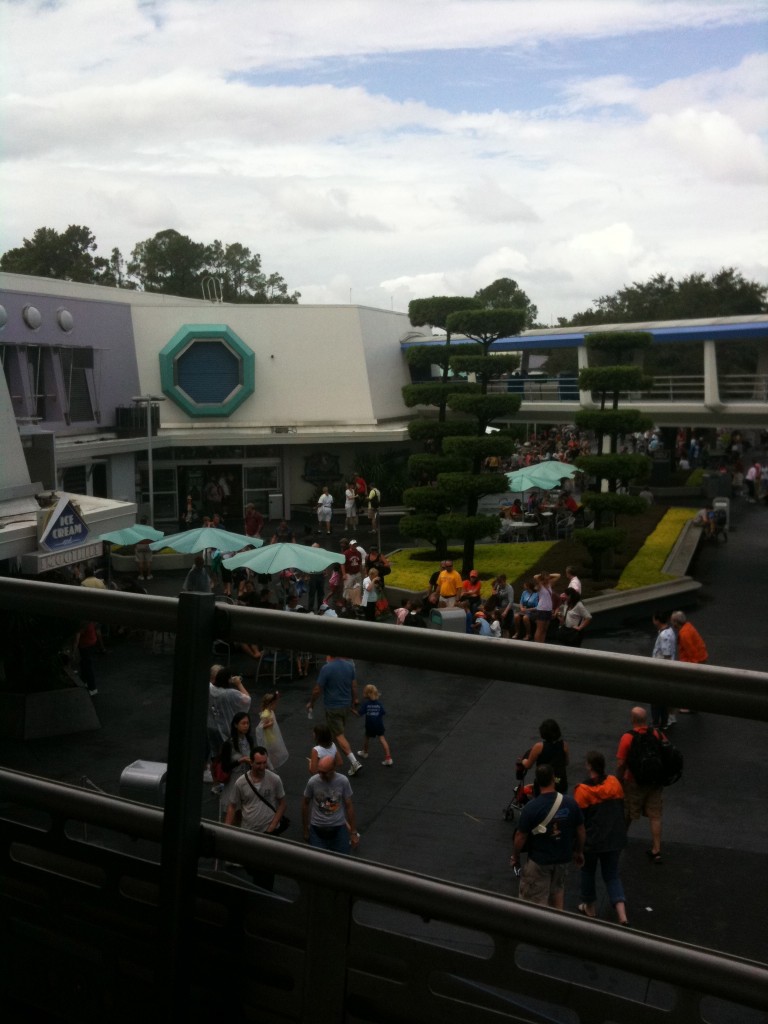 TTA train  goes through Space Mountain and passes a large diorama containing a an architectural model of the City of Tomorrow as envisioned by Walt Disney. This was the precursor to the Epcot we know today.
Another gem of the Magic Kingdom that doesn't seem to get it's due is Liberty Square.  This is an area people tend to scoot through on the way to the Haunted Mansion.
Admittedly there is not a lot to do here except of course visiting the Hall of Presidents (something I've yet to get my family to agree to),  but there is so much to see. I love the architectural details in this area, probably because it reminds me of World Showcase. This colonial style building is home to Ye Olde Christmas Shoppe. It's  purpose is to remind you that you haven't finished your Christmas shopping yet.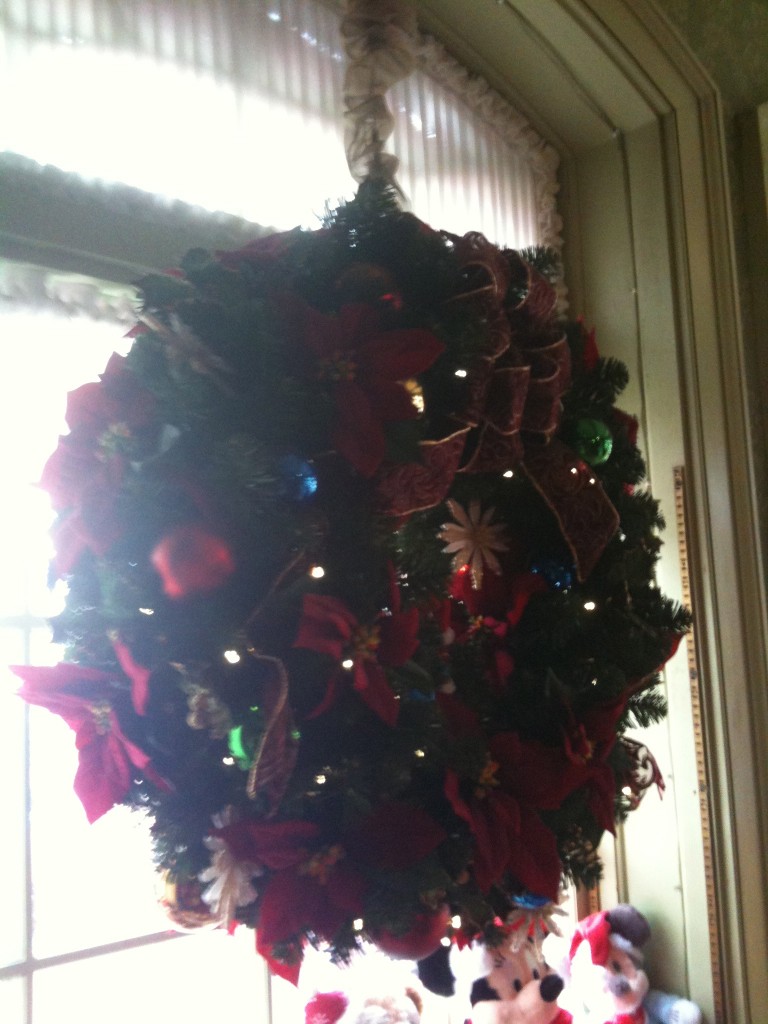 You have to be looking up to catch this homage to Paul Revere's Ride.
Also in Liberty Square you'll find  a Liberty Tree. The original Liberty Tree was in Boston and served as a meeting place and a symbol of rebellion for the pre-revolutionary war activities.
I'm not much into character greetings, but I had to stop and  snap a pic of Frontier Donald!
I would like have to ended this on that ducky note but the second dark and stormy blob had finally moved in on us.
This is probably a good time to head back for a nap, wouldn't you say?
Up Next:  A Contemporary dinner in California or a California dinner in the Contemporary?