Aside from Cinderella Castle, the Contemporary Resort has to be the most recognizable structure in Walt Disney World.
If you were a kid who was fortunate enough to visit the Magic Kingdom in the 1970s or 80s, chances are not only do you remember this resort,  you've always wanted to stay there. Ok, that might just be me. Anyway, what makes it so memorable is the fact that the Monorail runs right through it.  So cool!!!
For most of us, staying at the Contemporary is just not happening. It's waaay too expensive, but we can dream right? As with any Walt Disney World Resort,  you can always traipse around and pretend like you're staying there.
In the Grand Canyon Concourse area you'll see a stunning ninety-foot-high tile mural.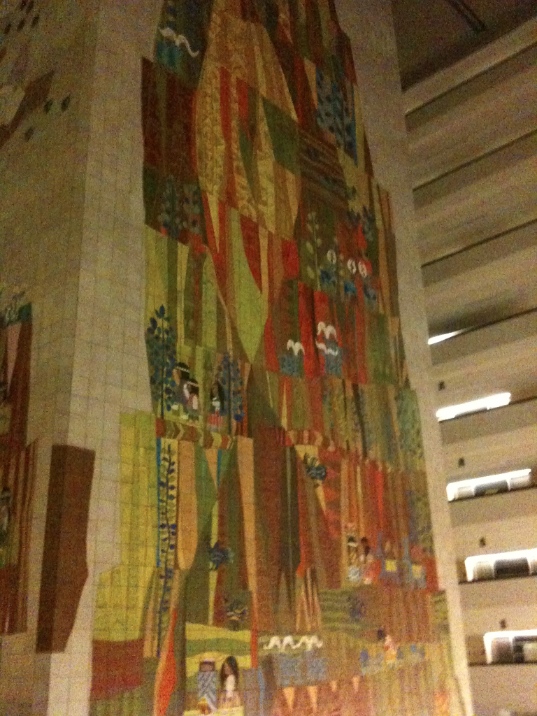 The mural was designed by Imagineering artist Mary Blair. She's  best known for her work on "It's a Small World."  The Small World influence is easy to see in the bold colors, geometric shapes and styling of the Native American children depicted here.
This night we had reservations at the California Grill.  This is the resort's signature dining restaurant and is situated at the very  top of the Contemporary.
Our plan was to take the bus to the Magic Kingdom and then hop on the monorail and swoosh right into the restaurant with time to spare. Unfortunately our nap ran a bit over, so we were really cutting it close on our reservation. Plan B was to walk over so as not to chance a long wait for the monorail. I heard that there was a walkway from the the Magic Kingdom so we hoofed it over, but we never found the actual side walk. Instead we trudged through tall soggy grass and crossed a busy intersection where we got chastised by a bus driver, but we made it just in time! Whew.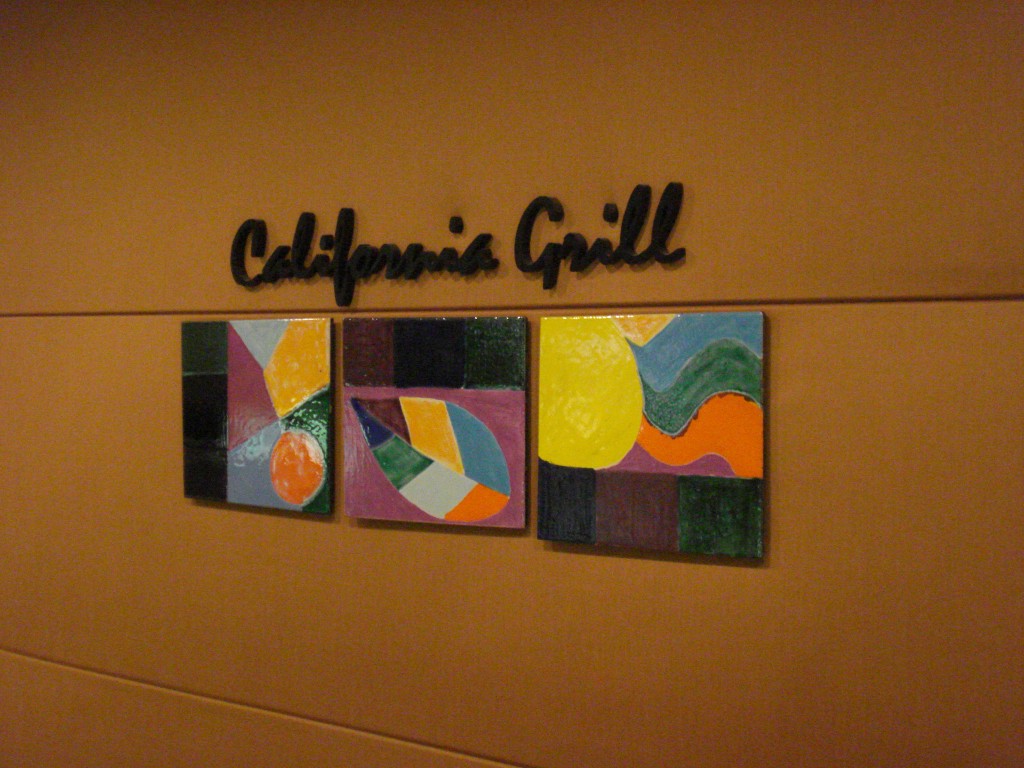 The California Grill is a very popular restaurant not just for to cuisine but also for the view. It's a prime location for watching the nightly Wishes fireworks spectacular. You can't just wander in and watch the show, you must have a reservation. (Tip: If you eat here earlier in the evening, you can come back and watch the show from the observation deck, just save your receipt). Because of this you have to check in downstairs at the lobby and then be escorted by a cast member to the dining room.
Whenever we have reservations at a place where the view is key (La Hacienda for IlumiNations, Sanaa for a savannah view) I make it my goal to get a primo table, and I haven't been dissappointed yet. Here's the script:
(Big smiles people)                                                                                                                      
"Hi there! We have a reservation for _______ party of _____. We are SO excited to be here!!! We are are celebrating_______ (birthday, anniversary, the dawn of a new day, whatever) and we would just LOVE to be able to sit by the window. We don't at all mind waiting for one."

Host/Hostess: Right this way please….
We were actually celebrating Meghan's birthday so they had decorated the table with Mickey glitter for the occasion.
There are also interesting views inside.  You can watch the goings on in the open or show kitchen, which brings the culinary theater into the dining room.
Among staff there since the restaurant's opening fifteen years ago is Yoshie Cabral, one of just a handful of female sushi chefs in the United States. You can request a seat at the sushi counter and watch the master at work.
We would have had a cocktail here, but we got ushered to our supurb table almost immediately.
Now that we've fully gone over the atmosphere, let's get on to the food! We didn't get a bottle of wine on this occasion, so I don't recall what this was other than pleasingly good.
Once again we were doing our best to navigate our meal around the dining plan. Our server (who was fabulous and who I forgot to take a picture of) let us know that we could choose to trade one of our dessert options for the Cheese Board. Yes, please!
We sprung for this next appetizer out of pocket. The crab was very good but the little tomato salad garnish was plate-licking delectable.
The menu here changes seasonally, so this is a snap shot of the fall offerings. However there are a few items that stay year round. I had heard great things about the pork tenderloin and planned to order that, but Matt beat me to it.
This was absolutely fantastic! The pork was cooked perfectly; just done, with a slight hint of pink. Most restaurants are too nervous to let pork be served this way. I didn't want any duplicates on the table so I decided on the halibut.
The halibut was a bit dry, but along with all the components it was quite good, though my eye kept wandering over to Matt's plate. "You gonna eat all that?"
Jeff got all cowboy and ordered the bison. I don't recall if I tried it but I know I tasted the Truffle Mac & Cheese. YUM!
Meghan surprised me by ordering the snapper, but she' a risotto junkie so that's probably what she was going for.
Sometime between dinner and dessert the lights were dimmed, the music was piped in  and we got to enjoy Wishes from our table. If you've never seen this show before, I would recommend first seeing it in the Magic Kingdom near the hub to get the full effect. From the Contemporary, the fireworks are off center instead of directly over the castle. That being said, it's an acceptable trade-off  to be sitting in the comfort of a fine dining restaurant sipping wine instead of shoulder to shoulder with the masses.
I took about a hundred crappy pictures, but I'll only burden you with a couple so you get the idea.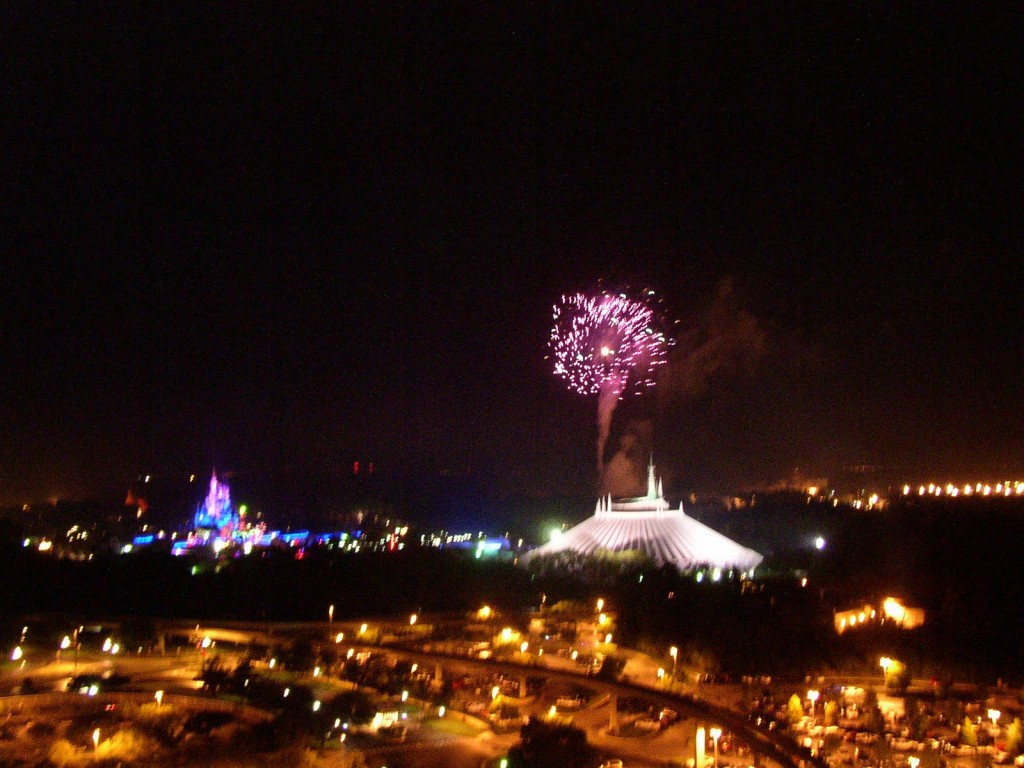 Here is a short video of the Wishes finale taken from inside California Grill.
The desserts here were just beyond fabulous. We started with cappucino. Normally I'd have wine with dessert, but tonight we would be heading back out into the parks so I needed a pick me up.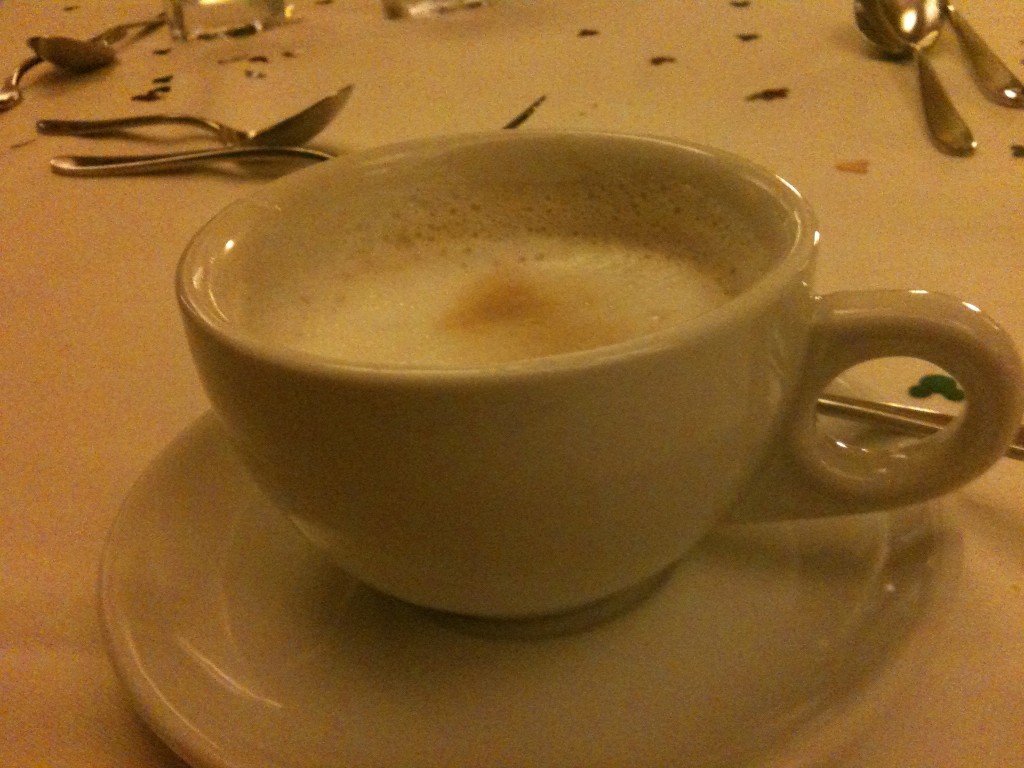 We ordered a variety of plates to share. The chocolate dessert was presented as Meghan's birthday treat. Very nice.
The lemony desserts:
And for the Bacon dessert (record scratch) yup…
Matt and I decided to go outside to the observation deck while the others finished up.
This shot is looking down on the concourse. It was a bit vertigo inducing.
We took another gander at the kitchen before we headed out. Oh My!
My expecations, ok dreams of dining at California Grill were pretty high and I was not at all disappointed. If we were paying out of pocket, it still would have been worth the investment for such a memorable night.
Next Up: Stay tuned as we catch few more hours in the Magic Kingdom…