This is it, the last day. So sad I know, but I had a plan to get the very most out of these dwindling hours. On our first Disney trip as a family, our flight home was early in the afternoon which meant that there was not enough time to venture out to a park before having to leave for the airport. Let me tell you, there's nothing more depressing than watching happy,  Mickey-eared families gleefully hopping onto the bus to the Magic Kingdom  as you are sitting on a bench waiting go home. This time our flight wasn't until 6:00pm, which meant we could squeeze in another full day at Epcot. Yee haw!
We started off the day with coffee on the balcony.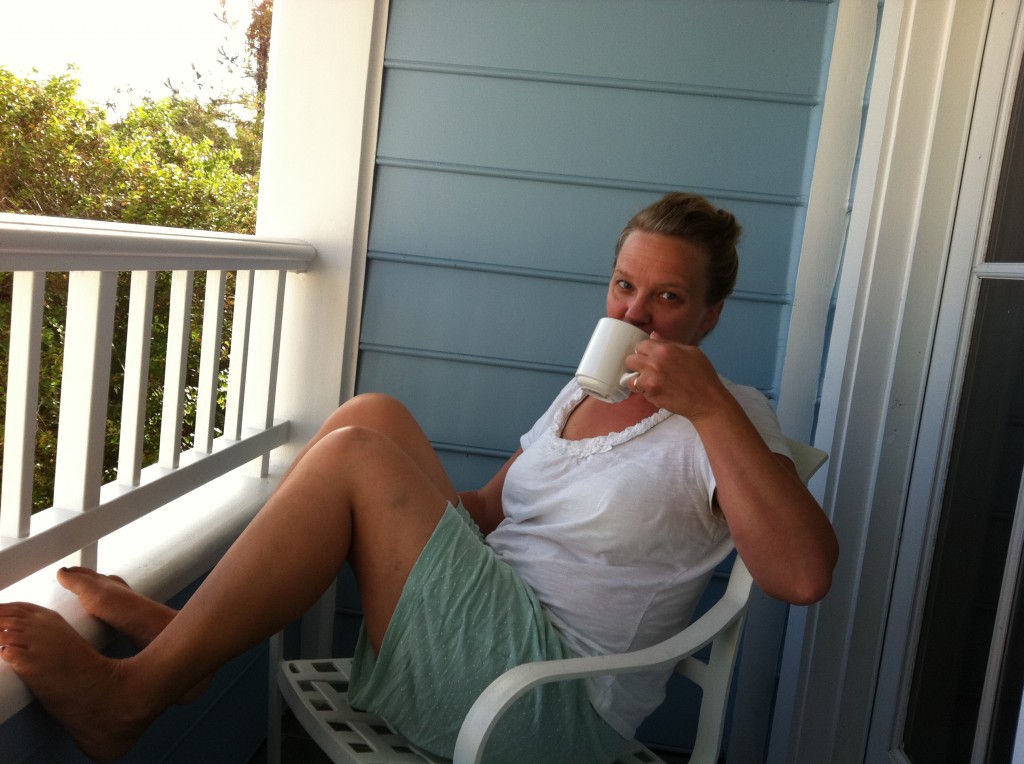 After relaxing as long as possible (meaning not so long that would I get antsy over NOT being in the park) we gathered our belongings for bell services pick up and headed downstairs to the lobby. I needed to talk to guest services about our ticket situation because I flubbed up on the dining plan. I wasn't thinking that the credits expired when we left Pop Century. Our night at the Beach Club wasn't part of the package, it was a "room only" reservation. We had four counter serve meals which we were planning to use on the last day that were now gone. I was hoping that the Beach Club would make it right, but they didn't. Not a huge deal because we ate at the Food & Wine booths anyway, but I was a bit disappointed.
Now, off to Epcot. I can't tell you how delightful it was to be able to walk from the resort right over to the park.
World Showcase opens later than Future World at Epcot. You are able to walk through,  you just can't enter into any of the pavilions or shops. It was just splendid to be in the park when it was nearly empty.
We even caught a glimpse of a Segway Tour group. Disney has lots of tours available where you can go "back Stage" and get inside information from cast members and imagineers. They can be expensive (they range from about thirty dollars to several hundred dollars a per person), but it's a great way to change things up after you've visited multiple times. I'd like to take the Segway Tour sometime, but I'm pretty sure I'd be the one knocking over cones after an hour of training, keeping everyone from "getting going already!".
I discreetly snapped a picture of a girl bandaging her blistered feet. I restrained myself from making  an audible "tsk, tsk" for going for cute shoes over sensible ones. It would have been cruel.
We had an hour or so before World Showcase opened, so we headed over to Future World to see  Turtle Talk with Crush.
Turtle Talk is a part of The Seas Pavilion which was taken over by Nemo a few years ago.
The main portion of the pavilion is a ride-through that combines a real aquarium with animated characters from the movie. They do a pretty convincing job with it.
Then you blast off from zero to sixty right out of the ocean!
Turtle Talk a separate event in a small theater with shows running every thirty minutes or so.  There is bench seating for the adults, but the children are encouraged to sit down front on the carpeted floor.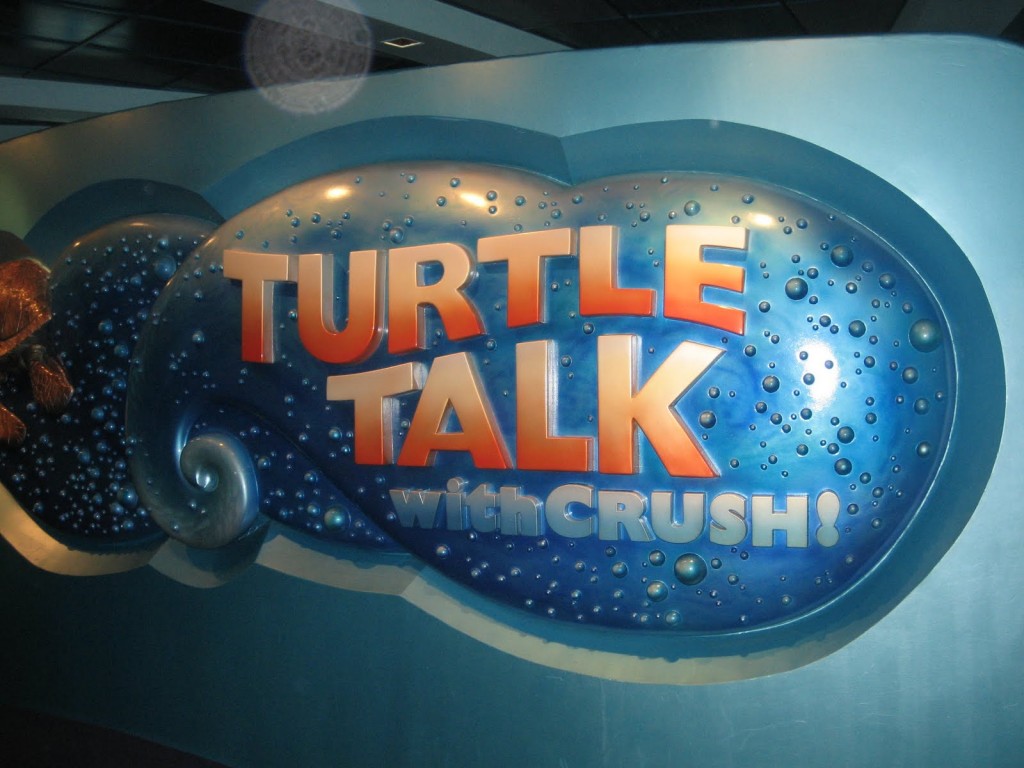 The show begins when crush swims out. This may look like it's just a movie, but it's actually a totally interactive experience. Crush talks directly to the audience and takes questions from the kids.  The cast members who do the acting here have to be on their toes, because you never know what the kids will come up with.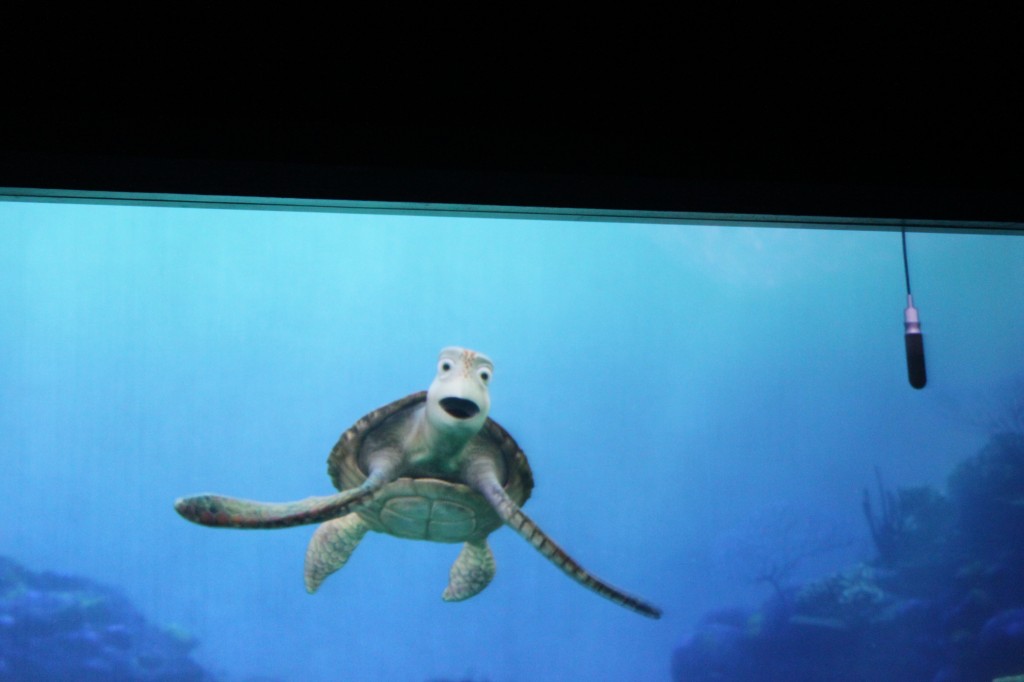 Check out this video of a child trying to explain what chicken nuggets are. There's some adult humor to be had here.
World Showcase was now open so we started back that way. The family objective here was to devour as many delicacies from the Food  & Wine Festival kiosks as humanly possible before having to board the bus to the airport. I, however, had an additional mission. You may recall from the first post of this trip report that we had a bit of a *ehem* mix-up at the airport that would have left us stranded after our return flight. My dear mother worked everything out so as to get our car and us safely back home. I decided that a nice thank you would be a "candies of the world" gift basket. In order to accomplish this feat, I would need complete focus and concentration. I had to do this on my own! I said goodbye to my loved ones and began my quest…
The first stop: Oh, Canada.  This is a re-creation of Victoria Gardens. Simply breathtaking.
The building here is an homage to the Chateau Frontenac Hotel in Quebec City, but look closer. It's actually under scrims.
This is the trading post where I got my first item. I could kick myself for not taking photos of the candy from each country!!!
On to the United Kingdom, Gov'nah.
Awww…
Candy number two.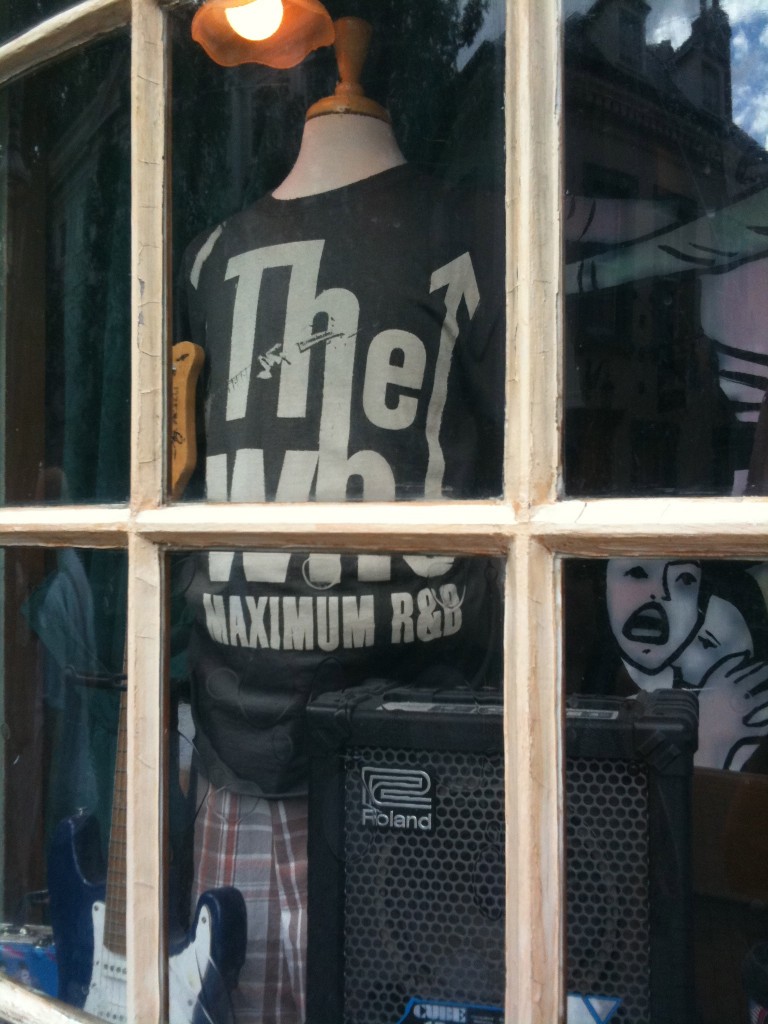 Way in the back of the U.K. pavilion are beautiful gardens and seating areas. A band called the English Channel plays there several times a day. You really have to go off the beaten path to find these places.
Maintenant, France.
I actually remember that I got salted caramels here, they looked so amazingly good.
I've decided to take the apartment over La Maison du Vin.
Ok, I've said it before but this time I REALLY mean it. Morocco is my absolute favorite pavilion. The detail and authentic feel of this area is without equal.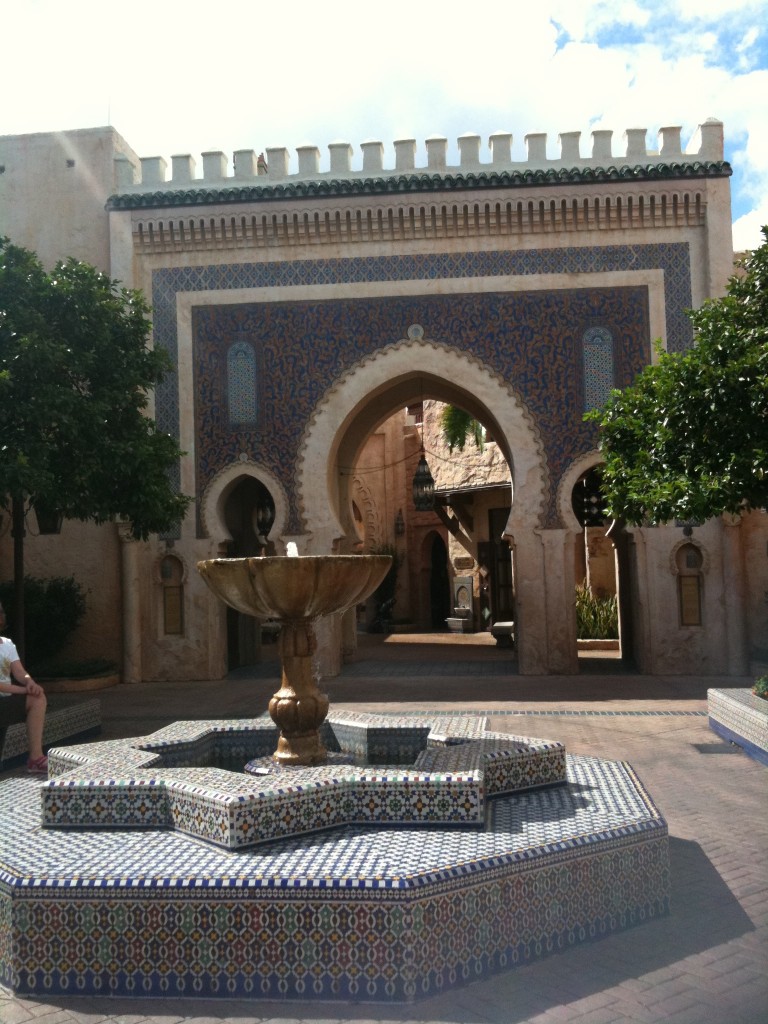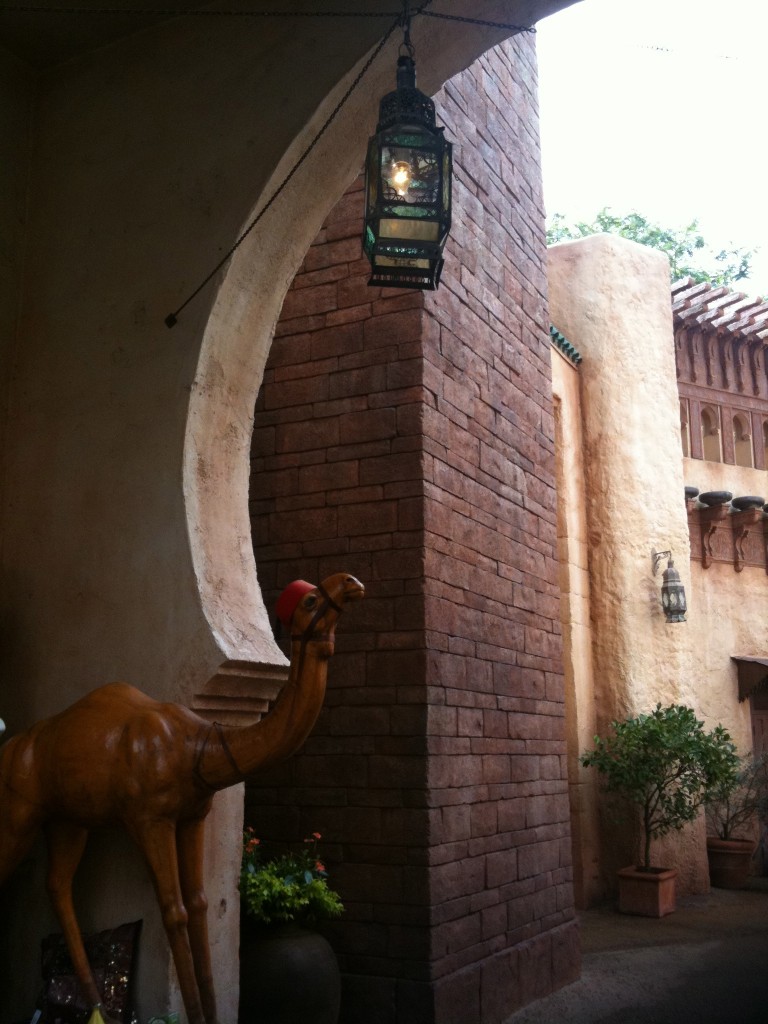 Once you've entered through the archways, the rest of World Showcase disappears.  The alley ways wind around so far that you feel as if you are in an actual Marrakesh market.
This inner courtyard area is so peaceful, with the water sounds of the fountain and cool shaded benches, you can't hear the hustle of the rest of the park.
Morocco is also where you can get a Henna Tattoo. Meghan has gotten one on each of our last two trips. It lasts about a week or so. It's the ultimate souvenir for a teenage girl.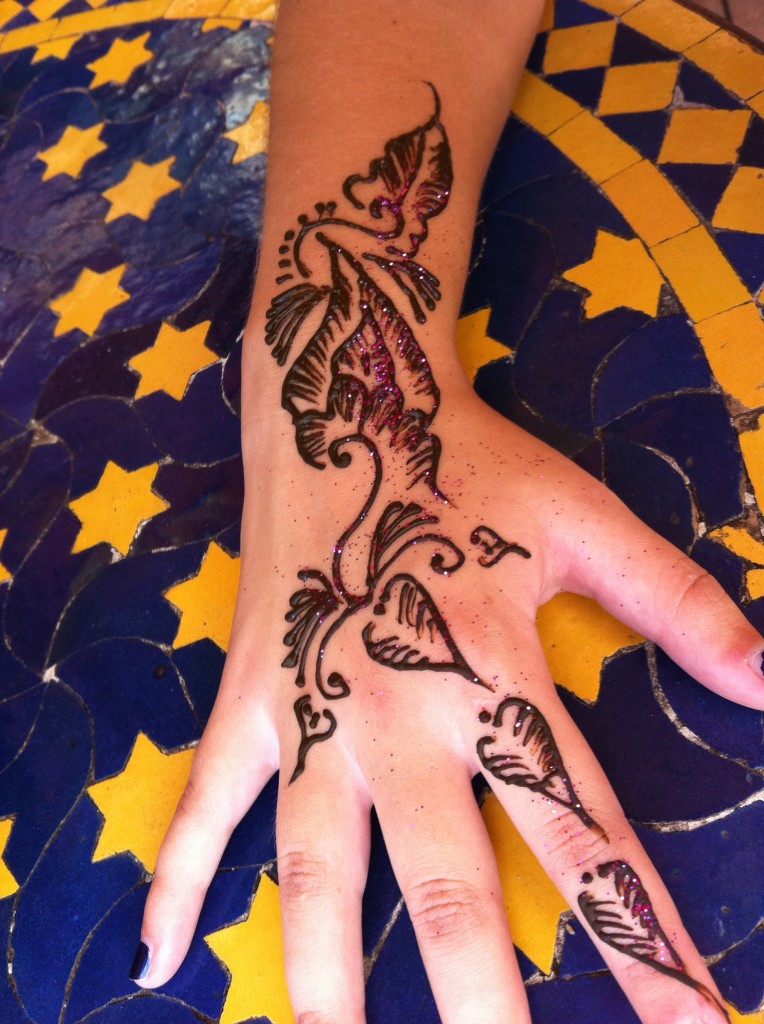 I ended up getting some sort of wafer cookies here. They didn't seem very Moroccan.
A good portion of Japan Pavilion was walled off under construction. Too bad, the gardens and Koi ponds are exquisite .
I don't remember what candy I got, but I'm sure it must have had cute Japanese characters on the wrapper .
I did actually stop and eat. I'm human, you know.
America, America!
Let me take a moment here to remark on how empty the park was on this day. This was a Tuesday at about noon. I knew it was going to be less crowded than on the weekend (locals come out in droves), but I was stunned to see empty queues at lunch time!
To give you some perspective on how crowded it can get on the weekends during the Food & Wine Festival, here is a of photo taken on the Saturday before we arrived:
Nearly vacant Italy pavilion. Hellloooooo!!!!!
Germany was next. The aroma of sauerkraut permanently wafts through the air.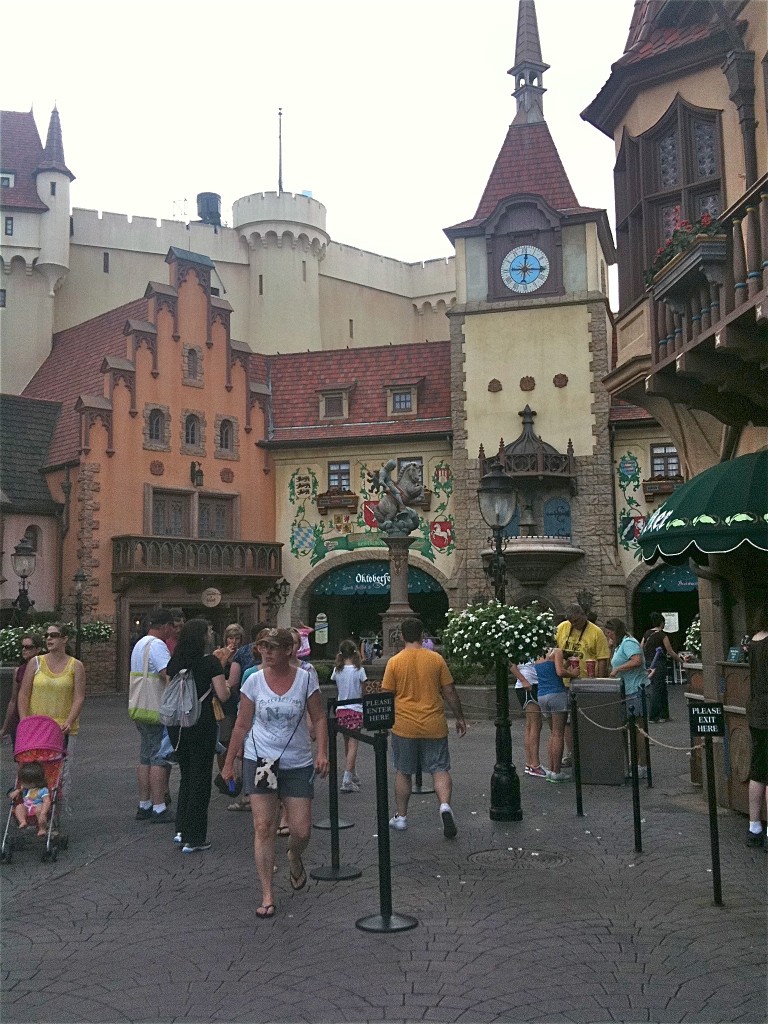 The Germany pavilion recently opened a new candy kitchen called the Karamell Küche. It is sponsored by Werthers so I got some boxed caramels. Everything in here looks spectacular, but I've had heard some not so great reviews. It seems that it might be all style and no substance. I'll let you decide for yourself.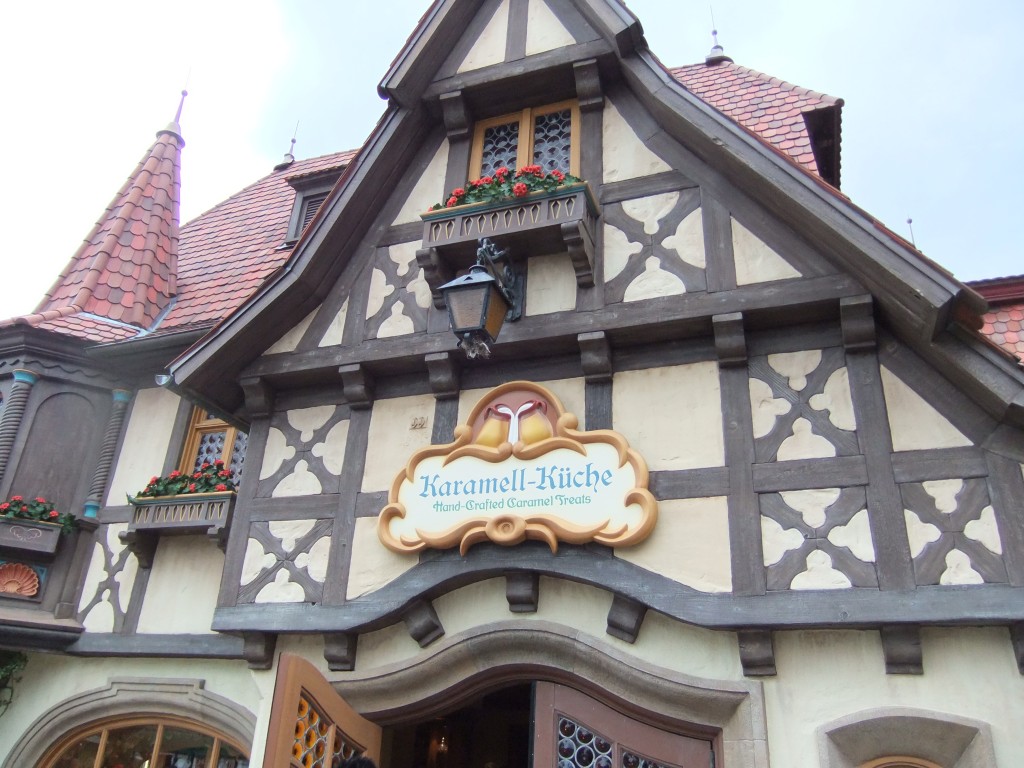 China is the only place where I came up empty. I circled the gift shop a couple of times and didn't find any candy. I might have just been missing it, but I didn't have time to fool around!
Ok, I must have had a little time to fool around 'cause I stopped for another snack.
I washed this down with an herbal rice wine called Bek Se Ju. This was a nice surprise. It was like Sake but with a nice floral finish, not too sweet.
Norway was next.
Maelstrom is one of only two "rides" in World Showcase. You load onto dragon-headed ships for a voyage through the "fabled rivers and seas of Viking history and legend".
I have no recollection  of what candy I got so instead I'll tell you about the best bakery in World Showcase (Well, France's Boulangerie is pretty incredible too…they're both the best),  Kringla Bakeri Og Kafe .
It's here where you can find another fabled attraction, School Bread. This is basically a giant sweet roll filled with an audacious amount of delicious vanilla custard and covered in shredded sweet coconut.  It is  believed that they are actually made of magic straight from the Norse gods.
We have made it to the last pavilion! Picture me running though Mexico with my final sweet purchase,  breaking through an imaginary ceremonial ribbon and with arms raised in victory!
The prize, a gift bag filled with love from around the World!
I met up with Jeff for one more tasting. We sat at a table right outside the Aztec Temple in Mexico and had some tacos.
After our snack we rounded up the children via text (as you do) and we decided to ride the Gran Fiesta Tour as a family. Awwww….
It just seemed fitting to end the day with some tequila. Jeff got a shot but I went with a Margarita instead.
I absolutely despise sour mix, so I asked the bartender if they used it here. They do, but he offered to make me a Margarita the old fashioned way. It was tasty…
There was no more use in denying, it was time to leave.
We timed things just perfectly. Back at the Beach Club, we only needed to wait a few minutes for our ride.
The bus that brings you from the Orlando Airport to the Disney Resorts is called the Magical Express. We like to call the bus back the Tragically Depressed!
At the risk of making an already obnoxiously long post even  longer, I'd like to thank you for coming along with me on this trip. If you already love Disney, I hope that it brought you a smile and some warm remembrances.  If you've never been, I hope that you've seen that Walt Disney World is not just for kids.  It's more than Mickey ears and spinning teacups, it's a place where anyone of any age can create memories for a lifetime.
"Goodbye may seem forever
Farewell is like the end
But in my heart is a memory
And there you'll always be "
-The Fox and the Hound