This would be the penultimate day of our California vacation, but sadly, our last day in Disneyland. We spent the morning getting in a couple more attractions at Disney California Adventure, then doing some souvenir shopping for the kids.  Nothing makes up for not taking your children with you to Disneyland like tchotchke!  We walked on over to Downtown Disney and headed straight for the sweets.
Nerdy factiod: Marceline is Walt Disney's Boyhood Hometown in Missouri and was the model for what would eventually become Main Street U.S.A.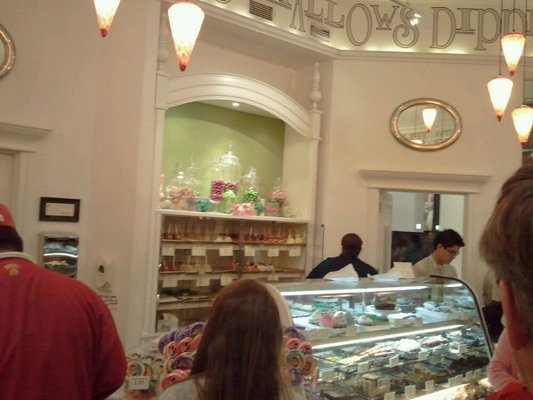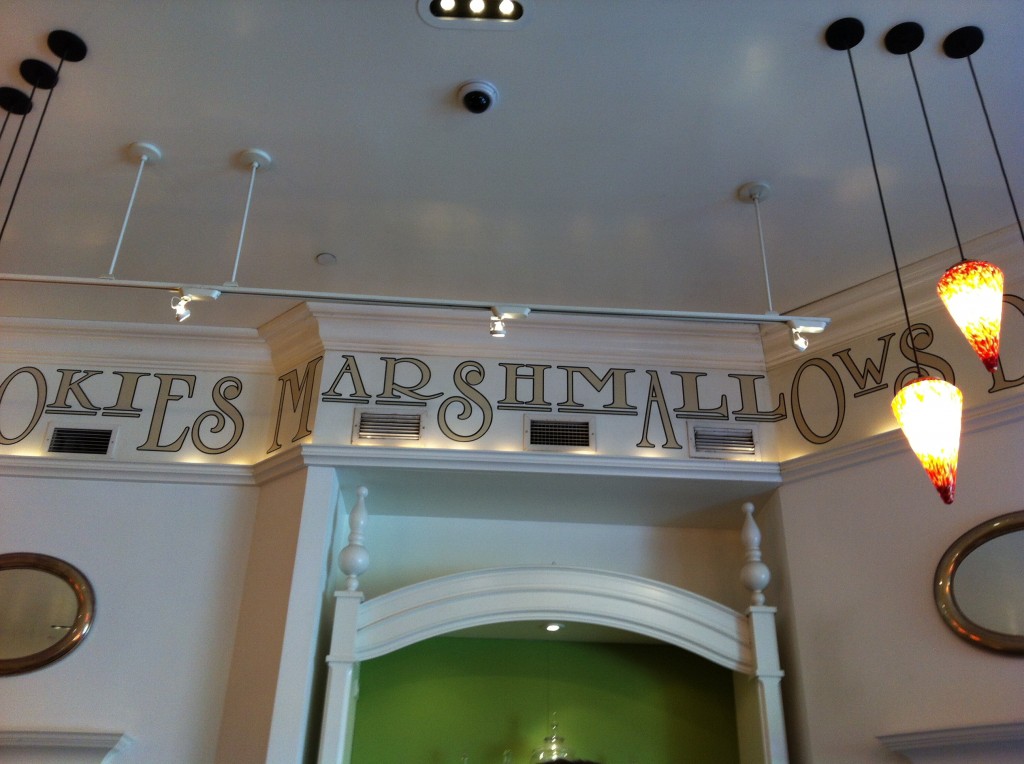 All the hand dipped confections looked absolutely amazing, but they wouldn't have survived being stuffed into our carry-on luggage. We instead went the pre-packaged route. Plus, these had cute old timey characters on the labels
For non-food items, we hit World of Disney where one can get every Disney related item imaginable from pot holders to iPhone cases. If Mickey and his pals are on it, it's here.
The kids are definitely not into the Mickey Ears and Tee-Shirts thing,  so we wanted to get less conspicuous items as souvenirs. I was thrilled to find something for each of them that they actually really loved!
For Matt, a Mickey watch. Try as I might, any picture I took made the mouse read as black, but it's actually a very subtle silver-on-white.
And for Meghan, a Hidden Mickey pendant. In my joy of finding such a cool gift, I neglected to calculate how much I would also want one of these!
All this shopping and futzing around were serving as a pleasant distraction because what  I was really doing was silently counting down the hours and minutes until our dinner at Napa Rose at the Grand Californian Hotel.
I had wanted to dine here ever since I saw Samantha Brown shmoozing with Chef Andrew Sutton on a Travel Channel but I really never thought we ever would have the opportunity.
Once we checked in, we sat in the lounge and had a cold beverage. Then I did what I usually do, which is to abandon Jeff and go around taking pictures.
After just a few minutes we were escorted into the dining room to this table, which would have been fine, except that I had reserved a spot at the Chef's Counter. There are just fourteen chairs and two seating  per night so if we weren't on the list this would have been a problem. I had confirmed just before we left so I thought we'd be okay, but I was  still preparing myself to possibly to make a fuss. Thankfully we were ushered right over to the counter. Hissy fit avoided.
For some, sitting at the chef's counter may seem like staring into the engine room of a cruise ship instead of hanging out on deck. But to me, seeing the finely choreographed ballet of meticulous food preparation is absolutely riveting. I don't know how I would feel if I were one of the chefs, however.
If you dine at the chef's counter you can certainly order from the menu. However, for a fixed price, the chef will create a custom, multi-course journey of epicurean delights. This certainly was not cheap, I believe my first car cost less than our meal, but as you know by now, we can't have come all the way to California and not experience the chef's tasting menu at Napa Rose!
Once you have selected this menu, the chef comes over to discuss any allergies or aversions that he may need to consider. We have neither. I do find a few things objectionable, but I refused to put any limitations on this meal.
*On a side note, the gentleman sitting next to us also chose the chef's menu. He had a dairy allergy. What was weirdly annoying was how he framed it. He, in quite an impish manner, said he couldn't have anything that came out of a cow. What are you, four? You're lactose intolerant! That's all you need to say. The kicker was that his wife sat next to him the whole time and ate nothing but a child's pizza. Strange… 
The experience began with a glass of champagne!
Next, the chef presented  us with an amuse bouche, which is French for "You ain't seen nothin' yet!".
We were also presented with a variety of gorgeous breads from which I abstained.  I certainly didn't want to get filled up before we even started. They sure looked good, though.
From this point on, Jeff and I were served different dishes for each course. Because this was a custom menu, I don't have official descriptions. Our server would present each dish and then the chef would come over and give an explanation of it. I will do my best to recount them for you.
When you choose the chef's menu, you also have the option of adding a wine pairing. I won't keep you in suspense… we got the wine pairing. At Napa Rose, each of the servers is also a certified sommelier. Our server chose and presented a wine for each course for each of us individually. I'm a person who likes wine yet knows nothing about it so I'm easily impressed, but it was really astounding how well each selection paired with the  dishes.
Next was the fish course:
Our server enjoyed showing us this bottle of wine with a quirky label. It had a lot of ponderings about life and existence and stuff.
Ours was the first seating of the night, so we got to witness the kitchen going from zero to sixty. There were a couple of tense moments between the chefs, but for the most part it was just a frenzy of focused activity. Here is a video of the team putting out an order for a huge table:
We were seated right next to the pass, as Gordon Ramsay would say, so we got to see how important the expediter is for keeping things organized.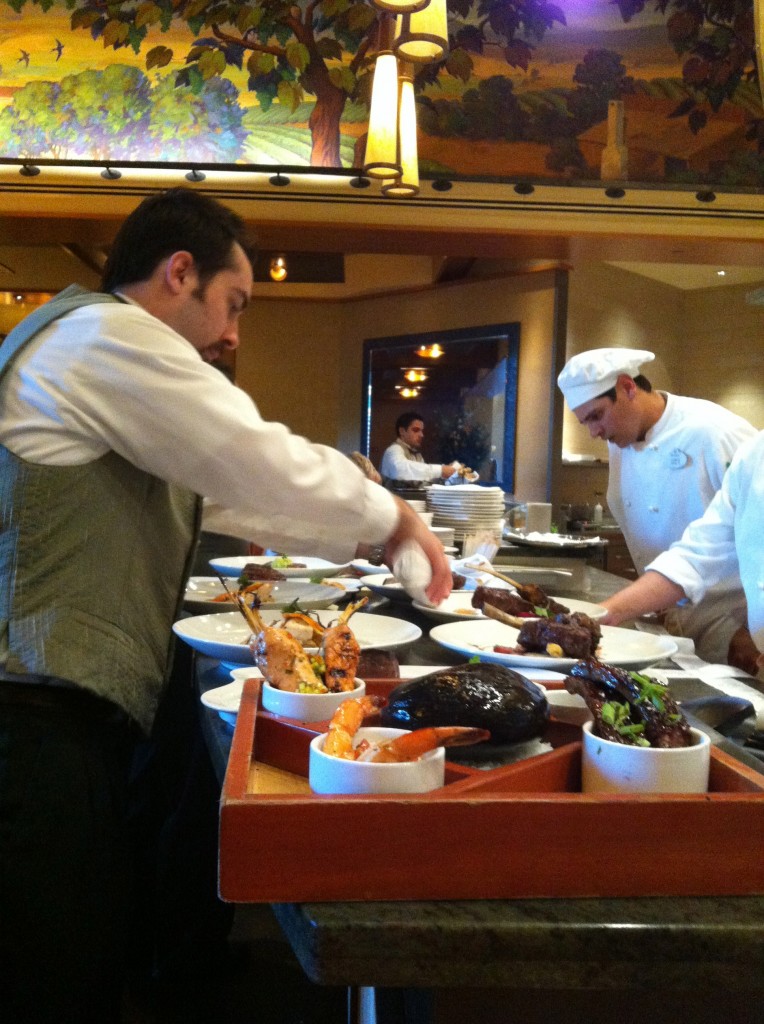 I'll call this the savory deliciousness course.
I loved my dish because at it's face it looks like it would be vegetarian, but the squash blossom is stuffed with duck confit, which is duck cooked in it's own fat. A lovely carnivorous surprise.
The dessert station was just to our right. This chef did two things…
The Main Course:
My main course was so well balanced between savory and sweet, plus more duck confit!
Time to visit the ladies. I just wanted to show you that they had real towels, not paper.
We are almost at dessert. Our wine pairing for this course really showed the skill of the sommelier. Jeff had a very rich chocolate dessert which was served with this very sweet, almost raspberry wine. Alone, this wine was so treacly sweet I truthfully wouldn't drink it. However, a sip after a bite of dense chocolate was absolutely perfect.
We finished with a perfectly foamed cappuccino and shared one Grand Marnier.  We did just have five glasses of wine already.
What a superb evening! Certainly an event for a special occasion, but oh my, what a way to celebrate.
Next Up: This ain't no Disney Hollywood