It was time for our late lunch/early dinner at the Hollywood Brown Derby. Our reservation was at 3:45, quite odd to be sure but this meal was part of the Fantasmic Dinner Package which  didn't give us a choice of time. What is this package I speak of? It goes like this: Instead of waiting an unspeakable amount of time in line to see Fantasmic, you can chose to dine at certain restaurants which feature a fixed price meal and preferred seating at the show.  You still have to queue up about thirty minutes ahead of time, but it's muuuuch better than waiting in the standby line with the masses. You can chose from Hollywood and Vine (a buffet, no thanks), Mama Melrose (rumored to have solid, but unremarkable italian food) or The Hollywood Brown Derby (expensive, but pretty favorable reviews).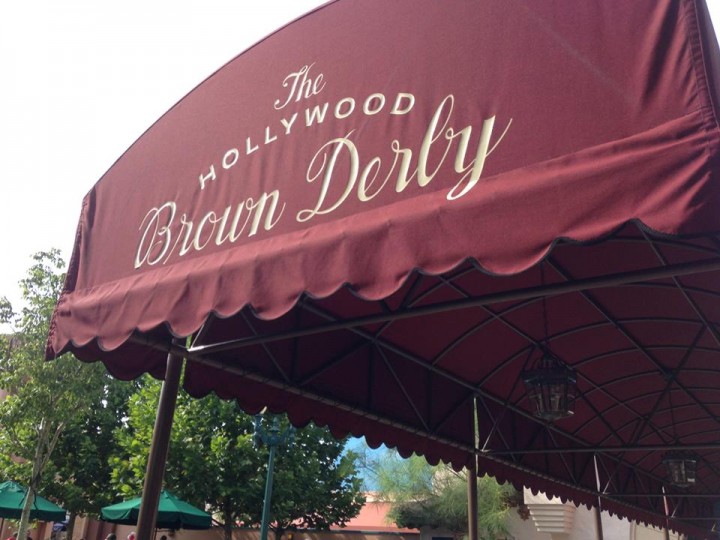 At the time of our visit, there was no bar, or we certainly would have stopped in early for a pre-dinner cocktail. Since our return, they've added a make-shift lounge area on a little-used patio.  Looks like a nice place for a relaxing Martini and some prime people watching.
The Brown Derby is based on a small chain of restaurants that was popular in the glamorous heyday of Hollywood.  The lobby houses some of the hundreds of re-creations of caricatures drawn by resident artist Jack lane between 1947 and 1985.
The dining room is cavernous. This was the first seating of the day, so it was pretty quiet when we arrived. That didn't last long.
Strangely, when the hostess called us, she led us through the main dining area and into this tiny, private room.
This was very strange because of all the seats still open in the main dining room. We couldn't figure out why we would be in this closed off area so we asked our server, Moses (I know, what a cool name!) about it. He said that they sometimes use this as a private space for celebrities. We went with it.
This was a prix-fixe, three course dinner, so we were financially obligated to be indulgent.
As we are want to do, we all ordered different selections for each course. Jeff and I did plate swaps halfway through each of our courses, Meghan let me steal a taste…when she wasn't looking.
Meghan's first course. I Loved the presentation.
   My first course may have been the best bite the whole trip.
The original Brown Hollywood Brown Derby is the birth place of the Cobb Salad. Hey, I'm here to inform. Our server asked Jeff if he would like him to toss it for him, but he declined. I guess he felt capable enough. However, when he saw the fan fare our neighbor got he regretted it.
If you ask for the recipe for this or their famous Grapefruit Cake, they'll bring you one of these adorable, derby-shaped recipe cards.
On to the mains. Meghan chose the pork chop. As you'll see from the description, there's a lot going on here. The bite I had was superb, but very heavy flavors.  I'm not sure would have enjoyed it as my entire meal. She loved it!
I remember enjoying my main course at the time, but I can't bring up the flavors as I  think back on it.
Jeff got the filet. The cabernet butter was lovely, but looked a little too reminiscent of strawberry ice cream.
Oh my goodness, we still have dessert to eat. We, of course, had to get the afore mentioned Grapefruit cake.  It didn't disappoint. It was light with just the right amount of tartness.
This next one was luscious, although I was a bit confused about the description, which led you to believe that it would be three separate tastings.
This one might have been my favorite, but it's like comparing bananas and grapefruits. It's also absolutely HUGE and could have easily been shared.
There's been some debate over whether it's worthwhile to layout the cash for these Fantasmic dinner packages. Like everything Disney, it depends. I've been wanting to try Hollywood Brown Derby for awhile, so it was inevitable that we would eat here at some point anyway. Yes, it was expensive but adding up the courses, it was less than if we ordered the same items off the regular menu. Normally, we would not have gotten so much food, but we planned for this to be our one big meal. As far as the priority seating at Fantasmic, it worked out great, as you'll see shortly. The thing that made me decide to go for it is that the reserved section for these dinners was recently changed to a better vantage point. Truthfully, I wouldn't have seen Fantasmic otherwise so all in all, it was a win for us.
We had a bit of time before heading up to the Hollywood Hills Amphitheater, so we made a stop back at the front of the park.
Earlier in the day, Meghan bought a dandy new sweatshirt. Here's a tip for you: You don't have to schlep your purchases around the parks all day.
We grabbed our package at guest services and cruised on down Sunset for the show.
The amphitheater is absolutely gigantic. We were just slightly right of the middle, so this photo only shows about half of the capacity.
Fantasmic was spectacular, and I was really glad to finally get to see it. The cast is huge and they run it at least once every night, so it must be extremely expensive to put on. I'm thinking it may turn over to a World of Color type show eventually, which is another reason that I wanted to get to see it. I refrained from taking pictures or video, so I could really experience it.
Here's a n HD video courtesy of Youtube, just for you:
Here's yet another pro tip for you. Lean in and really listen to this one. Remember all those people in that stadium? Well, they're all going to be filing out at the end of the show and hitting the busses at the same time. You don't want to be caught up in that nonsense, do you? Here's what you do: When you see this Steam Boat Willie scene, the show is essentially over. This is when you skedaddle! Trust me, there is nothing left to see and you will be miles ahead of the crowds.
You'll already be back in your room, sipping on the over-priced Maker's Mark you bought in the gift shop earlier, while the rest of the hordes are still waiting for the busses. No thanks necessary, it's my pleasure to help you.
Next up: The Beach Club ruins us for life.