Truth be told, I really didn't have much of a desire to go to Disneyland in California. To me, it just seemed like a smaller, less impressive first draft of the Magic Kingdom in Orlando (DLR fans, gasp and clutch your pearls now). Plus there is no Epcot in California, and we all know how I feel about my World Showcase. However, my attitude quickly changed when we actually had the opportunity to go out there. I started listening to Disneyland focused podcasts and doing a lot of reading about Walt's park- the original Magic Kingdom. I soon became nostalgic and protective of the legacy. "Hey man, Disneyland's not small, it's charming!"
Jeff however, isn't the Disney geek that I am, so I had to prepare him.
Me: "Do you know about the castle?"

Jeff: "What about the castle?"

Me: "It's really, really ummm…small"
How small is it? You could tuck it into your pocket and sneak it out of the park.
Some say Walt and his investors simply ran out of money before the castle was finished, others say he purposely chose a smaller, unimposing structure to greet his guests. It was probably the former, but let's not get ahead of ourselves. We haven't even gotten through the gates yet!
This day we actually got to the park right after opening. That would seem more impressive if I neglected to inform you that the park didn't open until ten o'clock, but I couldn't lie to you!
I'm not the type of Disney fan who is concerned with getting pictures with the characters. They are amusing enough, but I'm not willing to either A) stand in line for thirty minutes or more or B) Spend gobs of cash on a character meal (usually in restaurants with no booze) to have a one-on-one with Winnie the Pooh. I am, however, perfectly willing to snap pictures of other people who've stood in line for photos. Let's pretend that I know them.
As you make your way down Main street, the look and feel of the area is similar to the Magic Kingdom but the shops and attractions are different. It's a little disorienting.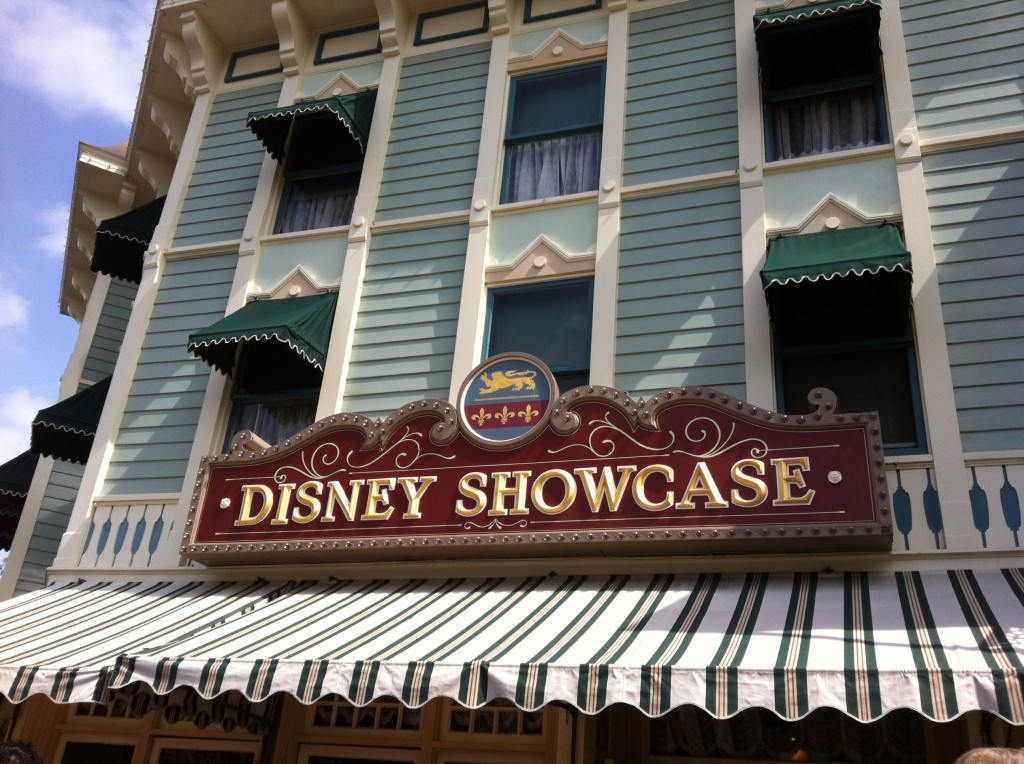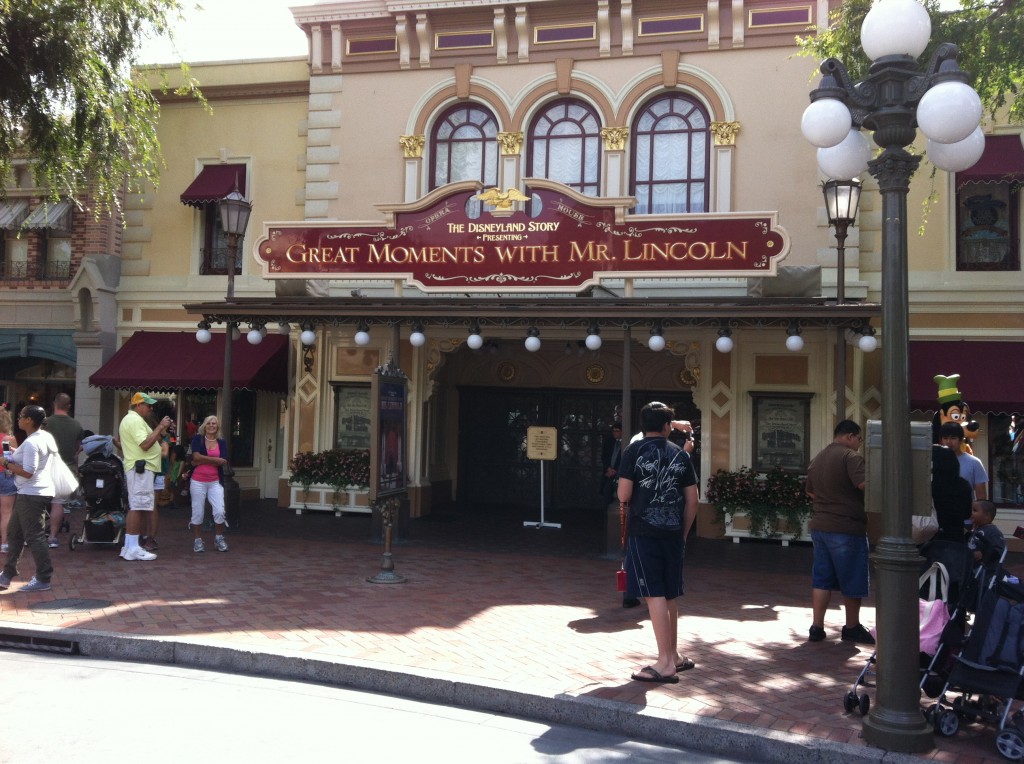 We stopped and got our breakfast from the brand new Jolly Holiday Bakery (or Holly Jolly as one cast member called it). It's a highly themed little café based on the Mary Poppins movie.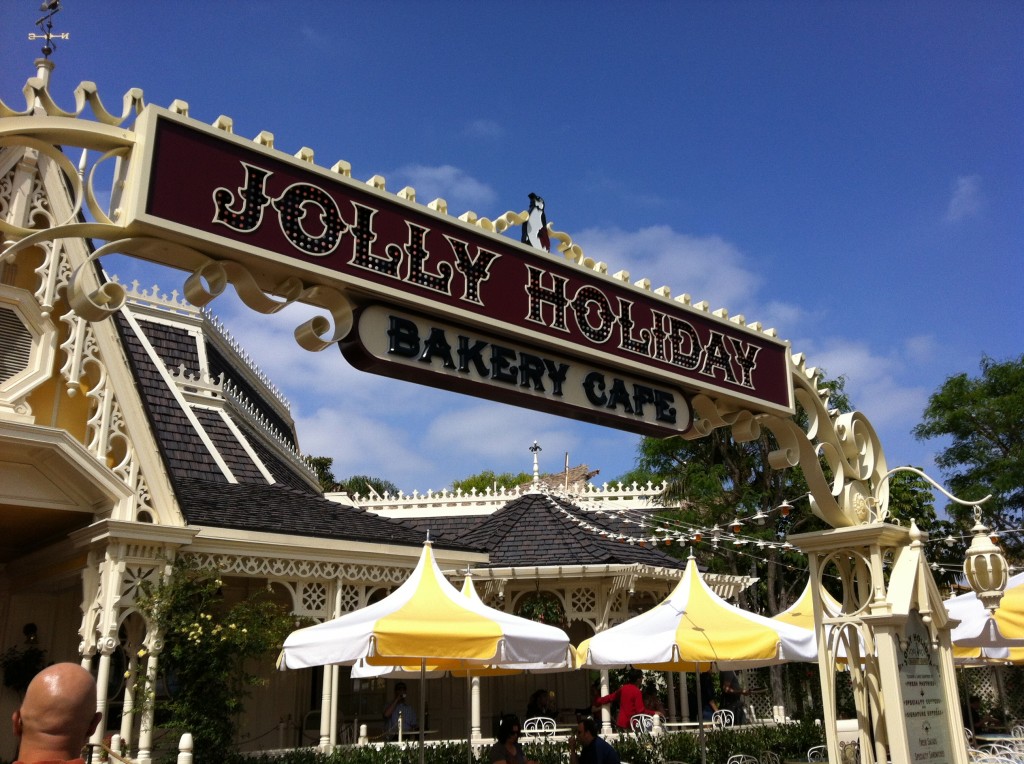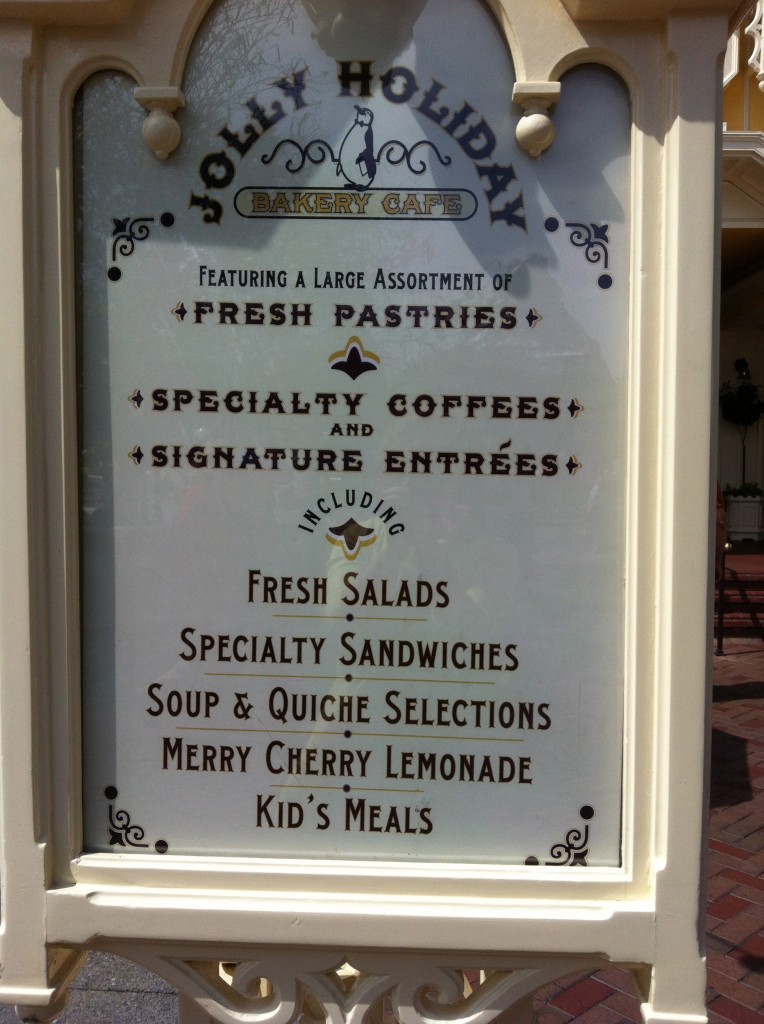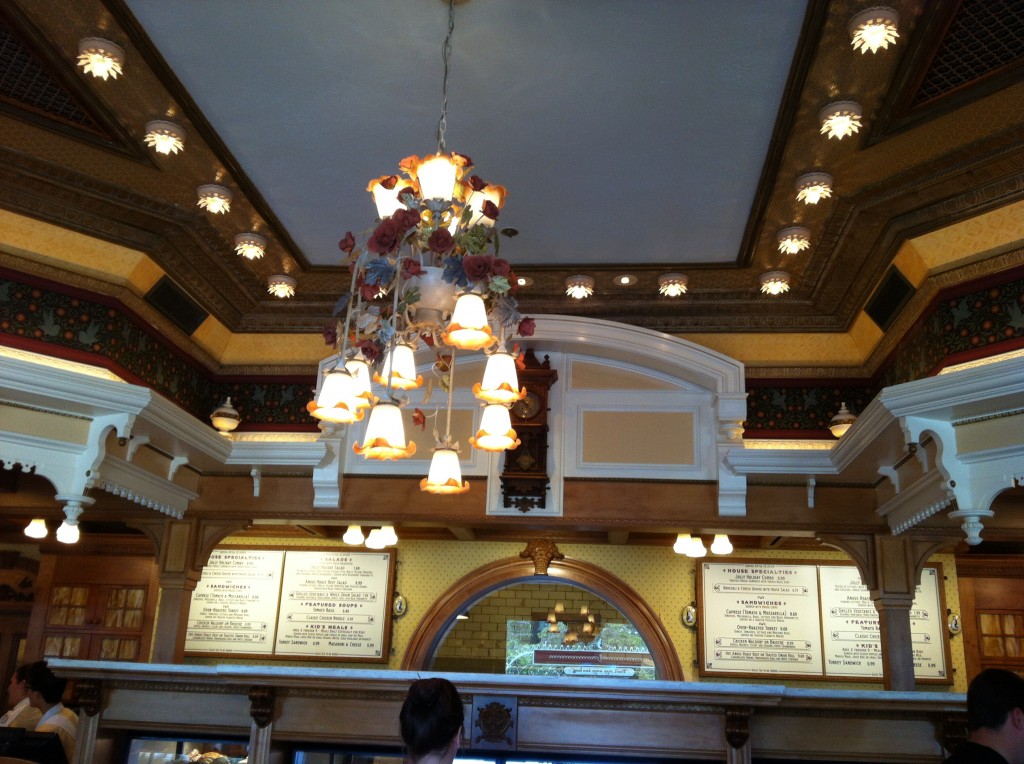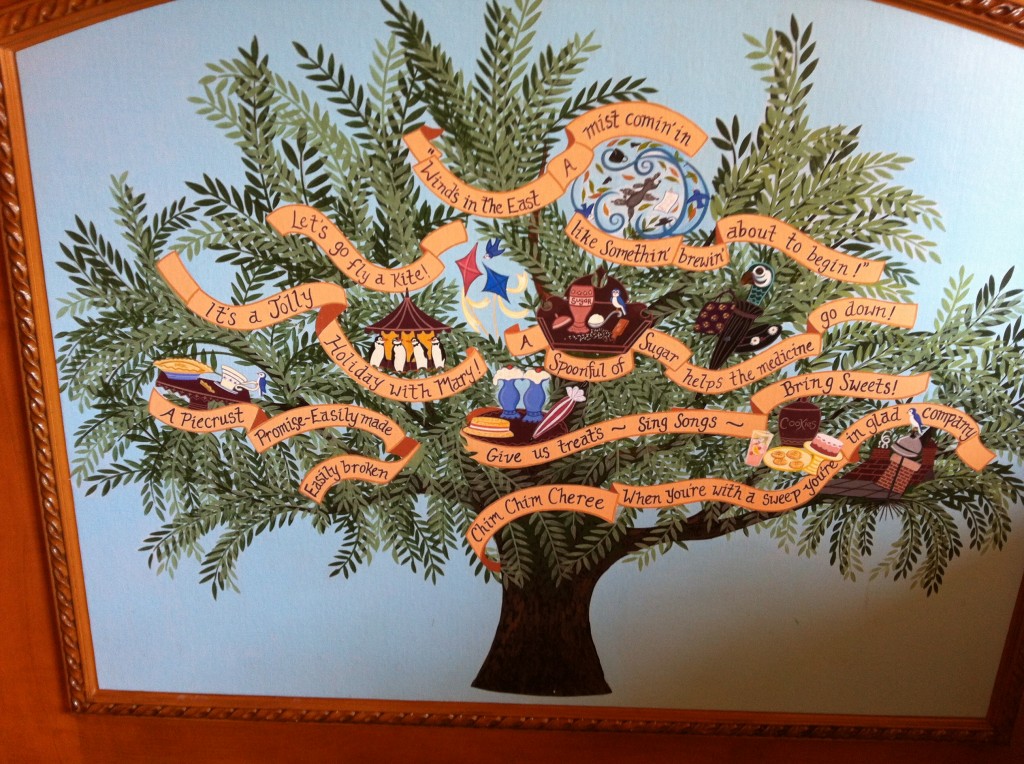 The display was so perfect I thought it might be just for show, but they snatched our banana bread right from the case.
After our snacks, we moved on towards the diminutive castle. Maybe crouching down to take the picture will make it seem more impressive?
There's a lovely grotto area beside the castle. It's very romantic, with a wishing well and lots of hearts and flowers.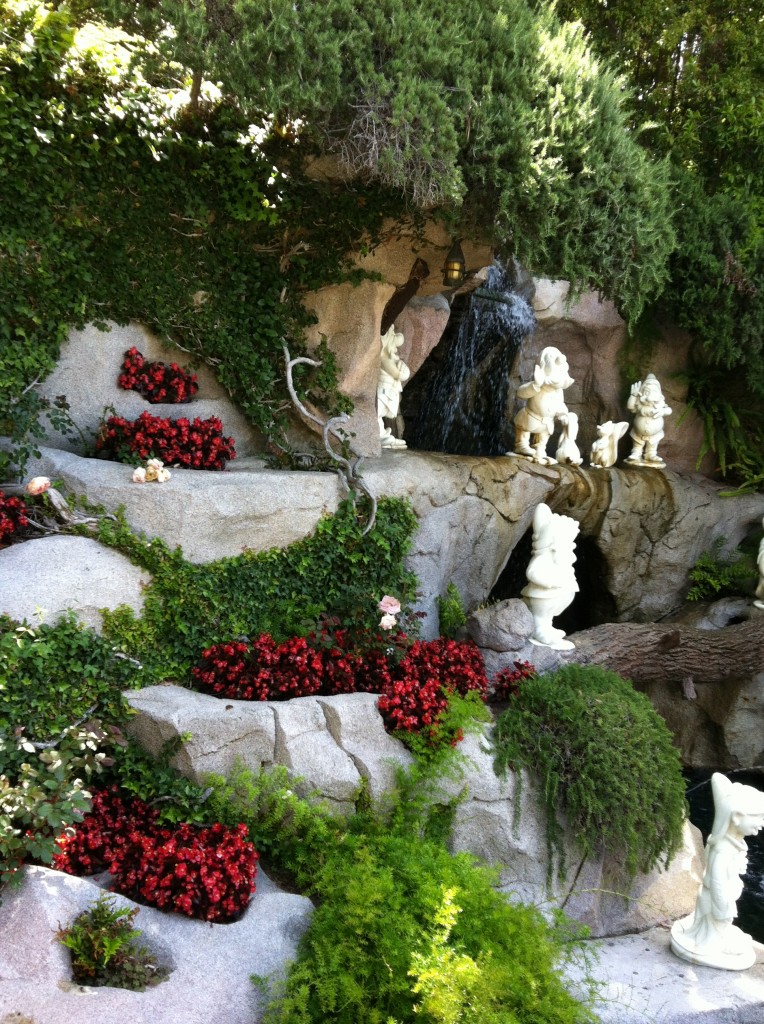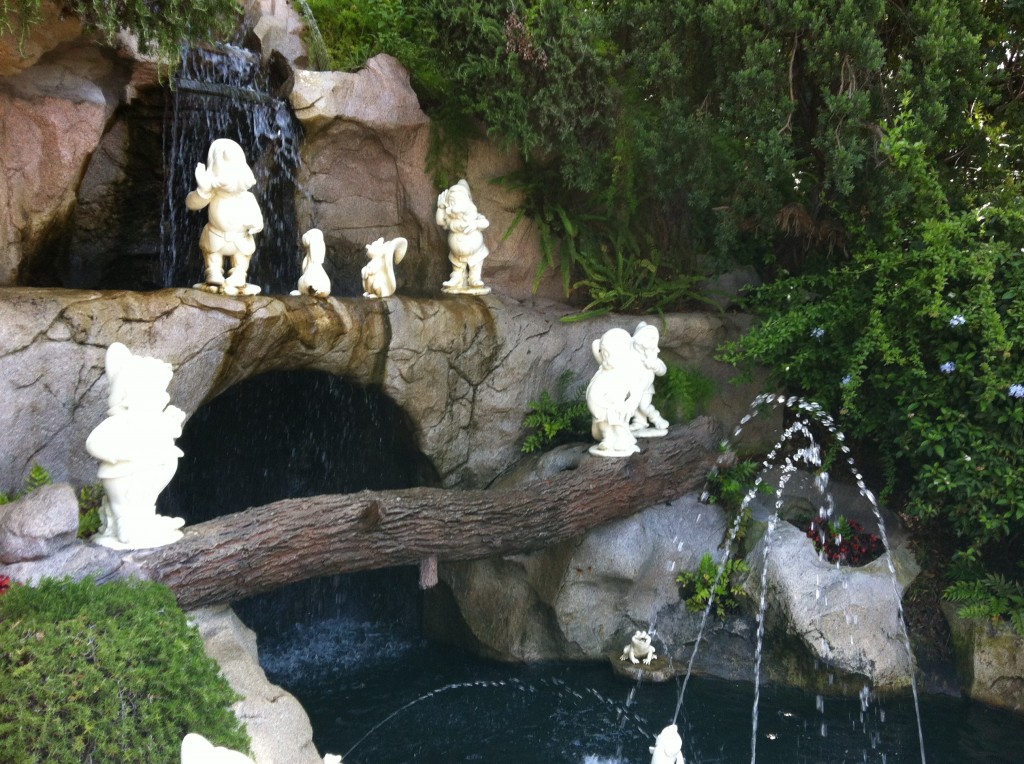 Something  that becomes apparent quickly is that the beautiful California weather has informed the look and layout of the attractions here.
In Florida, most of the year it's either blazing hot and humid or torrential downpours, so all of the queues are indoors or at least covered. Not so here. Attractions like the Mad Hatter's Tea Party are completely open to the air.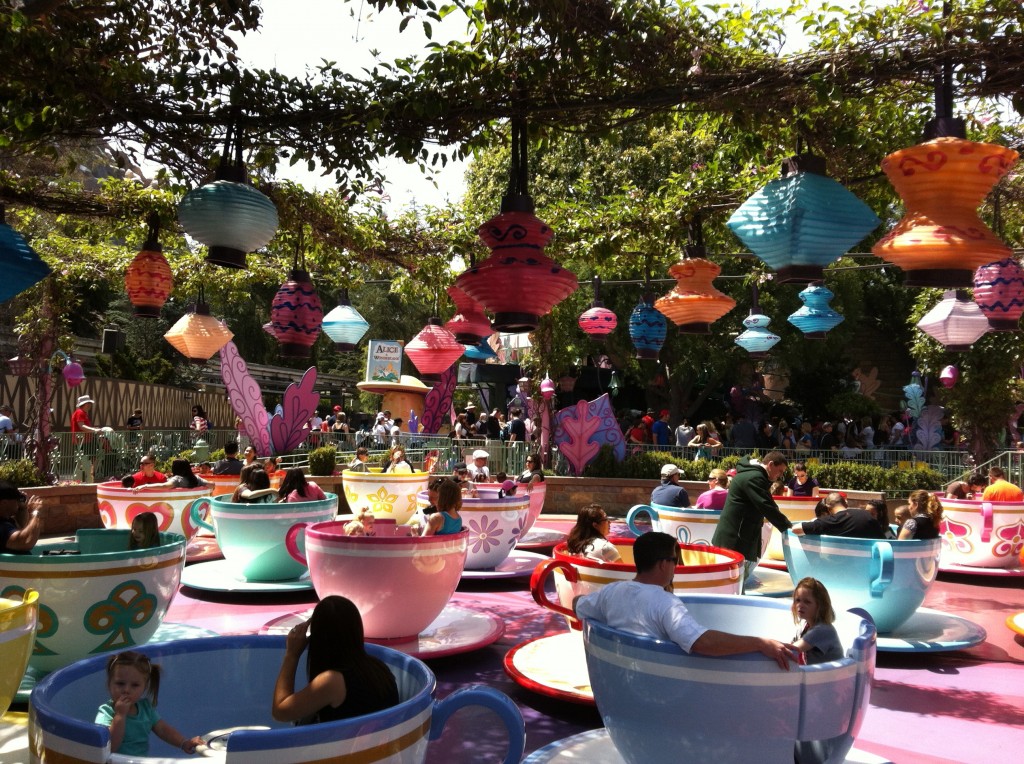 The It's a Small World  attraction starts out outdoors as well, winding through a series of gorgeous topiaries.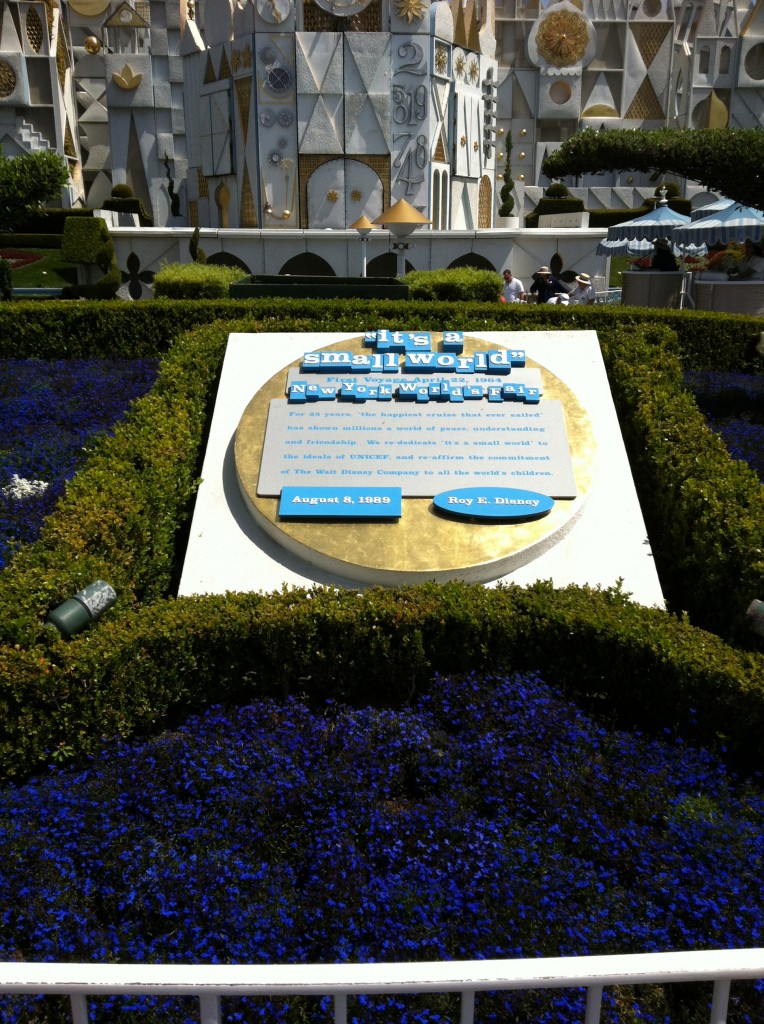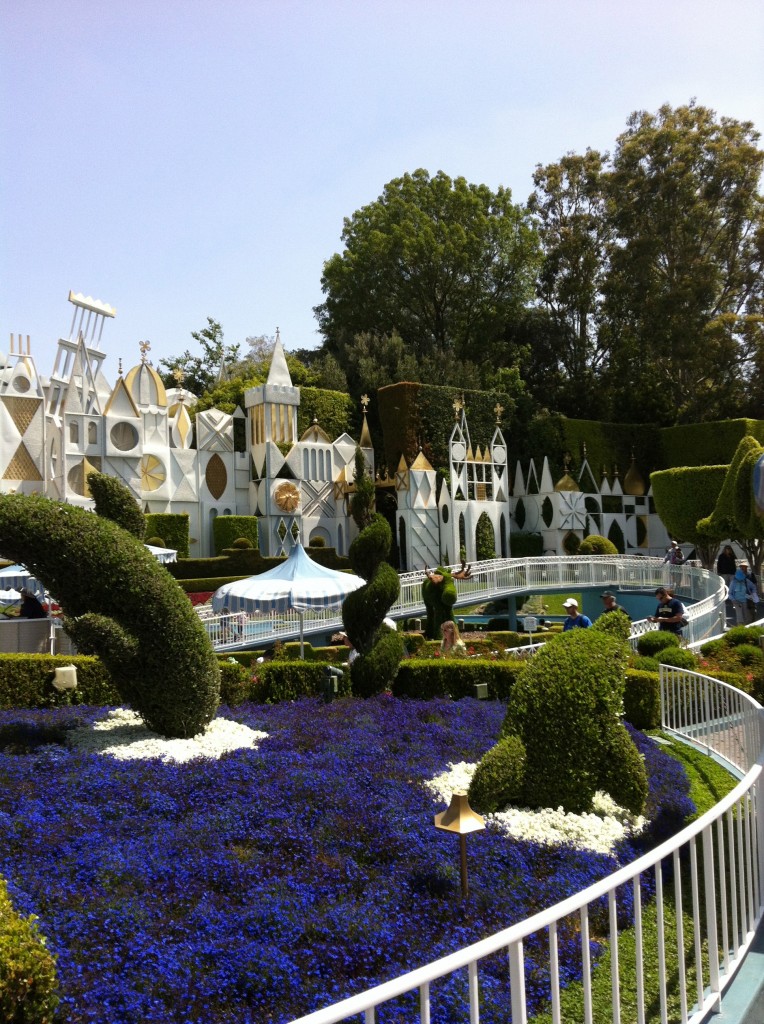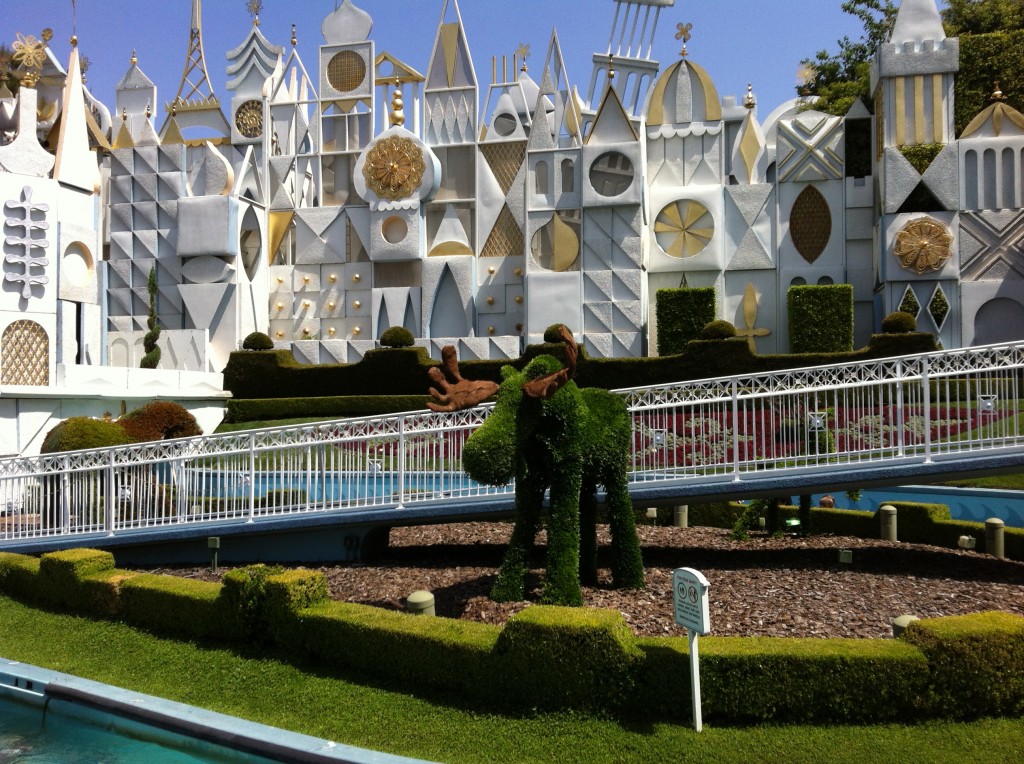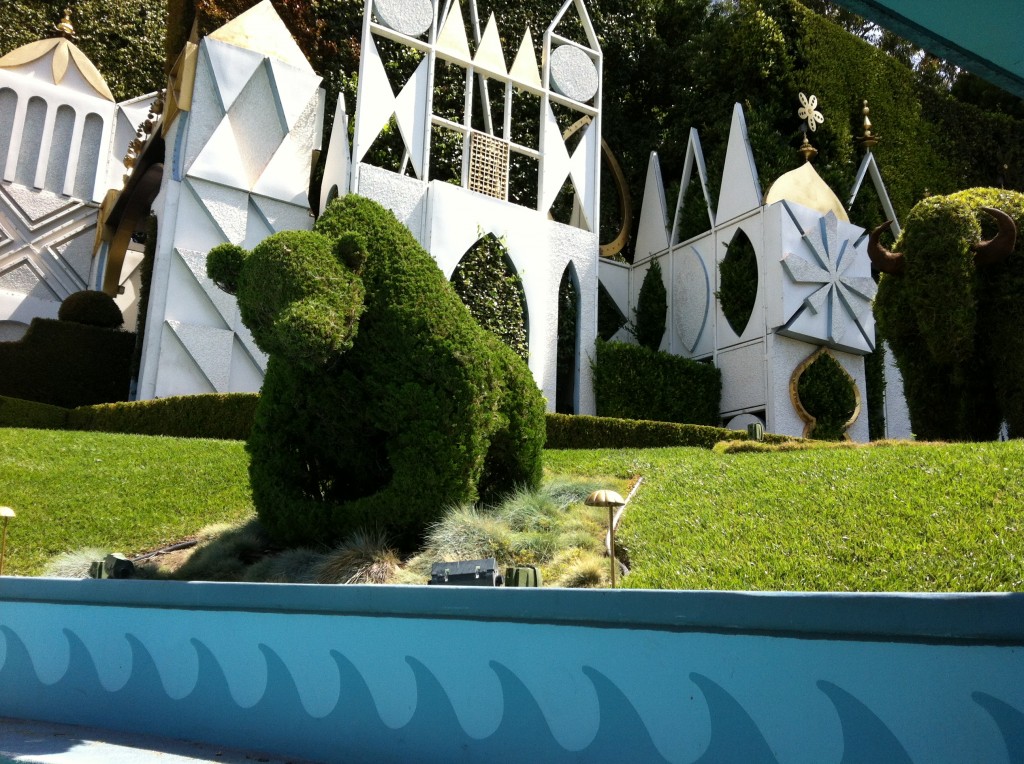 Several years back, they added some characters to this attraction from current and classic Disney films.
Believe it or not, this caused quite a controversy.  When it's an attraction that Walt actually created, you don't go about changing things lightly. I thought it was incorporated well, but who am I?
The park is divided up to to the familiar sections like Frontierland and Tommorowland, but Disneyland has a couple of unique areas not found in Florida. One of these is New Orleans Square.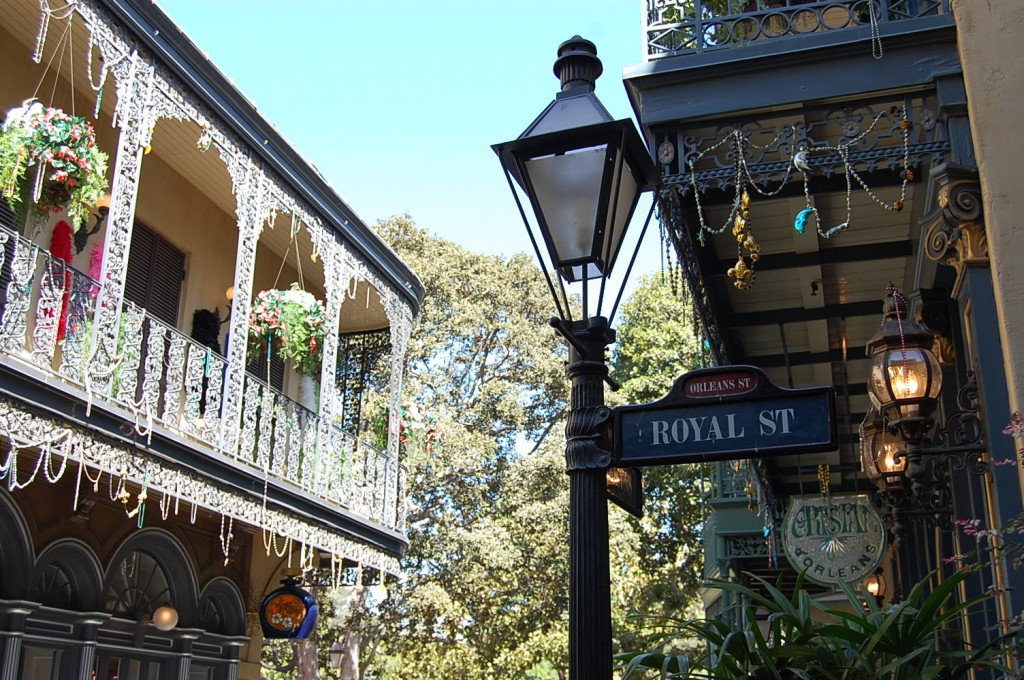 Here you can find the familiar Haunted Mansion  and Pirates of the Caribbean attractions. However, the facades are completely different.
This area has shops and restaurants and the kind of windy narrow paths that make you feel like you're somewhere else completely and not at a theme park. Generally speaking, most people don't explore these areas, they just move on to the next attraction, so it can be a very peaceful to just wander around.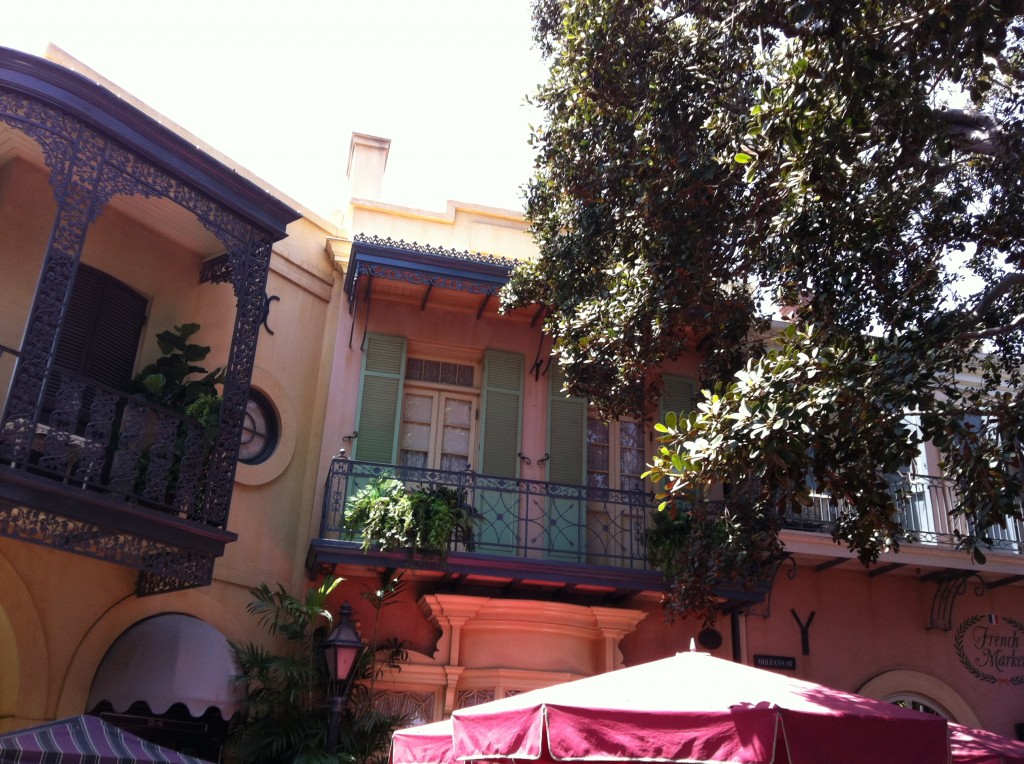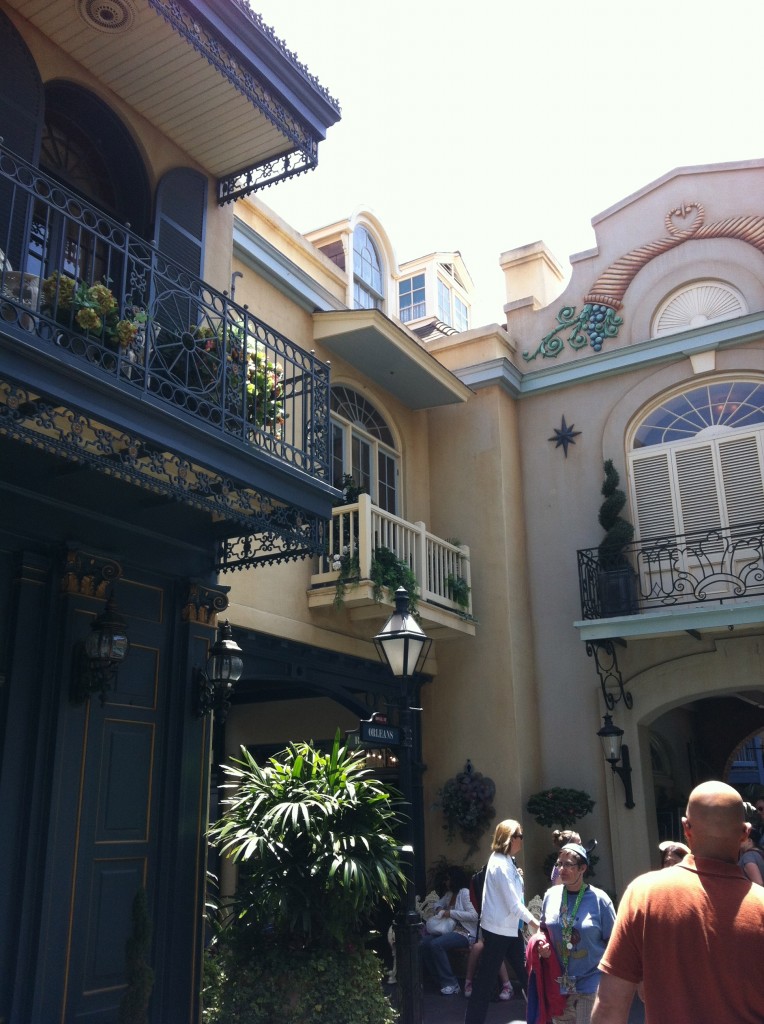 The Court des Anges or  "Court of Angels" was my favorite spot.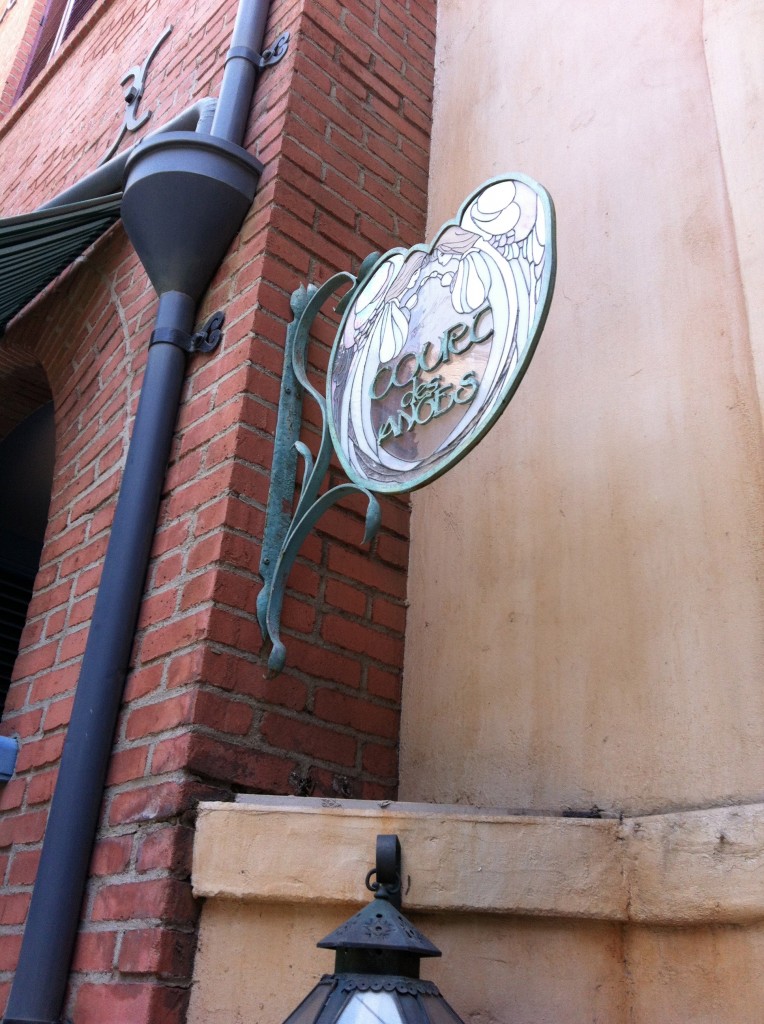 I just adored the cornflower blue stairway and railings.
This is a place where couples can stop and take a romantic photo.
Le Baton Rouge, supplying all your Bat's Day  needs!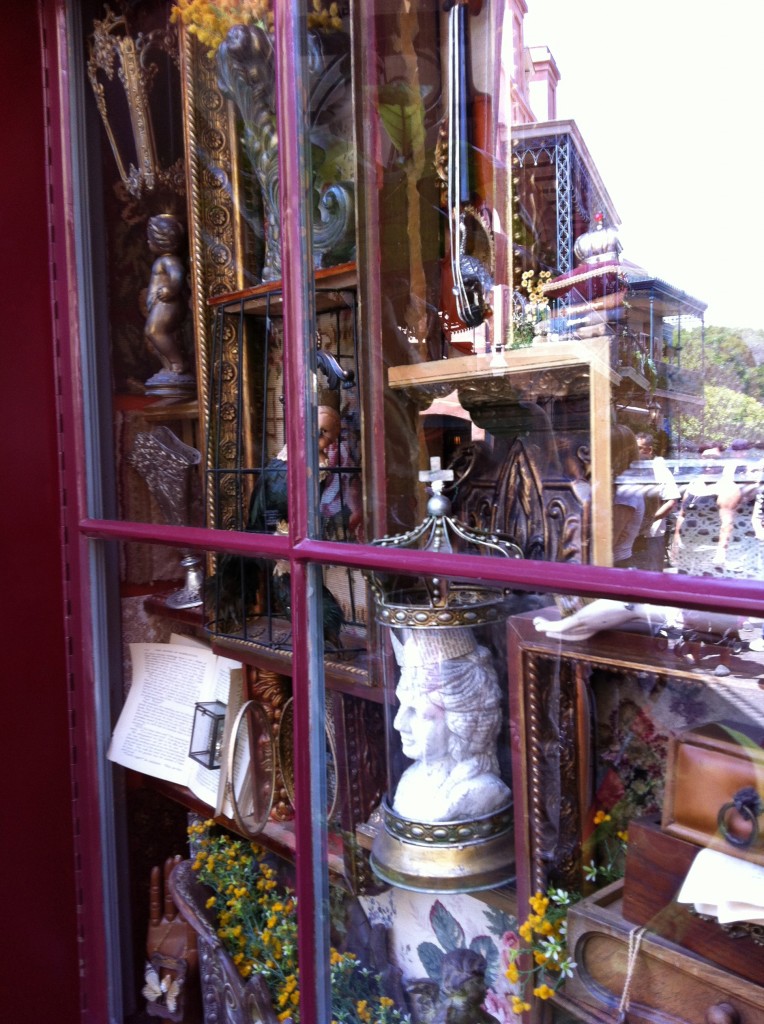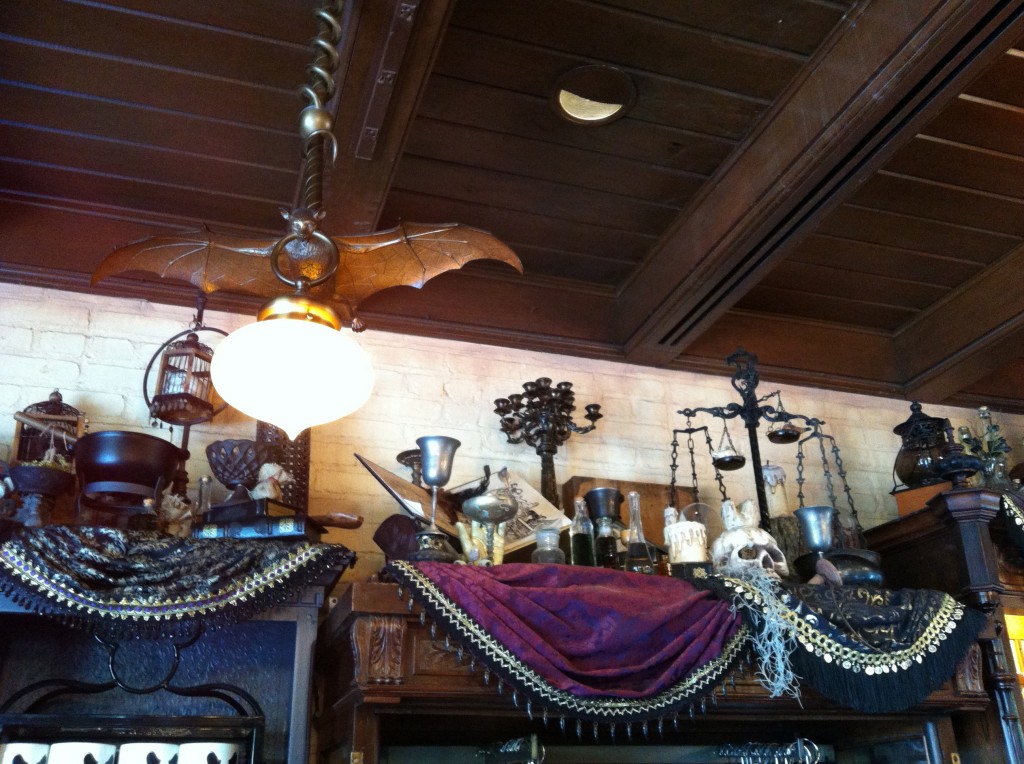 Right next door to the gothe bat shoppe is Club 33, a super-secret, über-exclusive restaurant that only select few (ok millions of Disney fans) know about.
Oh, you say you would like to join Club 33? No problem! All you need is to do is pay the $25,000 initiation fee and annual dues of $10,000 and you're in like Flynn! By the way, there haven't been any new members accepted in the last ten years, so you should have a snack while you're waiting.
Instead we had our lunch at Café Orleans.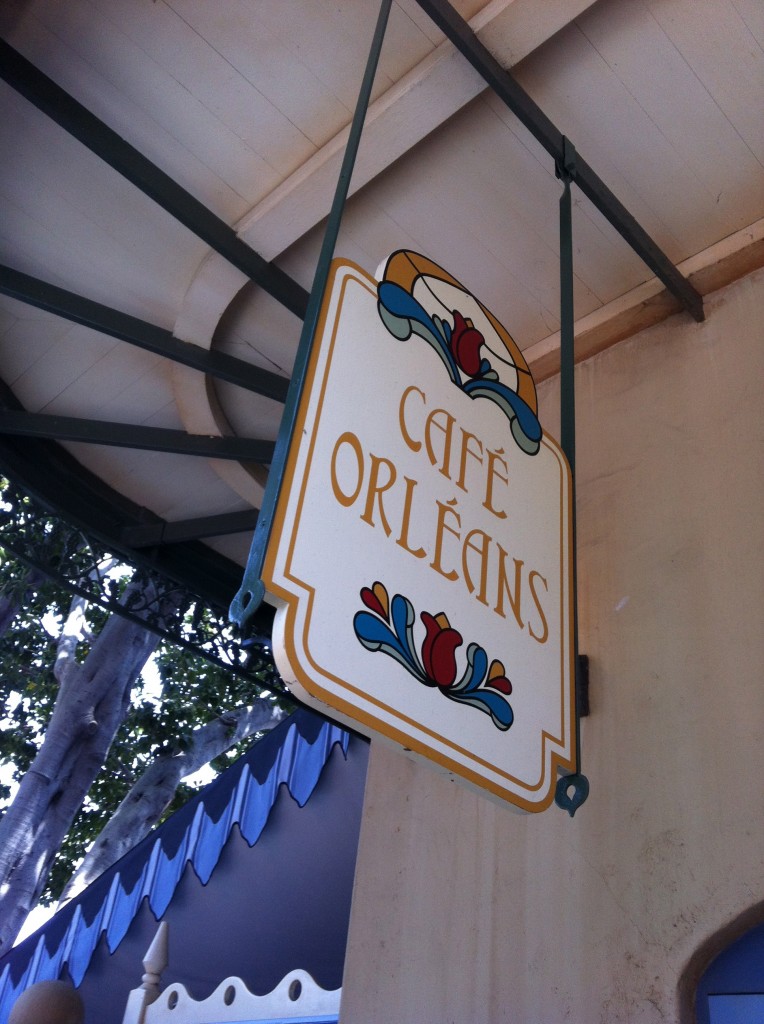 I was hoping to dine outside, but I had already asked to move our reservation up by two hours, so I didn't want to push it.
I knew exactly what we were supposed to get, the garlic frites and a Monte Cristo sandwich. The fries were dissappointing, they came out way too fast and they were cold. They were obviously sitting around waiting for the next order. We had to send them back.
Here is the main event and it was deeee-licious. Ham, swiss cheese and turkey deep fried in a fritter batter and served with powdered sugar and jelly.
After having what was essentially a ham and cheese donut for lunch, taking it easy was the next order of business.
Next Up:  Slow down, you're moving too fast. The best of the slowest in Disneyland.