This would be our last morning at Pop Century. We dragged a couple chairs out onto the walkway (a fire hazard, I'm sure) and enjoyed  some coffee before packing up and moving on up to the Beach Club Resort.
We made sure to leave out anything we would need for the next twenty-four hours. The last time we switched resorts, our luggage took a little detour and ended up persona non grata. They found it eventually.
There are no direct busses that go from resort to resort. We grabbed a bus to Hollywood Studios, then took the boat from there to the Boardwalk area.
If time is an issue, you might want to arrange for a taxi.  However, the boat ride on a morning like this is quite pleasurable.
We were pretty hungry this morning so we decided to have some proper breakfast at the Boardwalk before checking in at the Beach Club.
Here you'll find Kouzzina which is owned by famed Iron Chef, Cat Cora. It gets mixed reviews for dinner, but their breakfast is supposed to be pretty solid.  I popped in to see if we might get a table but the wait was a wee bit too long.
 We continued on to the BoardWalk Bakery.
The goods displayed in this bakery looked absolutely delectable. Making a decision was nearly impossible. Nearly.
We made our selections and plopped down at one of the outdoor tables. It was a gorgeous day. Did I mention that?
I'm not a cupcake person, but I really wanted to say I had one before this trip is over. There's some folks that go on "cupcake crawls" around the parks and I've never even had one in all my visits. This one looked nice and light, so here we go.
This was a perfect choice, light and fluffy with an airy whipped cream frosting. They use a cleaver trick where they notch out the center, fill it and turn that wedge upside down to pile on the topping.
 Breakfast consumed, we made our way on over to the Beach Club.
 There she is! Oh it's just as lovely I remembered!
I checked in at the front desk but I had no expectation of getting into our room, seeing as it was only about ten in the morning.  We were here for the pool. Our stay at the Beach Club is made more of a value (in my Disney addled mind) by checking in as early as possible. We store our luggage and gain access to the resort amenities right away.
That's the ticket! We were changed into our swimming costumes and sipping adult beverages before you could say Bob's your uncle. For a more detailed look at the Stormalong Bay Pool from our last trip click HERE
I got us set up with our tipple at Hurricane Hanna's.  There's no direct route so you have to wind all the way around the pool to get there. This must be a tactic to keep guest from getting spifflicated.
They have a respectable variety of beers as well as a whole bunch of tropical type concoctions. I want to try and like these fruity-loo drinks, but I just don't.
If you're particular (picky) like me, don't feel tied to the menu. You can order what you want. If they have the ingredients, they'll make it. I requested a Grapefruit Margarita which basically subs out grapefruit juice the sour mix (yuck) .
We were alternating between sunbathing and hurling ourselves down the Pirate Ship waterside when I received a strange message from the front desk of the neighboring Yacht Club Resort, saying that I had left my credit card in a restaurant there the night before. This couldn't have been mine, we had just arrived, but I wanted to make sure that they end up contacting the right person, so I walked on over.
It took me a while to explain the situation. I finally had to play the message from my phone for the concierge. They apologized for my troubles, which was unnecessary. I got to snap all these picture for you while I was there!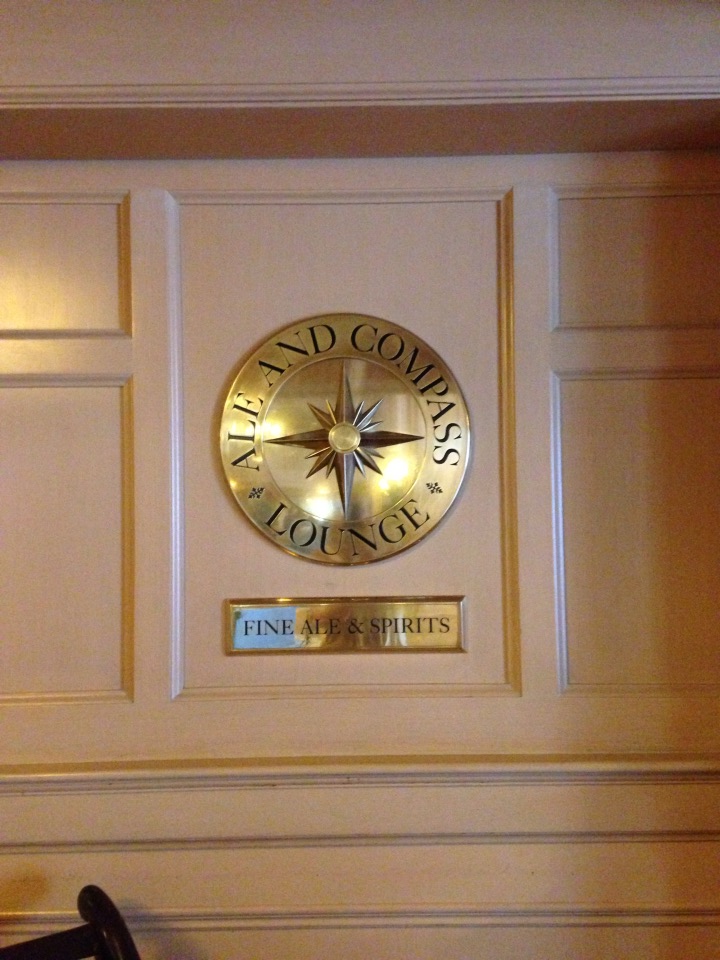 Here's where you want to have our scotch.
The Yachtsman is purported to be the best steakhouse on property.
We were lounging for a bit more at the pool when I received my text that our room was ready, but we would need to visit the front desk before heading up. This was a bit strange because we had already checked in and received our room keys. When she asked for my room keys back I noticed that our new room was only on the second floor. Here's the thing; staying at a deluxe resort really stretches our budget to say the least, so I only reserve the most basic, standard room. Doing research online, I learned to ask for an upper floor and a full balcony. These rooms cost the same as other standards but tend to have a better view. Really, all I want is to not over look the dumpsters or a parking lot, which can happen.  I decided not to pipe up and just go with it. If it was terrible then I'd speak up. When we arrived at the room, our key didn't work. I began to text the front desk when Jeff noticed that there was a second door around the corner with the same room number. My heart leapt. I knew what this meant. WE HAD BEEN UPGRADED TO A SUITE!!!!!!!!!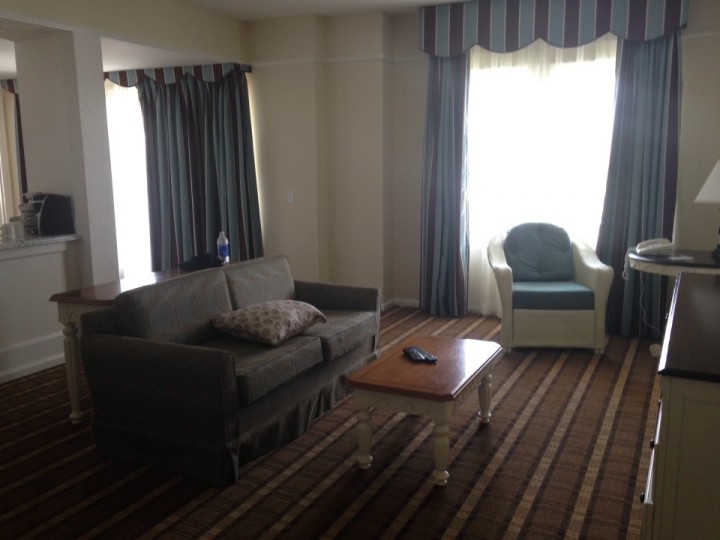 I had to talk Jeff down a bit, because he thought we might be expected to pay for this. I knew that this kind of Disney Magic just happens to people sometimes. Maybe it was because we were celebrating Meg's birthday or because of that bit of a hassle with the credit card. Who knows? All I can tell you is that this place was absolutely palatial. After I jumped up and down and ran around the place screeching like a fool, I calmed down and took some photos. It's hard to get a feel for how huge this place was.
Just being able to stay in a place as lovely as the Beach Club is something I am immensely grateful for. I never expected to be blessed with an experience like this. I went back and forth about telling you how much a room like this would have cost. Seeing that we didn't pay for it I'll go ahead and share. This two-bedroom suite at this time of year lists for $1910.00 per night! I know, holy cow right!?  It's really more than the room upgrade that delighted me so. It was the fact that the cast members wanted to do this for us, for whatever reason. It's that special Disney touch that makes me want to keep going back. No, it's not likely that anything this amazing will happen to us again, but I'll keep giving them the opportunity to try!
Up Next: Batting cleanup at Hollywood  Studios, plus what forty dollars worth of Calamari looks like!