For this trip, I did a bit of scheming. I decided not to get the Park Hopper option on our tickets so I could  instead use the difference in price to help pay for one night's stay at the Beach Club Resort.  Brilliant!  So this would be our last morning in our teeny tiny quarters at Pop Century Resort. For the most part, when we are at Disney, the room is just as a place to crash and shower and that is just fine. The goal is to spend as much time in the parks as possible and not to spend a ton of cash for a resort that we aren't making full use of.  But staying at the Beach Club for the last night made sense for a couple of good reasons. First, we would be taking the day off from the parks and enjoying the AMAZING sand bottom pool (more on that later). Second, The Beach Club is just steps from Epcot so we would be able to hop over and make another pass through the Food & Wine Festival before having to leave for the airport the following afternoon…and I really wanted to know what it was like to stay at a deluxe resort.
There is an episode of Seinfeld where Jerry argues with Elaine over who should get the one first class seat available for their flight:
Elaine: Why should you get the first class?                                                                              Jerry: Elaine, have you ever flown first class?                                                                    Elaine: No.                                                                                                                                 Jerry: All right then. See? You won't know what you're missing. I've flown first class,      Elaine– I can't go back to coach. I can't… I won't!
Friends, I'm not saying I won't go back, but it's going to be dang hard…
We packed up our stuff, leaving out one change of clothes and our bathing suits to keep with us. Bell services would be delivering our luggage to our new room-eventually. There are no buses that go directly from resort to resort so we headed to Hollywood Studios where we could then take a boat to the Beach Club.
Of all modes of Disney transportation, the boats are the most relaxing. On a beautiful day like this they are practically an attraction in and of themselves.
En route to the Beach Club we got a nice view of the Swan and Dolphin. This resort is on Disney property but not owned by Disney. Which means that if you  stay at the Swan and Dolphin you can participate in the Extra Magic Hours, but you can't use the dining plan. You can use Disney transportation around the parks but you can't use Disney's Magical Express bus service.  Yeah, I'm confused too.
Another point of confusion are the ginormous statues on top of each of the resort buildings. If you take a closer look, you can see that the icons don't match the decorative design schemes. The swans are on the building with the ocean waves and seashells; the dolphins (or more accurately, dolphin fish) are on the building with the leaves and park-like fountains.
There is a rumor that the helicopter crew installed the statues on the wrong buildings so the hotel company had to swap the names. The Swan became the Dolphin and the Dolphin became the Swan. The architects have since denied this. I've read an account of the True Back-Story and honestly,  it would be easier for them to just go with the mix-up story. I couldn't follow it and I'm REALLY interested!
I had read every review and seen 360 degree videos of the place and I was still wowed by its elegance. It has a New England Beach theme. I know what you are thinking; "Why would you want to stay in a place themed ofter the area where you live?" The thing is, the only beaches we frequent are the Nantasket/Hull variety- not Martha's Vineyard caliber like this.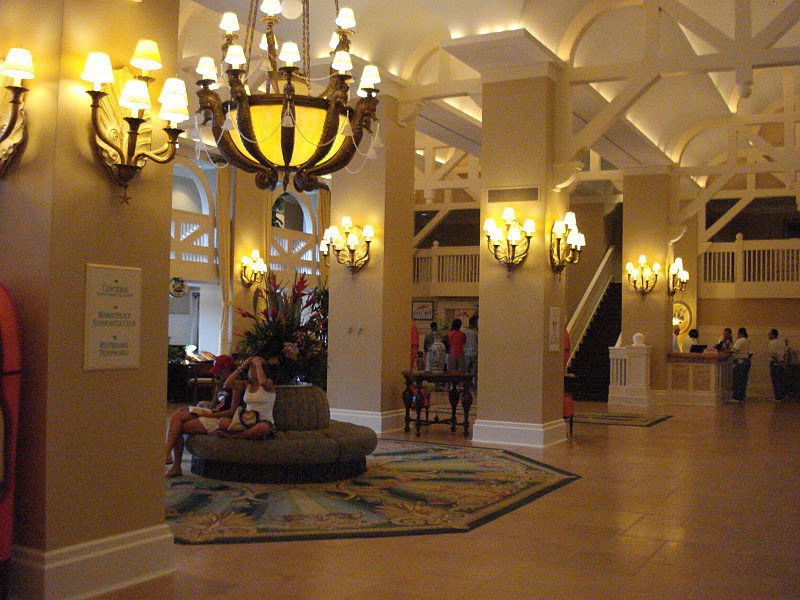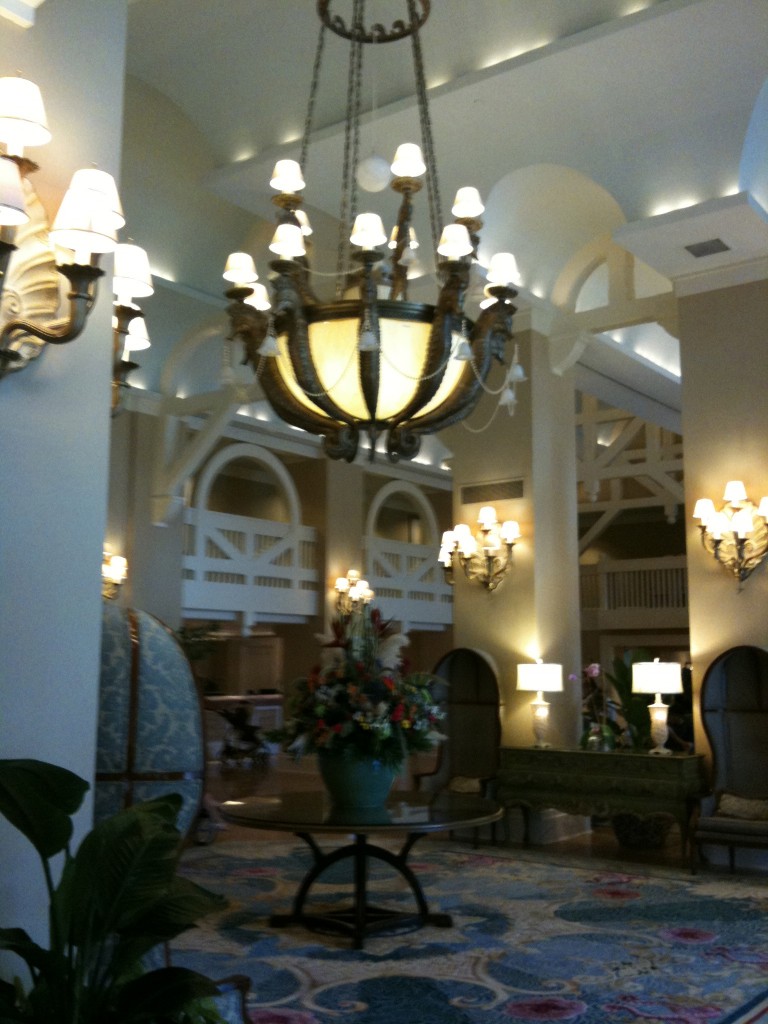 Disney resorts are categorized into value, moderate and deluxe. On our first trip that we took as a family we stayed at a moderate, Port Orleans. It was a lovely place but I don't think I would go that route again. It's nearly twice as expensive as a value, yet the room size is really not that much different- and you are no closer to the parks. As you can see from the nifty diagram below (thank you Touring Plans), the leap in room size from value to deluxe however, is huge!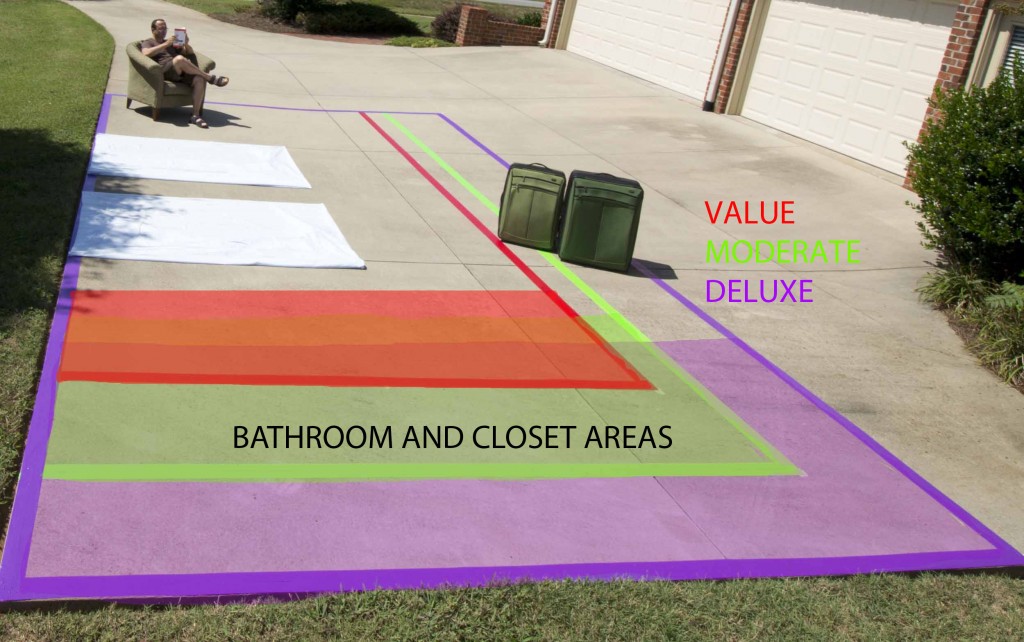 Here we go now, up to the room.
The room was beautiful and well appointed; real duvet covers instead of scratchy bed spreads, fluffy pillows and towels…
The writing desk next to the bed had a table that pulled out for extra room. I didn't do any letter writing though.
This room could sleep five quite comfortably; Meghan slept in the day bed. In our quarters at Pop Century she slept on the floor, the poor dear.
The vanity area was generous with lots of storage space and a coffee maker with real ceramic mugs. The value resorts don't provide a coffee maker so you best be believin' I brought my own! I just buy a cheap four-cup number and leave it there at the end of the trip.
You can pay an extra hundred dollars or more per night for a preferred room at the Beach Club and it's still not a guarantee that you'll get the view you'd expect. I've heard it said that if there is as much as a bird bath out the window they'll charge you for a "water view".  An exaggeration I'm sure, but probably not by much.  In the description on the Disney website, standard view rooms may look out on to a rooftop or parking lot- not so magical. However, there are some rooms that fall into the standard category that are pretty awesome. I did some research (shocker!) and it was recommended to request a room on the fourth floor with a full balcony. Here's what we got:
I was pretty much psyched about the view. It may just look like a forest, but to me actually seeing Epcot from my room seemed super posh. If we had an extra night to hang out we could have seen the IllumiNations show right from our balcony. A reason to go back I think!
The Beach Club (along with its sister resort The Yacht Club) without a doubt has the best pool on property, Stormalong Bay. It's really like a mini-water park. The pool gained such a reputation that non-guest pool hopping became a real problem. This prompted Disney to surround the complex with a fence that is guarded by cast members checking resort IDs. Now you have to be wrist banded like you are going to Lollapalooza.
The pools at Stormalong Bay make up three acres so it's impossible to view the whole thing from one place. There are two main sections of pools, all shaped in a lazy river-type formation that, if stretched out, would equal almost a mile in length!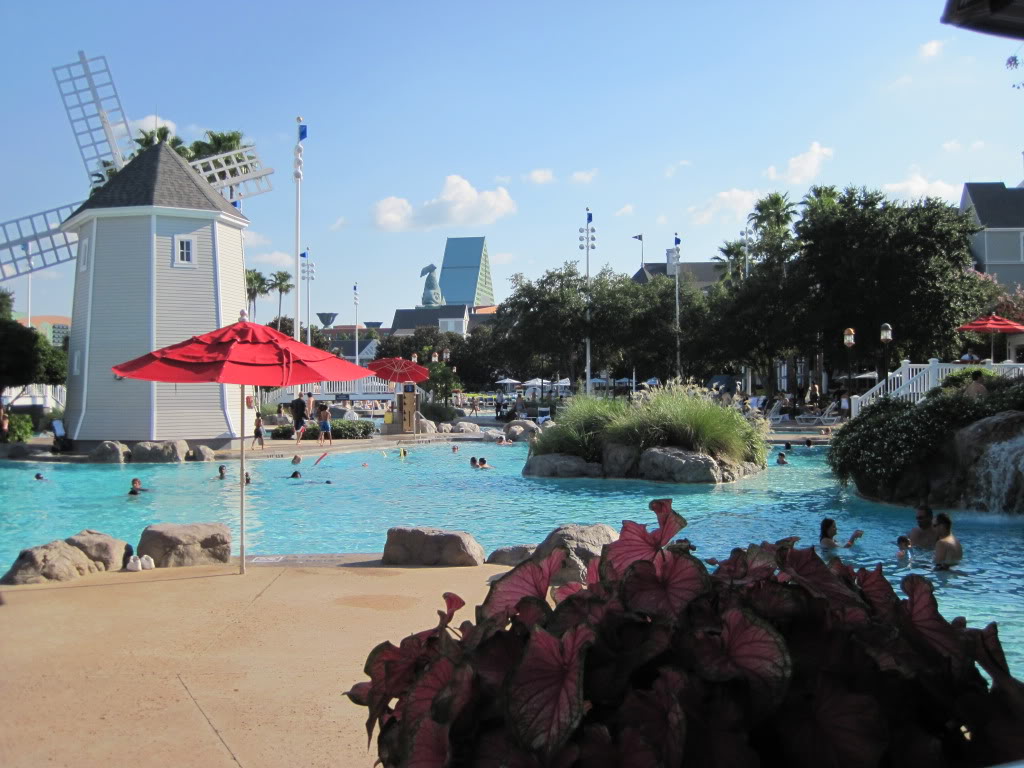 One of the cool features of the pool is that it is sand bottomed. The kiddie pool has a beach area for castle building. Great spot for young families so yeah, we stayed away from there!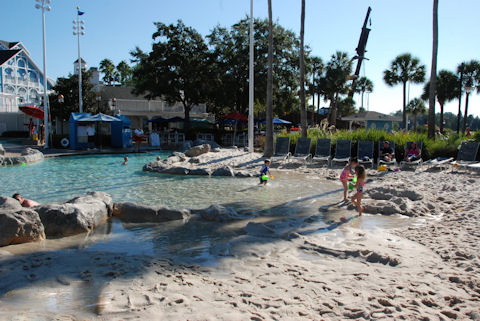 And then there is the water slide…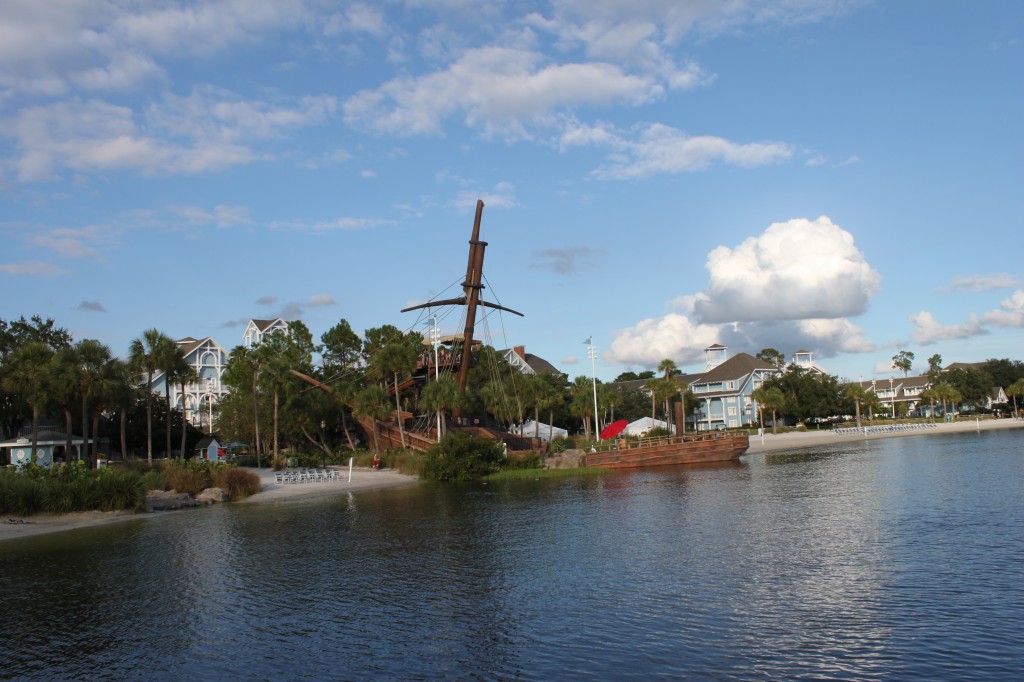 The theme (no, you can't escape the story thing even at the pool) is based upon the legend of the gigantic sailor named Stormalong who ran his ship ashore.  He plowed into the shoreline creating the pools and waterways that exist today. The wreck of the Albatross can still be found where the storm deposited her (aarghh). But her usefulness has not been lost to the calamity. Now-a-days, kids (and adults) can climb her mast and find a water slide that whisks them to the nearby pool. The water slide is 230 feet long with 110 feet enclosed in tubing.
Here is a video of the slide experience. These are not my feet, I got it off the interweb.
All this frolicking in faux pirate era pools can be quite taxing, but fear not! There's relaxation and refreshment to be had. You can visit Hurricane Hanna's for a snack or the essential poolside adult beverage.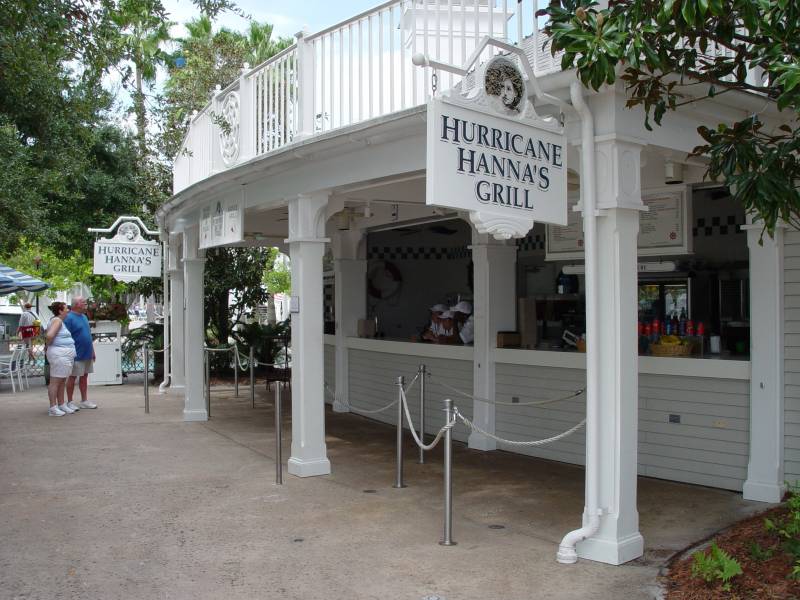 Our day at the Beach Club and Stormalong Bay couldn't have been better. The weather was perfect despite some dodgey forecasts. I guess you could say it went swimmingly-Waka Waka!
Next Up:  Hey Annette, Let's meet at the Soda Fountain! – Frankie