As lovely as our sweet suite was, there was still some amusement awaiting us at Hollywood Studios.  Staying at the Beach Club means that you barely have to turn a cartwheel and boom! you're in Epcot. While one can technically walk to Hollywood Studios from here as well, it's a really looooong trek, as we discovered.  Nice for an evening stroll perhaps, but not so much if you've got miles of walking still ahead of you in the park. Live and learn. Come along with us on our journey…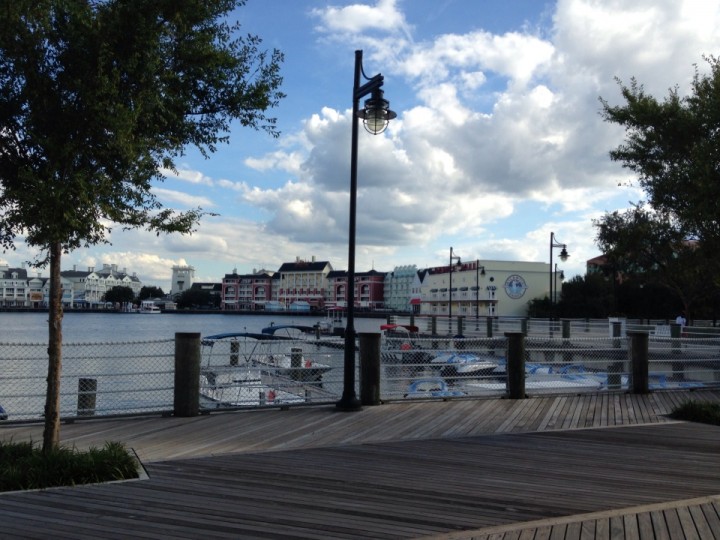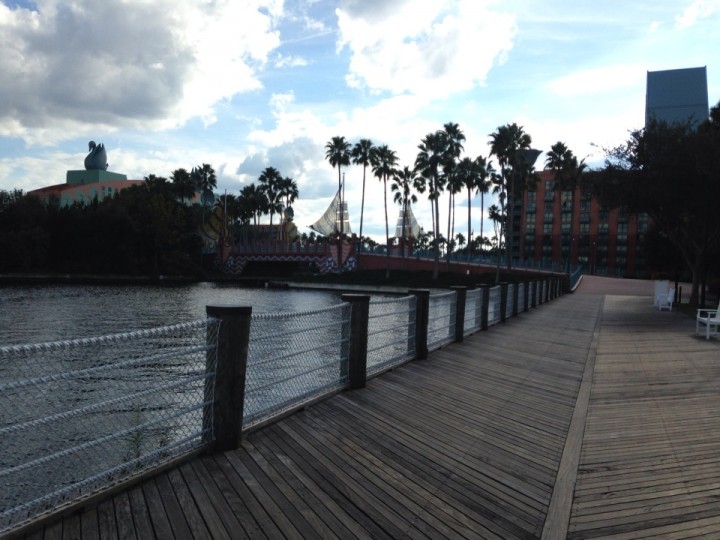 We were cutting things razor close to our first Fastpass+ reservation, so things got serious by the time we reached the gates. Women and children, step aside we gots elevators to plummet to our demise in!
We spent the rest of the afternoon hitting back on the rest of our favorite attractions. This is where Fastpass+ made a HUGE difference. Normally, all the Fastpasses would be gone for rides like ToyStory by mid-morning. With this new system, we were able to walk right on during our preplanned time slot.
Here's your dose of geekdom: Two of the "robots" in the Star Tours pre-show are actually stripped-down animatronics that were originally in a Disneyland attraction called "America Sings" that closed in 1988. While most of the characters ended up in the dark ride segments of the Splash Mountain flume ride, these two geese were plucked and repurposed for a galaxy far, far away.
Having gotten all our rides in, we wandered about, taking in the atmosphere and inevitably stopping for a bit of refreshment.  We landed at Rosie's All American Café on Sunset Boulevard for our perennial favorite Yuengling Beer. In addition to ample seating around back, you'll also find a tribute to the greatest generation in the form of a Victory Garden.
 It seems like Disney reserves the prettiest areas for the smokers. Boo!
According to my photos, night fell…suddenly.
Tonight we would be taking the boat (NOT walking) back over to the Boardwalk. Coincidently enough, one of Jeff's colleagues from the Netherlands was in town visiting his parents who happen live Orlando, so we made plans to meet up for dinner. This worked out splendidly because I had kept things loose for this evening. I had heard great things about Il Mulino, an upscale Italian restaurant in the Swan Hotel, so I made a last minute reservation.
The Swan and Dolphin Hotels fall into this weird limbo: not quite Disney but still on Disney property. We've gone over this before, so I won't revisit the details. These sister resorts specialize in hosting conventions, so when you visit, you'll see more suits and name badges than Mickey Ears. This can be a pleasant break from all the "Happy, Happy" of the parks, if that sort of thing wears on you.
Il Mulino NewYork is based on the original location in the city that never sleeps. Said location has been one the top rated fine dining destinations in NYC for the past twenty years.
 The design of this Orlando location has a converted warehouse vibe that perfectly reflects the urban feel of the original.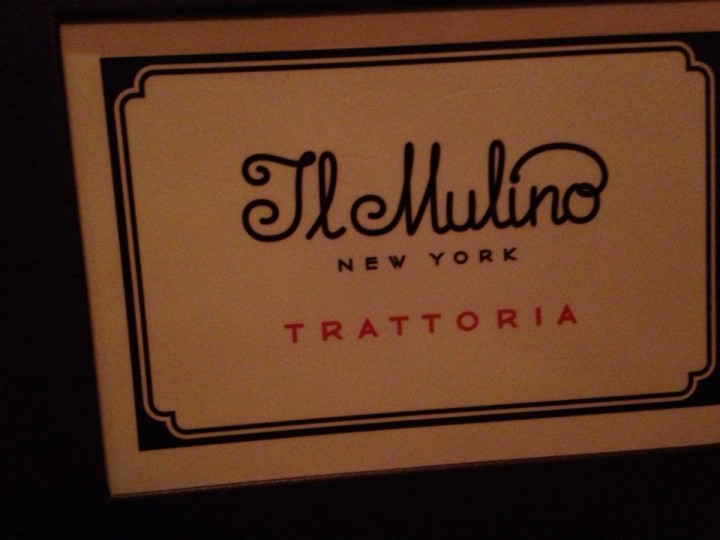 We had a bit of waiting to do before our guest joined us, but we knew exaclty what to do to pass the time.
Our server then brought us the most delectable selection of breads along with this heavenly Eggplant Tapenade with Sopressata. This was so good! I could have just eaten this and skipped the main course, but they probably frown upon that.
Our guest arrived. He kissed me on both cheeks, all European style. You probably didn't need to know that. Anyhoo, now we moved on to official appetizers. We were all eyeing the calamari, so we decided to get enough for the table. Apparently our server misheard me because he brought enough for EVERY table in the restaurant.
The calamari was crispy and light and seemingly bottomless. There was also some zucchini in the mix, so it as almost like a salad, really.
Meghan got soup as her main meal. It was a very light and tasty meat tortellini in a  chicken broth.
I wasn't familiar enough with our Dutch friend to hand my camera over for pics, so I don't recall what he ordered. It was more important to preserve any notion that he may have had that I am a normal person.
Speaking of normal, I knew about six months ago exactly what I was going to order and force Jeff to share with me. I had heard a review of Il Mulino, singing the praises of a certain  pasta dish, Rigatoni Con Funghi.  When you see the pictures, you're gonna think to yourself "what's the big whoop?" I totally understand. It looks quite pedestrian. However, this was so much more than it seems.
I don't come from the "adding truffle oil makes everything fancy" camp, but here it turned plain old rigatoni into a silky, savory delight. The cherry peppers added just enough heat and acid to the mix, and the sausage? Fantastico!
At the end of the meal, you are treated with a cordial of "Lemoncello",  gratis.
This is a nice touch. There really is hardly a trace of alcohol in it as evidenced by the fact that they served my underage daughter without batting an eye.
All in all our meal was just lovely, albeit quite expensive. That plate of pasta was twenty six bucks-without the addition of sausage. I don't even want to tell you what calamari for four cost.  This was one of those "Hey, we're on vacation" situations. I regret nothing.
We bid goodnight to our dinner companion and hopped the boat on over to the Yacht and Beach Club. Meghan went on up to our luxury digs, but we dropped into the Crew Cup Lounge for a night cap. Careful readers will remember I foreshadowed this event earlier for you.
 This little pub is a hidden gem.
Where so many restaurants in Disney are humungous for good reason, those in the know will find that there are little nooks like this all around property where you can retreat from the wall-to-wall humanity for a quiet tipple. You just have to know about them. Wink,wink.
It was pretty late when we finished the night, so we tip-toed back up to our room.
Brace yourselves, as we now have little more that twenty-four hours left in Walt Disney World! Do not despair, I'm gonna squeeze at least two more posts out of it.
Next Up: You can't make me leave.