All the months of meticulous planning and preparation suddenly came unraveled when we woke up on day three to this:
I had been watching the weather in the weeks leading up to the trip, but I had to stop checking because it was giving me anxiety. If it rained, our vacation would surely be ruined, ruined! I couldn't bear the thought of it so I decided to blithely ignore Weather.com. What do they know anyway?
But now, here we were faced with the reality of absolutely torrential rain. Our first thought was that we could wait it out at the hotel and maybe have some breakfast down at the  Everything Pop Food Court...genius! But somehow everyone at the resort seemed to catch wind of our scheme!
So we decided to poncho up and and head out to our destination,  Animal Kingdom.
We got into the Animal Kingdom after dealing with  the jerky security check guy who made us take off our rain gear to remove our bags for inspection (I get it, you have power) and hustled over to the only place that has a counter serve breakfast in the park, Pizzafari. We juuuust missed breakfast so they already had switched over to the lunch menu. No waffles for me here either. I consoled myself by having a "before noon" beer.
Inside of Pizzafari you will find room after room of spectacularly themed animal murals, although those themes are not always obvious.
The wood carvings that you see throughout Pizzafari on the walls, rafters, and ceilings are authentic Oaxacan Wood Carvings from Mexico.  You can also find Oaxacan style carvings in the Mexico pavilion at Epcot.
Jeff and I did swapsies with a pizza and panini. The pizza is basically Boboli bread with sauce and cheese, not terrible, but the sandwich was actually quite good. It had a nice dressing and the bread seemed fresh.
I watched hopefully out the window for any sign that it would clear, but it only seemed to range from driving rain with tropical storm gusts to just driving rain. I guess if you're going to tour a park in the rain, Animal Kingdom would be the most apropos. The lush foliage of the landscape definitely lent to a rain forest feel. Unfortunately, There was really no way to take pictures as we were walking around.
Animal Kingdom is kinda known as a half day park. There's a lot to take in and see if you are into details and theming, but there are not many actual attractions. The Kilimanjaro Safari  is worth the trek over there though. Like all things Disney, there has to be a story. You can't just go and see the animals.  Whilst you are enjoying the view of the Savannah danger is lurking and it suddenly becomes your mission to save a group of elephants from would-be poachers. Apparently a bone rattling jeep ride is supposed to add to the realism so people with bad backs, be warned.
I was thinking as they loaded us onto the vehicle that we wouldn't see any animals in this nasty weather and that they were just stringing us along. Then I remembered that animals like LIVE outside in the elements and you know, are used to getting rained on.
But get ready for….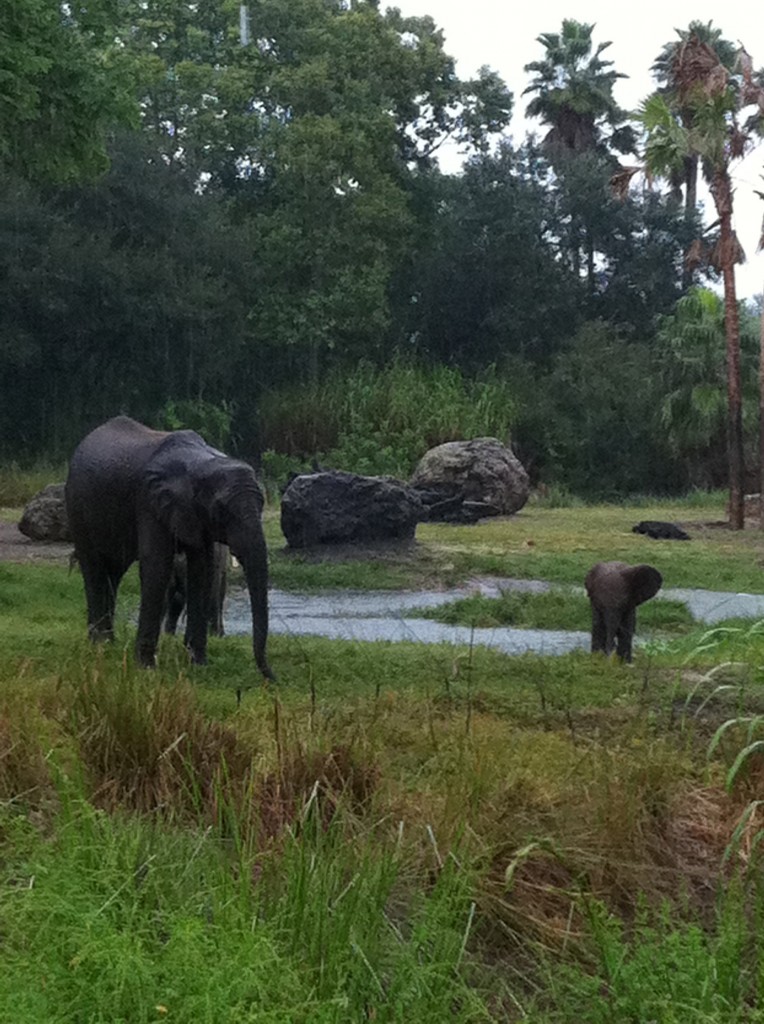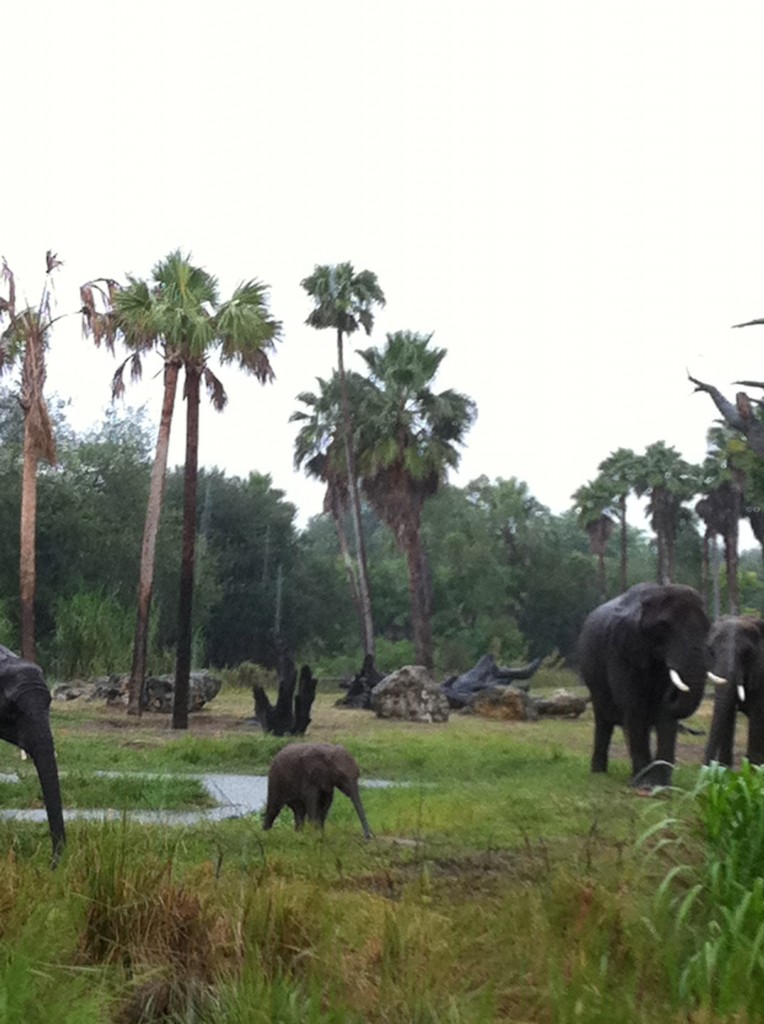 All of these elephants and rhinos remind me of a joke:
After the safari it actually cleared up long enough for us to ride Expedition Everest… about 5 minutes.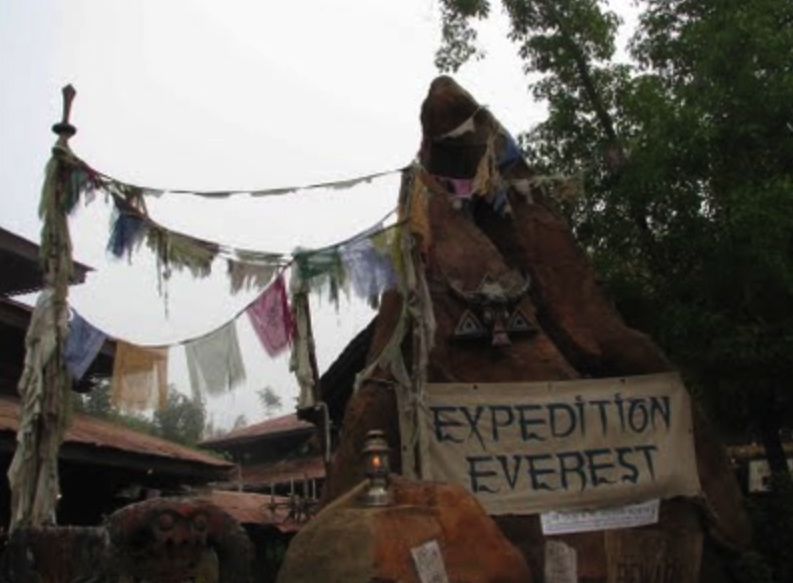 We moved on to an indoor attraction. Finding Nemo the Musical is a must see at Animal Kingdom and we had already seen it a couple of times. Typically we would arrive at the last minute and slip into the back. This time, because we were looking to escape the rain,  we got there early were able to sit right down in the front. Being so close to the stage made it feel like we were seeing this for the first time. It gave us a whole different perspective.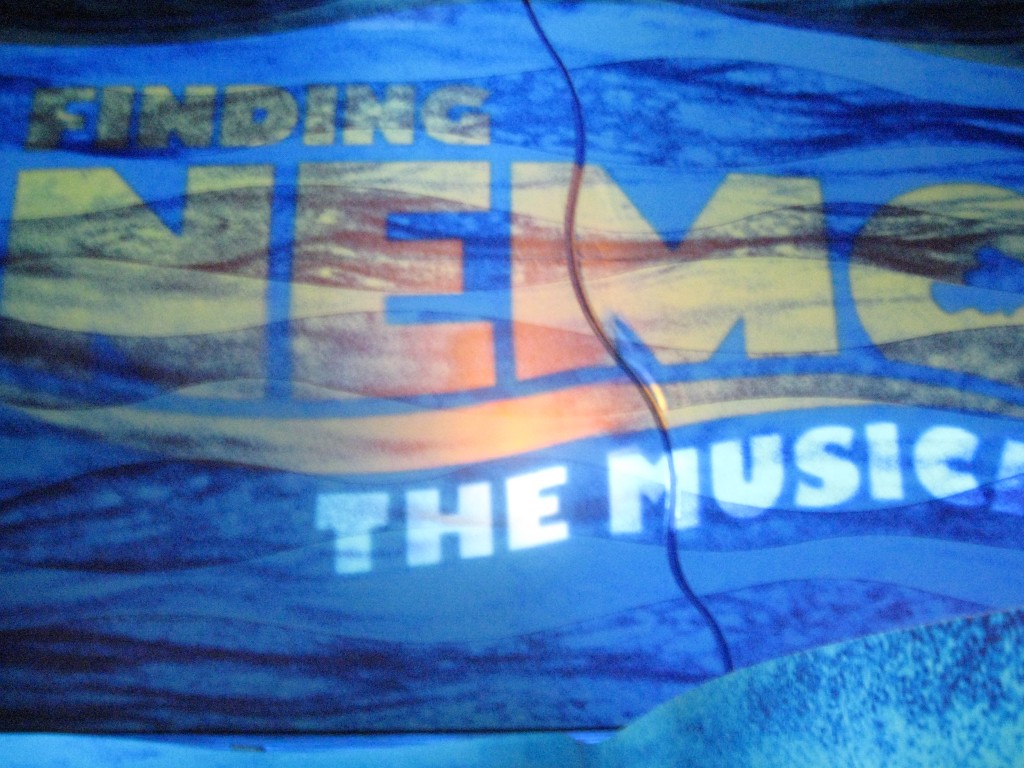 The characters are represented in this show by puppets but no attempt is made to hide the actors controlling them.  It may sound odd to picture an actor emoting and singing full voice alongside a puppet that he's clearly operating, but the human/puppet duality somehow works.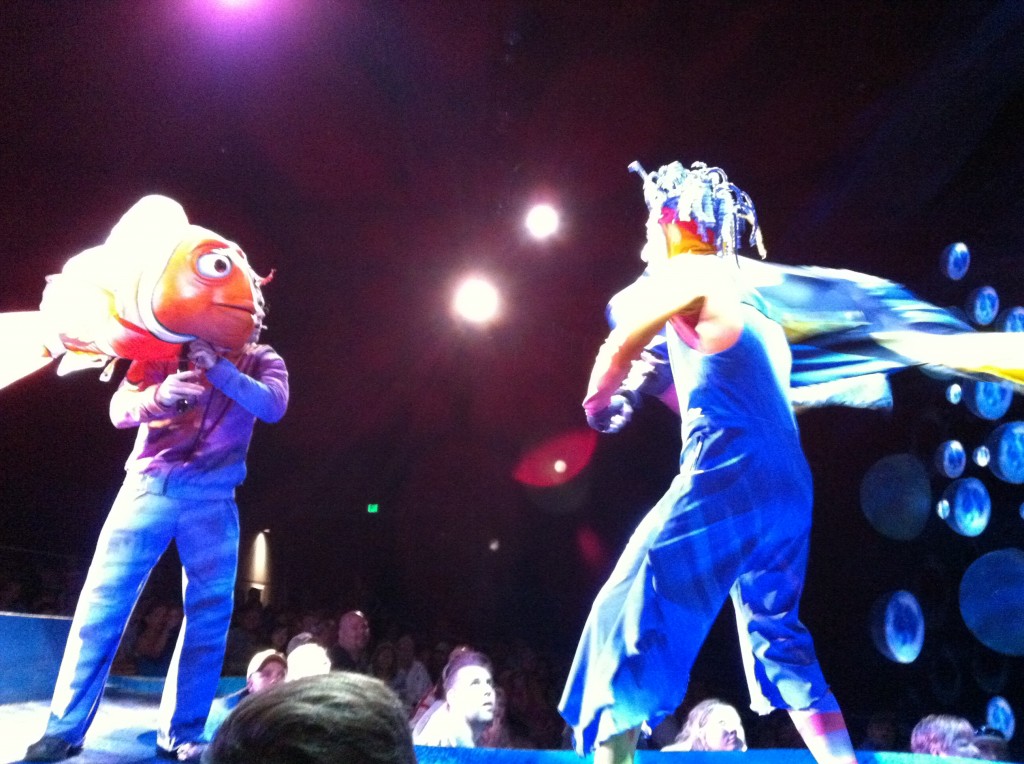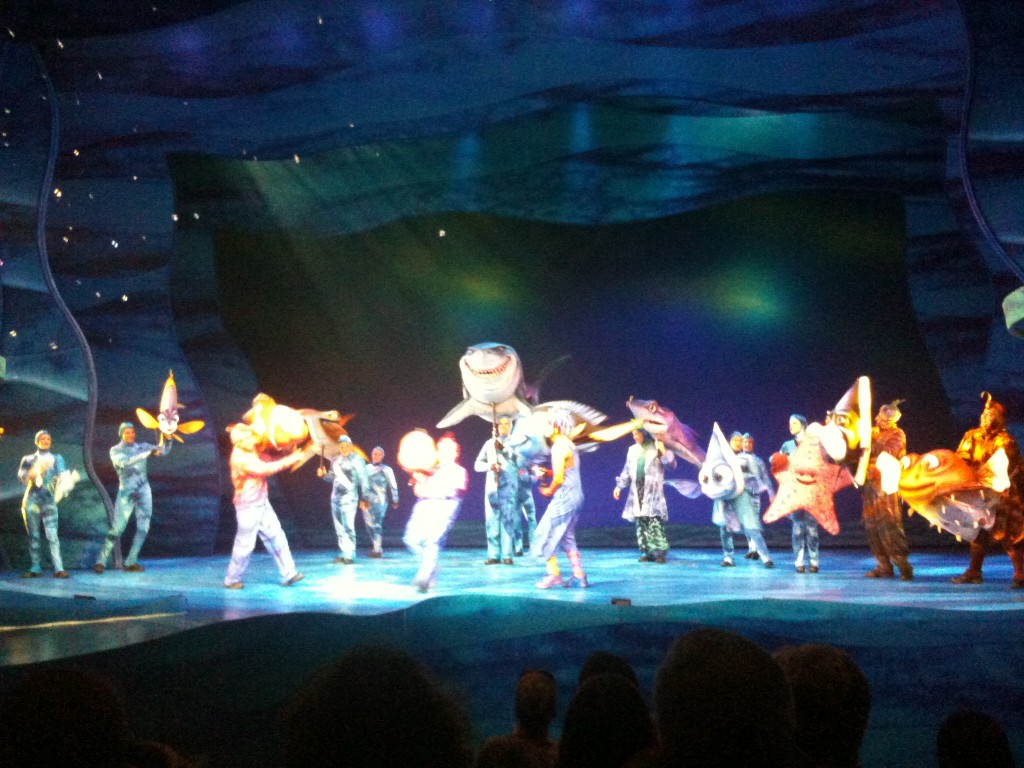 Here for your enjoyment is a fantastic HD video  of "Just Keep Swimming".
We had dinner reservations at Sanaa in  Animal Kingdom Lodge's Kidani village that night so we decided to make our way over and enjoy the warm dry resort for a bit.
 The Animal Kingdom Lodge is nothing short of spectacular.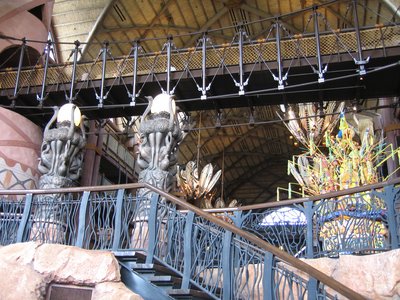 We still had some time to kill before our reservations. What to do? Hmmm…Oh, I know a drink!
We ordered some very expensive scotch to split but Jeff's super bloodhound scotch nose detected that the bartender did not give us what we ordered.
It wasn't. But we worked it out.
Downstairs is the buffet restaurant Boma. We had eaten there on one of our previous trips and it was quite good, but I'm just not into buffets anymore.
They were getting ready to open and had a Djembe drummer playing for a ceremony. Matt noticed an unmanned drum and fretted over whether or not to ask to play. He was glad he did. I tried to get a picture without totally embarrassing him. I restrained myself from saying "that's my boy!" as I walked by.
Sanaa  is in the Kidani Village area of the resort. You could walk over under better weather circumstances but thankfully this day they were running shuttle vans. The lobby at Kidani is on a much smaller scale but still quite exquisite.
We headed downstairs to check in to Sanaa Restaurant.
I had passed on trying  Sanaa on our previous trips because at first glance the Menu seemed kind of boring and plain, but since then I had heard so many raves about the place that I had to try it out. Sanaa does an opening ceremony too, kinda fun.
They paraded us into the dining room to our table right next to the huge floor to ceiling windows. One of the perks to dining here is that these windows give you an unobstructed view out to the savannah. You can watch the exotic animals graze on grasses while you graze on less exotic animals.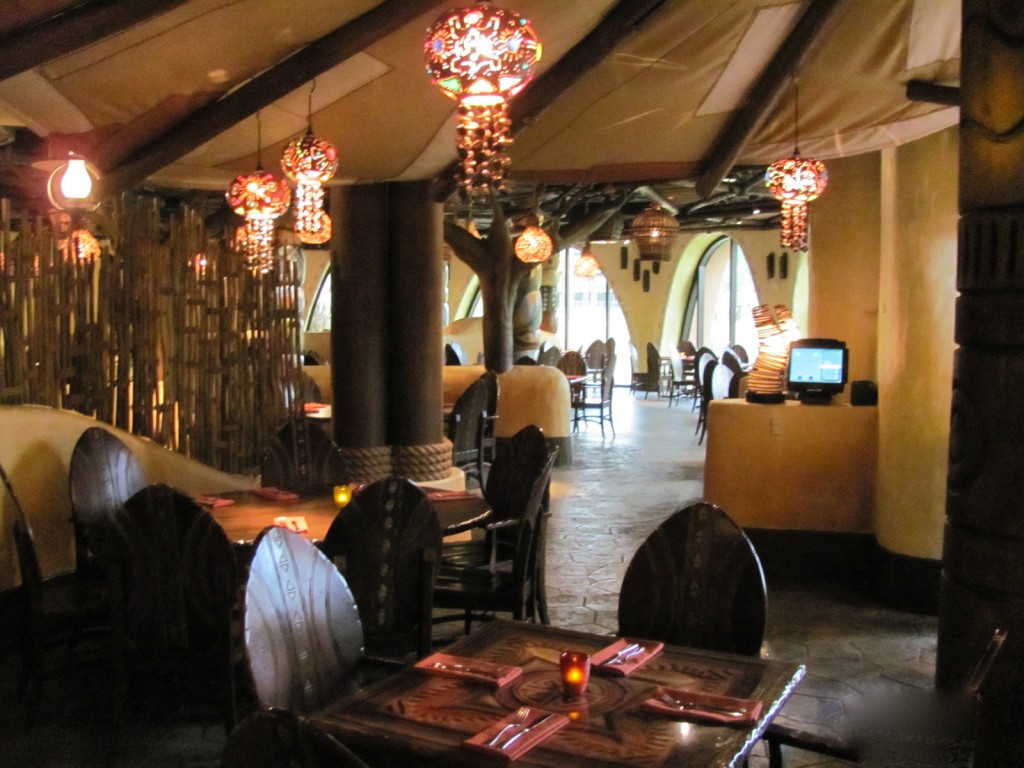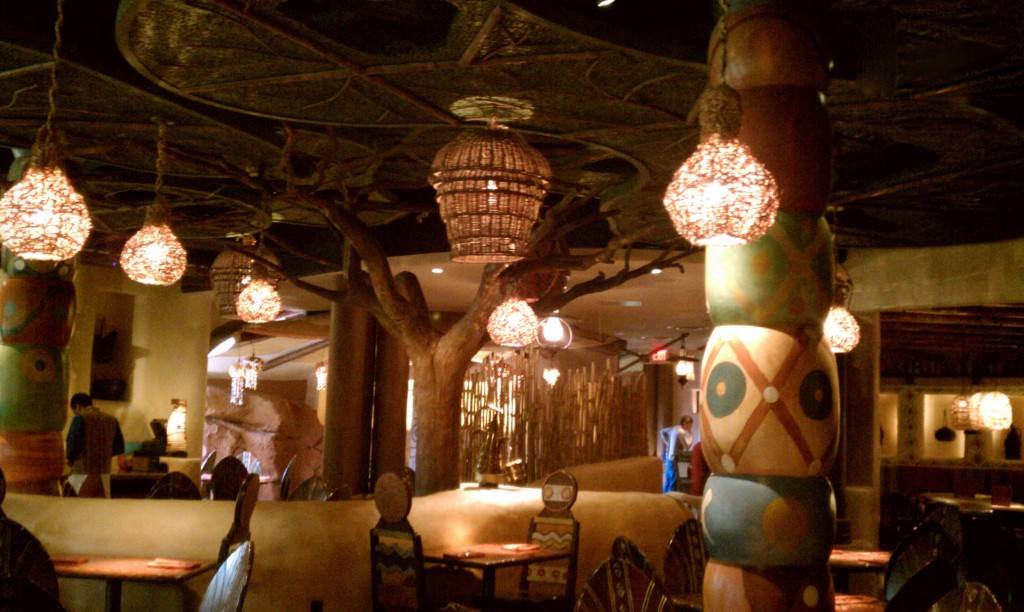 I was psyched that we were able to get one of the coveted window tables, unfortunately what we mostly saw was the near hurricane conditions.
We did see some unidentified creatures in the distance and at one point a giraffe booked it by our window. He must have been trying to catch the shuttle.
Meghan was chilled to the bone so our server helped her choose a lovely vanilla tea to warm herself up. They have quite an extensive tea menu.
Matt chose  the Mango Lassi. This is a traditional Indian drink and is supposed  help cool the fire of the spicy cuisine.  Matt got to put this theory to the test later.
Our server was terrific, very informative without being over bearing. I need to remember to take pictures of these people! She helped us choose an African wine that we absolutely loved.  A word to the wise though, ask how much it costs!  It turned out to be about twice as much as we would normally be comfortable spending. However, I enjoyed every last drop and that was before I knew how much it set us back!
We started with a couple of appetizers. First the Indian bread service.  You can choose three types of bread and three sauces to accompany them.
The red chile sauce was hot, hot, hot! Very tasty though. The naan was the big hit, we ended up ordering more later on. The papadam (the thin crispy one) was kinda weird. It was very salty and was spiked with cumin seeds. I love cumin, but this was not so pleasant. The cumin seeds would make another appearance before the meal was over.
Next were these delectable Mustard Seed-crusted Scallops – with a Coconut Cream Sauce, absolutely fantastic.
Matt and I both ordered from the section "Slow cooked in Gravy, simple and well seasoned".  You could chose two items and either basmati rice or five grain pilaf.
My green curry shrimp were amazingly juicy and flavorful, and the short ribs were fall apart tender. The sauce almost had a molé quality.  Matt's spicy shrimp were incredible but also reaaally hot. He ended up flagging down our server for another Mango Lassi.
The basmati rice that came with our meals also had cumin seeds in it, like the bread we had earlier. None of us dug it, we all really wanted plain rice especially to offset the spiciness of the other elements. Don't feel too bad for us, we just ate more naan bread!  If I were to get the chance to go back, I would try to get it just plain. Despite being nit picky about the rice,  it was a tremendously good meal.
On to dessert, now THESE were worth the calories! The favorite was the Chai cream. It was almost like an eggnog pudding.
I got a dessert sampler and it was really good, especially the chocolate cake. It was as if you took a yummy piece of devil's food cake and pressed all the air out of it until you had one fudgy dense bite.  The Tropical Fruit Kulfi was pretty much orange sherbet. I really enjoyed my teeny cup of chai cream the best. Next time I'd just order that.
We made a stop at the restrooms (as you do) before we made the  bus trip back to Pop Century and Meghan and I thought the sinks were so cool they were photo worthy.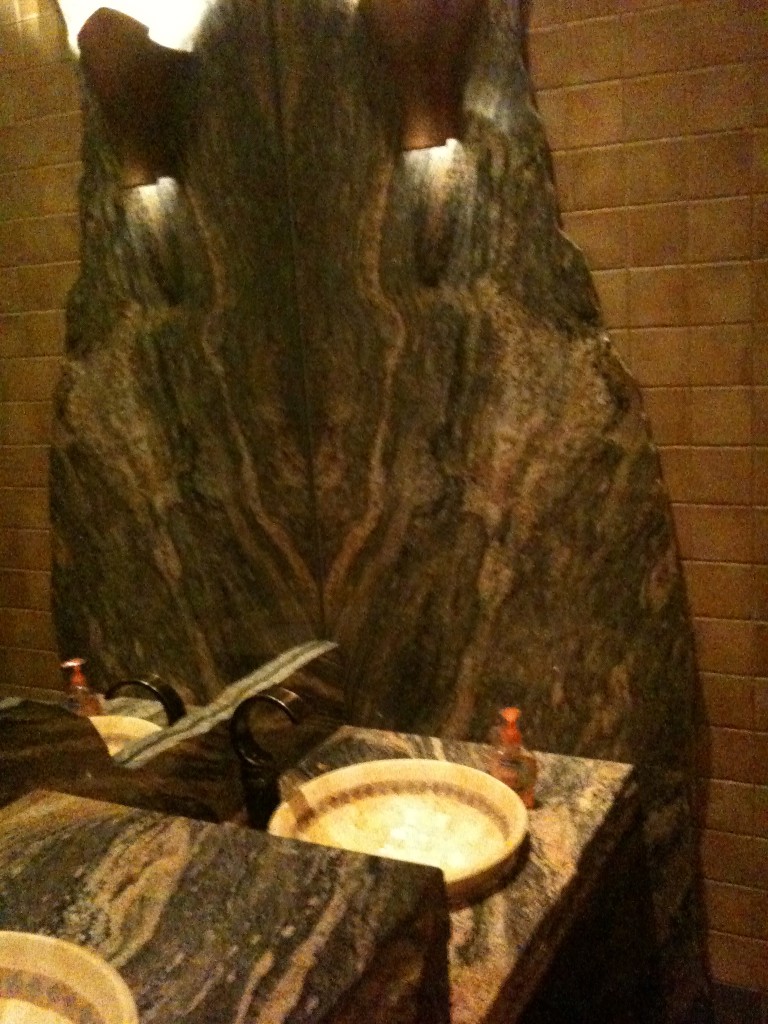 I think I've shared more than I should have…
Next up: Can we catch a break from the rain for Our Magic Kingdom day?